Vacation-goers who envision Arizona's dude ranches as places where guests saddle up a bronc and gallop out on the range to bring in the herd before riding off into the sunset might have to make a few adjustments.
Today, the ranches themselves are still in operation, but they're not quite the same as years ago. For one thing, they're not really "dude ranches" anymore. They're "guest ranches" or "resort ranches" where herding cows and branding steers might be on the activities list, but they share the agenda with playing golf and soaking in the spa. And the images of a grizzled old ranch hand fixing up a mess of cowboy beans in the chuck wagon also have faded. The majority of today's meals are prepared by highly qualified chefs and served by well-trained kitchen staff.
One thing is the same, however. The ranches, regardless of what they're called, primarily are in the business of western hospitality, and many reminders of the old days still are available to city slickers. Almost every guest ranch in Arizona offers guided trail rides, while several invite guests to participate in team penning, a group activity that involves novice horsemen herding semi-cooperative cows into their pens. Also, there are multiple opportunities to sit around the campfire and listen to cowboys playing their guitars and singing about broken hearts. 
During the economic downturn, the number of Arizona guest ranches took a hit. To remain competitive, the ranches upgraded and expanded, adding swimming pools, tennis courts, air conditioning, massages, personal trainers, exercise rooms, golf courses, free Wi-Fi, and spas. Some have babysitters and programs for children. Others provide adults with all-terrain vehicles and helicopter rides. 
Sorry, Roy. Sorry, Hoppy. Sorry, Gene. That's just the way it is these days.
While the dude ranch experience might be a little more luxe today than it was years ago, many families, couples, and singles still will enjoy spending time in our state's wide-open spaces. Here's a sampling of some of the best dude ranches throughout Arizona and what they offer.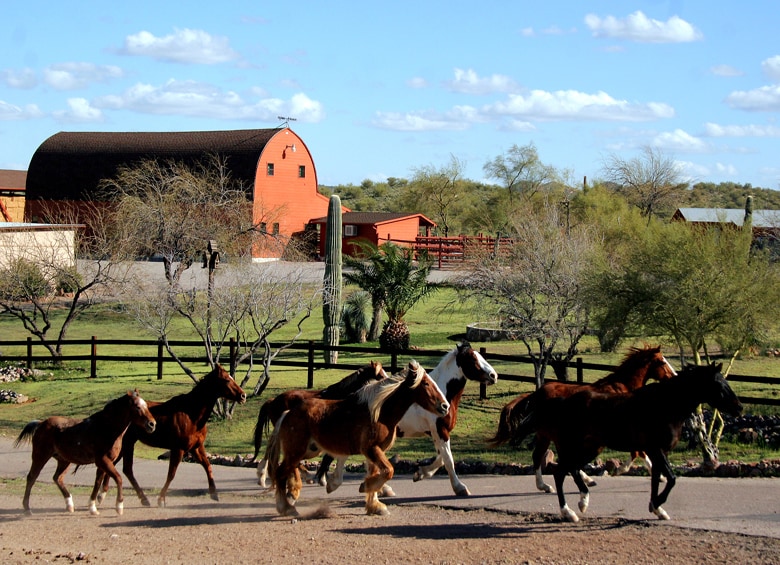 Central Arizona
For those looking for a more modern ranch experience, Wickenburg's Rancho de los Caballeros is a good choice. It has been in the business for 73 years and has about 20,000 acres available for horseback riding and other activities. The golf course is open to both golf club members and townsfolk, and all 65 rooms and 12 suites offer the latest conveniences. Guests can ride in a hot air balloon or atop a gentle horse. The chef prepares three meals every day and guests are expected to dress up for dinner.
The Flying E Ranch, also near downtown Wickenburg, is a working cattle ranch that features family-style meals. Those who elect to ride a horse can take a casual two-hour trail ride through the surrounding desert. Afterward, rest weary bones in the Jacuzzi or spa. Or participate in a dudeo (a mini rodeo), go on a hayride, or simply fall asleep in one of the ranch's 15 guest rooms or two family houses. Then, wake up with a dip in the large heated pool.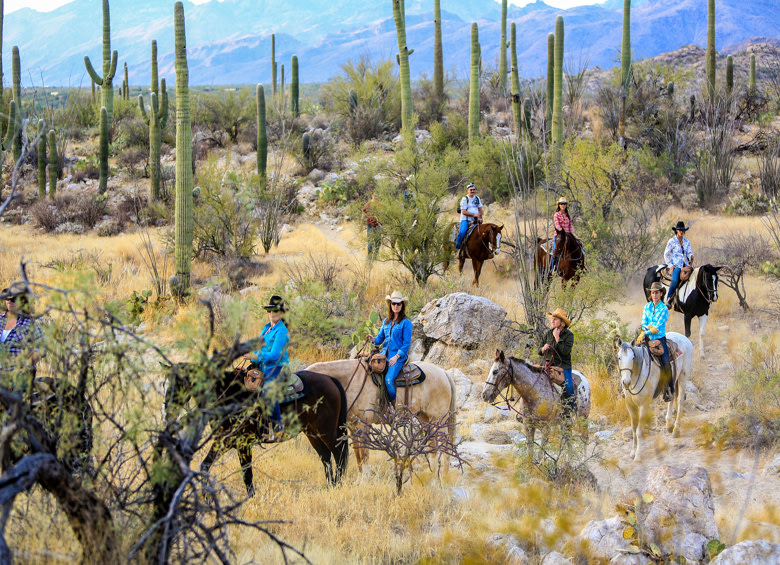 Southern Arizona and Tucson
Down around Tucson, the Tanque Verde Guest Ranch has been named a "Top Ten Family Resort" by the Travel Channel six times since 2007, and has received several other awards. Situated adjacent to the Rincon Mountains, Saguaro National Park, and Coronado National Forest, the ranch has 60,000 acres of roaming space for horsemen and a stream for anglers. The original ranch was established in 1868. Today's version features family classes in leatherworking and weaving.
Tucson also is home to Hacienda del Sol Guest Ranch, which traces its history back to 1929 and underwent major renovation in 1995. It's on the National Register of Historic Places, and John Wayne, Clark Gable, and Howard Hughes all stayed there. However, they probably didn't get the organic facials offered to today's guests. 
Also near Tucson, the White Stallion Ranch claims 80 years of "duding," more than 50 of them under the ownership of the True family. It also borders Saguaro National Park West and has more than 3,000 acres available for horseback riders. Adults can participate in trail rides or bask in the sauna and massage therapy areas, while young'uns can spend time at the petting zoo or watch a movie. All guests are welcome to participate in team cattle penning, swim in the outdoor pool, or relax in front of their quarters because all 41 rooms (and one four-bedroom hacienda) have patios.
Still in the southern sector of the state, the 95-year-old Circle Z Ranch in Patagonia offers nature walks, guided stargazing, and a weekly astronomy night. The Tombstone Monument Ranch's wranglers lead guests to the old Apache hideouts in the Dragoon Mountains and the ghost town of Fairbank.
The Triangle T Ranch near Dragoon attracts history and movie buffs because Cochise once camped there, several movies (e.g., the original 3:10 to Yuma) have been filmed in the area, and John F. Kennedy once stayed there. 
Western Arizona
Rhinestone cowboys who really want to get away from it all might consider the Stagecoach Trails Ranch, located way out in the middle of nowhere east of Yucca at the base of the Mohave and Hualapai mountains. The ranch has 360,000 acres of cactus-filled terrain at its disposal and was built to resemble a small western town with a frontier bar complete with pool tables. Guests have free use of mountain bikes or may rent all-terrain vehicles to explore old gold mines.   
Northern Arizona
The Grand Canyon Western Ranch in Meadview offers not only trail rides, but also helicopter flights over the Grand Canyon.
Eastern Arizona
Guests at the 10,000-acre Cold Creek Ranch in Clifton are encouraged to pitch in and help with chores, such as feeding horses, moving cattle, and making beef jerky. Those who yearn for the good old days might consider the Sprucedale Guest Ranch near Alpine in the cool pines of the White Mountains. Owned by the Wiltbank family since 1941, the ranch offers cow milking, rodeo practice, sunset trail rides, western dancing, songs around the campfire, cowboy poetry readings, and saddling workshops.
Ready for the best Arizona dude ranch experience? Head 'em up and move 'em out, pards. Just remember to take along your swimsuits and golf clubs.