Home to the nation's largest cacti, Saguaro National Park comprises more than 91,000 acres dedicated to protecting this important tree-like plant. With lifespans of up to 250 years, saguaros provide habitats for animals, sequester carbon, and bloom with lovely yellow and white flowers.
These prickly giants also have cultural significance to Indigenous people, who consider the saguaro a vital resource, according to the National Park Service. Native people of the area used the plant's fibrous ribs to build homes and gathered the fruits to make wines and jellies. Just like their ancestors, the present day Tohono O'odham continue to honor these cacti.
Established in 1994, Saguaro National Park has two distinct sections on either side of Tucson: the Rincon Mountain District to the east and the Tucson Mountain District to the west. A $25 vehicle entrance fee is good for both sides and lasts seven days, so visitors have plenty of time to explore every corner of this Southwestern site. Whether you're eager to hike or curious about the area's history, everyone will be impressed by the namesake prickly giants. 
Top Attractions in Saguaro National Park
In addition to the magnificent cacti, the park's appeal is its proximity to Tucson. The network of walking trails and observation sites is family- and beginner-friendly, making it an ideal stop for road trippers and day visitors wanting to stretch their legs.
In both districts, stop by the cactus gardens near the visitors centers for picturesque photo opportunities near saguaros and other native plants. From the Rincon Mountain Visitor Center (east), take Cactus Forest Loop Drive for scenic views of the Rincon mountains. At the Red Hills Visitor Center (west), stand on the patio to overlook the majestic Red Hills.
On the west side, the Signal Hill Petroglyph Area contains more than 200 prehistoric Native Indian petroglyphs, which can be viewed from a 0.1-mile mostly-flat walking path. Slowly stroll while taking in the art that was created between 550 and 1550 years ago.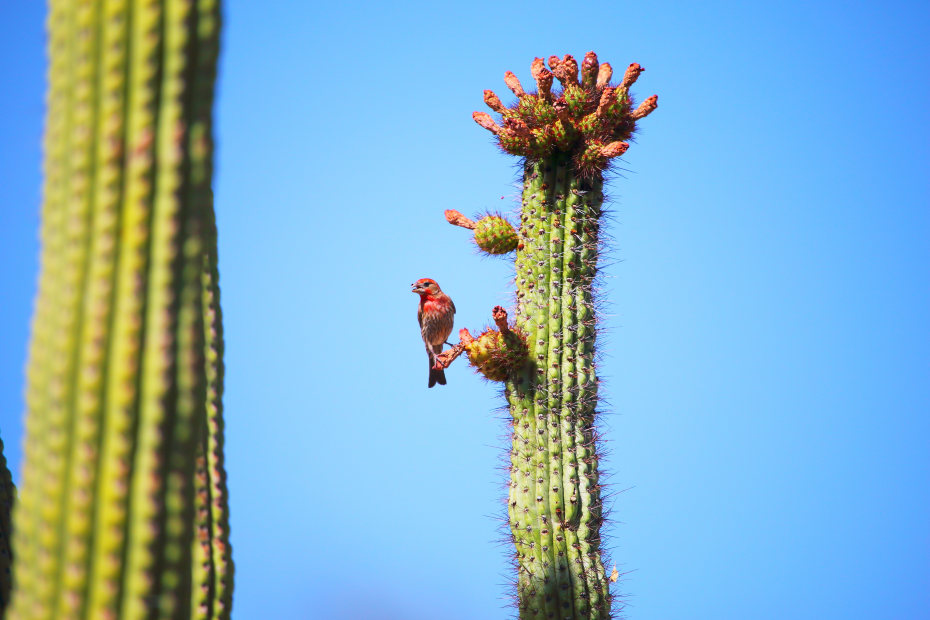 Where to Go and What to Do
Because desert weather can be fickle, come prepared with plenty of water, food, layers, sun protection, sturdy shoes, and a form of navigation. Rest and hydrate often, especially during the hotter months but also when it's cool. Keep in mind that pets are only allowed in paved areas, such as parking lots, picnic areas, and the Desert Ecology Trail and Desert Discovery Trail. They may not be left unattended in or outside of a vehicle.
Day Hiking
Only when you're standing next to a saguaro can you fully appreciate its size. Get up close on your choice of hiking trails, which range from gentle strolls to strenuous treks. The 1-mile Freeman Homestead Trail features interpretive signs about homesteading in the desert. The 6.4-mile Garwood Dam and Wildhorse Tank winds past one of the only perennial areas of water in the park. Find more trails on the park's website.
Backpacking
Snag a backcountry permit to unlock an entirely different side of the park. Hike in your camping gear for a complete wilderness experience in the park's six backcountry campgrounds: Juniper Basin, Douglas Spring, Grass Shack, Happy Valley, Spud Rock, and Manning. Water is scarce and backpackers are expected to be self-sufficient. 
Biking
Road biking is popular in the park. The east district's Cactus Forest Loop Drive is a busy bike route, as is Hope Camp Trail and Cactus Forest Trail between Loop Drive.
Sunset Viewing
Park rangers recommend two different spots for watching the sun paint the sky. In the east district, hike less than a mile on Tanque Verde Ridge Trail or stop in your car at the Javelina Rocks pull out. In the west district, head to the parking lot at the top of Speedway Boulevard in Tucson Mountain Park. 
Daily Programs
On both weekdays and weekends, experts host educational talks about a variety of topics including lizards, mountain lions, and saguaros. Rangers also lead caravan tours, garden walks, astronomy observations, and sunrise hikes. These events are kid-friendly and often wheelchair accessible. Check the park's calendar for the full list of activities.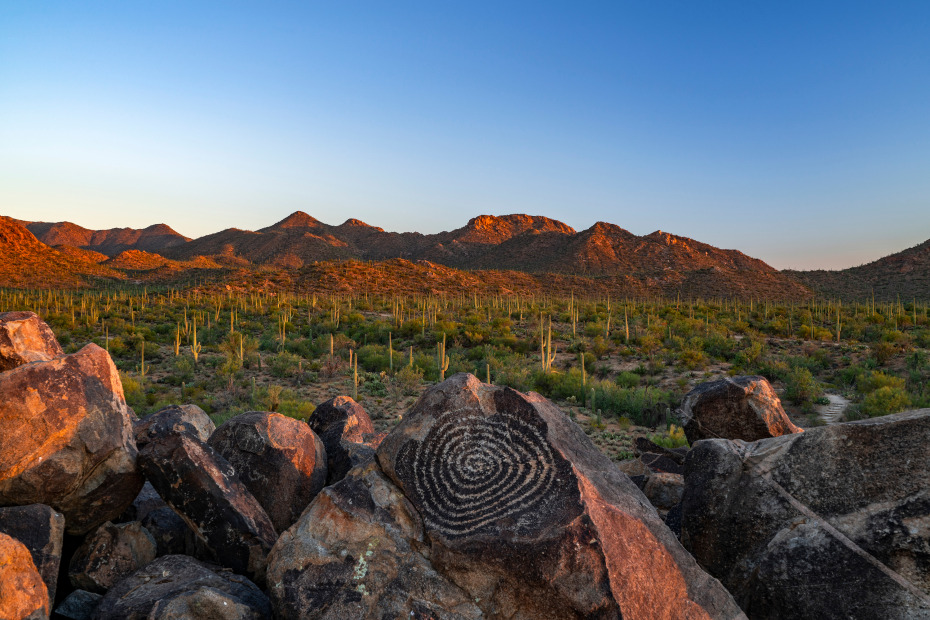 When to Go
The Sonoran Desert and Saguaro Wilderness experience extreme temperatures, from rare snowstorms to blistering heat. Lows in winter can reach 40 degrees while highs in summer can exceed 110 degrees.
This area is also prone to monsoons. In winter, from December through February rainfall is generally light but consistent. Higher altitudes get snow. In summer, from July through September, rainfall can be intense and heavy. During this time of year, lightning and flash flooding are common. Always check the weather before your visit.
The best times to visit are during the fall and spring, although the busiest time of year is November through March. Visitors in late April are treated to saguaros in bloom and in June the fruit starts to ripen.
Where to Camp and Stay
Unlike many other national parks, Saguaro National Park doesn't have accommodations for vehicle camping. The six designated wilderness campgrounds are away from roads and only accessible by hiking in. The closest area—Happy Valley Saddle—is a 4.1-mile trek with more than 2,000 feet of elevation gain. Each campground has a limited number of sites: Manning has six, while the five others have three. A backcountry permit ($8 per night) is required for overnight stays, and reservations can be booked up to six months in advance at recreation.gov. 
Outside the park, car and RV camping is available at Gilbert Ray Campground, state parks such as Catalina State Park, and several RV parks. Or opt for a hotel in Tucson. 
Remember to Recreate Responsibly
The desert—from the soaring saguaros to the ground-level cryptobiotic soil—is a delicate ecosystem that can be easily impacted by human presence. Per park regulations, visitors should stay on the trail, pack out their trash, leave plants and rocks undisturbed, and treat animals with respect and avoid feeding them. Review Leave No Trace's seven basic principles to preserve the fragile ecosystems for generations to come.