Centuries ago, humankind relied on the night sky for telling time and tracking their routes. Darkness was essential for survival. "It's how we found our place in the universe," says Bettymaya Foott, engagement director at the International Dark-Sky Association (IDA).
Today, envelopment in darkness is a rare opportunity: Nearly 80 percent of people in North America can't spot the Milky Way's marvelous hazy band on any given night. That's due to light pollution, the spillage of unnecessary artificial light, a recent global phenomenon that has disconnected us from starry skies.
But there are still opportunities to reengage with the stars, moon, and faraway galaxies. Winter is considered prime season for stargazing, and if you catch a cloudless night you'll find a brighter and clearer cosmos. Head to these nine astronomy hubs—planetariums, observatories, space centers, and IDA-protected nature areas perfect for stargazing—for a full astrotour of the West.
Chabot Space and Science Center in Oakland, California
A San Francisco Bay Area landmark since 1883, the Chabot Space and Science Center is the largest observatory complex in the West available to the public for free. Explore the stars through three large telescopes housed in separate domes every Friday and Saturday from 7:30 to 10:30 p.m. From its location 1,500 feet above the San Francisco Bay, the nighttime views—of both the sky and the city in the distance—are unobstructed. Peer into the largest refractor in the West that's regularly open to the public, a 20-inch telescope named Rachel.
The science center sits just a few miles from downtown Oakland on the border of Dr. Aurelia Reinhardt Redwood Regional Park. The proximity to the forest allows the center to create programming that interacts with the redwoods, such as the monthly Hike & Sip, a moderate walk with constellation storytelling, snacks, and libations. Take the kids to the First Friday programs, which are planned around family friendly themes such as futuristic foods and mind tricks.
Nearby: In California's Marin County, Mount Tamalpais State Park and the Mount Tam Astronomy program offered free astronomy nights on the mountain. Live programs are currently on pause, but virtual tours are hosted on YouTube.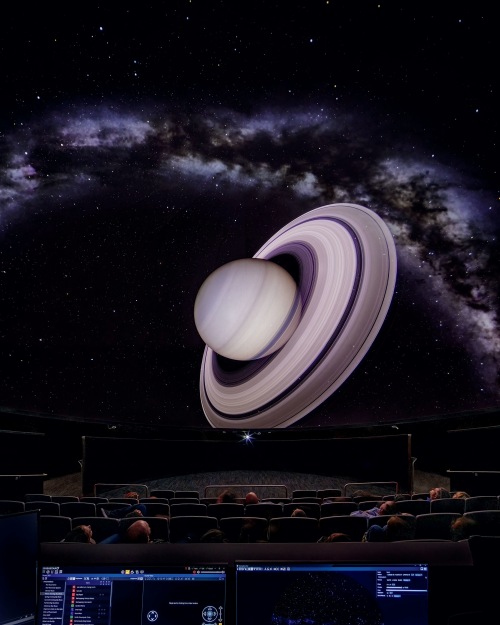 Christa McAuliffe Space Center in Pleasant Grove, Utah
Named after the celebrated teacher and astronaut, the Christa McAuliffe Space Center has offered realistic starship simulations since 1990. Six rooms at the center are designed to resemble the bridge of a starship, where visitors go through an immersive experience to control the ship, communicate with characters, and complete missions. (Have you ever wondered what it would be like to be sucked into a black hole? You can learn how to navigate that celestial challenge here.)
In the evenings on Mondays, Wednesdays, Fridays, and Saturdays, the center hosts a rotating lineup of shows in the planetarium, the second largest in Utah. Topics have included exoplanets, modern-day rocket launches, and dark matter, or you can tour the solar system to a soundtrack of classical music.
Nearby: Get a little adventurous and head to North Fork Park in Ogden. The less-traveled camping area is a nighttime refuge for stargazers.
Jack C. Davis Observatory in Carson City, Nevada
Located at Western Nevada College, Jack C. Davis Observatory is staffed with dedicated volunteers who are eager to talk about constellation basics or dive into speculative space theories. "They really want to excite people about looking through telescopes and help people use the instruments properly," says Thomas Herring, the observatory's director. On the third Saturday of every month, lecturers present a range of topics, from historical figures such as Isaac Newton to the history of quantum mechanics.
The observatory is a steadfast community resource, funded entirely by public donations. "In my time there, I've tried to broaden the idea of community to mean anybody who shows up," Herring says. Have your own telescope? Bring it to the observatory for a tune-up and lesson.
Nearby: Two nearby national parks, known for their daytime splendor, also have incredible views of the Milky Way on moonless nights: Great Basin and Death Valley. Rangers at both parks set up telescopes for astronomy tours throughout the year.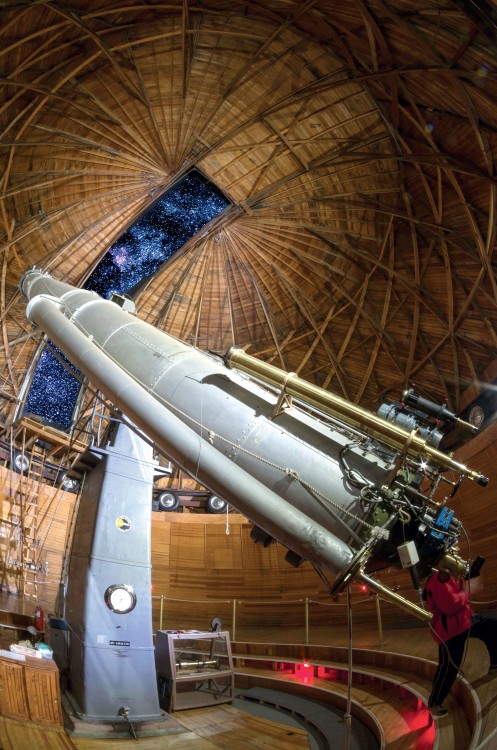 Lowell Observatory in Flagstaff, Arizona
This mountain town first established a light pollution ordinance in 1958 and, more than 40 years later, was designated the world's first dark-sky community. Flagstaff is home to one of the oldest observatories in the United States, Lowell Observatory, which lets visitors look through the same telescope that detected the expanding universe, searched for life on Mars, and discovered Pluto. "As the crow flies, the observatory is less than a mile from downtown," says Kevin Schindler, Lowell's resident historian. "And yet, you can look up at the sky and see the Milky Way, which seems like only a rumor if you're from a big city." Peep into the night sky six nights a week until 10 p.m. (On Tuesdays, it closes at 5 p.m.)
Don't miss the Giovale Open Deck Observatory, where budding cosmologists can peer through six telescopes at marvels such as globular star clusters while learning about what they see from professional astronomers and Northern Arizona University students. Special events, such as meteor showers, are particularly busy nights, so plan accordingly.
Nearby: North of Flagstaff, both Sunset Crater Volcano and Wupatki National Monuments are prime sky-viewing sites, whether you're there exploring or attending one of the star programs offered at the parks. Visitors looking to stay overnight should head to Cottonwood or Sedona, which are both dark-sky communities. In Sedona, the Two Trees Observing Area is used by the Sirius Lookers, the city's astronomy association. In Cottonwood, the easily accessed 423-acre Deadhorse Ranch State Park offers some of the best night skies nearby.
Museum of the Rockies Planetarium in Bozeman, Montana
Situated on the Montana State University campus, the Museum of the Rockies has one of the most mesmerizing planetariums in the West. High-resolution projection under a 40-foot dome captures vivid colors, dramatic motion, and brilliant displays of the solar system in its true form. The 85 seats recline at different angles, so you don't have to crane your neck to get a good look at the presentation. Visitors can catch movies every day of the week. Sit back for a 30-minute escape into topics such as NASA's Artemis program or the immersive Phantom of the Universe narrated by Tilda Swinton.
Once you've been wowed by the stars, venture deeper into the museum's other exhibits, which change every year. A life-size bronze sculpture of a Tyrannosaurus rex welcomes guests, while a seasonal outdoor exhibit invites you into the surrounding gardens, orchards, and fields.
Nearby: On a rare occasion in winter and early spring, there is a chance to see the northern lights after midnight. Glacier National Park is perfect for viewing these dramatic colors, or simply gazing at the universe.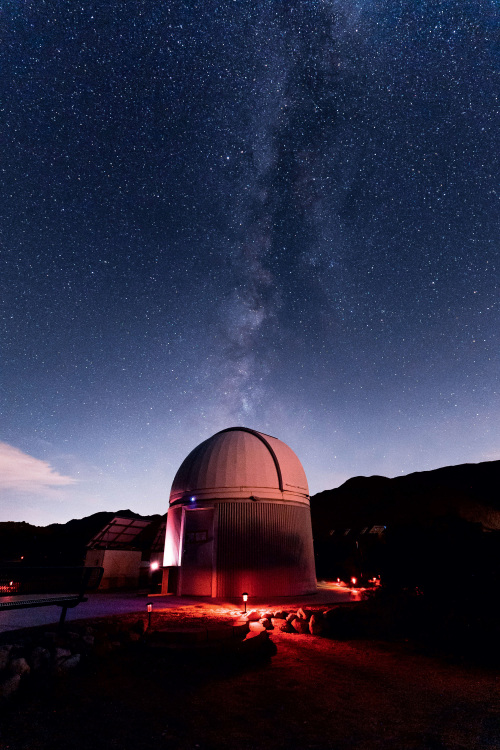 Sky's The Limit Observatory in Twentynine Palms, California
In a desert that bears resemblance to Mars, the Sky's The Limit Observatory and Nature Center (STL) takes advantage of its environment with multiple outdoor experiences, including a meditation garden and an orrery, a walkable model of the solar system at a 20 billion-to-1 scale.
Free Night Sky Programs on the Saturday nights nearest the new moon provide a view of celestial objects in real time on a large monitor rather than through individual telescope eyepieces. For the astronomy purists, there are conventional telescopes set up on the walkway outside. Added perk: STL shares a boundary with Joshua Tree National Park, so stargazers looking to the south and east avoid any interfering lights or developments—and get an epic view directed at the ecliptic (an imaginary line in the sky that marks the path of the sun) from the campus.
Nearby: Joshua Tree National Park and Anza-Borrego Desert State Park are dark-sky parks. Book a night with Borrego Night Sky Tours, or check with the parks for public programs.
Anchorage Museum in Anchorage, Alaska
If you're in Alaska's largest city, the Anchorage Museum is a must-do. The Thomas Planetarium is the pillar of the museum's space programs, which include updates from NASA ambassadors, live music and light performances, and guided viewings of constellations and the aurora borealis. The 180-degree dome doubles as a theater.
While you're at the museum, check out the rotating exhibits covering culture, climate change, and natural habitats. Still space-curious? You don't have to live in Alaska to join the Virtual Astronomy Club, which gives members access to astronomy-related images and discussions throughout the year.
Nearby: Kincaid Park—closed at 10 p.m. in the winter—is easily accessible from Anchorage, but far enough away to offer dazzling night views. Or go to the Eagle River Nature Center, where you don't have to travel far from the lighted parking lot to see a show of stars.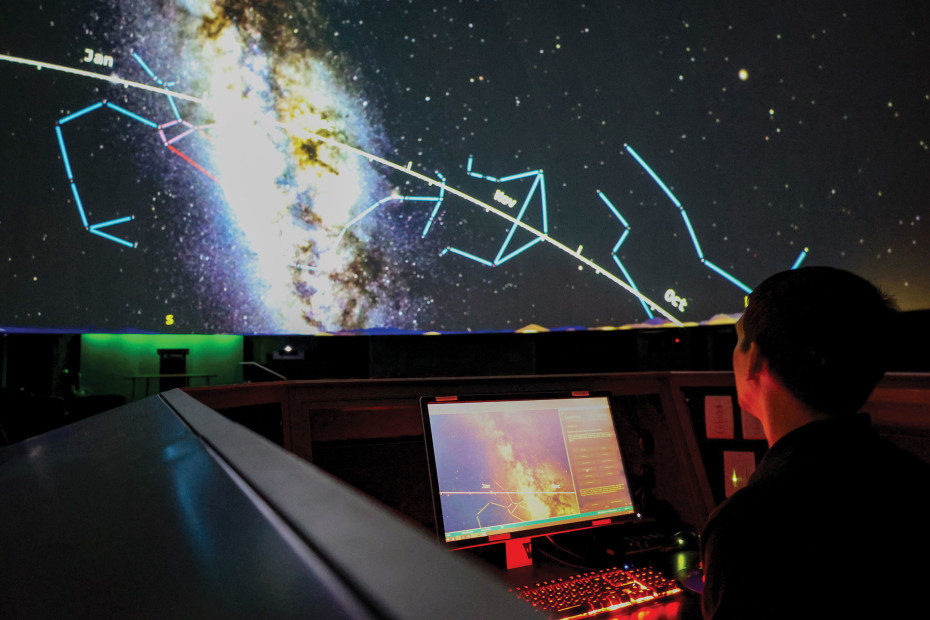 Flandrau Science Center and Planetarium in Tucson, Arizona
The Flandrau Science Center and Planetarium is not only an immersive space experience, it doubles as a classroom for university students. The center offers live lectures, activities, and a variety of telescopes to help you get close up to the cosmos. Lunar and solar eclipses are particularly active times at the center, though you can visit any time it's open: 10 a.m. to 5 p.m., Tuesday through Sunday.
On select weekends—and depending on weather and other factors—the observatory allows visitors to peer into the starry skies through a 16-inch telescope with a volunteer astronomer as a guide. Once a month, the guides take visitors on a different journey with Friday night presentations of laser shows set to Pink Floyd's Dark Side of the Moon.
Nearby: For a spot with very little light pollution, book a campsite at Saguaro National Park, where you'll view starry skies behind the shadows of massive cacti.
Coming Soon: Snow King Observatory and Planetarium in Jackson Hole, Wyoming
In the Teton Range of the Rocky Mountains, Jackson Hole's stargazing opportunities are as endless as its mountain adventures. Wyoming Stargazing hosts public events at the Stilson Parking Lot on Thursday nights, where you can learn about Save Our Night Skies, its ongoing campaign to reduce unnecessary artificial light across the city as well as in Grand Teton National Park. The town is working toward becoming a certified International Dark Sky Community.
Soon, the community will have its very own stargazing facility at the summit of Snow King Mountain Resort. Slated to open by fall 2023, Snow King Observatory and Planetarium will feature a 24-foot Astro Haven dome, an observatory-class 1.0-meter PlaneWave telescope, and a 26-foot digital planetarium with 30 seats, along with galleries, event space, and classrooms.
Nearby: Since you're in the neighborhood, head to Yellowstone National Park, where 54 percent of lights are turned off at night and staff is replacing bright lights with fully shielded fixtures that direct light downward to preserve the darkness.