You don't have to put outdoor aspirations on hold until warmer days. During the winter, national parks across the West are quieter and stiller than any other season—and these seven parks look especially glorious draped in snow, whether you're stargazing or skiing.
1. Lassen Volcanic National Park in Northern California
Known for its steaming fumaroles and glassy mountain lakes, Lassen Volcanic National Park's cross-country skiing, backcountry skiing, and snowshoeing access is top-notch. Marvel in the park's solitude when it's volcanic features and valley are buried in up to 30 feet of snow from November to April. Bring snowshoes or skis and warm up on the 1.5-mile Manzanita Campground Loop or the 2-mile Sulphur Works Route, past boiling mud pots and steam vents. Intermediate and advanced routes can be found near both entrances, beyond the northern Loomis Plaza and Ranger Station and southwestern Kohm Ya-ma-nee Visitor Center. Check avalanche forecasts at the Mt. Shasta and Sierra avalanche centers before arrival.
2. Death Valley National Park in Southern California
Come December, the hottest and driest national park is finally bearable—daily temperatures drop from the 100s to the much more comfortable 60s. Guided tours through Golden Canyon or the Mesquite Flat Dunes run December through March. Heed the National Park Service's wisdom and visit during the least crowded time of the year—between Thanksgiving and Christmas—to feel like one of the few humans left on Earth. Or catch a star party, night sky photography clinic, and fair during the Dark Sky Festival slated for February 25 to 27. There's plenty to see in the day, too. Snow-capped mountains encircle the valley that's blooming until April with golden evening primrose, sand verbena, gravel ghost, and purple mat wildflowers.
3. Grand Canyon National Park in Arizona
Who knew the Grand Canyon was a portal to the North Pole? From November to January the Grand Canyon Railway transforms into the Polar Express Night Train, every night at 5:30 p.m. (from $38). Based on Chris Van Allsburg's classic book, the magical ride—complete with hot chocolate, cookies, and story time—winds through forest and desert and passes an illuminated village where Santa waves to the awestruck faces pressed against the window before appearing on the train with gifts. 
In daylight, the Grand Canyon invokes just as much childlike wonder when its red, blue, and purple striped walls pop against the crisp powder dusting the plateaus and ledges. Cooler temperatures mean fewer visitors—January is the quietest time to go, with a third of the visits seen at the park's peak in July, but you will be rewarded anytime in November through the end of February with less traffic and more peace.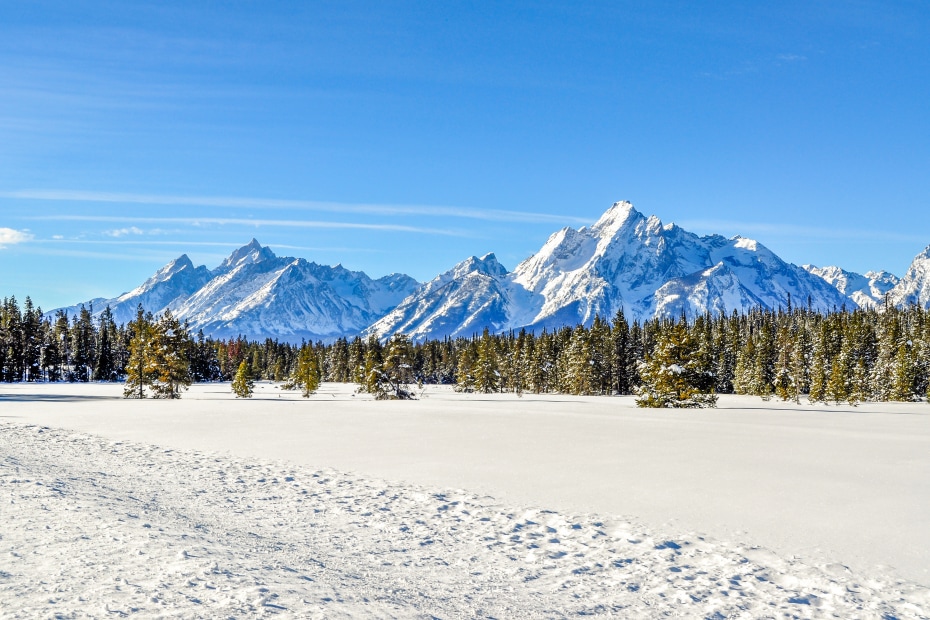 4. Grand Teton National Park in Wyoming
As soon as Grand Teton National Park's Jackson, Jenny, and Phelps lakes freeze over in December, ice anglers flock there to drill holes in the thick ice and drop jigs into the waters alive with aquatic life. Waiting for the trout—or mackinaw, as they're often called—to bite in the bitter cold might not sound as thrilling as skiing or snowmobiling, but the unparalleled views, serenity, and slower pace will remind you why you're there. Plus, it's almost a guarantee you'll spot wild birds, foxes, and coyotes along the banks. Pack lunch, hot drinks, chairs, fishing equipment, and warm clothes to do it yourself. Or trust a guide at Grand Teton Fly Fishing to teach you the trade. Just remember to pick up fishing licenses ($14 per day) before you sink your line.
5. Great Basin National Park in Nevada
Take camping to the next level by pitching a tent on snow rather than dirt in Great Basin National Park. Wheeler Peak Scenic Drive and Baker Creek Road close to cars and bikes for the season, turning into thoroughfares for snowshoers and skiers. Camp at Wheeler Creek Campground at no charge, or spend a few nights in the backcountry. Rent snowshoes at the Lehman Caves Visitor Center—tours of the caves are offered year-round—and set out on one of the National Park Service's suggested routes, such as the Lehman Creek Trail with views of Wheeler Peak or the 7.5-mile Pole Canyon/Timber Creek Loop Trail for novice and intermediate snowshoers. For current snow and trail conditions, call (775) 234-7510.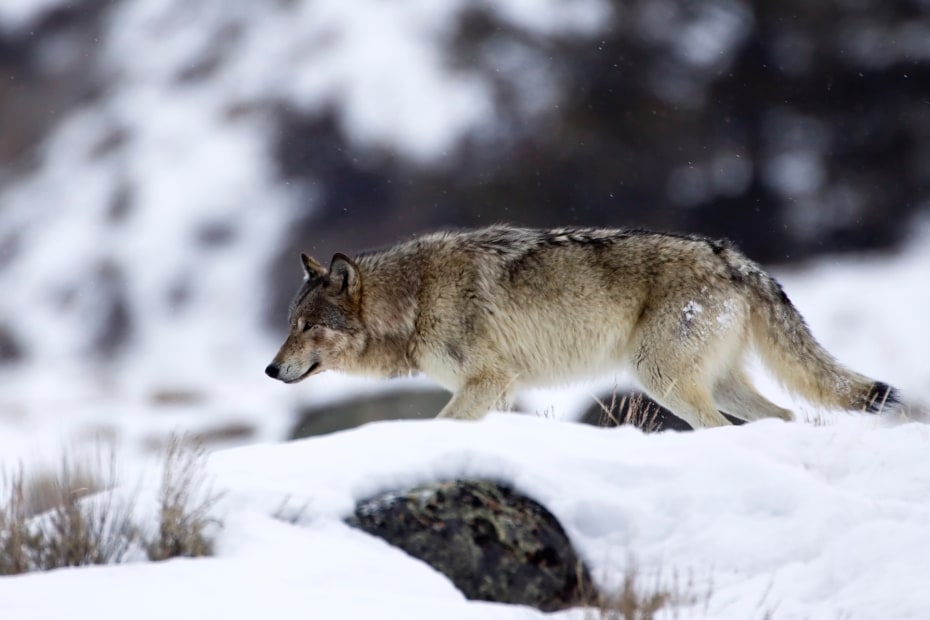 6. Yellowstone National Park in Wyoming
When roads in Yellowstone are too icy, hitch a ride to the park's most popular sites and past its beloved bison with one of the area's many snowcoach services—a passenger vehicle with beefy snow tires, windows big enough for panoramic views, and a driver spouting the park's history and facts. Go on a winter wildlife safari or photography expedition with Yellowstone National Park Lodges. Or get a lift past Fountain Paint Pot, Biscuit Basin, Old Faithful geyser, and other stops in the geothermal zone with Yellowstone Vacations. For a more immersive, open-air experience, opt for a guided snowmobile tour.
7. Denali National Park in Alaska
Forget hiking. Explore Denali by dog team and mush among the locals. Family-owned Denali Dogsled Expeditions is the only licensed dog-sled service in the park. Customizable mushing experiences for individuals and groups range from day trips to overnight expeditions—such as the 3-day Sushana River Trip and the 7-day Toklat River Loop—all led by furry pups. Only interested in ogling the canines? The National Park Service welcomes visitors to its kennel, currently home to six litters who work side-by-side with rangers. Access to the park by road is limited from September to May.