Not every national park gets the love it deserves. Here are a few under-visited, overshadowed gems that are every bit as spectacular as their better-known counterparts.
1. Lassen Volcanic National Park, California
Dreaming of geothermal wonders and alpine splendor? Experience both at Lassen Volcanic National Park, 200 miles north of Sacramento. Despite its tempestuous nature, Lassen shows a tranquil side each summer, when snowmelt transforms the park into a lush playland of creek-fed meadows, lupine-lined slopes, and forests filled with the song of mountain chickadees.
The park's summer season is relatively short, but its uncrowded byways and available campsites make visiting easy from June to October. By day, you can wander 150 miles of trails; at dusk, you can settle into your tent or cabin on Manzanita Lake, its mirrored surface broken only by the cast of an unhurried angler or the dip of a kayaker's paddle.
Along the park's 30-mile scenic highway, the belching mud pots and hissing vents of Sulphur Works steam and stink. It's worth driving a few miles on unpaved road before hiking 4.2 miles round trip to see the hot springs at Devils Kitchen or the 500-foot-wide acidic pool of Boiling Springs Lake, a landscape that testifies to Lassen's deeper volcanic forces.
Four volcano types—shield, composite, plug dome, and cinder cone—await exploration in the park. Reaching the top of 10,457-foot Lassen Peak, which last erupted in 1917, is a rite of passage requiring a steep, five-mile round-trip hike.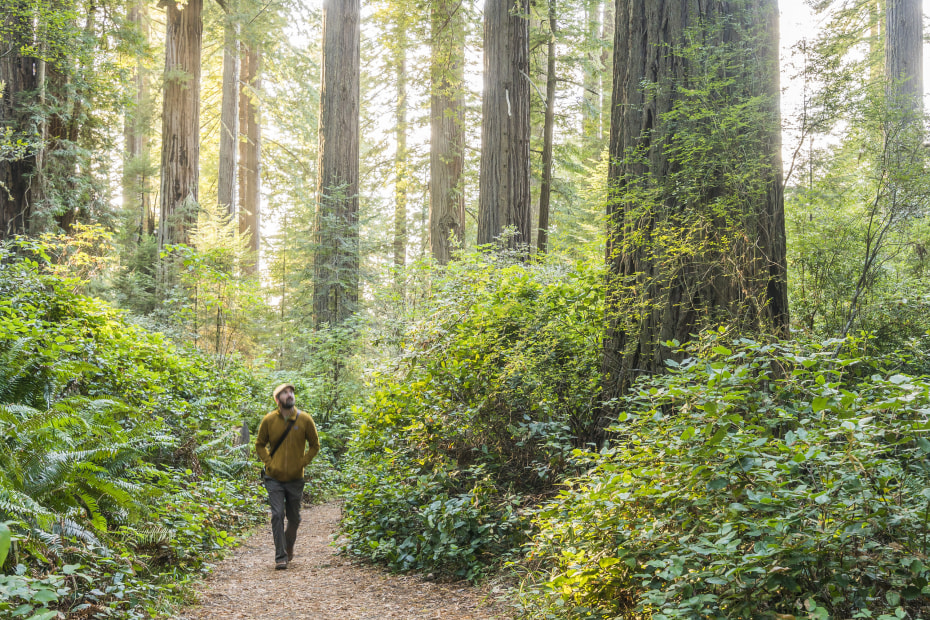 2. Redwood National and State Parks, California
Redwood National Park was dedicated 54 years ago, along Lady Bird Johnson Grove Trail.
In all likelihood, you've seen a redwood tree before. So why travel to the northwestern corner of California, more than 300 miles from San Francisco, to see more?
Two words: old growth. Safe from chain saws, allowed to reach their full grandeur, the coast redwoods in this ancient forest give you a rare connection to their timeless beauty. "Standing at the foot of trees that are 2,000 years old and 350 feet high—it's a humbling experience," says Park Ranger Michael Glore. "I've seen people in tears. I've seen people on their knees."
Early conservationists fought tooth and nail to preserve such experiences for visitors today, securing four state parks in the 1920s and the national park in 1968. Together, they form a symbiotic system and an exceptional environment for communing with the world's tallest trees. You can drive beneath dense canopies, walk short loops around gnarled old-timers, and take longer hikes through misty groves as hushed as libraries.
At the same time, Redwood is much more than its trees. At more than 130,000 acres, the parks encompass a wonderfully varied landscape of rolling woodlands, open prairies, wild and scenic rivers, and rugged Pacific coastline. Nature lovers may spot majestic Roosevelt elk grazing the meadows, delicate five-finger ferns lining the canyons, giant green sea anemones congregating in the tide pools, and migrating gray whales spouting offshore.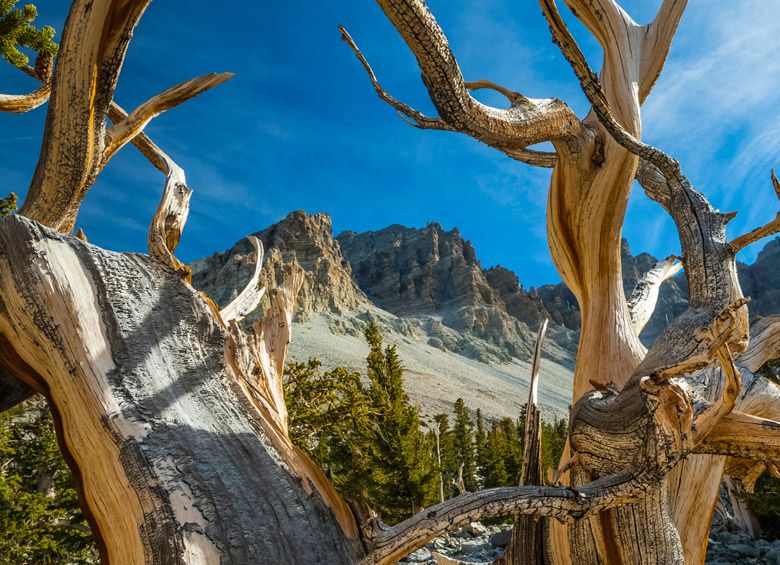 3. Great Basin National Park, Nevada
The Great Basin Desert stretches across almost all of Nevada—some 190,000 square miles of sage and scrub that blur together in many people's minds. And yet a handful of savvy travelers—around 144,000 each year—have discovered one of its best-kept secrets: Great Basin National Park.
First timers who arrive anticipating an entirely arid landscape will be surprised. "Because the park includes high-elevation areas, we have forests, creeks, small lakes, and a glacier," explains Nichole Andler, the park's chief of interpretation. "Visitors don't expect it to be so vibrant."
The drive up 13,063-foot Wheeler Peak presents an overview of these varied ecosystems, starting amid fragrant sagebrush and ascending past stands of piñon and juniper, through lush spruce and fir forests, and finally reaching the park's famous bristlecone pines. Some of the world's oldest living trees, Great Basin's ghostly bristlecones look every day of their 4,000-plus years.
Trails below Wheeler provide access to the trees as well as to alpine lakes and rocky glacial moraine. But the park's most popular route is the tour through Lehman Caves. Formed when acidic water carved out layers of limestone and marble, the vaulted rooms and narrow passageways are lined with stalactites, helictites, and cave shields that resemble giant pizzas dripping with cheese.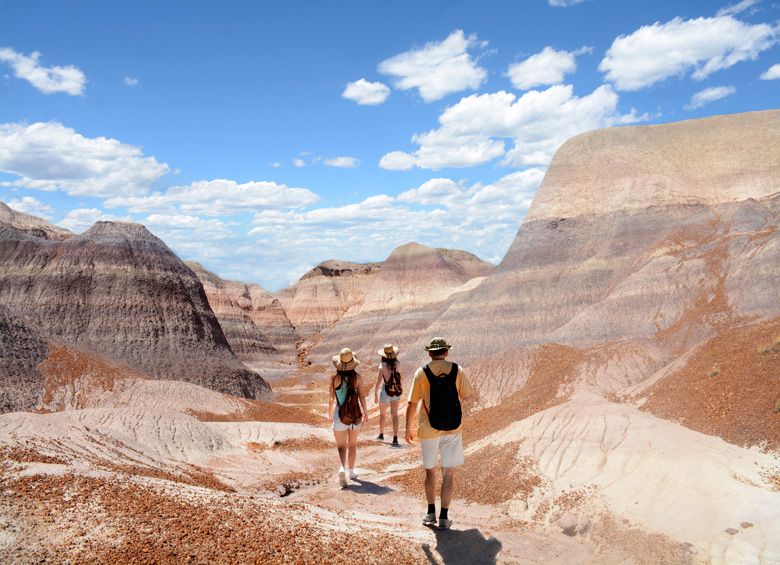 4. Petrified Forest National Park, Arizona
Paralyzed, petrified, turned to stone. It's the terrible curse in countless tales, from Greek mythology to the Harry Potter books. But one look at Petrified Forest's namesake trees—shimmering with quartz crystals in shades of red, gold, and green—and petrifaction seems less an unhappy ending than a lovely hereafter.
Of course, it was no magic spell that scattered these treasures across northeast Arizona, but the slow seep of minerals into the fallen logs of a forest dating as far back as 218 million years. Buried beneath layers of sediment, the organic matter acted as tree-shaped molds.
Short trails lead to impressive specimens in the Crystal Forest and Long Logs areas, as well as to Ancestral Puebloan sites such as Newspaper Rock, which features more than 650 petroglyphs.
Several routes traverse the Painted Desert, where erosion has exposed the remains of giant reptiles, many on display in the park's Rainbow Forest Museum and working paleontology lab. Even more attractions await discovery in Petrified Forest's expansive backcountry. At a lot of parks, you aren't permitted to go off-trail, explains resident archaeologist William Reitze, but most of Petrified Forest is open to the public. "You can hike to a beautiful place where there aren't any people," he says.
Areas such as the Red Basin Clam Beds were acquired in 2004 as part of an ongoing expansion that nearly doubled the park's size to 221,390 acres. As prehistoric sites and ancient fossils are uncovered each year, Petrified Forest keeps growing, changing, and refusing to stand still.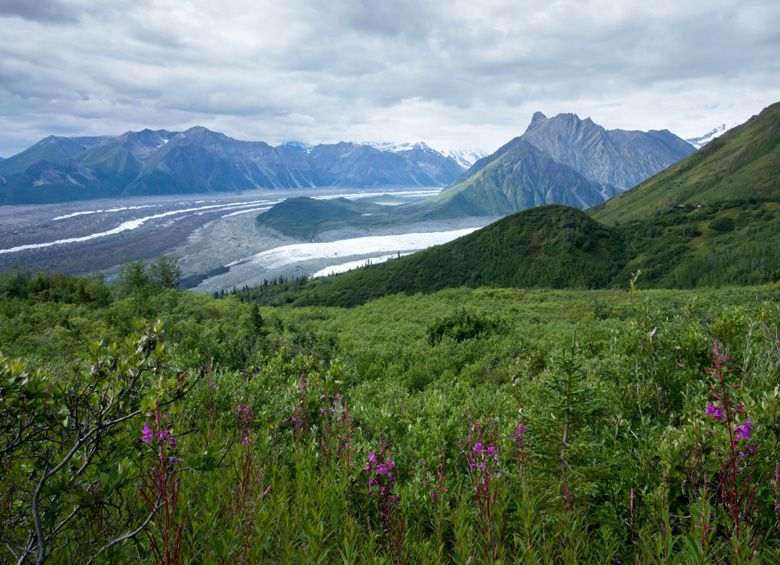 5. Wrangell–St. Elias National Park and Preserve, Alaska
There's big, there's supersize, and then there's Wrangell–St. Elias. The country's largest national park covers 13.2 million acres and boasts nine of the 16 highest U.S. peaks. Its glacial system includes the 3,000-foot-thick Bagley Icefield and the tidewater Hubbard Glacier, known to calve icebergs over three stories tall.
What's small in this corner of Alaska, a 250-mile drive from Anchorage? The number of visitors: fewer than 80,000 annually. "It can just be you and your family out there on your own," says Margie Steigerwald, the park's chief of interpretation and education. "There's still that sense of discovery."
Activities in the rugged wilderness are guaranteed to get your blood racing: hiking along icy Root Glacier, flying to a cabin in the backcountry, rafting and kayaking on the sinuous Chitina and Copper Rivers, and sportfishing for wild salmon. Even a scenic drive delivers an adrenaline rush, with only two gravel roads snaking into the park's interior. (Check nps.gov/wrst for shuttle and rental car information.)
The 60-mile McCarthy Road is a must in summer, its twists and turns eventually lead to historic McCarthy, where rowdy miners once blew off steam. Today, the town is the park's adventure hub, and the best place to catch a flightseeing tour. As you gaze down at swaths of spruce forest, rivers of ice, and tiny dots of Dall sheep clinging to peaks, the scale of Wrangell–St. Elias sinks in—and steals your breath away.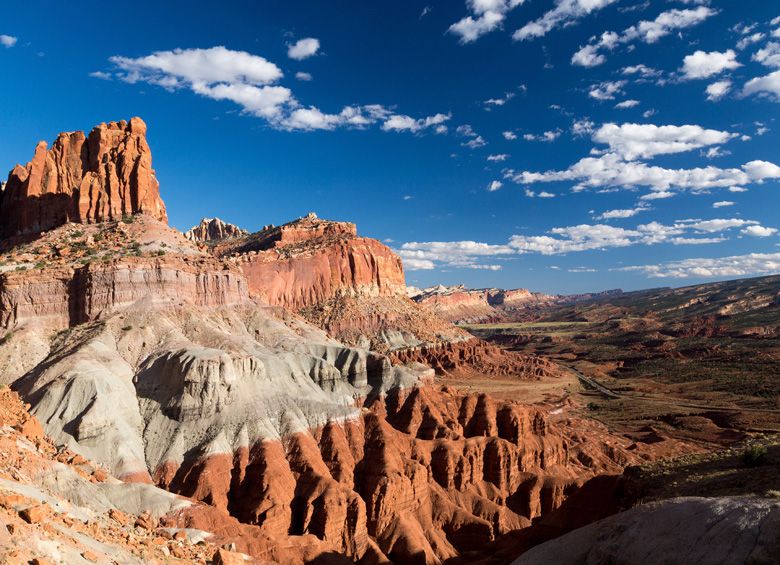 6. Capitol Reef National Park, Utah
At this park in Utah's south central desert, the ancient clash of tectonic plates created a gorgeous wrinkle in the earth. The nearly 100-mile-long Waterpocket Fold in the Colorado Plateau reveals dramatic layers of sandstone and limestone. "You can see the earth's history without hiking to the bottom of the Grand Canyon," says Park Ranger Adrienne Fitzgerald. "Here, it's right at the surface."
An 7.9-mile scenic drive runs alongside these cliffs, with several trails leading to slot canyons, natural arches, and the "capitol domes" of eroded white sandstone. Capitol Reef's fascinating human history is also written in the rocks. From Highway 24, you can spot petroglyphs depicting people, birds, and bighorn sheep—evidence of the early Fremont peoples who once hunted, gathered, and farmed here. Along Capitol Gorge Trail, names carved into the stone Pioneer Register identify Mormon settlers who arrived in the late 1800s. One of their villages, tiny Fruita, is home to a restored schoolhouse and orchards where visitors can pick cherries and other heirloom fruit.
In the evenings, epic sunsets illuminate the rock formations in a preamble to some of the country's best stargazing. An International Dark Sky Park, Capitol Reef combines high-desert air with freedom from urban light pollution, so you can marvel at starlight that has traveled hundreds or thousands of light-years, framed by rocks formed millions of years ago.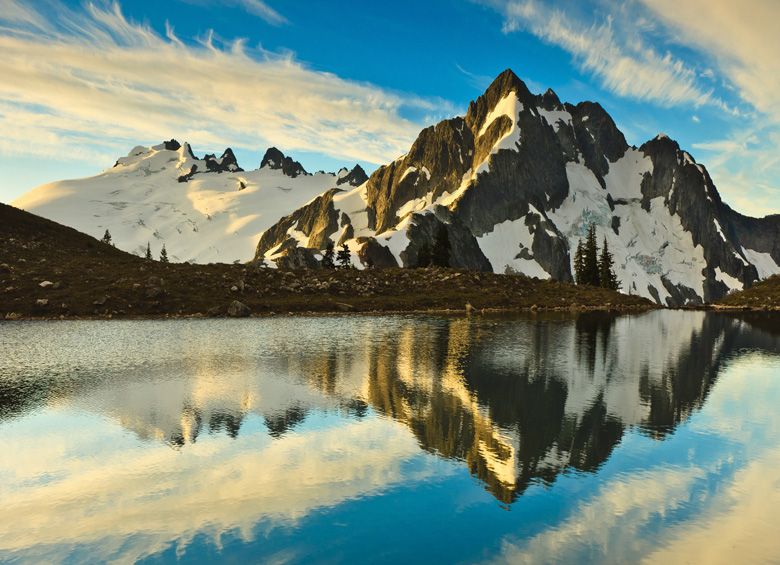 7. North Cascades National Park Service Complex, Washington
The Pacific Northwest's biggest mystery? Why more people aren't familiar with this park's glacial lakes, wild rivers, and precipitous peaks. Legendary novelist Jack Kerouac, who worked here as a summer fire lookout, memorialized the landscape in The Dharma Bums, describing "unbelievable jags and twisted rock and snow-covered immensities, enough to make you gulp."
The best way to get clued in to North Cascades, 100 miles northeast of Seattle: driving the scenic byway, a 140-mile, high-elevation tour through the dramatic mountain range that lends the park its name. When the road opens in spring, waterfalls cascade right outside your window, and black bears can be spotted in wildflower-dotted meadows. Pull off at overlooks to discover turquoise Diablo Lake and sapphire Ross Lake, their otherworldly hues created by sediment from the park's 300-plus glaciers.
No roads lead to the backcountry gateway of Stehekin, which makes reaching the timeless village an adventure of its own. Some hike or ride horses, others catch a floatplane, but most people take the ferry up skinny Lake Chelan. Once in Stehekin, hop a vintage tour bus to 312-foot-tall Rainbow Falls, follow the tantalizing scent of cinnamon rolls to the Stehekin Pastry Company, or take a forested walk to the historic Buckner Homestead.