It ain't easy being an attraction in San Francisco. Amazing parks, museums, and historic spots that would shine in any other town are overshadowed by the city's world-famous icons. The Golden Gate Bridge, the cable cars, the Alamo Square Painted Ladies—with so many top sights, it's easy for lesser-knowns to become didn't-get-around-tos.
But you don't want to miss forgotten favorites like Mission Dolores or newer delights like the 16th Avenue Tiled Steps. So check out these surprising picks and make your next visit to the City by the Bay feel fresh and exciting.
Superstar Bridge
Since May 1937, the Golden Gate Bridge has carried more than 2 billion vehicles—plus countless pedestrians and at least one wild deer from Marin County.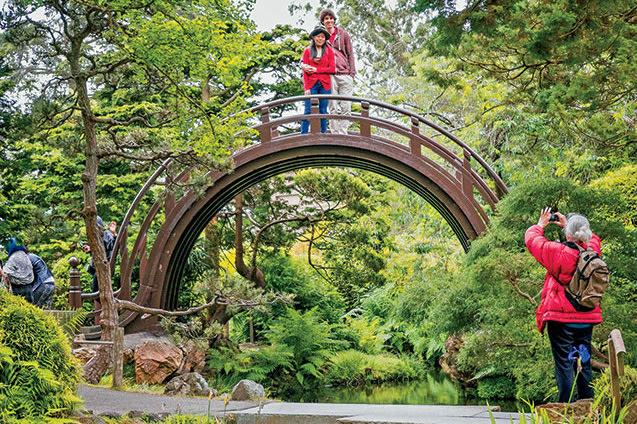 But Don't Miss Drum Bridge
For some 120 years, the Drum Bridge in Golden Gate Park's Japanese Tea Garden has witnessed generations of visitors. The design for the span originated in Asia, its dramatic curve allowing boats to pass underneath easily. More poetically, the arch is reflected in the pool below, creating an unbroken circle or "moon"—hence its other name, the Moon Bridge.
Commissioned for the California Midwinter International Exposition of 1894, the wooden bridge was part of the Japanese Village exhibit. After the fair, Japanese landscape architect Makoto Hagiwara devoted his life to expanding the gardens into a five-acre paradise of carefully manicured trees, tranquil koi ponds, and precious statues surrounding a rustic teahouse.
World War II brought troubled waters to the bridge and garden: The Hagiwara family was uprooted and sent to an internment camp, and the site was artlessly renamed the Oriental Tea Garden. It languished until 1952 when the original name was reinstated and a slow restoration began. Today the Drum Bridge prompts visitors to slow their pace and thoughts as they stroll winding pathways, sip a cup of tea, and contemplate their fortune.
One More Crossing
With dark steel girders and looming counterweights, the Lefty O'Doul Bridge made a cameo appearance in A View to a Kill, the 1985 James Bond film starring Roger Moore. The span, named for a legendary San Francisco–born baseball player, overlooks Oracle Park's "splash zone," where kayakers await home-run balls launched into McCovey Cove.
Superstar Ride
Even on steep hills, you are in good hands on a cable car. The grip person controls the 15,500-pound vehicle with eyehand coordination and upper body strength.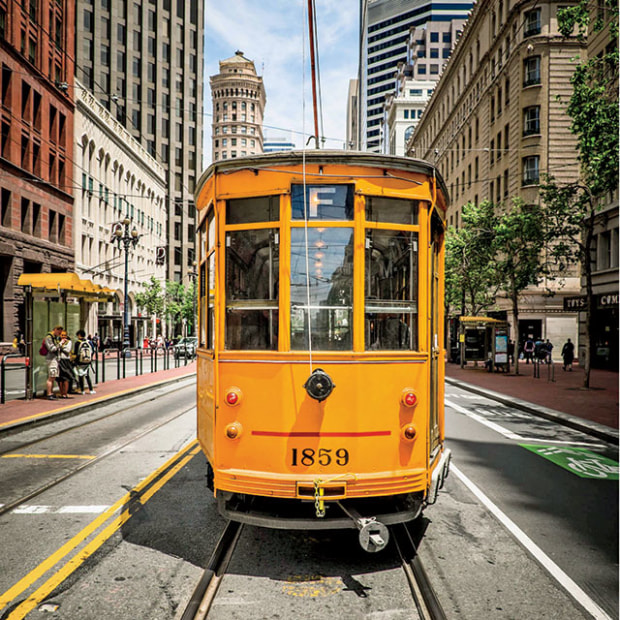 But Don't Miss F Line Trolleys
Talk about an understudy stealing the show: After the cable car system was shut down for restoration in 1982, city officials organized the Historic Trolley Festival as an alternate attraction. Colorful and stylish, the vintage streetcars proved so popular that they earned a permanent role in the transit system.
Today, passengers can hop a historic ride on the F line to travel from scenic Fisherman's Wharf along the Embarcadero and head up Market Street to the Castro District. Some of San Francisco's own antique cars—including a blue-and-gold 1914 Iron Monster, dedicated to former newspaper columnist Herb Caen—run on this route. But you'll also see original trolleys from around the world: green trams from Melbourne, orange Peter Witt streetcars from Milan, even open-air "boat trams" from Blackpool, England, decorated with festive strings of lights.
A number of President's Conference Committee trolleys—most hailing from Newark, N.J., and Philadelphia, Pa.—have been painted in tribute to the North American cities where they once operated. Look for likenesses of Chicago's Green Hornet, Toronto's Red Rocket, and a Los Angeles car sporting a "fruit salad" palette. Crossed Mexican and U.S. flags honor a vehicle that ran between the border towns of El Paso, Texas, and Juárez, Mexico.
More Zippy Transport
Tooling around in a bright yellow open-air GoCar is a wickedly fun alternative to taking a narrated bus tour. The tiny two-seaters not only point out the sites, but also crack jokes, recommend restaurants, and use GPS to verbally guide you to the city's landmarks.
There's nothing like getting a pedicab ride from a smiling cyclist with chiseled calves. Call for a pickup or a custom tour from Golden Gate Pedicab or San Francisco Pedicabs, or hail your human-powered taxi along the Embarcadero, where you can visit the Exploratorium's free pedicab–cum–science exhibit, the Rickshaw Obscura.
Superstar Park
It took over 60,000 trees and shrubs, as well as a pair of irrigating Dutch-style windmills, to turn the Outside Lands from a sand dune desert into today's gloriously green Golden Gate Park.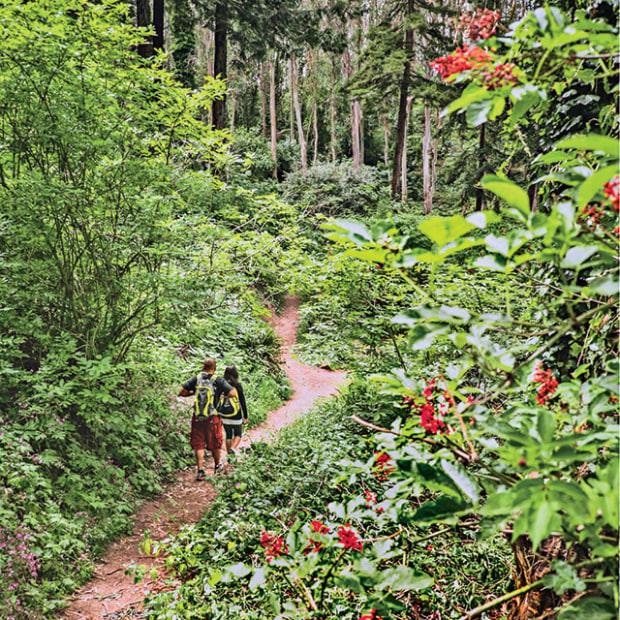 But Don't Miss Mount Sutro Open Space
Step into the mist-shrouded forests of Mount Sutro Open Space Reserve and the spell is cast: The noise of neighboring Cole Valley vanishes, replaced by the creak of towering trees, an invisible chorus of warblers and sparrows, and the burble of a seasonal stream. Orange and yellow nasturtiums spill down the steep hillsides next to sword ferns and dense blackberry bushes. Footpaths with names like Fairy Gates and Mystery Trail further the sense of stepping through a magical wardrobe.
The credit for such enchantment goes in part to Mother Nature and in large measure to Adolph Sutro, who owned 10 percent of San Francisco acreage in the 1880s. Sutro enlisted schoolchildren to plant Australian eucalyptuses across his property—purportedly in celebration of Arbor Day, though cynics claim he was motivated by a tax break for forested land within city limits.
Whatever his motive, by the time the University of California purchased the Mount Sutro parcel in the 1950s and designated a 61-acre reserve in 1976, the trees had soared skyward, creating a sheltering oasis—and fueling the ongoing debate about invasive species. Visitors can experience an area of restored habitat in Rotary Meadow, which was landscaped in 2004 and is now home to more than 1,500 native plants.
More Outdoor Escapes
The jewel of the Sunset District, Stern Grove has delighted music fans since 1938 with its summer festival of free outdoor concerts. Stately redwoods and eucalyptuses frame the grassy amphitheater, and trails lead to tranquil Pine Lake and dog-friendly West Meadow.
While picnickers search for blanket space in Golden Gate Park, savvy locals head to 318-acre John McLaren Park, the city's second largest green swath. Join them for a dip in the pool, a round of golf, or a contemplative hike along 2.3-mile Philosopher's Way, with its expansive vistas and 14 musing stations.
Superstar Stairs
Whether you choose to climb to Coit Tower or descend to the Embarcadero, the Filbert Steps traverse a hillside of cottages and the Grace Marchant Garden, home to a flock of wild parrots.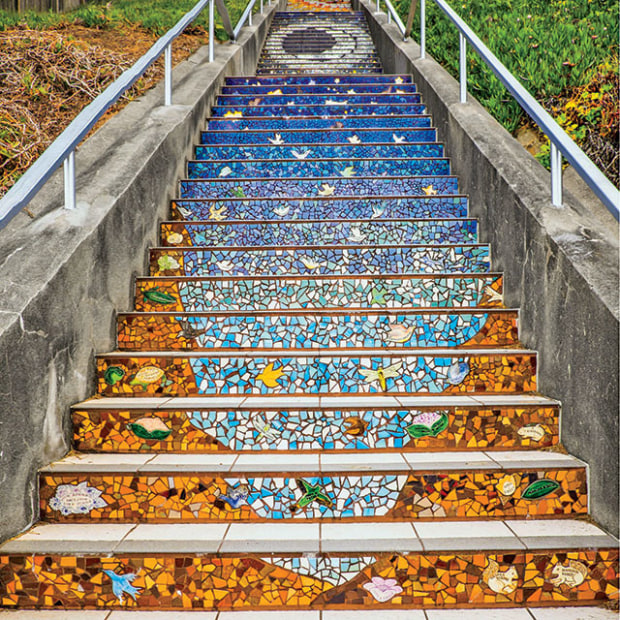 But Don't Miss 16th Avenue Tiled Steps
Most stairways leave you a little winded, but the 16th Avenue Tiled Steps take your breath away before you've even started climbing. Decorated with more than 75,000 pieces of tile, mirror, and stained glass, this Inner Sunset staircase (off 16th Avenue between Moraga and Noriega Streets) resembles a waterfall of crayon colors. A blazing sun and crescent moon, a tidal swirl of sea life, a blossoming garden abuzz with birds and insects—all the beauty of the planet, it seems, is captured in 163 mosaic steps.
Inspired by the colorful Escadaria Selarón in Rio de Janeiro, this stairway makeover was a true neighborhood collaboration. Artists Aileen Barr and Colette Crutcher designed the mosaic patterns, and more than 300 volunteers joined them to help construct the panels for the 2005 unveiling. Fund-raising was also a community effort: As you climb, keep an eye out for custom tiles—starfish, frogs, bumblebees, hummingbirds—sponsored by local businesses and individual donors.
Continue up to Grand View Park to watch sweeping sunsets over the Pacific and rest your legs. When you're ready for your next stairway adventure, the nearby Hidden Garden Steps, at 16th Avenue and Kirkham Street, were completed in 2013 by the same artistic team and offer their own gorgeous tile tapestry.
More Fabulous Flights
From Billionaires Row in Pacific Heights, the Lyon Street Steps deliver dizzying views of Alcatraz, the dome of the Palace of Fine Arts, and the bay before dropping between some of the city's finest mansions on one side and the Presidio forest on the other.
Ina Coolbrith Park—with its welcoming benches and stunning views of Coit Tower—may be the highlight of Russian Hill's Vallejo Street Steps. Continue west of Taylor Street to find a hidden parklet and the shingled house at 1019 Vallejo Street where Laura Ingalls Wilder once stayed.
Superstar Buildings
Filtered through the trees of Alamo Square Park, sunset illuminates the Painted Ladies, a line of pastel Victorian houses fully deserving of their other moniker, Postcard Row.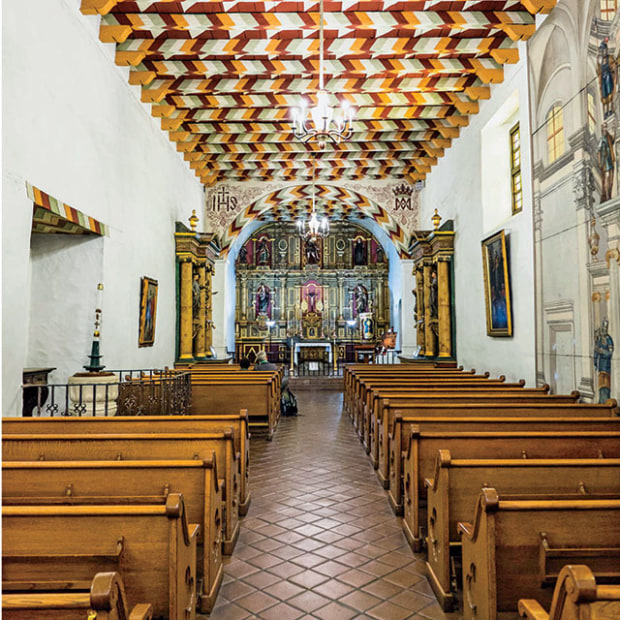 But Don't Miss Mission Dolores
The Mission District's trendy boutiques and hopping restaurants make it easy to forget that it is also home to the oldest surviving structure in San Francisco, Mission Dolores. Dedicated in 1791 as Misión San Francisco de Asís, the white adobe on 16th and Dolores Streets serves as a portal back to the days of Alta California when Spanish padres established a string of 21 missions stretching from San Diego to Sonoma.
Step into the chapel and your eyes are instantly drawn to the chevron pattern on the redwood-beam ceiling, an Ohlone Indian design rendered in vibrant vegetable dyes. Equally striking is the baroque altarpiece, a carved reredos that arrived by ship from Mexico in 1796. The atmospheric cemetery, which Alfred Hitchcock fans will recognize as the graveyard from Vertigo, lies outside—the final resting place for Spanish colonial families, fortune seekers, and the American Indians who built the mission and were often forcibly converted to Christianity.
The mission—along with the adjacent basilica, added in 1918—continues to play an active role in the community. Celebrate the past and the future as you witness a quinceañera (a girl's coming-of-age fete) or wedding party being photographed out front.
More Cool Architecture
The elegant curved ramp circling the interior of the V.C. Morris Gift Shop on Maiden Lane was fashioned in 1948 by Frank Lloyd Wright, a precursor to his famous spirals for the Guggenheim Museum in New York. Now home to a menswear store, the space also features another Wright touch—a translucent bubble ceiling.
Built during the Gold Rush, Fort Point boasted 141 cannon positions and seven-foot-thick walls. No enemy ever tested its defenses, but visitors now storm the structure to admire its remarkable brick masonry and view of the Golden Gate Bridge.
Superstar Museum
Art by Warhol, Lichtenstein, and Calder awaits at the San Francisco Museum of Modern Art. A sleek, Snøhetta-designed addition doubled the gallery space in 2016 and showcase a trove of 1,100 works from the Doris and Donald Fisher Collection.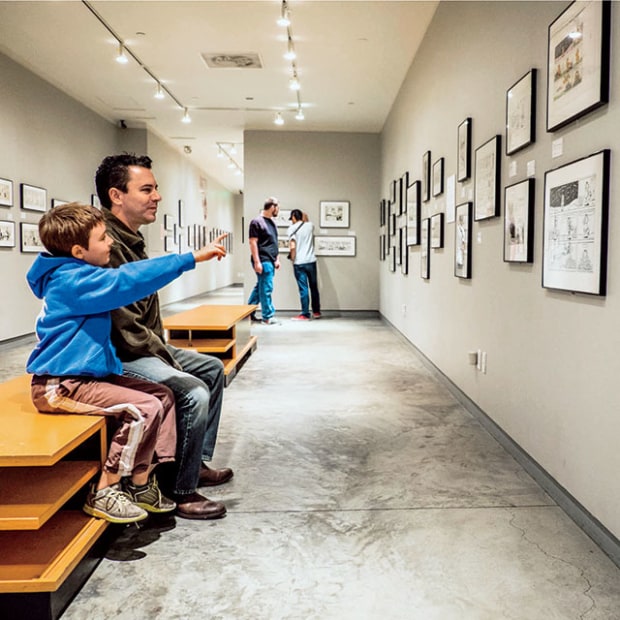 But Don't Miss Cartoon Art Museum
Back in 1984, cartoons and comic books were still considered the realm of little kids and overgrown adolescents. Maus was eight years away from winning the Pulitzer, The Simpsons was only a glimmer in Matt Groening's eye, and most folks thought Iron Man was a triathlon winner.
Luckily the Cartoon Art Museum was an institution ahead of its time. In over 30 years its collection has grown to more than 6,000 pieces of cartoon and animation art, from New Yorker editorials to Peanuts strips to Japanese anime. Retrospectives, rotating through a recently opened Beach Street gallery space, celebrate nostalgic favorites—Superman, Garfield, Calvin and Hobbes, Dr. Seuss, and Mad magazine—as well as pioneers like Mary Blair, concept artist for the Disney films Cinderella and Peter Pan. Peruse Small Press Spotlights that feature Bay Area cartoonists tackling everything from the Occupy movement to queer culture. Or just sit and watch cartoons.
Future illustrators can snag drawing books and art kits at the store, along with autographed editions from various artists. Even better, sign up for classes in cartooning, animation, and illustration.
More Culture Spots
Learn how San Francisco's famous hill climbers get a grip at the Cable Car Museum on Nob Hill, a working powerhouse where you can watch enormous wheels pulling in cables at a steady nine miles per hour.
Families can take a whirl on the antique carousel outside the Children's Creativity Museum in Yerba Buena Gardens, then go inside and dive into art and technology. Direct a Claymation movie, star in a music video, or dream up the next world-changing invention.