Colorful, lively, and perennially warm—when compared with the rest of the city—the Mission District has long been one of San Francisco's most vibrant neighborhoods: home to some of the best taquerias and most creative cocktail bars; where Michelin-starred restaurants saddle up next to independent bookstores and locally owned boutiques; and a rich Latino Cultural District with Mexican bakeries, powerful street murals, and stores selling everything from Dia de los Muertos folk art to lucha libre wrestling masks on the same streets as gourmet donut shops and third-wave coffee purveyors.
There's also plenty to do, from catching dinner and a movie (in some cases, simultaneously!) to satisfying your sweet tooth with bean-to-bar chocolate, small-batch ice cream, and fruit-filled pies.
BART trains run directly there from downtown, stopping at both Mission and 16th streets and Mission and 24th streets (the start of the designated Latino Cultural District). You can also catch MUNI's 49 bus line from the Marina's Fort Mason and all along Van Ness Avenue (just look for the palm trees!).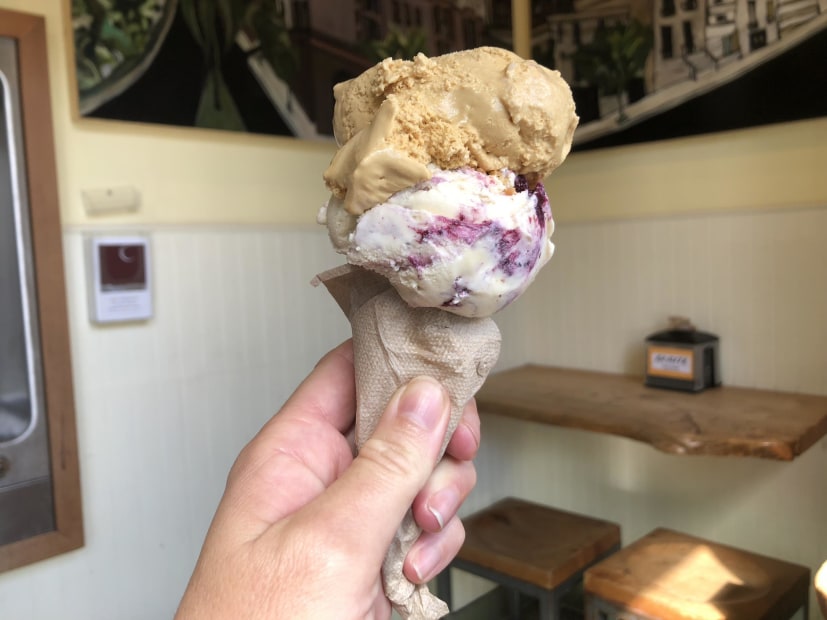 Where to Eat and Drink in the Mission
One thing's for sure: If it's eating and imbibing you're after, the Mission has you covered—big time. Offerings range from Burma Love's savory tea leaf salads to Trick Dog's biannual-changing cocktail menu that's resembled everything from a zodiac calendar to a San Francisco–inspired cookbook, with creative libations to match. Some of the neighborhood's best new offerings include the Beehive, serving up eye-popping cocktails and loads of fondue in a Mad Men–inspired setting (think smoked mirrors and Sputnik chandeliers), and the extremely colorful Loló, a family-owned eatery known for its inventive Jaliscan-influenced fare.
Beer lovers flock to Standard Deviant Brewing for its selection of house brews and casual setting—a mix of communal tables, beer barrels, and pinball games—while the neighborhood's array of must-try eateries includes former pop-up-turned-brick-and-mortar Mission Chinese Food and Beretta, with its menu of thin-crust, handcrafted pizzas. For Michelin-starred dining, check out progressive American restaurant Commonwealth.
For a true taste of the neighborhood, don't miss the cheese-filled pupusas at Balompié Cafe or the great, big burritos at Pancho Villa Taqueria and La Taqueria, where they're served rice-free. Landmark eatery Foreign Cinema dishes up some of the best brunch in town, though if it's coffee you're after, swing by single-origin purveyors Four Barrel or 24th Street's Philz.
When it comes to dessert, there's no shortage of options: from Tartine Bakery's almond cream croissants and chocolate hazelnut tarts to Dandelion's European-inspired drinking chocolate. Bi-Rite Creamery's salted caramel ice cream is a game-changer, though for more unusual options swing by Humphry Slocombe, where flavors like jalapeño and olive oil are the norm.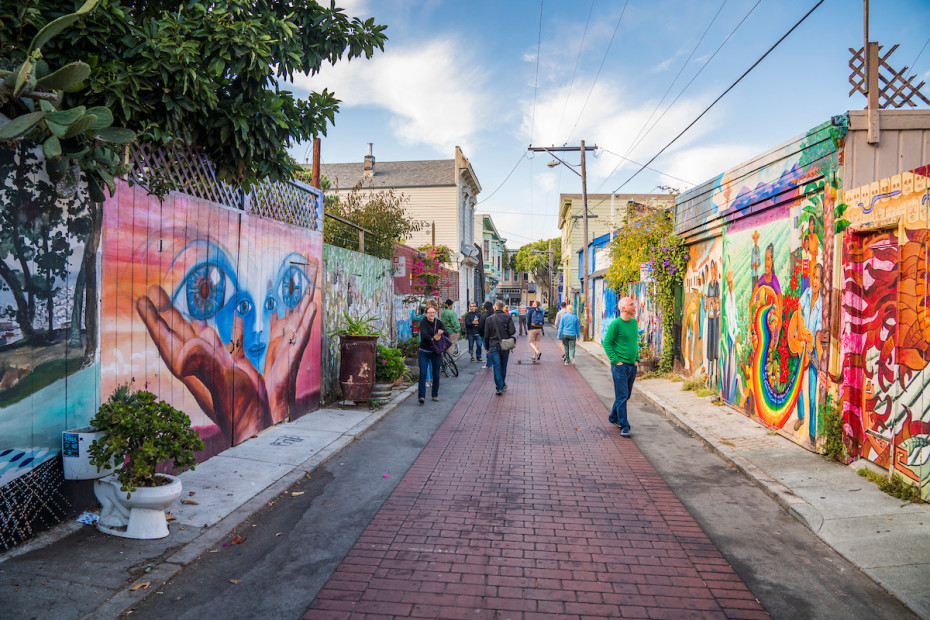 What to See & Do
San Francisco's Mission San Francisco de Asís, or Mission Dolores, is the city's oldest surviving structure (dating back to 1791, though Franciscans first established the Mission in 1776) and a stop along California's historic Missions Trail. The heart of the Mission is its Latino Cultural District. Running along 24th Street between Mission Street and Potrero Avenue, this vibrant stretch boasts Latino-owned shops, bakeries, and eateries; galleries selling Latino-made and -inspired artworks; and colorful murals. The community-based non-profit Precita Eyes Muralists hosts muralist-lead guided tours highlighting this neighborhood artwork, most notably in Balmy Alley, which features a rotating array of artwork on everything from human rights to famous Latino figures. Several blocks away you'll find Clarion Alley, another art-covered space with a broader focus.
Another great way to experience the neighborhood is through its culinary delights. Foodie Adventures! offers guided walking tours showcasing some of the Mission's lesser-known spots, like La Palma Mexicatessen—where gorditas, flautas, and handmade tortillas are par for the course—and Kings Bakery Cafe, where you'll find an array of delicious pastries and baked goods—the coconut cake is a favorite.
Once one of San Francisco's main theater districts, the Mission also remains a great place to catch a show, whether it's live music at the aptly named Chapel or a stage performance of Hedwig and the Angry Inch at the once-vaudeville Victoria Theatre. Occupying a former art deco theater, the multi-screen Alamo Drafthouse Cinema doles out a delicious menu of food and drink during the films, which range from first-runs to cult-classics.
The hillside, palm tree–studded Dolores Park is one of the city's most popular gathering spaces, and provides prime downtown views as well as a plethora of events ranging from summer movie nights to "First Caturdays," an unofficial gathering for felines and their human friends every first Saturday of the month. It's also an ideal perch for picnicking, and its Helen Dillar Playground features net climbing, swings, and even a giant slide for kids.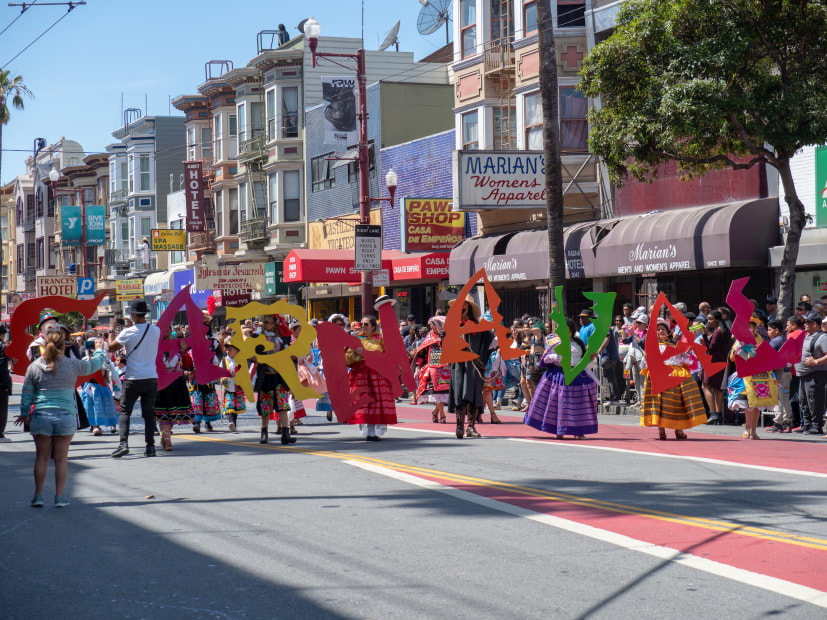 Where to Shop
Score handcrafted and locally-made goods, like an artisan letterpress card at Serendipity or a pair of striped painter pants at design collective Gravel & Gold. At the Timbuk2 Mission Factory Store, you can design your own backpack or messenger bag. Therapy stocks everything from vintage carnival wheels to Tom's shoes. For something truly unusual, try Paxton Gate, home to carnivorous plants, 18th-century sundial replicas, and ethnically sourced taxidermy.
Another neighborhood highlight: Incredible independent bookstores, which include sci-fi centric Borderlands Books, Dog Eared Books—featuring a mix of new and used titles—and Adobe Books, known for its backroom gallery and poetry readings.
Must-See Events
Commemorate the lives (and afterlives) of departed loved ones at November's annual Dia de los Muertos, which includes a candlelit procession along Mission streets; or in May, take part in the festivities of Carnaval, two days of colorful costumes, music, dancing, and hot rods culminating with a parade to celebrate the neighborhood's diverse Latin American and Caribbean roots.
The highlight of San Francisco's annual October literary festival, Litquake, is Lit Crawl, a literary pub crawl featuring 500+ writers, authors, storytellers and more sharing their best tales at pop-up venues from laundromats to tattoo parlors Mission-wide.