In tech-boom San Francisco, a formal lunch can come at a steep financial cost. But the city has plenty of casual spots serving delicious midday meals at prices that won't bust your budget—even if you aren't long on Facebook stock. To whet your appetite, here are five favorites with lunch options for $12 and under.  delicious restaurant deals
4505 Burgers & BBQ
One of the many hearty specialties at this top-notch smokehouse is listed on the menu as the "Best Damn Grass Fed Cheeseburger." We're not going to argue. But we'll tell you a bit more. 4505 Burgers & BBQ's burger is a quarter-pounder, fat and juicy, and it comes with lettuce, onion, Gruyère, and a "secret sauce" that tastes a lot like Thousand Island dressing. It's delicious and indulgent, but don't let that stop you from adding bacon to it. While you're at, maybe also a fried egg? 705 Divisadero St.
The Bird
As the name suggests, the focus at this bustling counter-service joint is chicken. Specifically, fried chicken—coated in batter spiked with berbere (an Ethiopian spice mix that includes chiles, fenugreek, and ginger), adorned with celery, house-made apple slaw, mayo, and pickles, and bedded on a freshly baked bun. Not bad for an $8 sandwich. If you splurge, you can also get that same fried chicken on a salad with a side of curly fries and a soda or beer. But there's not a whole lot more to the menu. The Bird does a few things, and it does them very well. 115 New Montgomery St.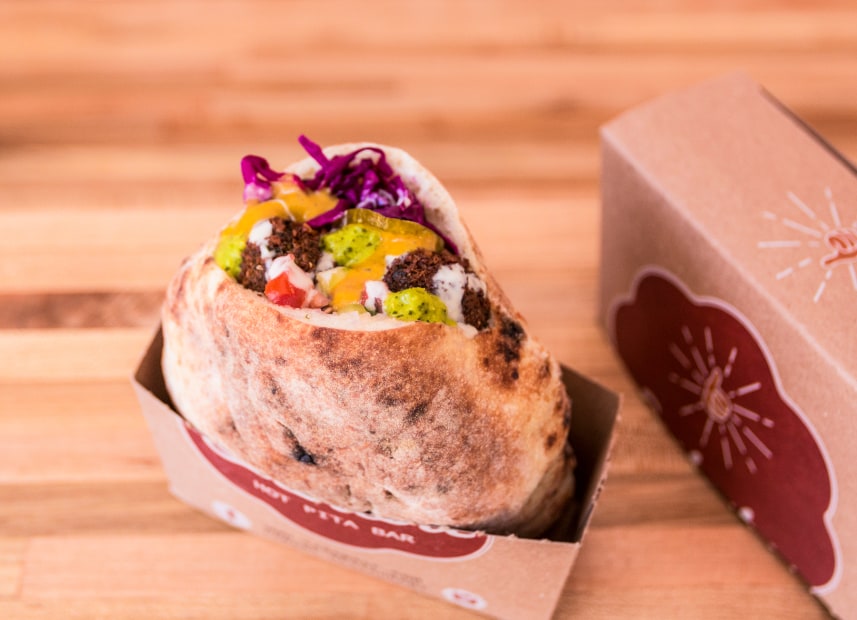 Sababa
At this build-your-own-hot-pita concept, you don't really do the building (someone assembles your order for you), but you do the choosing from a mix-and-match menu that lets you pair your pick of protein (falafel, grilled chicken, beef kebab, and eggplant) with salads and garnishes that range from quinoa tabouli and roasted beets to fresh avocado and sheep's milk feta. If pita bread is not your thing, you can get your picks served with hummus or spiced rice instead. Sababa's brightly flavored Middle Eastern street food, served with California flexibility and flair. Two locations: 329 Kearny St. and 554 Commercial St.
Turtle Tower
Pho is a national staple of Vietnam. But no two versions of it are the same. At Turtle Tower, the rice noodle soup is served the Hanoi way, without bean sprouts, basil, hoisin sauce, or any of the garnishes that commonly accompany other regional styles. The pho ga, with free-range chicken, has a nice, gingery kick. But nothing on the menu beats the pho tai, with slices of rare beef that continue cooking as you stir them into the wonderfully complex beef broth. Three locations: 645 Larkin St., 5716 Geary St., and 501 6th St.
Arinell Pizza
The next time some well-intentioned New York transplant tells you that you can't get good pizza west of the Hudson River, point them to this unassuming Mission haunt, where the crust is thin and blistered, the tomato sauce is tangy, and the cheese glistens with oily goodness. A generous-sized slice costs $3, plus a little more for optional toppings such as pepperoni, onions, anchovies, and olives. This being a New York–style pizzeria, ham and pineapple are (mercifully) not on the list. 509 Valencia St.