The last several years have seen a resurgence of affection for brick-and-mortar bookstores, a phenomenon both celebrated and encouraged with Independent Bookstore Day. On the last Saturday of April, independently owned bookstores around the country hold special events, sell limited time merchandise, and play host to hordes of bibliophiles.
Here are some of the best independent bookstores in the West—worthy of a trip down the street or across the state.
Dudley's Bookshop Cafe, Bend, Oregon
Whether you're a visitor to the Pacific Northwest or a local, if you're as serious about your coffee as you are your books, Dudley's Bookshop Cafe is sure to please. Grab a cup of Kona coffee or a chai tea at the in-store café and browse new and used books side-by-side.
Book Passage, San Francisco
With three locations throughout the Bay Area, Book Passage is known far and wide for its events and conferences and a huge selection of titles across genres. Drop into the teeny but bustling Ferry Building Marketplace location for one of over 700 annual author events or get your hands on a signed copy of the hottest new release. Afterward, stop for a nibble at one of the many local food and drink purveyors that line the halls of the Ferry Building.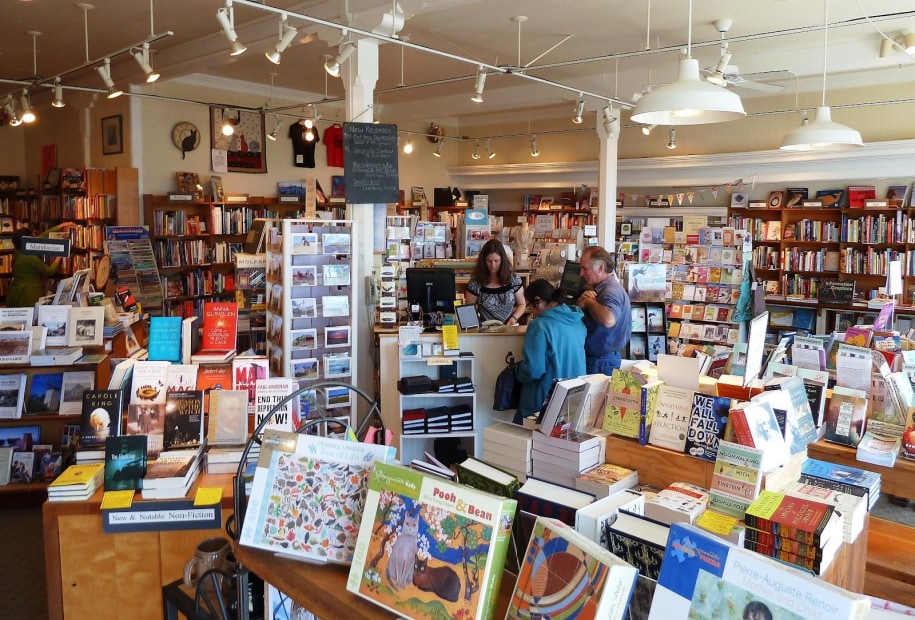 Gallery Bookshop, Mendocino, California
Perch in the bay windows of Gallery Bookshop and enjoy the view of Mendocino Bay's cliff-edged coastline to watch the annual migration of gray whales (November through April) or pet the Great Catsby, a stray-turned-bookstore-cat. Tuck yourself among the crowded wooden shelves, and choose from a selection of books on local history, ocean life, wine country, and more.
A Great Good Place for Books, Oakland, California
This is the epitome of a cozy bookstore. The long, narrow layout and floor-to-ceiling bookshelves at A Great Good Place for Books are reminiscent of the aisles of a library and make every chair a front-row seat at events with authors such as Anne Lamott and Michael Chabon.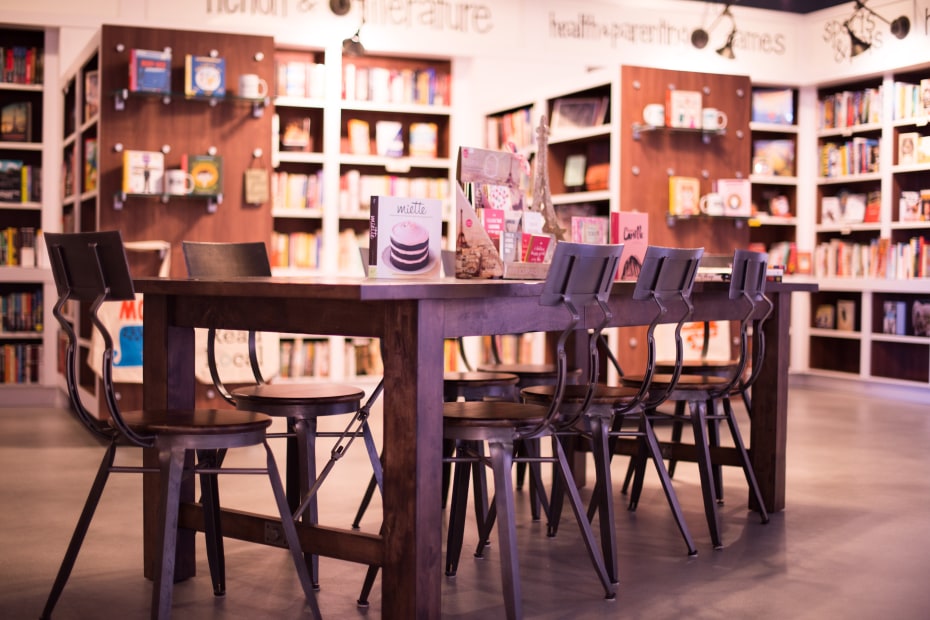 Face in a Book, El Dorado Hills, California
When owner Tina Ferguson opened Face in a Book in 2012, the future of independent bookstores was uncertain at best. Propelled by the belief that bookstores are not just a nostalgic throwback, but a vital part of every healthy community, Face in a Book now caters to readers of all ages with thousands of titles, gifts, and stationery.
Northtown Books, Arcata, California
High ceilings and rows of windows bring that Northern California sunshine into the store and give Northtown Books a bright, airy atmosphere. You're likely to find an elusive title among the store's impressive collection, but you may just snag the last copy on the shelf. If you don't have a specific book in mind, even the bookstore dog has an online list of recommendations.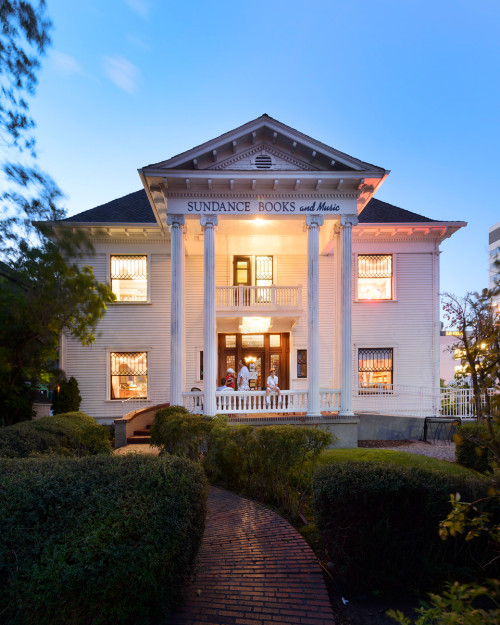 Sundance Books and Music, Reno, Nevada
Housed in a historic mansion that dates back to the early 1900s, Sundance Books and Music draws both literary and musical enthusiasts to peruse its extensive offerings. The bookstore shares its space with and sells books published by Baobab Press, whose titles run the gamut from literary short story collections to regional and niche works of fiction.
Weller Book Works, Salt Lake City, Utah
If you're seeking that already-loved, dog-eared novel or hoping to give a dusty tome a new life, this is just the place you've been looking for. Weller Book Works has been offering a selection of used and rare books alongside new titles since 1929.
Annie Bloom Books, Portland, Oregon
Annie Bloom Books believes there's nothing quite like that new book smell. You won't find any used books here. Instead, this bookstore excels with its selection of new fiction, children's, young adult, travel, and cooking titles. And the friendly bookstore cat, Molly, isn't a bad touch, either.
Changing Hands Bookstore, Phoenix, Arizona
Taking the classic books and coffee pairing a step further, Changing Hands Bookstore's Phoenix location offers books and brews at its in-store First Draft Book Bar. Munch on themed snacks like "Horton Hears a Hummus" (hummus with crudités) and enjoy an adult beverage of your choice. Then explore row upon row of brimming bookshelves set against an Instagrammable backdrop of exposed brick walls.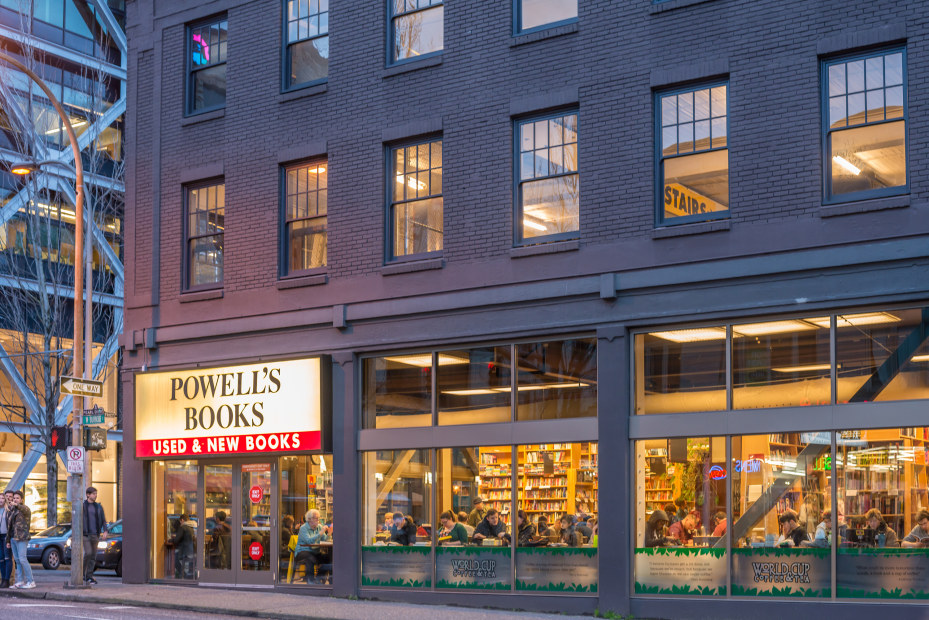 Powell's Books, Portland, Oregon
Powell's flagship, the City of Books, offers more than a million new and used volumes, a city block's worth shelved side by side. Take a breather in the on-site coffee shop before delving into the next completely stuffed room.
Elliot Bay Book Company, Seattle
Cedar shelves in this superstore hold some 150,000 new and used books—and many handwritten staff suggestions. Cold and raining outside? Stick around for an event with a visiting author or take your new book to the cafe in the back of Elliot Bay Book Company for some quiet relaxation and a treat.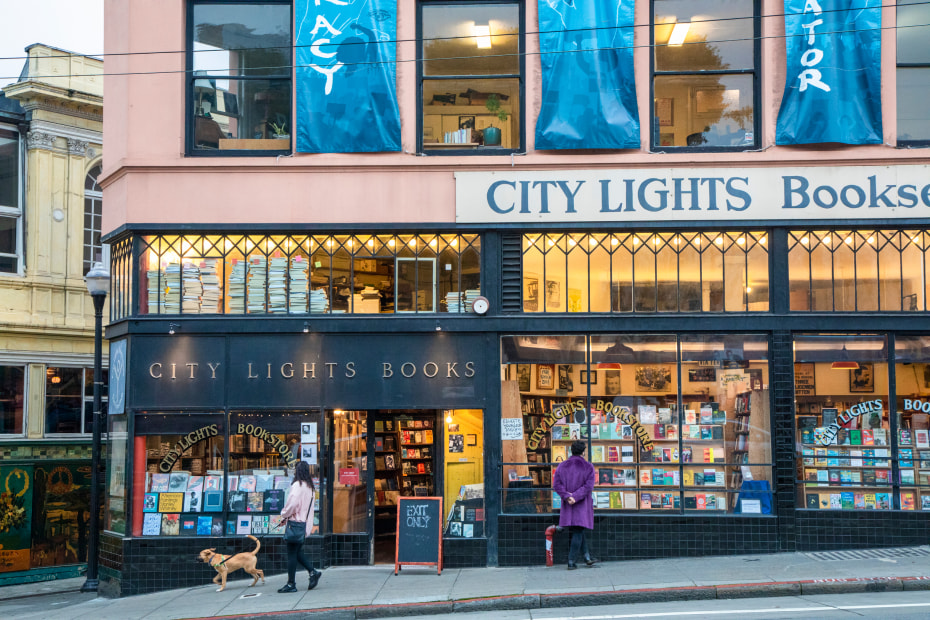 City Lights Bookstore, San Francisco
Arguably one of the most famous bookstores in the Bay Area, locals are still soft on this landmark Beat generation store-cum-publishing house. Founded in 1953 as the nation's first all-paperback bookstore, City Lights has superlative poetry, philosophy, and progressive politics sections.
Moe's Books, Berkeley, California
Moe's stocks 100,000-plus new and used books in a slightly scruffy, collegiate atmosphere perfectly suited to its location, four blocks from the UC-Berkeley campus. Collectors flock to the fourth-floor specialty art and antiquarian section.
Kepler's Books
This shop hiding in a sleepy San Francisco suburb has withstood more than 60 years of rapid change and the rise of Silicon Valley around it. Kepler's reputation stems from its political pedigree as an activists' hangout in the '60s, its proximity to Stanford University, and its great new literary fiction.
Still looking? You can check the full list of Independent Bookstore Day participants to find the closet shop near you.