San Francisco's Outside Lands has been drawing crowds to Golden Gate Park with its wealth of big-name performers and unexpectedly gourmet food for more than a decade now. And with headliners like Paul Simon, Childish Gambino, and The Lumineers—plus the city's top chefs lined up—this year shouldn't be any different. Whether you're planning to attend all three days (August 9-11) or packing all that revelry into one, here are some tips to make the most out of your festival experience.
What to Bring
It's impossible to stress this enough: Bring layers! San Francisco's summers are notoriously cold, especially when Karl the Fog comes barreling over the park and turns a warm afternoon into a downright chill-fest within minutes. Temperatures can drop quickly, so come equipped with a down jacket (seriously!), wool hat, mittens, and socks, as well as something to cover your legs. Bring a blanket or sheet to sit on during the day, and you can easily transform it into a sarong-style wrap during evening shows for extra warmth. Sunscreen and a hat—one that shades you from the sun, but doesn't block those behind you from seeing the stage—are essential for protecting your skin, even in the fog.
In efforts to reduce waste, Outside Lands has free water refill stations throughout festival grounds. Bring along a reusable water bottle or cup (preferably both) to stay hydrated and imbibe. If you do end up getting a cup from a vendor, simply ask to reuse it.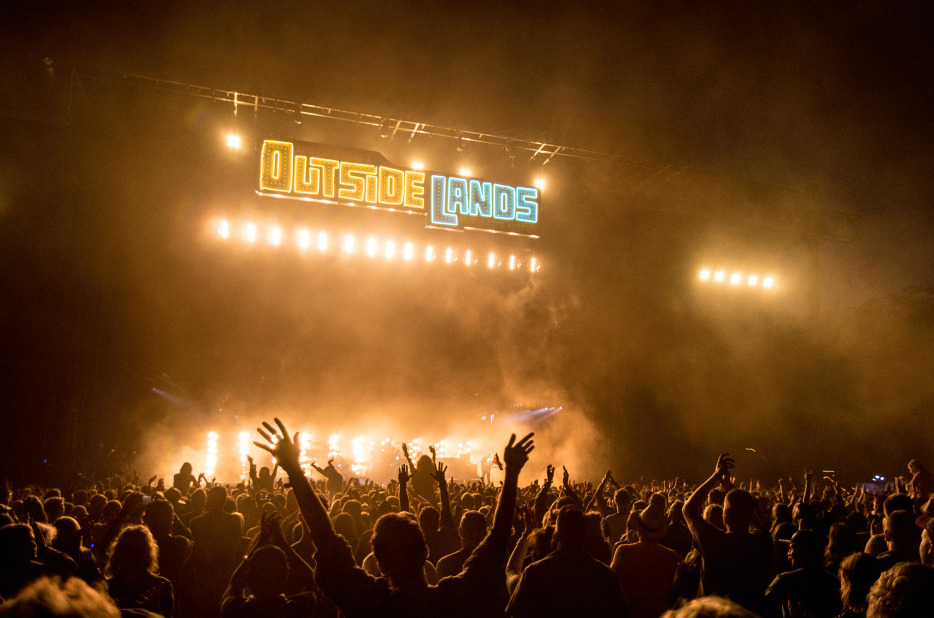 Know Before You Go
Bags larger than a fanny-pack (i.e. the size of your hand)—even purses—are banned unless they're made entirely of clear plastic. Gallon-sized plastic bags are fair game, but opaque backpacks are not. Two exceptions are empty hydration packs such as small CamelBaks, as long as their gear capacity tops out at 2.5L/150 cubic inches and they have no more than two pockets, and small drawstring bags with a single opening. The good news is that there are storage lockers available to rent onsite so you can stash your stuff and swap out anything you might not need throughout the day.
Also off-limits: your own alcohol (there's plenty available onsite), glass containers, cans, selfie sticks (including GoPro sticks), and most picnic and/or camping accessories such as coolers, baskets, lawn chairs, and tents. All audio and video recording is also prohibited, as are pets. Strollers must also remain outside festival grounds.
Where to Pick Up Pre-Show Snacks and Coffee
If you'd like to load up on coffee and snacks pre-entry, park-side spots include Flywheel Coffee Roasters along Stanyan Street, Snowbird Coffee on 9th Avenue near Irving Street, and Simple Pleasures at Balboa Avenue near 36th Avenue. You can carry in food, but be sure and finish up your drink before you enter the festival grounds—outside beverages are not allowed.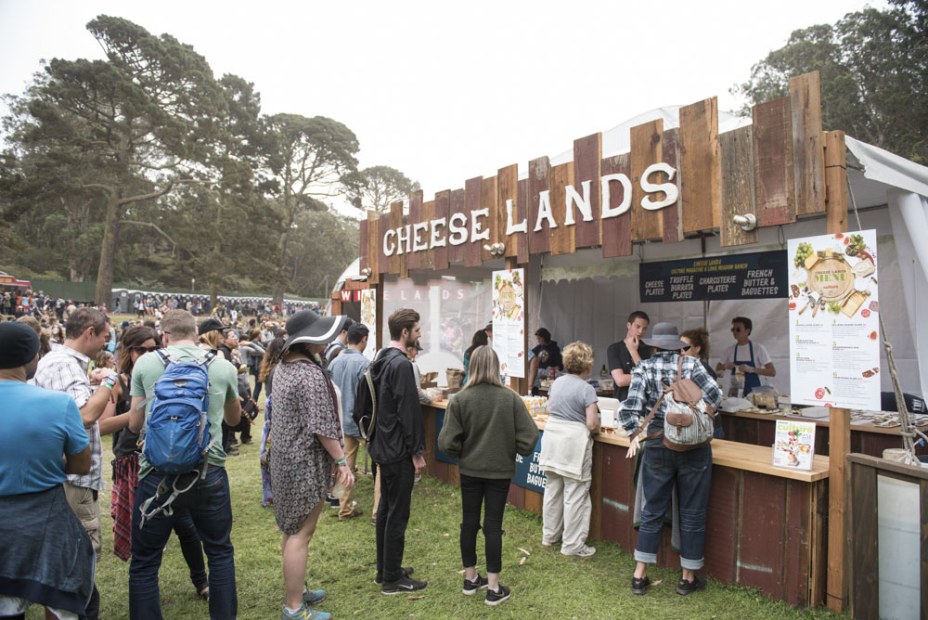 What to Eat
While it's a great idea to bring along snacks, there are no in-and-out privileges at Outside Lands, and you're sure to get hungry for something that's a bit heartier. Thankfully the festival offers a smorgasbord of edible delights, not to mention a chance to sample some of the Bay Area's top food purveyors.
Choose from food trucks and carts (Johnny Doughnuts is delish), dozens of restaurant offerings like Little Star's sausage deep-dish pizza and chicken and waffles from Little Skillet, plus a dedicated Cheese Land serving up artisan plates of Humboldt County's finest. For seafood on-the-go, Outside Clams offers portable packages of everything from lobster rolls to clam chowder bread bowls from San Francisco's Woodhouse Fish Co.
Pro Tips: While most food stands accept cash, they also take ApplePay and credit cards so you don't have to worry about carrying enough cash for the day. Also, grab your food before a big act lets out and crowds rush them like Lil Wayne's stage.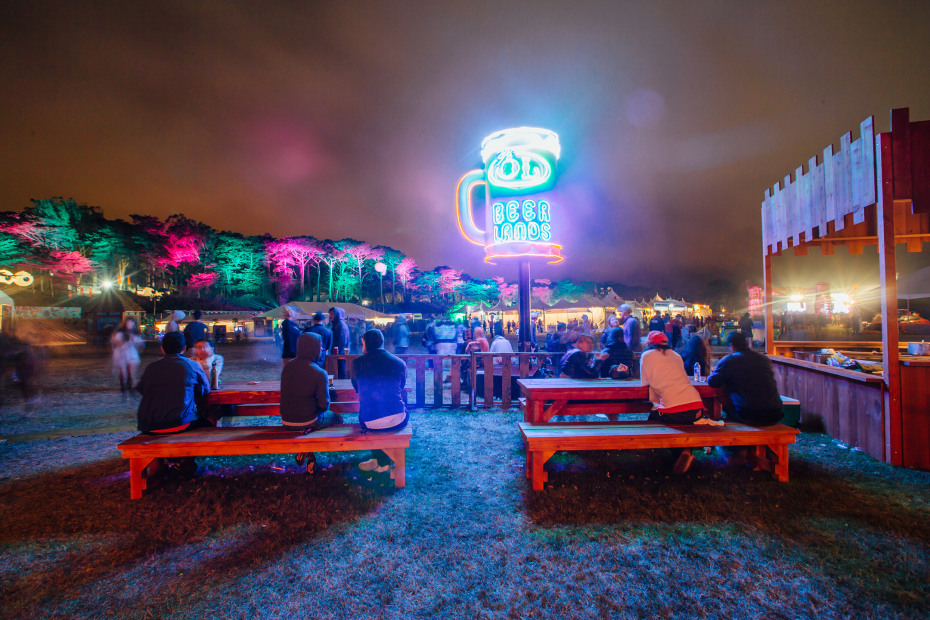 Where to Find the Best Drinks
This isn't your average concert—you won't find endless kegs of bland beer anywhere. Outside Lands shows off the state's best adult beverages with a wide range of beer, wine, and cocktails sprinkled throughout the grounds.
A towering mug adorned with the words "Ye Ol Beer Lands" welcomes guests to the festival's hideout for hops lovers. This year you can choose from 31 Northern California craft breweries, including Chico's Sierra Nevada Brewing Company and 21st Amendment.
Prefer wine? Choose from more than 120 wines in the blissfully shady Wine Lands tent where dozens of regional winemakers like Long Meadow Ranch and West + Wilder will be pouring sauvignon blanc, zinfandel, and more.
Hidden in McLaren Pass, Cocktail Magic serves up inventive mixed drinks from some of the best bartenders in the city (from places such as the Starline Social Club and Comstock) alongside magic tricks (really) and beats.
Those looking to cool off and chill out can enjoy boba tea on toadstools at the whimsical Bubble Tea Party.
The Easiest Ways to Get to Outside Lands
Parking around the festival is notoriously hard to come by, and traffic near the park barely creeps along all weekend. Skip the car (even ride shares), and take public transit, bike, or scoot to the show instead.
One of the best options is to hop on your bike and join the throngs of San Francisco cyclists winding their way toward the music. Start the party early—roll with the official group ride at noon each day to comfortably cruise and dance your way from Bill Graham Civic Auditorium to the park. Out-of-towners can rent a ride from shops like CityRide Bike Rentals and Big Swingin' Cycles or use one of SF's dockless bike share options such as Lime (Ford GOBikes do not have docking stations near the festival) to cruise to the show. Once you arrive, valet or self-park (bring your own lock) at the festival entrance in Golden Gate Park.
If you don't live in the city, take BART to the Powell St. station and transfer to the 5 Fulton bus. The San Francisco Municipal Transportation Agency will run additional N Judah trains, and 5 Fulton and 5R Fulton Rapid buses for festival goers (standard adult fare is $3). Outside Lands is also offering a pre-paid coach-style bus shuttle ($48.04 for a three-day pass) from Bill Graham Civic Auditorium in Civic Center to the festival's south entrance and regional shuttles from a handful of cities like Palo Alto and Oakland.
How to See All of Your Favorite Bands
With multiple entries, several stages, and thousands of people, it makes sense to go into Outside Lands with a plan. Pick up a program guide upon entry, or download the Outside Lands app to have the most up-to-date festival details and line-up. Map out who you are going to see throughout the day, and establish meeting spots and times with your friends beforehand as cell phone coverage in the festival is often slow, spotty, or nonexistent.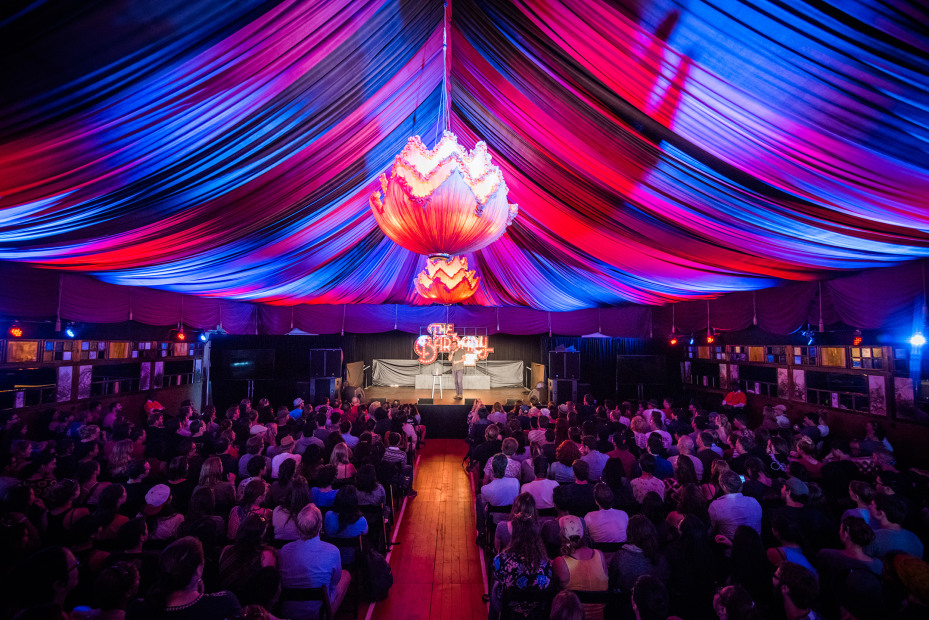 Finally, Don't Forget to Laugh
Yes, of course you're here for Twenty One Pilots, Blink-182, and Hozier, but the fully enclosed comedy stage at The Barbary has an equally killer lineup. Before you stake out your spot for the festival's closing act, sit back and let up-and-coming and big name comedians warm you up for the unforgettable evening to come.