For most families, summer means exploring the outdoors, swimming in a refreshing pool, and making s'mores over a fire pit. Having fun is the main goal, but safety must come first. These tips will help keep kids of all ages safe this summer.
Water Safety
Water requires adults to take extra precautions. Drowning is one of the leading causes of injury and death for kids ages one to 14, and three children die every day as a result of drowning, reports the Centers for Disease Control and Prevention (CDC). Gary Kirkilas, a pediatrician at Phoenix Children's Hospital, and Roy Jedeikin, medical director of the Phoenix Children's Care Network, recommend these steps to prevent drownings:
When it comes to supervision, think of the three C's of supervision: constant, close, capable. Drowning can occur in a matter of seconds. The time it takes to make a quick trip to the bathroom is enough time for a child to drown. Drowning is often silent, which means a capable adult needs to be paying close attention and staying within reach, even when a lifeguard is present.
Supervise diving areas. Head and neck injuries can happen when children learn to dive in open water (lakes and rivers). Never allow a child to jump into water in which they cannot see the bottom, or dive into water of an unknown depth or into the shallow end of a pool.
Be the pool boss. Choose a few adults to take turns supervising children. Put away phones, avoid alcohol, give children your full attention, and stay within touch distance of young kids so you can reach them quickly if they begin to struggle.
Life jackets are lifesavers. Forgoing the Coast Guard mandate that children under the age of 13 wear a lifejacket while boating may be tempting, but statistics clearly show life jackets save lives. Eighty percent of all boating-related deaths were the result of drowning. The American Academy of Pediatrics says blow-up water wings should never be used as life jackets or life preservers. For children one year and older, opt for a life-jacket that looks like a vest, has a U.S. Coast Guard-approval label, and is a fit-by-weight personal flotation device instead. A puddle jumpers may be a safe alternative if it has the "approved by the U.S. Coast Guard" label.
Get CPR certified. Adults should keep their CPR skills fresh in case of a submersion event.
Use a pool fence—and make sure no one ever props it open.
Seek medical attention immediately. If your child has a submersion event (e.g., slipped under the water and needed rescuing), watch for symptoms of a drowning injury and seek medical attention. Symptoms can include difficulty breathing, pale skin, sleepiness, and coughing. Do not second-guess yourself if you have any concerns.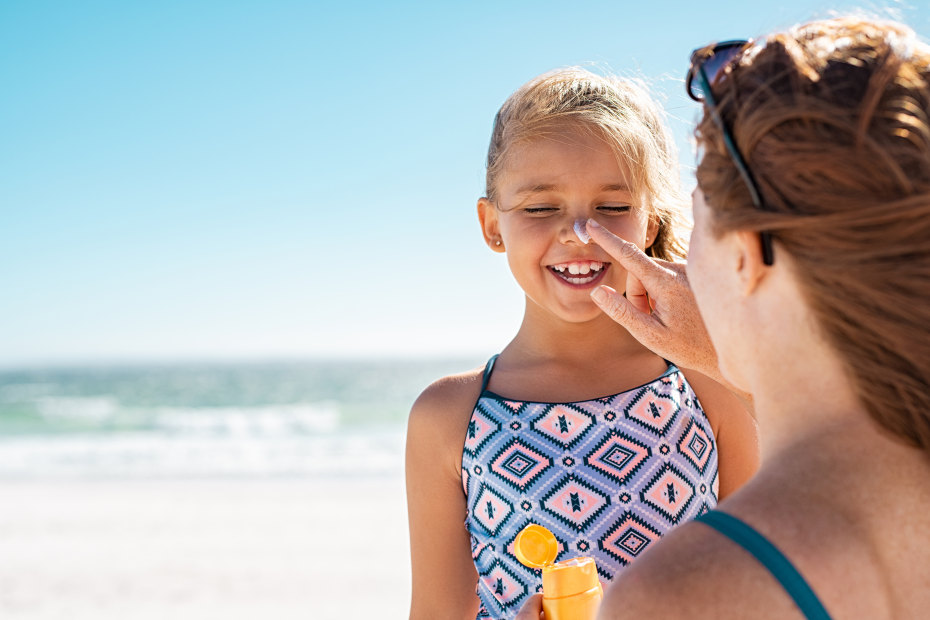 Sun Safety
The sun's ultraviolet rays can cause lasting damage, even on a cloudy day. Childhood sunburns are more than just painful—a few serious sunburns can increase your child's risk of developing skin cancer in the future, according to the CDC. Harper N. Price, division chief of dermatology and pediatric dermatologist at Phoenix Children's Hospital, offers this advice:
Cover up. Wearing sun-protective clothing is the easiest strategy for kids. "Sun-safe clothing is breathable and comfortable, contrary to what many people think, and it can be a nice addition if your child complains about putting on messy sunscreen," says Price. "Rash guards (also known as sun shirts), protective sun sleeves, broad-brimmed hats, sunglasses, and swim leggings can be wonderful additions to help keep your child sun safe." And unlike sunscreen, their protection lasts all day, even in the water. Make sure the sun-protective clothing fits well and stays in place—any exposed skin still needs sunscreen. Replace any items that start to show wear and tear to ensure your child is getting the full protection. Babies younger than 6 months should wear protective clothing and be kept in the shade.
Wear sunscreen. Sunscreen is safe for children 6 months of age and older. For young kids, apply sunscreens that use zinc oxide and titanium dioxide as the key ingredients. Children and teens should use broad-spectrum sunscreen of SPF 30 or higher.  Use a water-resistant sunscreen, and follow the manufacturer's recommended interval for reapplication. Smart tip: Set an alarm on your phone so you don't forget to reapply.
Stay indoors when the sun is most directly overhead. The CDC recommends avoiding the sun when the UV rays are the strongest, usually between 10 a.m. and 2 p.m.
Watch for symptoms. The American Academy of Pediatrics urges parents to pay attention to sun sickness symptoms—feeling faint, extreme tiredness, headache, fever, intense thirst, nausea, muscle aches and spasms, and vomiting. Call a doctor immediately if you notice these symptoms.
Take action to prevent heat stroke. Dress lightly and encourage kids to drink lots of water. Find shade or an air-conditioned space nearby to cool off. You can also wet your child's hat or clothing for a cooling effect.
Car Seat Safety
"The best car seat is the one that fits your child's age, size, and developmental need, fits your vehicle, and is installed and used correctly every trip," says Angela Knudson, a community impact lead for AAA Northern California, Nevada & Utah and a certified child passenger safety technician. She recommends that parents do the following:
Bicycle and Pedestrian Safety
John Boyd, an injury prevention specialist based in Phoenix, urges parents to teach kids simple bicycle and pedestrian safety rules.
Always wear a proper-fitting helmet that meets Consumer Product Safety Commission (CPSC) standards. Replace the helmet after a crash or according to manufacturer's guidelines.
Always look left, look right, and look left again before crossing the street.
Always cross at a crosswalk.
Walk bikes in a crosswalk across intersections.
Wear reflective clothing or bright colors in the day and at night.
Ride on the right side of the road with the flow of traffic.
How to Wear Helmets Correctly
The helmet should be level, low on the forehead (it should sit two finger widths above your child's eyebrow), and touch all the way around the head. A helmet that sits too far forward or back may not offer proper protection.
Fasten the helmet so it stays in place when your child shakes their head forward and back and side to side.
Adjust the back and front strap to make sure they're nice and smooth.
The straps should form a "Y" immediately under the earlobes.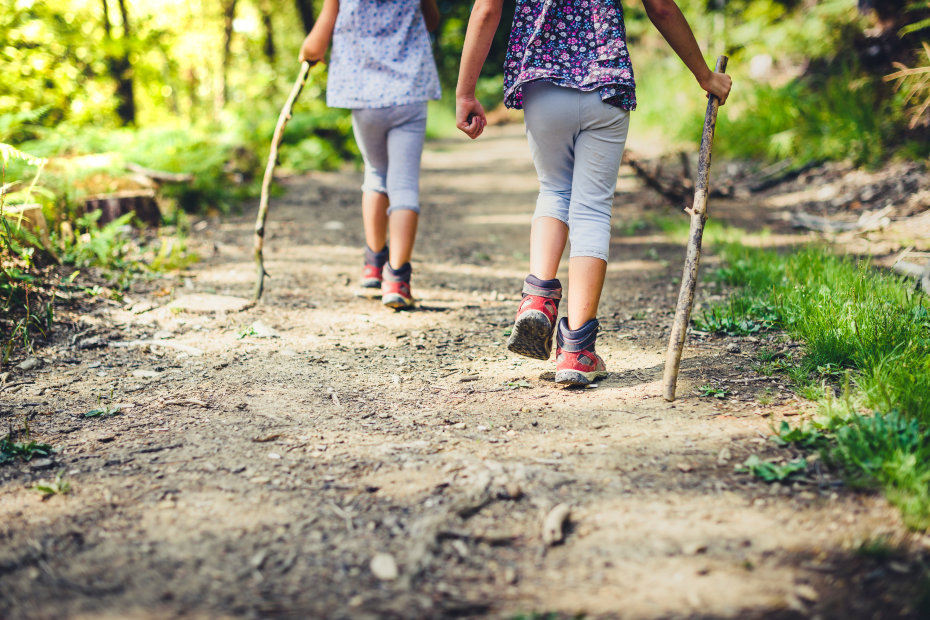 Tick Safety
The Southwest and Western regions of the U.S. have a few different tick species, some of which are known to transmit serious diseases, according to the American Academy of Pediatrics. Kirkilas, a pediatrician at Phoenix Children's Hospital, offers guidance to prevent tick bites:
Know your ticks. The most common tick in the Southwest and Western regions is the brown dog tick, which is identified by its all-brown body. It can carry and transmit the bacteria that causes Rocky Mountain Spotted Fever, a particularly dangerous infection that presents with a fever, and then, two to four days later, a pink rash appears on the arms and feet and progresses to the trunk. It is imperative to seek medical attention quickly—Rocky Mountain Spotted Fever can be fatal without proper antibiotics. Western black-legged ticks can be found along the West coast and in parts of Arizona, Nevada, and Utah. They are smaller than the brown dog tick, and they can transmit Lyme disease.
Clean up. When you return from a hike or another outdoor adventure where ticks may be present, wash all clothes, shower, and check children and pets for ticks within two hours.
Remove a tick. Prompt removal of the tick will lessen the chances of it transmitting a disease. Use a pair of tweezers to grab the tick's head or to get as close to the skin as possible. Then pull upward. Never try to burn the tick off as you can burn your child and cause the tick to burrow deeper.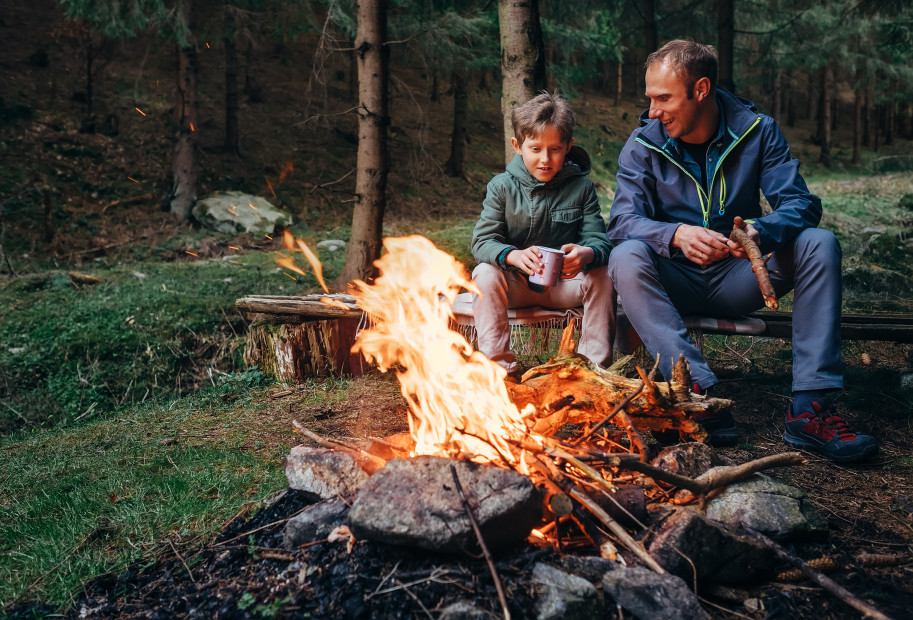 Fire Safety
To prevent little hands from getting burned, follow these simple tips:
Watch children closely around a grill or campfire at all times.
Never leave the area when cooking outdoors. A fire or accident can happen in an instant.
Keep children at least three feet away from all cooking appliances, including grills and campfires.
Never hold a child while cooking or removing hot food from stoves, grills, or campfires.
Turn pot handles in, away from reaching hands.
Use the cooktop's back burners whenever possible.
Make sure the grill is turned off when done cooking.
Practice fireworks safety. Most parents aren't aware that even sparklers can be dangerous—a sparkler's metallic flakes burn around 1,800 degrees F. These flakes won't usually cause significant burns, but limit sparkler use to older children.