If you're a parent, social distancing has likely put you in a pickle. Not only are the kids at home, but many of your go-to family activities are now off-limits. Yet, with a little creativity, fresh perspective, and (yep) some online help, you can stave off those familiar cries of boredom. Here are some ideas for home activities to keep your kids entertained and your household humming throughout this challenging time.
Learn to cook.
When you factor in the extra kitchen help, boost of self-sufficiency, and delicious fruits of your labor, cooking with kids is a no brainer. No need for microgreens or obscure spices as, thankfully, kid cuisine is a simple affair. Start with pizza or mac n' cheese made from scratch. Tactile recipes are especially fun for little hands, so also consider rolling homemade tortillas or wrapping dumplings. And don't forget dessert! Few things are more satisfying—or encouraging—than a tray full of warm, fresh-from-the-oven cookies.
Direct a blockbuster.
Before kiddos loop their fifth viewing of Frozen 2, suggest they get behind the camera instead. Today's generation has unprecedented access to media production, and your old or borrowed phone can help them transform your home into a movie studio. Let kids tackle the many aspects of film production including script writing, storyboarding, set designing, and costuming. Aspiring actors can foster their inner starlet, while the creative types can stay behind-the-scenes producing the next Lego Movie using that increasing collection of minifigures. Up-and-coming directors can keep it simple with just the camera, or add special effects with apps such as Clips and iMovie. Afterward, gather the family, pop some popcorn, and enjoy their creation streamed to the living room big screen.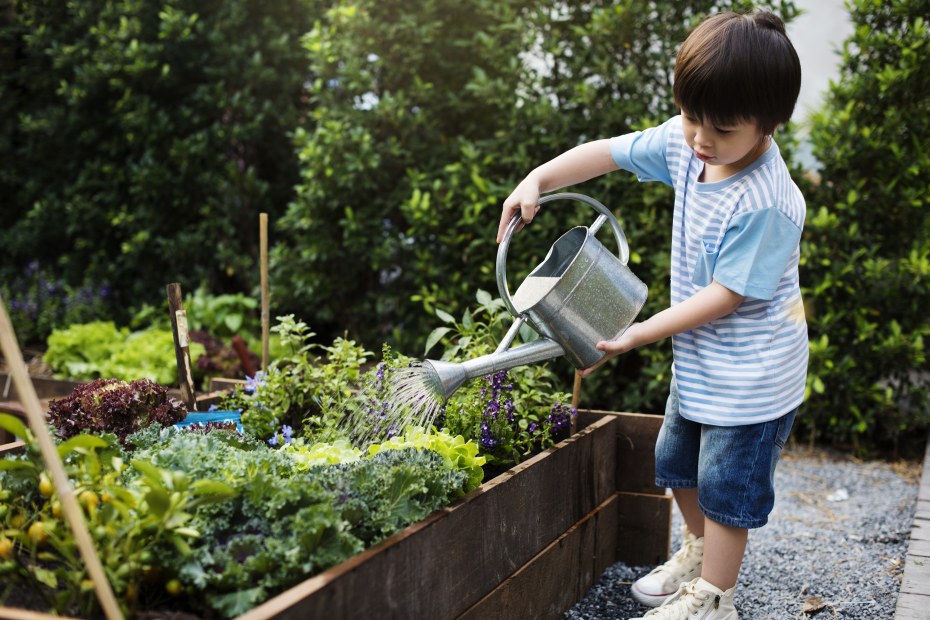 Plant a mini garden.
With minimal instruction, kids can transform crisper drawer staples into mini plantings that are equal parts science experiment and home garden. Plus, fostering a seedling lends a daily routine where kids can witness each step of the metamorphosis. Budding gardeners can pluck seeds from fruits such as tomatoes, citrus, and berries, nestle them in soil, sprinkle daily with water, and watch as seedlings begin to sprout. Then there are showstoppers such as pineapple crowns that can be germinated in water before planting. You can get creative with planters, too, using organic materials such as egg shells and bell peppers which act as natural fertilizers.
Listen to audiobooks and podcasts.
You don't need a TV to enjoy a good, captivating drama. The right audiobook or podcast will have kids rapt with interest. Plus, while reading is a solitary affair, audiobooks allow siblings or the whole family to enjoy stories together. And thanks to apps such as Hoopla, Libby, and Axis 360, you can use your existing library membership to check out titles for free, without leaving the house. For parents craving some uninterrupted time, unabridged chapter books are the way to go. Dan Gutman's My Weird School books should suit the elementary school set, while middle graders will appreciate Dusti Bowling's Aven Green series and Kevin Sands' history-steeped The Blackthorn Key mysteries. For podcasts, check out Wow In the World which mixes science with irreverent, family-friendly humor.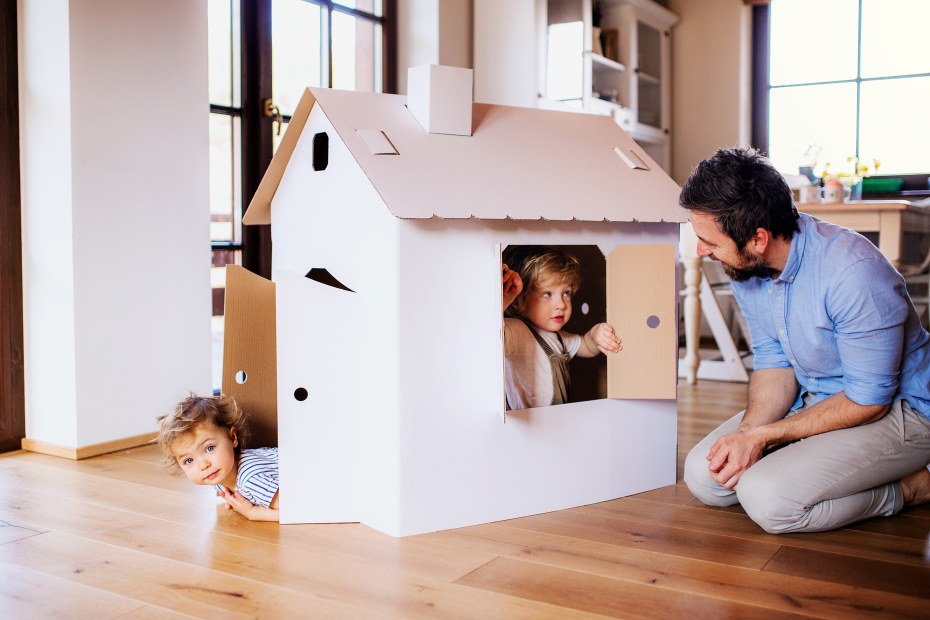 Create with cardboard.
If your days inside are stacking up, chances are the delivery boxes are, too. With scissors, adhesives, and some imagination, those cardboard containers can be repurposed into robot costumes, a puppet show stage, or a boardwalk's worth of midway games. For inspiration, check out the short film Caine's Arcade which features a dizzying array of inventive, cardboard games fashioned by a 9-year-old boy.
Bring the outdoors in.
When the weather outside is frightful, many of your favorite outdoor activities can be moved inside. What squirmy diners wouldn't jump at the chance to ditch the dining room table for an indoor picnic? Push aside the coffee table, and spread out a blanket to enjoy a floor-based feast with your family's favorite nibbles. Or make a night of it by transforming the living room into a basecamp outfitted with sleeping bags, lanterns, and a batch of oven baked s'mores.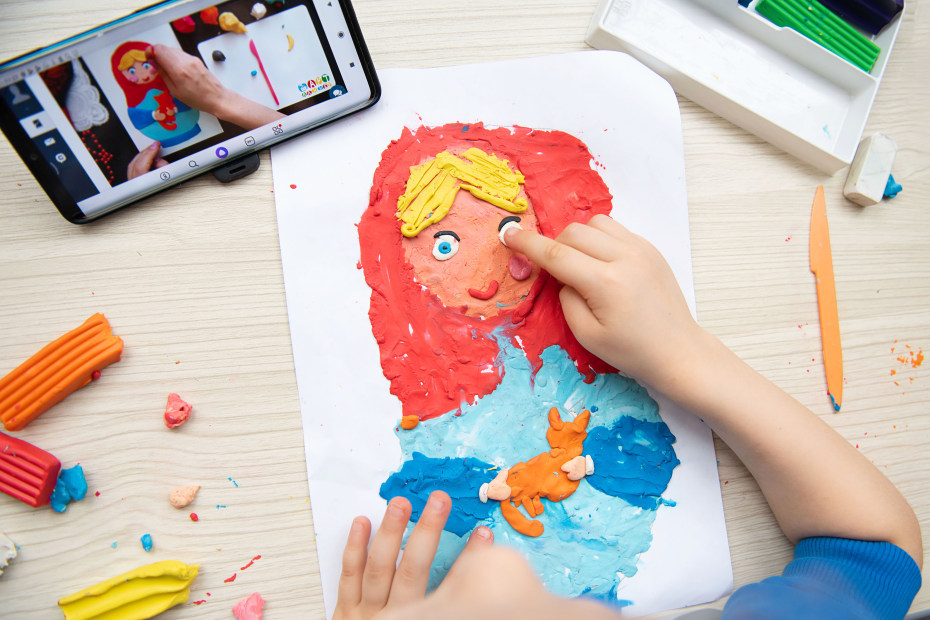 Do new-school arts and crafts.
Amidst all the clamoring for screens, don't forget that, above all, kids love to create with their hands. While you may be past the point where you can lay out crayons and paper and walk away, origami or rainbow unicorn slime might do the trick. If it's been a while since you've sorted your digital photos, have your kids organize them into a slideshow or printable picture book. Or team up with neighborhood parents to publish an online youth newsletter with kid-generated content including stories, activity pages, and Netflix reviews using free tools such as Flipsnack.
When your time doesn't allow for art school–worthy instruction, turn to the professionals. Outschool offers a broad assortment of inexpensive online classes, from art projects such as sculpting a volcano with a credit card to video game coding. Popular children's book author-illustrators such as Mo Willems (Don't Let the Pigeon Drive the Bus) and Dav Pilkey (Captain Underpants) are also offering weekly draw-a-longs. When all else fails, 5-Minute Crafts PLAY is a kid-friendly YouTube channel with loads of clever, inspiring DIY ideas.
Set up a scavenger hunt.
With simple preparation, you can stage an indoor scavenger hunt that will send pencil-and-checklist-equipped little ones in search of objects readily found throughout the house. Populate the list with specific items, or leave it up to interpretation with open-ended prompts such as "locate something that tells time" and "find something squishy." More ambitious hunt hosts can link discoveries, with each clue leading to the next and, ultimately, a final reward.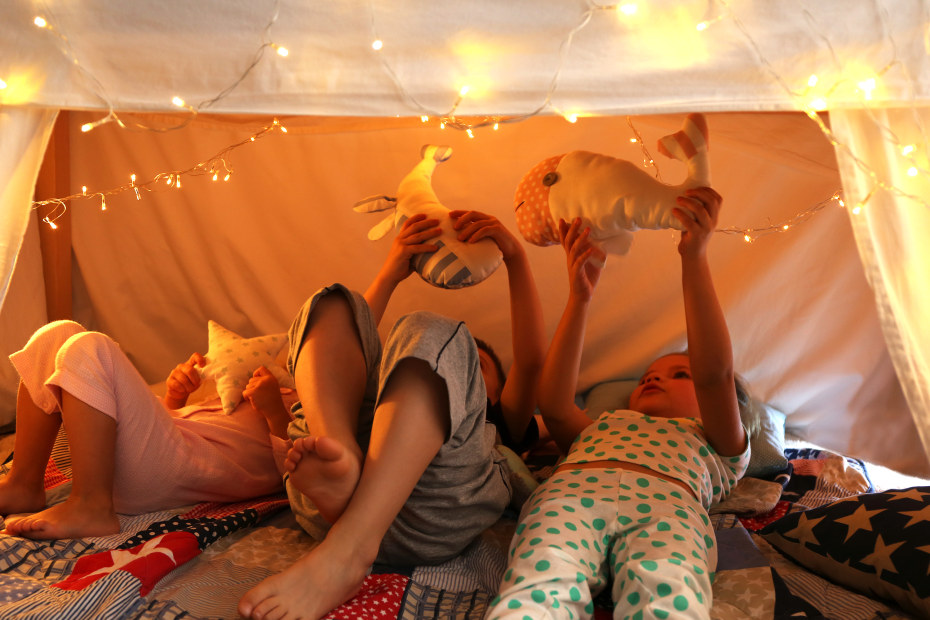 Build a living room fortress.
Younger children might be surprised to discover the many things the living room couch can transform into. Flip off the cushions, plunder the linen closet, and the kids will soon be wriggling through a blanket-sheathed citadel. Those sofa cushions might also serve as the plushy framework for an epic, indoor obstacle course, accentuated with strips of painter's tape. And when all else fails, remember: it's not a floor, it's red-hot lava.
Join virtual playdates.
Recent social distancing advisories have made video chat services such as Zoom, Houseparty, and Marco Polo household names. Now, while adults clink drinks via virtual happy hours, kids are taking the pen pal idea one step further. Linked by laptop or tablet screens, friends can connect in real time, work on projects together, and challenge each other to matches of Battleship and Pokemon. Still, kids needn't rely on electronics to stay in touch with friends and family. For your next craft time, make handmade cards to send to loved ones as there's still no substitute for receiving personal greetings in the mail.
Rediscover the toy closet.
Chances are even the most frequently used toy bins hide forgotten treasures. Digging into a toy collection together with children might rekindle interest in a long-lost favorite. Delving deeper will also likely unearth previously loved toys that everyone can agree have been outgrown. Taking a cue from the Toy Story gang, consider donating them and bringing joy to a new home. Older, enterprising kids unwilling to part with especially valued possessions might enjoy packaging them to sell online or at the next garage sale.
See the world from your couch.
When wanderlust strikes, live cams and online tours can transform your living room into a virtual theme park, museum, or national park. Descend below Paris streets to wander the city's subterranean maze of catacombs, plunge 200 feet aboard the Mako rollercoaster at SeaWorld Orlando, or explore the Martian terrain captured by Curiosity, a rolling NASA rover that bears a passing resemblance to Pixar's WALL-E. Animal lovers can indulge in a host of cuddly creatures, from koalas to baby lemurs, through a dedicated kids site from the San Diego Zoo, while the live cams at Explore.org offer peeks of wildlife scenes from around the globe including African watering holes, Bald Eagle nests, and kitten sanctuaries.