Welcoming a little one into your home means seeing it with a fresh perspective. For crawling babies and curious toddlers, common decor and storage—like a cabinet full of cleansers under the bathroom sink, a tall bureau, or fragile nicknacks—can present potential danger.
"Accidents happen every day," says Elizabeth Malson, president of the US Nanny Institute. In fact, for children aged one to four, accidents are the leading cause of death, according to the Centers for Disease Control and Prevention.
"You can't protect yourself from everything. But there's a lot parents can do, so that's what we should focus on," Malson says. Babyproofing and childproofing are an important way to reduce some of the risks at home.
"Childproofing works and helps prevent injuries," says Wendy J. Pomerantz, MD, MS, professor of pediatrics at the University of Cincinnati, Cincinnati Children's Hospital Medical Center, and a principal investigator for Injury Free Coalition for Kids in Cincinnati.
During this process, you'll thoroughly inspect your home, locate potential problem areas, and make safety-focused modifications.
How to Get Started Babyproofing
To make childproofing less overwhelming, most experts recommend attacking one room at a time. "I do room by room because it allows you to focus on a smaller area," Malson says. 
If you can, begin the process early.  
"It takes a lot longer than you think. Even a little at a time while you're pregnant [or awaiting arrival] is great," says Gina Posner, MD, a board-certified pediatrician at MemorialCare Orange Coast Medical Center in Fountain Valley, California. Some babies are early crawlers, Dr. Posner points out, so you'll want to complete the project before your baby is on the move (which is typically between six and 10 months old). 
Anyone who will regularly have a little one in their home should also childproof their space—including friends, grandparents, and other relatives, Malson says.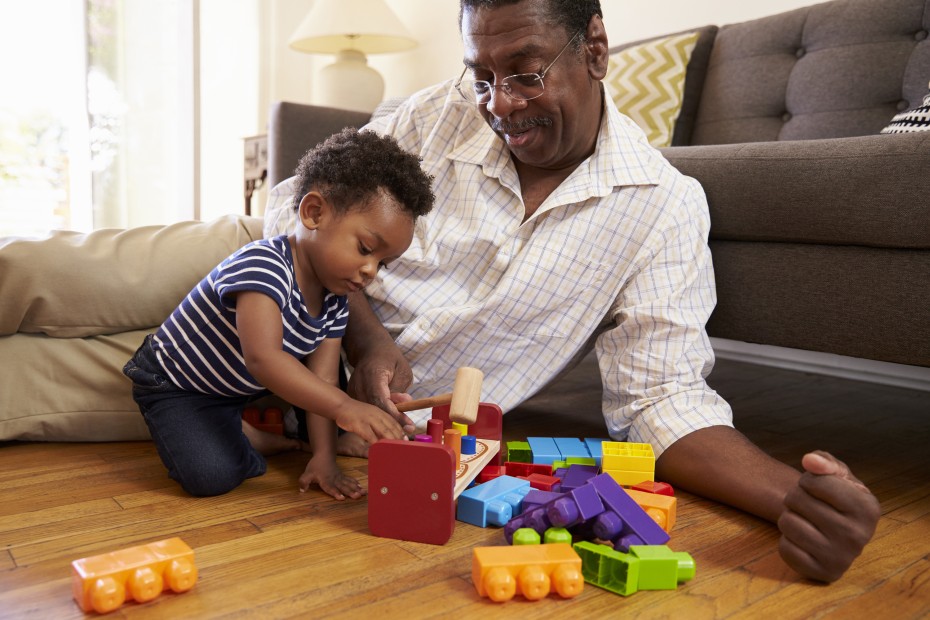 What to Look For
Begin by examining the room at your level, looking for items that could tip over, fall off a surface, or be pulled or tugged off, Malson says. During this process, it can be helpful to keep three questions in mind, per Nancy Dastrup, co-owner of Arizona Childproofers:
If this item fell on a child, could it hurt?
If the object fell and broke, could the broken object injure a child?
If a child destroyed this item, would it make you sad?
Next, get down on your hands and knees—now you're at a baby or small child's vantage point. Look for things you could jab (like an outlet), pull (like a cord), or put your head in (like a stair railing or blind pull cord), recommends Malson. 
Some problems can be solved by moving items: Fragile items can be placed inside cabinets instead of on a bookshelf, framed photos can be hung out of reach, and household cleaners can be stored in the upper cabinets rather than below the sink. 
But you'll also require some supplies. There are 12 that the United States Consumer Product Safety Commission (CPSC) recommends for this project, including safety gates, anti-scald devices, corner and edge bumpers, and furniture anchors. 
Childproofing is an ongoing task, not a one-time event—after all, a four-year-old has a different reach from a toddler, Malson notes. Her recommendation: Whenever you adjust the car seat, use it as a prompt to inspect your home and update safety measures for your child's growing size.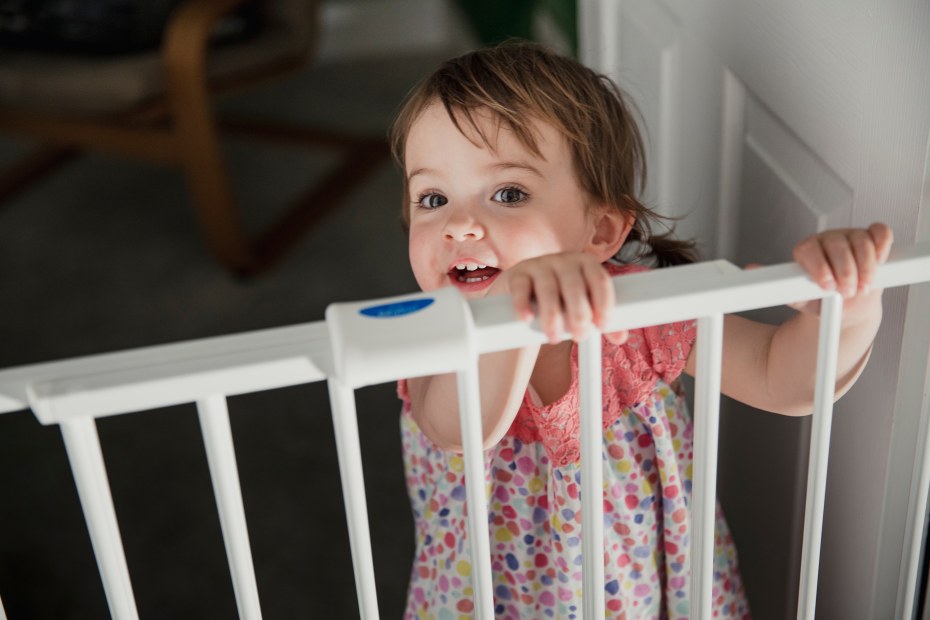 A Room-by-Room Checklist
"If you look around your house, every single room can cause injuries," Dr. Pomerantz says. So examine all spaces in your home, both indoors and out. 
Some tasks apply to the whole home:
Test batteries in smoke alarms and carbon monoxide detectors. If you don't already have these monitors in place, install them.
Lock up guns. If you own a firearm, lock it unloaded in a safe, and keep ammunition in a separate spot, Dr. Pomerantz says.
Cover outlets. Dastrup recommends against inserting plastic plugs in sockets; with use, these plastic caps become easy to wiggle out and are a choking hazard. Opt instead for sliding outlet covers.
Stash small objects. They're a choking hazard. It may not be possible to remove everything—a dropped penny can be choked on, Dr. Pomerantz points out— but be as thorough as possible, and be particularly mindful of small batteries (such as the ones found in watches and hearing aids) and high-powered magnets—swallowing them can be deadly.
Install window guards. "Screens don't protect kids," Dr. Pomerantz says. If a window is open more than five inches, a child can fall out. Install window guards that prevent the window from opening more than five inches, she recommends.
Use wall-mounted gates on stairs. Never use pressure gates on stairs, as they can come loose and allow children to fall, Dastrup says.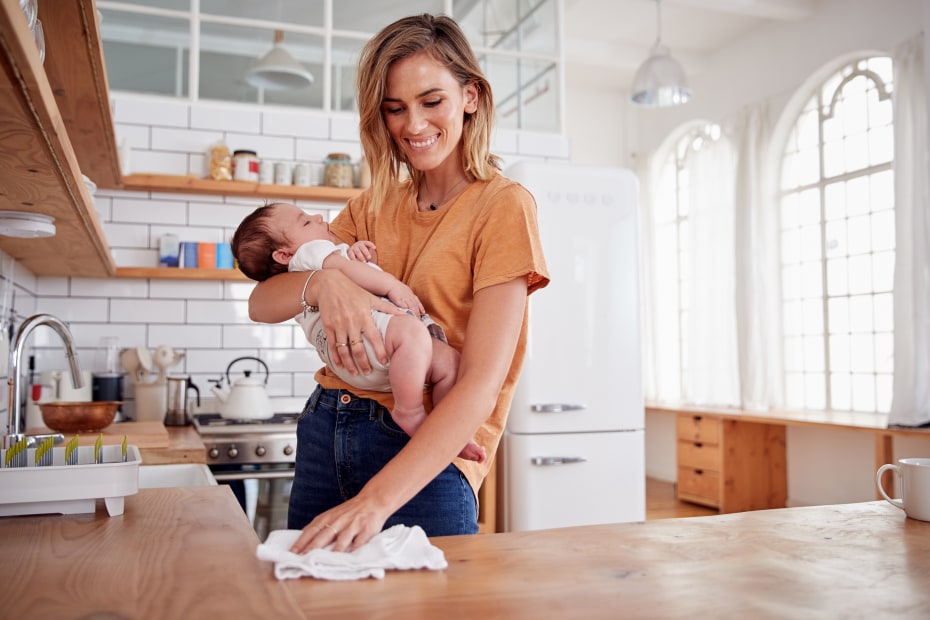 Kitchen
The kitchen presents all sorts of dangers, from the heat and flames of the stovetop to sharp knives. Take these precautions:
Install childproof knob covers or remove the knobs on stove burners.
Put child-safe locks on cabinets and drawers. This will stop children from accessing toxic substances (such as dishwasher detergent) or reaching into the knife drawer.
Push everything back. Use the back burners to reduce the risk of hot items bubbling over and to prevent a child from grabbing a handle and pulling it down. Move items on the counter into enclosed storage space or set them as far back as possible. Prevent cords and wires from hanging down, Dastrup says.
Keep your dishwasher securely closed. There are knives and glassware in the space, Dastrup points out.
You don't have to lock everything, Dr. Pomerantz says—just cabinets and drawers containing dangerous items, such as cleaning products or knives. Another option is to simply eliminate a child's access to the kitchen with a gate at the entryway.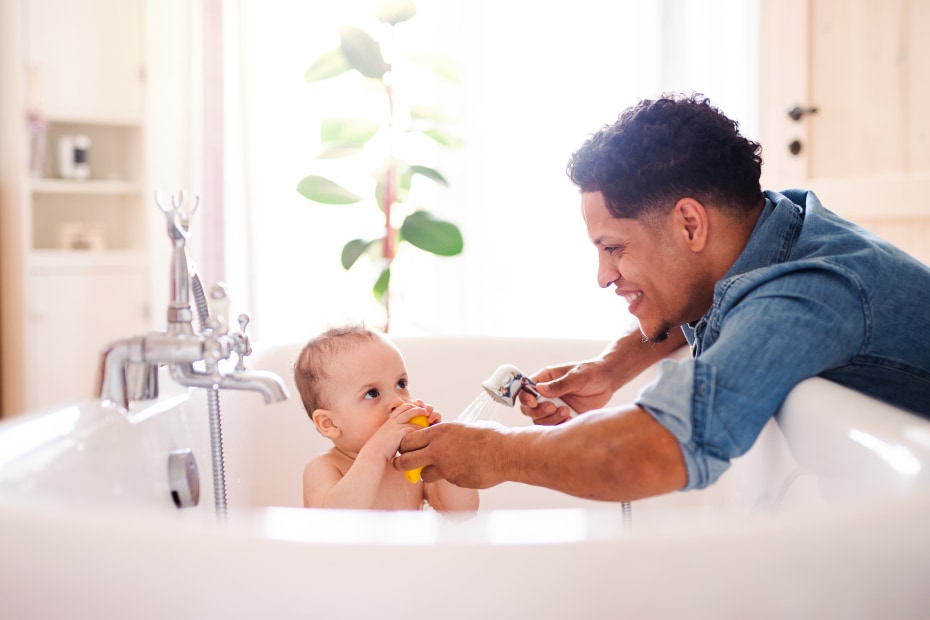 Bathroom
As with the kitchen, childproof the space, or make it off limits by installing a high-up lock. If you're childproofing, pay attention to these tasks:
Make sure medication isn't accessible. To children, pills can look like candy, Malson says. And kids tend to gravitate toward topical creams and toothpaste, which they squeeze and eat, she says. Makeup, nail polish remover, and other everyday toiletries are also dangerous.
Lock cabinets with cleaning products.
Add a latch to the toilet to keep the seat down.
Turn down the hot water heater temperature. Set it to under 120 degrees to prevent scalding, Dr. Pomerantz says.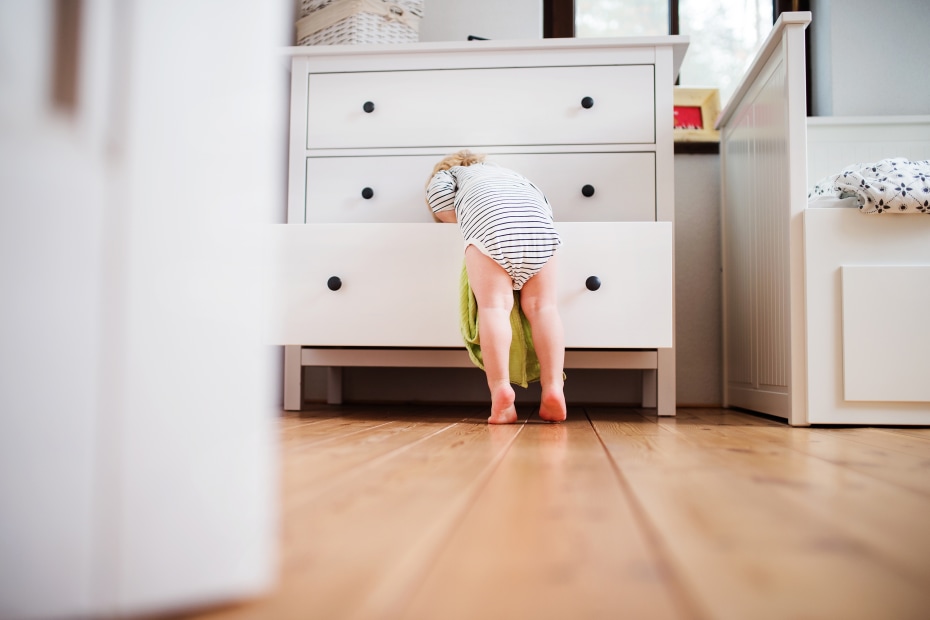 Living Spaces
Think through what a curious child on the move could do as you look at your living space. "Kids are brilliant—it's not just about seeing where they can reach. It's about where are they going to scoot that chair to and what are they going to climb on?" Malson says.
Secure furniture and TVs. A child dies every two weeks from furniture or appliances tipping over, per the CPSC. Even heavy furniture and wall-mounted TVs need to be secured. "If children can reach the top drawer of a dresser, that changes the weight distribution," Malson says. Anti-tip devices are readily available at hardware stores. A handyperson can help with this project, or follow instructions on the government's Anchor It website.
Remove dangling cords. You don't want a baby to chew on them, pull the cord, or play with it, since doing so can lead to electrocution, falling items, or strangulation.
Add bumpers. Place them on furniture, like a coffee table, so children can't injure themselves on corners or edges.
Check on houseplants. Poison Control recommends keeping all plants out of reach and provides a list of poisonous plants that might be best removed or rehomed.
Be smart about the laundry room. Often little ones play with laundry bins, points out Malson—that's a problem if you store it high up, since kids may try to climb to reach it. And, of course, you'll want to make sure that laundry detergent, fabric softener, and other products are kept out of reach.
Fireplace. Install a safety screen or a gate to prevent a child from coming in contact with fire in a wood-burning fireplace or the scorching glass front of a gas-burning fireplace. Contact with the glass on a gas fireplace can cause third-degree burns. Make sure to keep potentially hot fire tools away from children, too.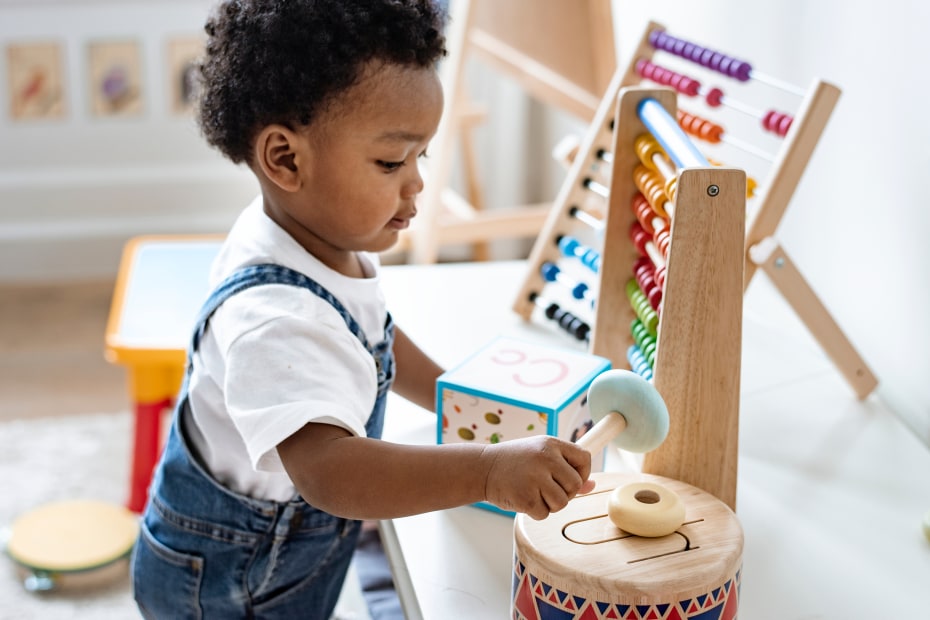 Nursery
The rules for sleep when it comes to babies are simple: Babies should go to sleep alone, on their back, and in a crib, Dr. Pomerantz says. As with other living spaces, you'll want to anchor furniture that has the potential to tip over and secure all cords. Other considerations:
Keep the crib clear. Remove all items from the crib, including blankets and stuffed animals, since they pose a suffocation risk. Avoid bumpers and other stabilizing helpers in the crib, too.
Use a firm mattress. You can check if your crib—and many other baby products—is JPMA-certified. Items with this certification meet or exceed government safety standards.
Smart Tip: Items for babies and children are frequently recalled. Keeping up with these alerts can be challenging, but you can sign up at CPSC.gov to receive the latest alerts.
Outside
Pay attention to the exterior of your home as well.
Use fencing. Gates and fences can help keep kids in the yard (and far from moving vehicles).
Place a self-latching gate around a pool. Some gates have alarms, so you'll know if the gate doesn't catch, Dr. Posner points out.
Check the garage, too. Look in all outdoor spaces to be intentional in thinking about how to make it safe for kids, Malson says. Garages are often full of toxic items (antifreeze, pesticides, and so on). Make sure the garage door will automatically stop and reverse when it comes into contact with someone or an object in its path.