There are myriad reasons to experience the popular Coachella Valley Music and Arts Festival—The Weeknd, Beyoncé, and Eminem being the top three. But as the classic Ralph Waldo Emerson adage goes, "Life is a journey, not a destination." Make the road trip part of the adventure, too, by stopping for Instagram photo ops, the best food, and scenic places to stretch your legs. Leave early to beat the traffic and give yourself ample time at these ideal stops—and don't forget to queue up the ultimate Coachella-worthy soundtrack to get you there.
Capture the perfect Instagram shot.
The first leg of this road trip is the longest uninterrupted stretch (180 miles if you're coming from San Francisco), so kick back and enjoy the ride. Once you're deep in I-5's agrarian scenery, pull off for a quick Instagram shoot—the first of many for this photogenic weekend. New Idria, a former mercury mining community that's now a ghost town, features endless moody backdrops for photos. The road in can be a bumpy, dusty ride, but it's worth it.
More than 100 now abandoned and graffitied structures were built from 1854 to 1972 when the mining company closed and residents left town. Rare minerals, rocks, and evidence of tectonic activity also set the stage for unique shots—no filter needed!
Dig in to a hearty meal.
In vegetable-centric California, there are few places that take barbecue as seriously as Willow Ranch in Buttonwillow. That's what makes it worth waiting for as you pass all those In-N-Outs. Every bite of Wet-Nap-ready barbecue is slow-cooked in a smoker full of oak, almond, and mesquite wood, then slathered with a house-made sauce. Locals swear by the signature Plow Boy sandwich: Angus Beef brisket with pastrami, bacon, pepper Jack, onion rings, and jalapeños on a French roll. Not quite that hungry? Barbecue purists can opt for simply smoked meats (beef, pork, chicken) with Willow Ranch barbecue sauce or salsa.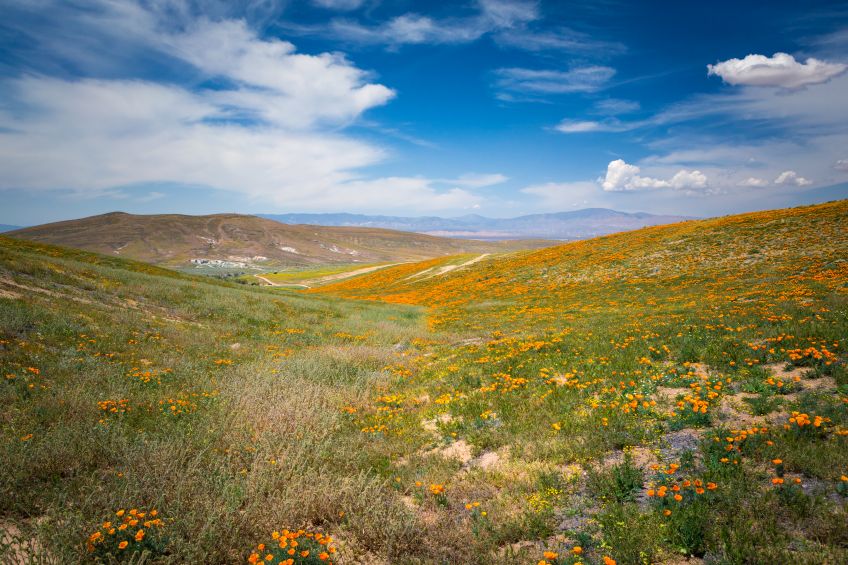 Stretch your legs in fields of poppies.
Cut east off I-5 early, taking Highway 138, to park your car at one of the Central Valley's most scenic points of interest: the Antelope Valley Poppy Reserve in Lancaster. Spring is peak poppy time, and eight miles of gently meandering trails let you stretch your legs surrounded by California's state flower. Hike to Tehachapi Vista Point for a view of mother nature's technicolor show, which includes other California wildflowers sprinkled among the bright orange poppy petals and the San Gabriel Mountains in the distance. Look carefully and you might also spot meadowlarks, lizards, or coyotes lurking among the flora.
Cool off with a mouth-watering date shake.
A road trip to Coachella wouldn't be complete without stopping along I-10 to cool off and refuel with a classic desert date shake at Hadley Fruit Orchard in Cabazon. About an hour-long drive from Indio, this cult classic fruit stand blends up pureed California Deglet Noor dates with natural vanilla ice cream and milk. The result is a refreshingly creamy shake with subtle notes of caramel. Add your own unique twist with banana, nutmeg, or cinnamon. It's also a great last-ditch stop to stock up on quality fresh fruits, trail mix, nuts for the festival, too.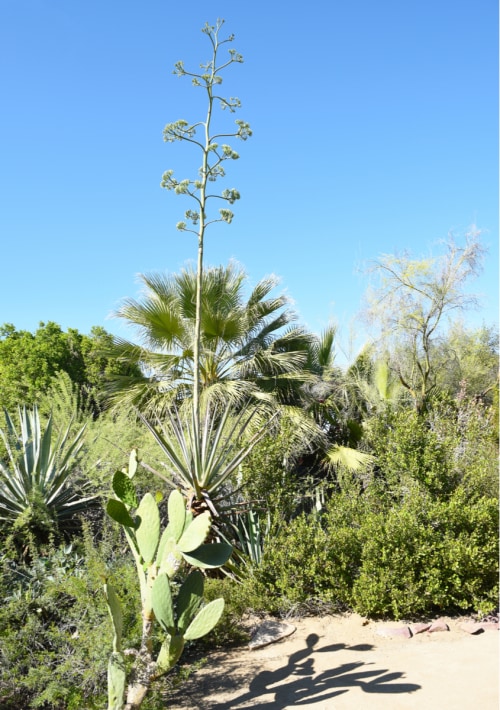 Take dreamy desert photos.
You don't have to trek into the Mojave Desert to see some of its most stunning botanical splendor. Instead, you'll find 3,000 of species of succulents and cacti beyond your wildest imagination at Moorten Botanical Garden, the world's first "cactarium." The out-of-this-world Palm Springs nursery makes for unique Coachella-inspired photos. Ogle the prickly pears and agaves—plus some local American Indian artifacts—on a self-guided or docent-led tour.