History tells us that in mid-November 1805, Meriwether Lewis and William Clark—having led an arduous expedition over plains, prairies, and peaks from Missouri to the Pacific—staggered to a stop at the mouth of the Columbia River. They spent three rain-soaked months there, mapping their surroundings while subsisting on a diet of boiled salted elk.
But let the record also show that on a recent morning, I endured not a single hardship on a sun-dappled trek from my hotel in Astoria, Oregon, to the site of their encampment. I arrived well rested and freshly fortified by a breakfast of hot coffee and house-cured salmon hash.
I was wrapping up a glorious drive up the northern Oregon Coast on Highway 101 from Tillamook to Astoria. The 65-mile journey can be made in a single day, but I'd opted to enjoy it in a leisurely three. It is the classic Northwest road trip, unspooling as a highlight reel of awesome views, strollable beaches, and historic sites—iconic territory that I'd never had the good fortune to travel before.
Comparing my own notes with those of Lewis and Clark, I can confirm that the scenery in this part of the world has lost little of its rugged beauty since the explorers first saw the fir-covered mountains spilling toward stark bluffs and unspoiled beaches. The food, however, has improved dramatically.
My starting point, Tillamook, is a 73-mile shot straight west from Portland. Best known for its cheese, the village offers an ever-expanding range of delicious options. In recent years, big-city dining trends have arrived in the form of food trucks. Clusters of them park along Highway 101 just north of downtown—a roadside culinary United Nations that ranges from Mexican beef tongue tacos to Thai yellow curry over rice and Korean short ribs.
In a parking lot near the banks of the Trask River, I saw a sign reading LET THEM EAT SOUP. Curious, I found that it pointed to Antonette's Kitchen, a to-go lunch spot serving up sophisticated takes on the usual soup-and-sandwich fare. It's run by Antonette Lamers, who grew up in town, left to work in several noted Portland kitchens (including Sanborn's and Papa Haydn), then came home to do her own thing. "Nothing wrong with Portland," Lamers says. "But it's quieter here, a better place for me to raise a family, and the food scene has gotten really good."
She bolstered that claim with her own Reuben soup, a delicious medley of pastrami and sauerkraut in a beefy broth, garnished with rye croutons that are spread with Thousand Island dressing—all the flavors of the eponymous sandwich in spoon-ready form.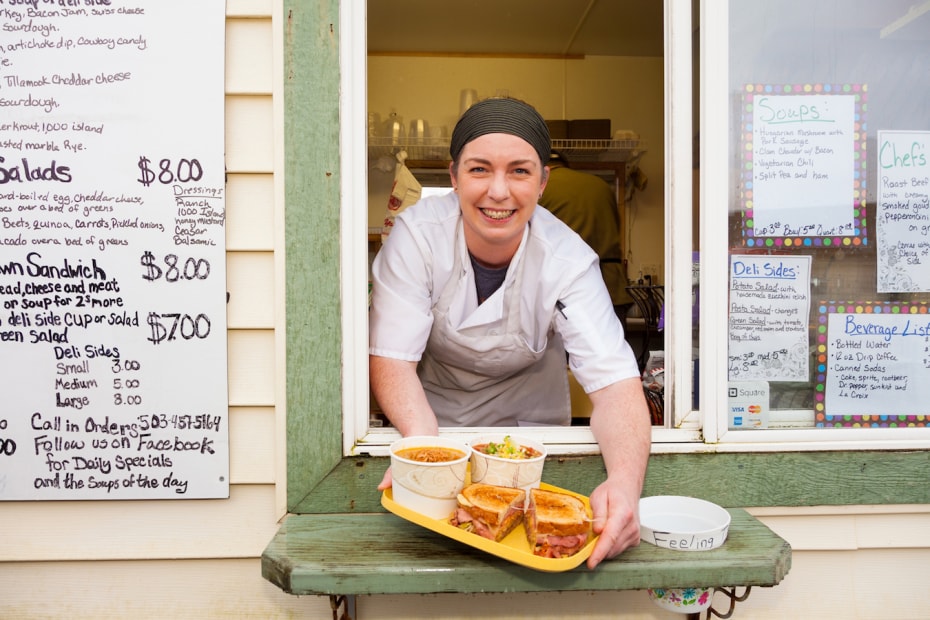 Even the best-known local food business is changing with the times. To accommodate the more than 1.3 million people who drop by every year, Tillamook Creamery—famous for its cheddar and locally churned ice cream—is expanding its already sprawling visitor center. The project, which is slated to be finished this summer, will yield a larger café, additional indoor and outdoor seating, and a bigger viewing area from which to watch the cheesemaking action on the factory floor.
Until the new space opens later this summer, visitors are directed to a temporary site next door. That's where I stopped to snack on cubes of two year-aged cheddar and treat myself to a scoop of luscious strawberry ice cream made with Oregon fruit. The cheese tasted like, well, cheese. But the ice cream had a just-right balance of sweet and tart; I polished it off before I got back to the car.
I happily drove north at an unhurried pace, stealing glances at arresting coastal views: vertiginous cliffs, shallow-water rock formations, coves foamed white by breaking waves. As I drove, the sights swept past in a slow-motion montage. Whenever I wanted to stop to get a better look, a conveniently located turnout appeared. Just north of Rockaway Beach, I paused to watch kayakers knife through the sheltered currents of Nehalem Bay. At Neahkahnie Beach, I washed my toes in the waves as a pair of kitesurfers put on an air show that even the cormorants seemed to admire.
That beach curls along the northern edge of Manzanita, a quirkily upscale but earthy-crunchy village where you'll find artisan cafés and antiques shops. Seeking some corporeal sustenance, I grabbed an early evening meal at Bread and Ocean, an inviting breakfast and lunch place that also serves dinner on weekends.
My hunger sated by hearty shepherd's pie and a slab of carrot cake with a thick blanket of cream cheese frosting, I drove up 101 to Neahkahnie Viewpoint, where I pulled into a coastal overlook in time to catch a pink and orange sunset.
At that turnout, I found a plaque honoring Oswald West. He was the Oregon governor who in 1913 first enacted a law protecting the state's 360-plus miles of coastline as public seashore. (Those protections were more securely codified in the 1967 Beach Bill.) To this day, Oregon has no private beaches; everyone enjoys access to them all.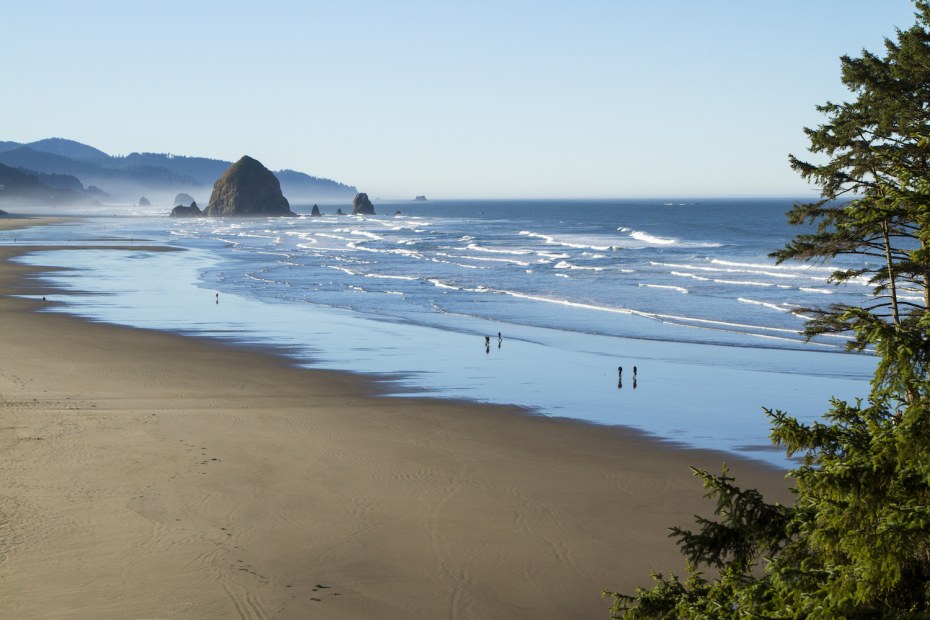 If you're an early riser and lucky, though, you can have one almost to yourself. I did the following morning, when I watched the sunrise while strolling Cannon Beach past iconic Haystack Rock.
The beach itself borders a storybook town of the same name, its busy, well-kept streets brimming with boutiques and bookstores, craft breweries and coffee shops. As lunch hour approached, I dropped by Ecola Seafood Restaurant and Market, a counter-service joint that prides itself on serving same-day line-caught fish.
Halibut sandwich in hand, I drove a few blocks north to Ecola State Park, a pine-carpeted coastal swath that wraps around the northern edge of town. Hiking paths ribbon in all directions. Among them is a section of the Oregon Coast Trail, which stretches all the way from the Columbia River to California. I opted to hoof the 2.5-mile Clatsop Loop Trail, a well-traveled route that provides quick access to a sense of wild and lonely wonder. I might have hiked it faster if the views of pounding surf and plunging cliffs hadn't so often stopped me in my tracks.
"I beheld the grandest and most pleasing prospects which my eyes ever surveyed," William Clark wrote in 1806, after taking in the vistas from a promontory not far from where I stood. The size and force of the waves, he noted, "gives this Coast a most romantic appearance."
It was not the first time Clark had seen the Pacific. That happened several weeks earlier, about 25 miles north, when he and Lewis led their expedition into what is now Astoria, where the wide-mouthed Columbia River meets the sea.
Like a lot of cities and towns along this coast, Astoria had to reinvent itself after the fishing and timber industries that once sustained it waned. Touring around, I was struck by the mingling of past and present. At Fort George Brewery, burly burgers and craft beers are served where a 19th-century fur-trading post once stood. At the Columbia River Maritime Museum, slick interactive exhibits detail engaging tales of native peoples, seafaring settlers, salmon-canning factories, and shipwrecks.
Throwback dining options, in the form of seafood shacks and salty diners, abound here. But, as in Tillamook, contemporary alternatives are available as well. One superb example: Albatross and Co., where, in a friendly atmosphere of Portland-level hipness, I supped on deviled eggs, smoked sturgeon, and a salad of butter lettuce and pea greens.
On the final morning of my trip, I drove to the Astoria Column, a hilltop tower with friezes depicting notable events in early Oregon history winding around its exterior. A 164-step spiral staircase leads to an observation deck. I was still catching my breath when the panorama took it away again.
Down by the waterfront, the Columbian Cafe is a breakfast and lunch spot so beloved it practically counts as another local landmark. It's an offbeat, creaky-floorboard place, known for its house-cured seafood and idiosyncratic decor. I sat at the kitchen counter, the shelves behind it stacked with cartoon figurines, a miniature Buddha, and a sign that said BEWARE OF THE ATTACK CHEF.
He seemed perfectly nice to me, and his salmon hash was all the fuel I needed to get me to Fort Clatsop, a replica of the wooden fort where Lewis, Clark, and their band of weary travelers spent the winter of 1805–06. Exhibits inside told of their explorations and hardships as they mapped the region while battling rain, cold, and achy joints, their constitutions sustained plentifully (if monotonously) by all that elk. Their adventures put them in the history books. But as someone fond of good food and more comfortable forms of sightseeing, I was happy to have shown up a couple hundred years later.