Oregon Coast Highway 101 Road Trip
Drive from Astoria to Manzanita to experience classic beachside favorites and discover new delights.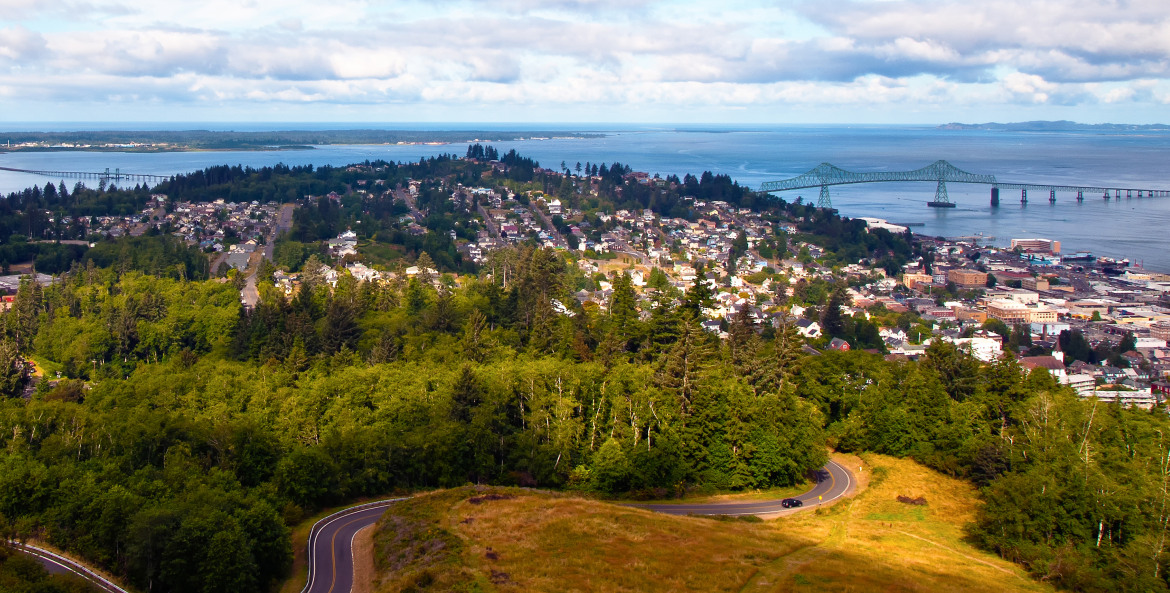 There's a timeless charm to the 40-mile scenic stretch of the Oregon coast between Astoria and Manzanita. Visiting these towns, I fluctuate between having to pay homage to all the places my family has been traveling to since I was a kid and feeling like I should really add new pit stops to my itinerary. So I set a goal for this trip: introduce my Minnesotan husband to all the old coastal gems along with the modern spots that city dwellers like us love now.
We started north in Astoria, which will forever be associated with The Goonies. A little online research warned us not to seek out the main house from the 1985 movie, so rather than look for Sloth among the ornate Victorians, we drove to the Astoria Column. Instead of pirate ships and gold, we found an impressive panoramic view of the Astoria Bridge across the Columbia River. (Bonus: The $5 parking pass can be used for a full year.)
After wandering for a while, it was time for a drink—and this being Oregon, no town is bereft of craft beer. At Fort George Brewery + Public House, in the historic Fort George Building, we sat at a wooden bar and gazed out giant windows, sipping only-available-in-the-Northwest brews. And because sweet carbs go so well with hoppy ones, afterward I popped next door to the fantastic Blue Scorcher Bakery, where I had a cardamom bun—but I could've eaten four. Each bite was perfectly light with just a hint of sweet.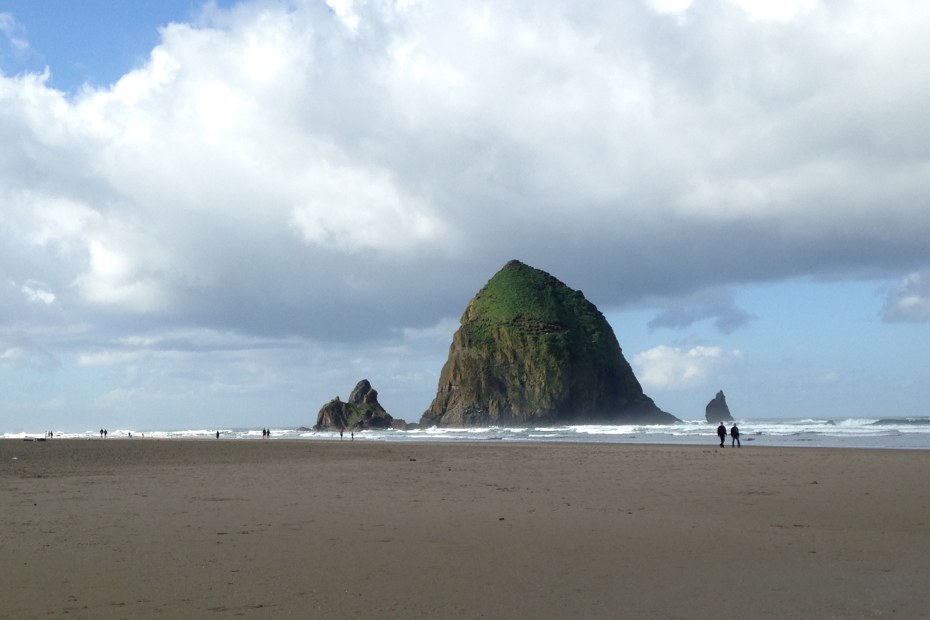 Our next stop was Cannon Beach, 45 minutes south and perennially packed with kids and families. Seeing so many young 'uns flipped the nostalgia switch in my head, and I took my husband to all my old stomping grounds, including Cannon Beach Bakery, home to my dad's favorite Haystack bread loaves, named after nearby Haystack Rock. At Bruce's Candy Kitchen, another oldie but goodie, I learned that there really is such a thing as eating too much taffy in one afternoon. But you can never quite escape the allure of taffy in Cannon Beach, either. It's everywhere. When we checked into our hotel—a collection of cozy one-room cabins with fireplaces called Hearthstone Inn—the office had a full bowl of the sweet stuff on display.
Our first night in Cannon Beach, we grabbed dinner at Pelican Brewing, which offered the tastiest meal of the weekend. I downed a bowl of herby and fresh clam chowder—chock-full of clams and the requisite oyster crackers—that I'm still thinking about. We weren't the only ones flocking to Pelican, either; the place was packed. We should've picked up a bottle of Pelican saison and strolled down to the beach to watch the sun go down behind Haystack Rock. Next time.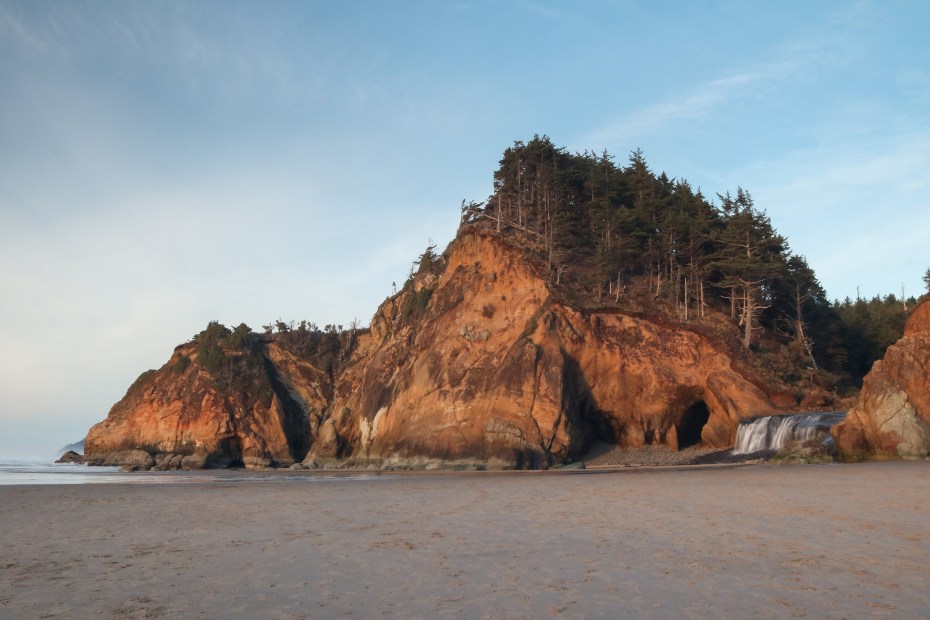 With so many hiking trails around every curve of Highway 101, the breweries, candy stores, and bakeries are just fueling stations for the Oregon coast's star attractions: waves, waterfalls, and woods.
Because I love watching surfers, we started our longest day on the coast at Short Sand Beach in Oswald West State Park. Just follow the wet-suited ones from the parking lot down the wooded trail to Smugglers Cove, where giant logs and driftwood bits frame the wave riders. When the beach crowded with people, we escaped up a trail under a canopy of western red cedar, western hemlock, and Sitka spruce trees—then popped into nearby Manzanita for snacks from the local grocer.
In contrast to Oswald's forested grandeur, the main thoroughfare at Hug Point State Recreation Site is a sandy beach. We went there next and snapped photos of wide waterfalls and multicolored caves. I couldn't believe I'd never been to this popular little spot before, but with so many trails and turnouts to explore along the coast, even the oldest destinations can feel new to discover.
On our last morning, we stopped at Sea Level Bakery + Coffee at the quiet southern end of Cannon Beach. For breakfast, I splurged on a very urban meal—an açai bowl topped with fresh fruit and granola—and Stumptown coffee. It was just the fuel I needed for our final stroll of the weekend at Ecola State Park. One of the first places I remember hiking as a kid, Ecola is a well-traveled spot for good reason: The views of the ocean and rock formations are nothing short of stunning.
After the quick breakfast-burning walk, it was time to head back on Highway 26 toward Portland. But on our way, we couldn't help but turn back the clock one last time for lunch in Elsie, home to Camp 18, the iconic restaurant/monument to Oregon's logging history. My husband and I grabbed a burl table under a mounted elk head for some beef stew. With its giant wooden bear statues and lumberjack proportions, Camp 18 is a classic Northern Oregon coast roadside attraction. And like so many of the stops we made in the area, it's just as much fun to visit as an adult.