Mile for mile, no stretch of shoreline in the world offers as much captivating beauty as the West Coast of the United States. At virtually every twist and turn of this 6,873-mile dance between land and sea, scenic gems compel you to stop and say wow. Some of these sights come big and bold—mountains soaring from the ocean's edge, bristling with towering evergreens, breakers rolling eternally toward shore. Others are as intimate as an old lighthouse perched bravely on a cliff or the mesmerizing undulations of translucent green anemones in a pool of crystal water.
But which specific spots are the most gorgeous, the most deserving of a special trip? On the list that follows, you'll find the full picturesque diversity of this remarkable coast. There are beauties both epic and humble, both natural and shaped by human hands. The list deliberately skips some familiar choices in favor of those that may still have the power to surprise. All, however, belong on the must-see list of anyone who lives in or visits the West.
Cape Perpetua Scenic Area, Oregon
If there were an Oscar for Best Performance by a Pacific Coast Locale, it might well go to Cape Perpetua Scenic Area every year. Located just a few miles south of Yachats, Oregon, this imposing 2,700-acre headland harbors a wealth of precious old-growth coastal forest that includes a nearly 600-year-old Sitka spruce. But the real drama is down at water's edge, when storms or high tides smash onto a basalt shelf, creating such marquee features as the Spouting Horn (a blowhole that can spray 50 feet high) and a frothy chasm of surf called the Devils Churn. The biggest draw these days, though, is probably Thor's Well, a gaping hole that seems to swallow the sea. "A photo of it went viral a few years ago," says Brian Hoeh, the scenic area's director. "And since then visitors from around the world come here just to see it."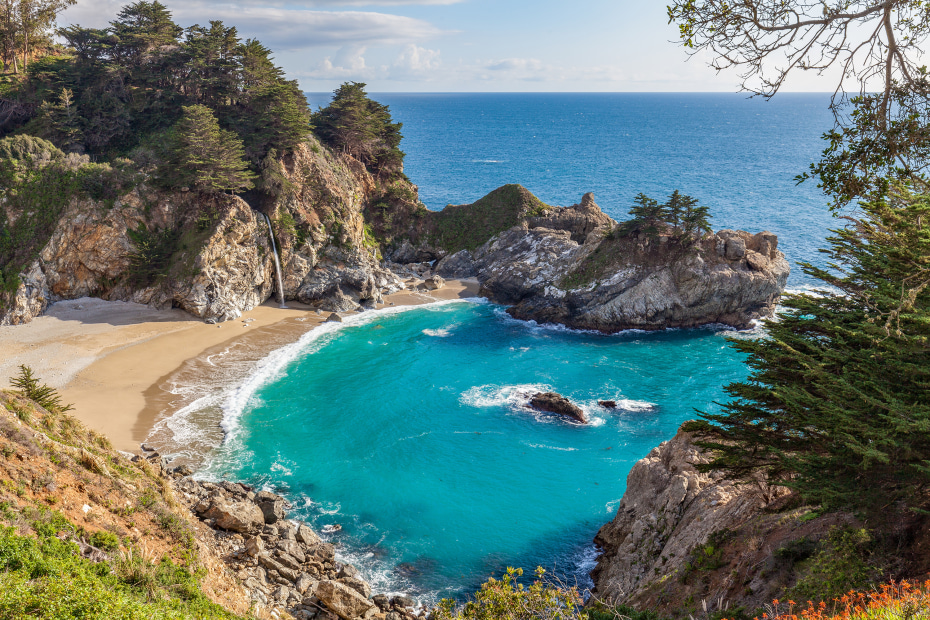 McWay Falls, California
No single spot better sums up Big Sur's edge-of-the-continent grandeur than McWay Falls. From an 80-foot granite cliff in Julia Pfeiffer Burns State Park, a slender ribbon of water makes a sheer drop onto a sandy cove. It's a prospect of poetic beauty viewed by thousands of travelers who pull off Highway 1—the iconic route that clings to the side of the Santa Lucia Range as it plunges into the Pacific. The easy half-mile trail to view the falls serves as a quick primer on Big Sur's many wonders: There's the view of the waterfall itself and of the beach below (which was created in a 1983 landslide). But there are also sweeping ocean vistas that may include seasonally migrating whales. The especially lucky might spy endangered California condors perching in the eucalyptus trees, and the more energetic can ascend other, steeper trails just minutes away for even bigger views. The falls have everything that makes Big Sur one of the most scenic places on the entire coast, in one easily accessible package.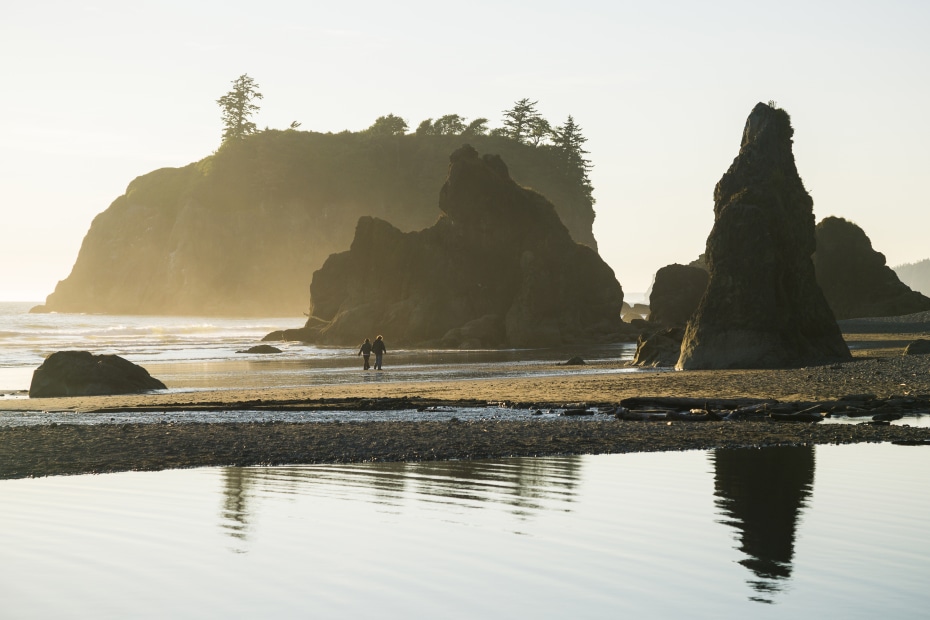 Ruby Beach, Washington
No one comes to the ocean beaches of Washington's Olympic National Park to get a tan. You come to a place like Ruby Beach—an iconic strand along this 73-mile primeval coast—for the exhilarating spectacle that unfolds just an easy quarter-mile walk from the parking lot. Wild ocean meets fog-shrouded forest, and bald eagles catch fish in their talons before heading back to treetop perches. Craggy sea stacks thrust skyward just offshore, and huge driftwood logs are tossed onto the sand like a giant's discarded toothpicks. But Ruby also provides something most of the other beaches don't: an extraordinary place to recharge after a day of exploring. At nearby Kalaloch Lodge, guests can warm themselves at a fire circle, dine on house-smoked salmon, and fall asleep to the sound of the surf. And the lodge offers one more bonus: Cell reception is blissfully bad and Wi-Fi nonexistent.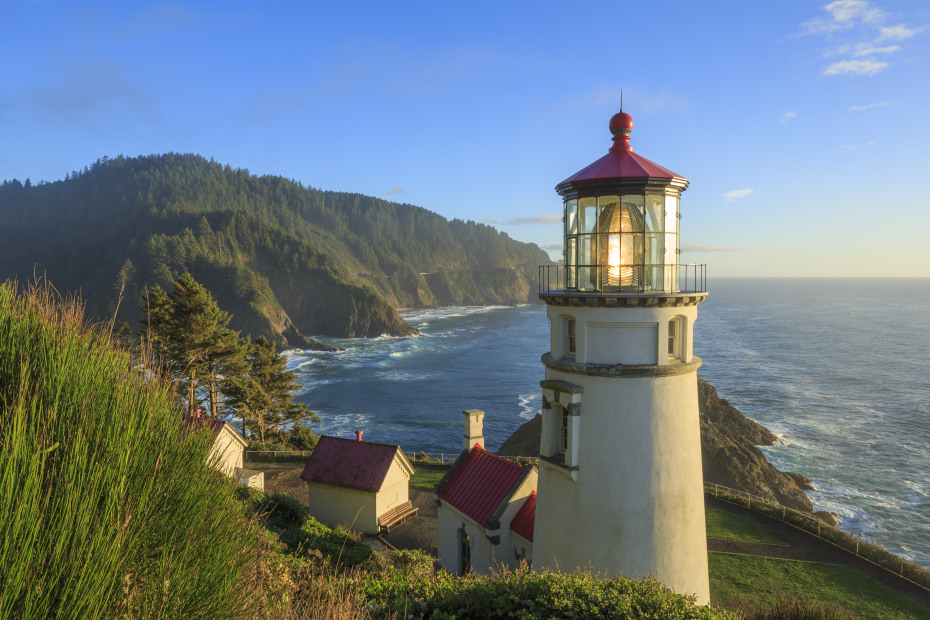 Heceta Head Lighthouse, Oregon
You don't need to be a pharologist—someone who studies lighthouses—to love the one at Heceta Head; it's perhaps the fairest of the many lights dotting Oregon's coast. This whitewashed, red-roofed sentinel draws 700,000-plus admirers each year to its remarkable site, sandwiched between a mountainside of dense coniferous forest and the edge of a 205-foot cliff. Located about 12 miles north of Florence, it entered service in 1894, and from its 56-foot tower the most powerful light on the Oregon Coast still reaches ships up to 21 miles away. It's been unmanned since being automated in 1963, but the historic assistant lighthouse keeper's residence is now an inn. "Some guests sit for hours on the front porch, just watching the ocean," manager Misty Anderson says. "It's so peaceful at night, and when the skies are clear you've never seen so many stars in your life."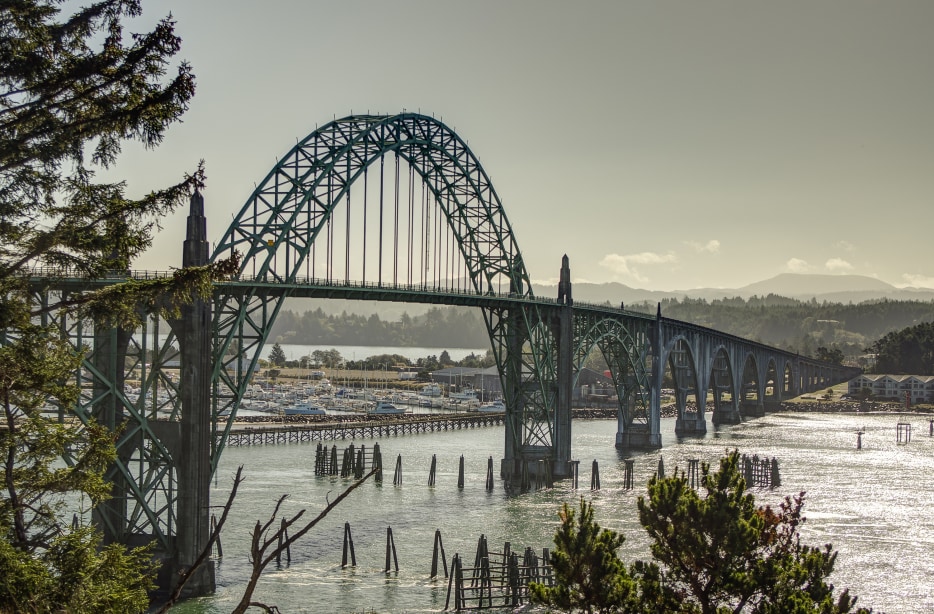 Yaquina Bay Bridge, Oregon
When visiting an icon like the Golden Gate Bridge, you expect to be impressed. But sometimes it's the surprising beauties that steal your heart. That's the case with the Yaquina Bay Bridge. If U.S. Highway 101 is like a necklace running along Oregon's coast, its bridges are the pearls. And if you ask Ray Bottenberg, who works as a preservation engineer for the state transportation department and wrote a book on Oregon's coastal spans, this 3,260-foot-long bridge in Newport may be the most lustrous of them all. "Aesthetically speaking, it's right at the top," Bottenberg says. With a central steel arch vaulting 245 feet above the water, the soaring 1936 landmark is set between the Pacific Ocean and a bay that teems with waterfowl and shorebirds. It's fun to drive across, but for an unexpectedly delightful perspective, head to the beach below.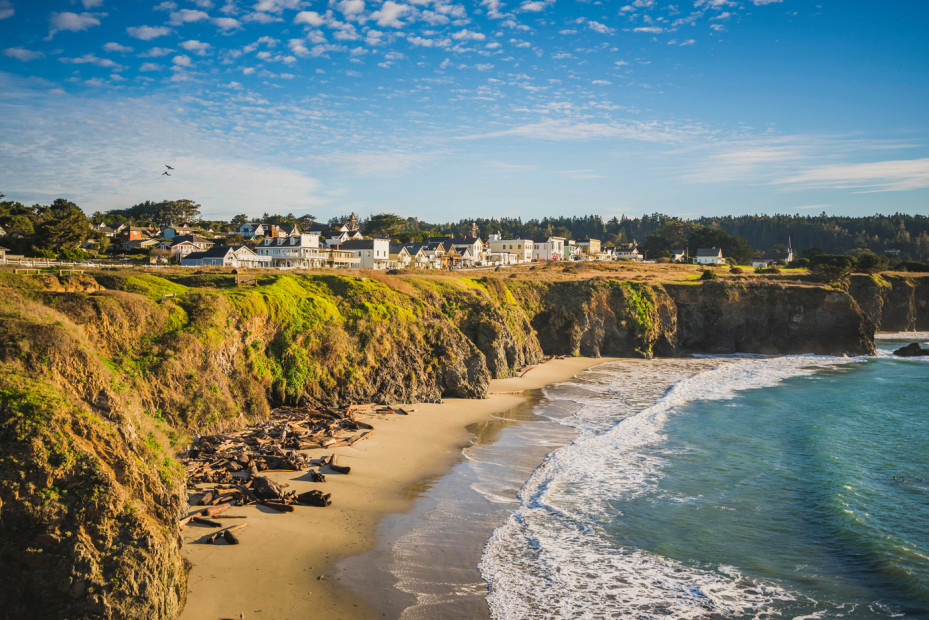 Mendocino, California
Plenty of pretty towns dot the West Coast, but none can hold a candle to Mendocino on California's northern shore. With its picturesque Victorian storefronts clustered atop almost impossibly scenic bluffs that lure hordes of whale-watchers, the village—both up close and from afar—looks like the gorgeous backdrop for a film. In fact, since 1916, when a silent movie was shot at the now defunct Mendocino Lumber Company on the Big River just south of town, Mendocino has been featured in hundreds of films, television programs, and commercials. "The production companies love the integrity of the architecture and the rugged coastline," says Rick Smith, who has served as a location scout for nearly 100 Mendocino projects. "They love that it can be a New England village from the past or the present. And then there's the special light here, so pure because the air is so clean." Even tourists with nothing fancier than smartphone cameras leave enchanted.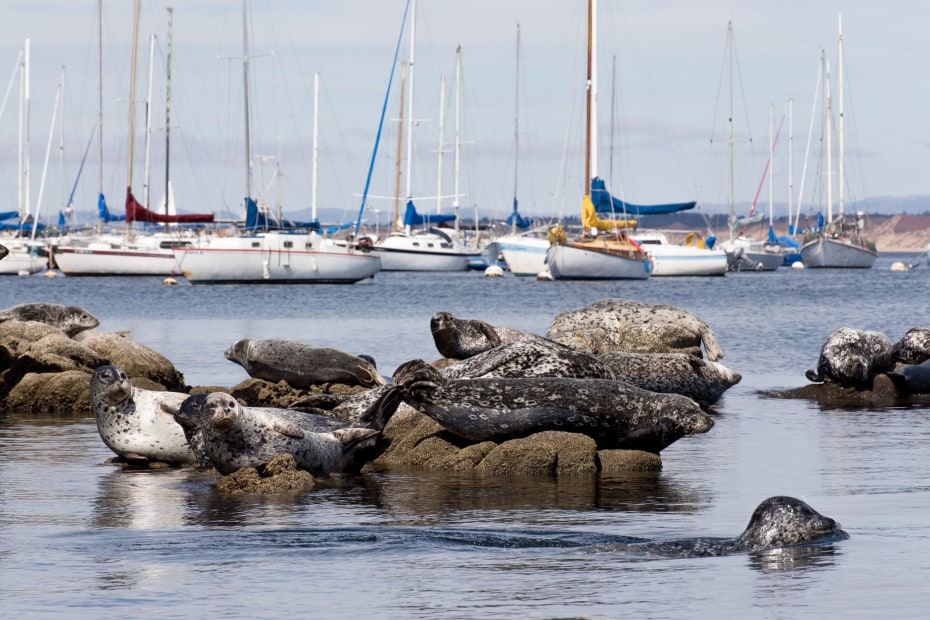 Monterey Bay, California
The sight of a humpback whale breaching just off your ship's bow is among the West's most sublime experiences—and it's only one of the transcendent possibilities when viewing marine wildlife on Monterey Bay. "Out on the water, you're surrounded by amazing animal life," says Julie Packard, director of the Monterey Bay Aquarium since 1984. It wasn't always so amazing; years of pollution took a toll. But with the 1992 designation of the 6,094-square-mile Monterey Bay National Marine Sanctuary, the area's wildlife began a dramatic rebound that continues to this day. Now, depending on the season, you can spot plenty of migrating whales, along with dolphins, porpoises, sea otters, sea lions, harbor seals, and birds. "I've had a long-term relationship with the bay," Packard says, "and it's only getting better."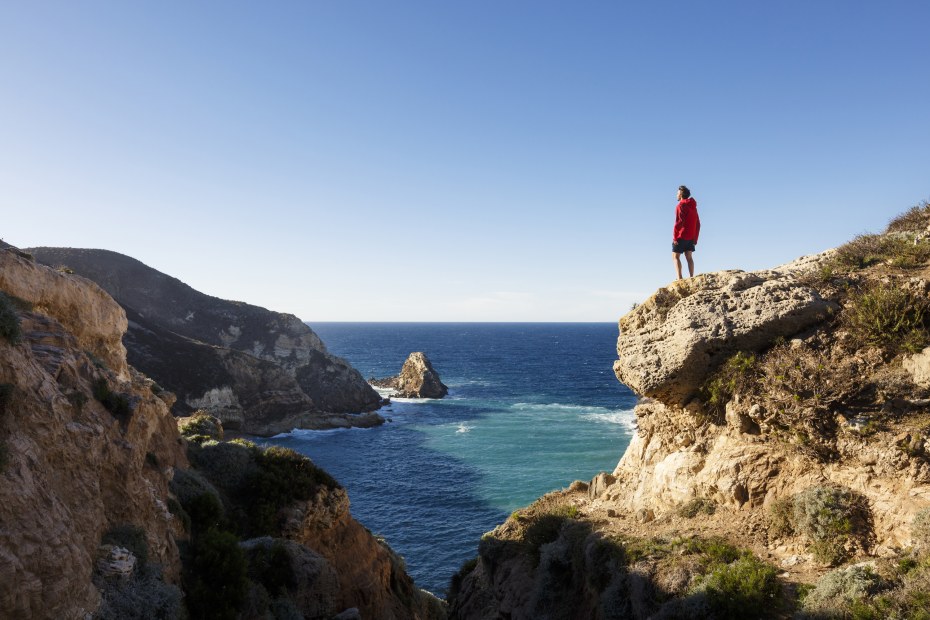 Channel Islands National Park, California
Wrapped in the aquamarine embrace of the sea, Channel Islands National Park rises in splendid isolation off the Southern California coast. With their windswept solitude and scant amenities, these five islands are sometimes compared with the Galápagos archipelago—and with good reason. Home to 2,000 plant and animal species (including 145 found nowhere else), the park packs the biological diversity of nearly 2,500 miles of North American coast into 390 square miles. But if you visit—by small plane or one of the regularly scheduled ferries—and explore its mountains, oak woodlands, and beaches by foot or in a rented kayak, you'll find that it also serves as a welcome refuge from the frazzling pace of modern life. No need to camp overnight (which requires an advance reservation): Even on a day trip, you can feel the islands' restorative powers.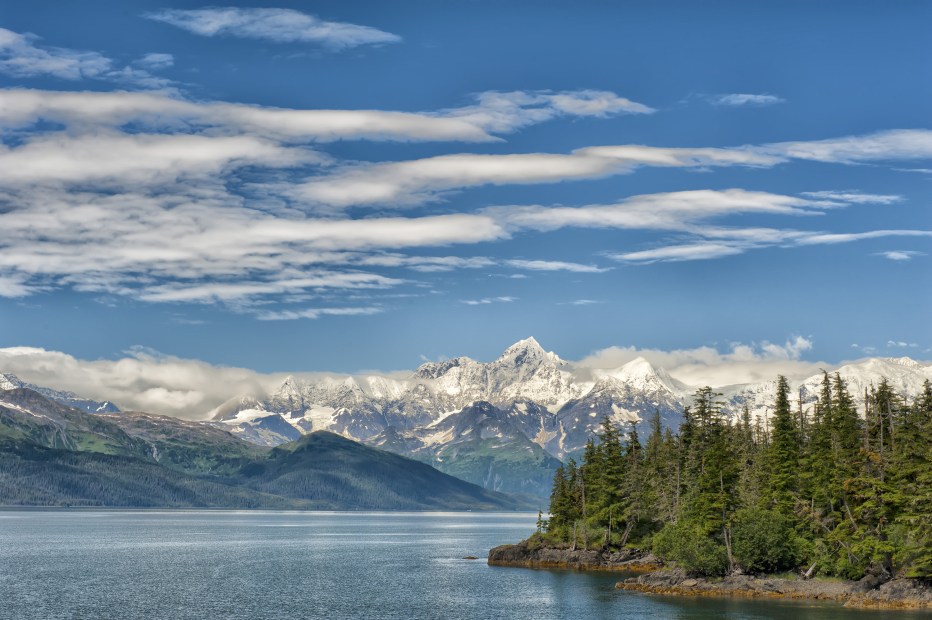 Prince William Sound, Alaska
In a state with no shortage of stunning coastal seascapes, Alaska's Prince William Sound might well deserve the crown. Thick forests of hemlock and Sitka spruce carpet the shoreline. Snow-covered peaks that seem to rise from the sea itself overlook 10,000 square miles of protected waterways, fjords, islands, waterfalls, and glaciers. On a day cruise, you might see cavorting whales, sea lions and sea otters, soaring bald eagles, and bears wandering beaches. Perhaps no one knows this natural wonderland better than Adam Dixon, who as a ferry captain for the Alaska Marine Highway System has crossed the sound at least 1,000 times in all seasons and weather conditions. Work being what it is, does he ever get tired of the trip? No way. "After 20 years on the job," he says, "I still see things that have me grabbing my phone to take a picture."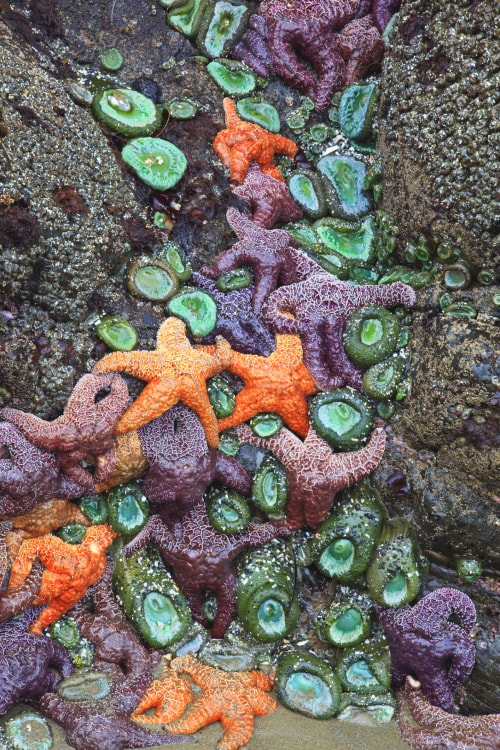 Ecola State Park, Oregon
In 1806, William Clark and other members of the Corps of Discovery explored the area that's now encompassed by Ecola State Park, outside Cannon Beach, Oregon. Stunned by its vistas of boundless ocean, immense sea stacks, and pounding surf, Clark later wrote that the scene presented "the grandest and most pleasing prospects that ever I surveyed." Those views still amaze, but Ecola also boasts fabulous tide pools—and this in a state whose intertidal life is among the richest and most diverse in the country. At Ecola's Indian Beach, ocher sea stars and flat-bottomed chitons with armadillo-like backs cling fiercely to barnacle-encrusted rocks at low tide. In shallow pools that form around the bases of big rocks, hermit crabs toddle past masses of green sea anemones and their undulating tentacles. Spend an hour peering into this miniature world of wonder and you will witness beauty every bit as seductive as that of the sweeping views Clark once enjoyed.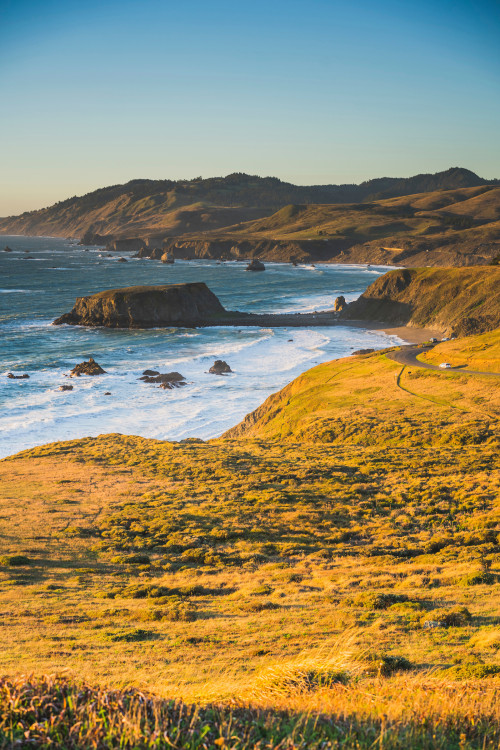 Goat Rock Beach, California
The archetypal Northern California beach looks out on its namesake offshore rock formation, a wide, flat-top monolith that rises abruptly from the churning ocean. At Goat Rock Beach—part of Sonoma Coast State Park, which runs from Bodega Bay to north of Jenner—surf pounds a sandy shore backed by bluffs streaked with blue-green serpentinite (California's state rock) and dotted in summer with wildflowers. Just beyond Penny Island, near a boisterous, barking colony of harbor seals, the Russian River spills into the sea. The sweep of wonders here can be too grand to take in all at once. But Ernie Camacho manages. "I've probably flown at Goat three or four dozen times," says the hang-glider pilot from Windsor, Calif. "And in terms of visual beauty, nothing beats this stretch of coast."
If You're Going
Winter weather can be rough on beaches, roads, and park facilities. Be sure to call ahead to check current conditions and closures. During your visit, heed any posted warning signs.