"There is but one Columbia River Gorge," engineer Samuel C. Lancaster wrote nearly a century ago, describing the 80-mile-long chasm that begins just east of Portland. It is endowed with "so many beautiful waterfalls, canyons, cliffs and mountain domes. . . . Men from all climes will wonder at its wild grandeur."
Stretching from Troutdale to The Dalles, Oregon, the Gorge is a steep-sided ravine carved by the Columbia River during the Missoula Floods some 15,000 years ago. It is green and wet and thick with conifers in its western reaches before giving way to tawny brown hills in the east. Lancaster designed the first road through the Gorge in 1913, and today if you drive his creation, the Historic Columbia River Highway, you will come to appreciate his awe.
From Portland, take exit 17 off I-84, near the Troutdale Airport, turn right on SW 257th Avenue, and then left on the Historic Columbia River Highway. Swoop and swerve uphill to milepost 22, where you'll spot Vista House, an octagonal stone observatory perched 733 feet above the Columbia River. Architect Edgar M. Lazarus conceived this 55-foot-high domed structure, opened in 1918, as a place where "the Columbia could be viewed in silent communion with the infinite." On its windswept deck you can see the river's sandy shoals and meandering tributaries, plus the pluming smokestacks of Camas, Washington. Inside, high on the pillars that hold up the dome sit eight bronze-coated plaster busts of Native Americans. Curators are still guessing which American Indians the sculptor aimed to depict.
Eight miles farther east, on the Historic Columbia River Highway, you come to the tallest waterfall in Oregon, Multnomah Falls, plunging 542 feet from a verdant, evergreen-studded plateau into a deep pool before dropping another 69 feet into a second pool. Two million tourists visit each year. There's a gift shop and snack bar, but the place somehow feels like the wilds, always awash in the sound of crashing water. On Labor Day 1995, a 400-ton boulder tumbled off the face of the waterfall into the upper pool, causing a giant splash that inundated a wedding party posing for photos on the bridge crossing the lower falls. The bride and groom were drenched but survived.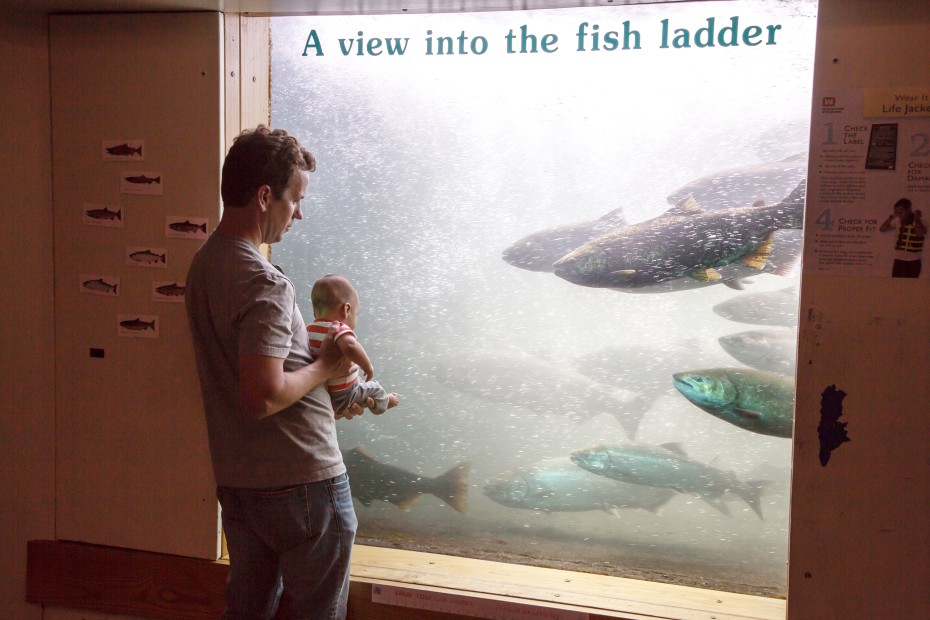 Bonneville Dam, at exit 40 off I-84, is a 190-foot-high concrete mass spanning the river. Built in 1937, Bonneville is just one of the Columbia's 14 hydroelectric dams. Salmon and steelhead are highly visible at the dam's Bradford Island Visitor Center, where they can be watched close up through five viewing windows as they battle upstream, climbing an underwater fish ladder.
Cross the Bridge of the Gods, drive three miles east on Route 14, and turn left. Carson Mineral Hot Springs Resort is a classic Old West redoubt where, for $30, visitors can recline in ancient claw-foot tubs, soaking in 119-degree mineral water piped from nearby. Hour-long massages are also available for $90. Rustic is the key word. The painted letters on the towering false facade—reading "HOTEL ST. MARTIN"—are so time-worn they're almost ghostly.
Turn left (east) on Route 14 and continue 18 miles to the Hood River–White Salmon Bridge, which takes you into the town of Hood River, where you'll find the Western Antique Aeroplane and Automobile Museum (WAAAM) set in two cavernous hangars. WAAAM is home to a WWI-era 1899 Locomobile Steam Car and a 1917 Curtiss Jenny fighter plane. Most of its land vehicles and aircraft still function. But the real lure is the curious machines in the Learning Center—a nine-plus-foot-tall helicopter; kid-size versions of a motorcycle, airplane, and farm tractor; and a 21-foot-long submarine with a periscope showing slides from 20,000 Leagues Under the Sea.
Also in Hood River is the Columbia Gorge Hotel & Spa, which was built in 1921 as a refuge for eastbound travelers finishing a day's journey by motorcar. Rudolph Valentino slept here, as did Shirley Temple and William Howard Taft. It's a regally maintained romantic getaway where visitors can wander among tulip beds, savor Sunday brunch, or sip cocktails on a cliffside patio beside Wah Gwin Gwin Falls, which plunge 208 feet to the Columbia. The dry hills of The Dalles are just 20 miles to the east.