Sights and Events
Trophies and free hot dogs for kids draw big crowds on the first Saturday in June to Diamond Lake Resort during Free Fishing Weekend. After landing a rainbow trout, visitors can rent paddleboats or ride horses around the lake.
One of Oregon's premier festivals for more than 50 years, the Glide Wildflower Show (Apr. 29–30) displays 600-plus types of vegetation. Take a guided tour to learn about native flora such as false Solomon's seal, a woodland plant with lacy white blossoms.
Roseburg's Summer Arts Festival brings upwards of 100 artists to shady Fir Grove Park, June 24–26. Participate in a massive community art project; see experts demonstrate weaving, wood turning, and glassblowing; or browse the tents for one-of-a-kind jewelry, sculpture, and handicrafts.
Where to Shop
Take home a taste of the region by picking up a bottle at Del Rio Vineyards, housed in a hotel built in 1865 for weary stagecoach travelers. The winery also hosts outdoor concerts every Friday starting June 16 in Gold Hill.
One-stop weekend shopping is easy at the Fishin' Hole Fly Shop and Picnic Basket Delicatessen. These adjacent businesses with the same owner offer everything from rods and tackle, raft rentals, and guided fly-fishing trips to coffee, smoothies, and sandwiches to take on the boat. Shady Cove.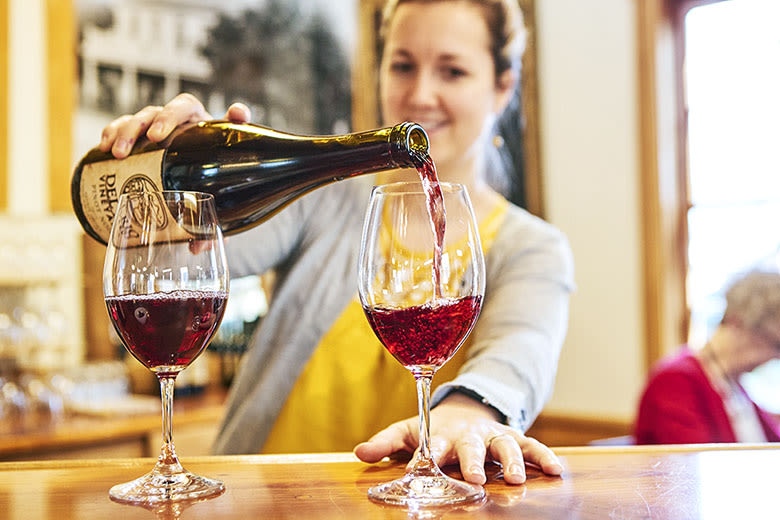 Where to Eat
A wood-cabin diner at the entrance to the Union Creek Resort fishing lodge, Beckie's Cafe has been in business since 1926. Enjoy a hearty scrambled egg breakfast with applewood smoked bacon or sausage and potatoes; home-style dinners; and boysenberry pie anytime. Prospect.
Begin or end your trip at the Parrott House, a landmark mansion converted into a gorgeous restaurant. Feast wood-fired pizza and foraged mushroom bruschetta. Roseburg.
Dinner at the Steamboat Inn just outside Glide is open even to those not staying overnight. From March through June the historic spot presents a series of meals featuring guest chefs, among them John and Caprial Pence of Portland's beloved, defunct Caprial's Bistro. 42705 N. Umpqua Hwy., Idleyld Park.
Outdoor Activities
Highway 138 between Roseburg and Crater Lake is known as the Highway of Waterfalls for the 10 cascades found along its route. Check out Toketee (milepost 58.6), a spectacular tiered tumble over striated columnar basalt, or Watson (milepost 60.5), one of the tallest plunges in the state at 293 feet.
May and June are perfect for launching onto the Rogue and Umpqua Rivers (though boating season lasts through September). Rapid Pleasure Rafting Co. in Shady Cove floats rafts and kayaks down 10 miles of gentle Class I–II waters on the Rogue. Oregon Whitewater Adventures offers trips with a licensed guide across the Umpqua's faster rapids and pools of emerald water.
A short detour off Highway 62 north of Prospect, the 3.5-mile Rogue Gorge Trail connects the Rogue Gorge and Natural Bridge Viewpoints. Interpretive signs at each end teach visitors about the area's ancient lava flows, which created tubes that channel the river under the rock.