Most people think of whitewater rafting as a hot weather activity, but as summer gives way to fall, you can still run many rivers in the West. Hit these spots in September or October when summer crowds—and insects and poison oak—have died down, and the flora and fauna are in fine form.
Wild and Scenic Run, Rogue River, Oregon
A steep and rugged river canyon nestles this stretch of the Rogue, where the wildlife—from eagles to bears and otters—still make their home. It's an area of such beauty that it earned the Wild and Scenic designation from the Federal Rivers Act of 1968, and it provides swimming holes, pristine sand beaches, and Class II and III rapids. Indigo Creek Outfitters offers three-day glamping trips for this run through mid-October. $1,195/adult, all meals included.
South Fork Run, American River, California
This is the perfect one-day whitewater trip to both delight intermediate rafters and lure in novices. The run starts gently, with Class I and II rapids, but ramps up considerably after lunch with Class III rapids such as Troublemaker and Satan's Cesspool. This pool-and-drop river offers rafters plenty of chances to hop in and swim. In fall, enjoy a bonus rapid after Hospital Bar. OARS runs the South Fork through September. From $149/adult, lunch included.
Grand Canyon, Colorado River, Arizona
Nothing compares to the whitewater and wildlife experience of rafting the Grand Canyon, and it only gets more beautiful and serene in September and October. These runs require advance planning (booking 18 months to two years ahead is ideal), time off (7–10 days minimum for a true Grand Canyon run), and hiking, but they are the stuff of lifelong memories.
The Colorado River has its own 1 to 10 scale for rapids and includes several rapids in the 7 to 10 range. In the fall, water levels are somewhat lower, taking the scary edge off the run while still providing thrilling whitewater. Arizona Raft Adventures offers wonderful 10-day Lower Canyon and seven-day Upper Canyon trips annually through October. Their Classic Adventure runs provide a combination of oar and paddle boats so you can paddle when you feel like it and ride scot-free when you don't. Devoted guides keep you safe on the water and well-fed while camping on shore. Don't forget to look up and take in the incredible stars at night. From $2,645 for seven-days; $3,665 for 10 days.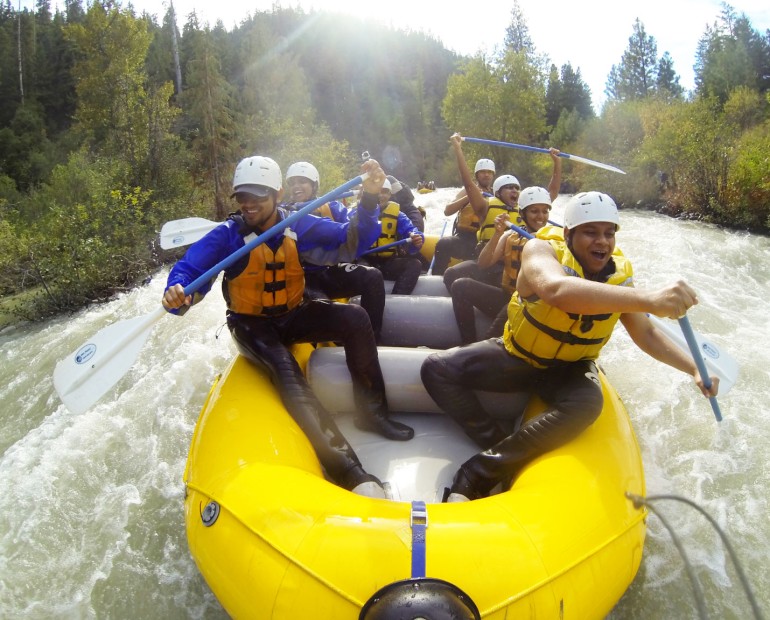 Yakima Valley, Tieton River, Washington
Sometimes nature works best with a little nurture. Such is the case with Tieton River, which—thanks to controlled dam releases—enjoys a September-only whitewater season just as other rivers in the area run low. It's the perfect half-day run for weekenders complete with scenic banks forested with Ponderosa Pines. Warm water from the dam plus quality gear and guidance from outfitter Wet Planet Whitewater will have you enjoying the consistent flowing Class III water and fall foliage even on the crispest of Pacific Northwest days. $89/person.
Lodore Canyon, Green River, Utah
Stare in awe at the 800-foot vermillion canyon walls of Dinosaur National Monument. Rock layers here are 20 million years old, but the whitewater is fresh with Class III and IV rapids and fun side adventures. Through mid-September, Holiday River Expeditions offers a four-day oar trip that lets you sit back and take in all the scenery, including a blue-ribbon trout stream, canyon petroglyphs, and a waterfall hike—and wildlife such as Bighorn sheep, pronghorn, and bald eagles. $1,190/adult.