There are many lakes and rivers where westerners can beat the heat and enjoy a variety of water sports, such as windsurfing, tubing, fishing, and boating. Here is a guide to some of the hottest spots to cool down in the West.
Water Venues in Arizona
Lake Powell
Located near Page and formed by Glen Canyon Dam, Lake Powell is 186 miles long with 1,960 miles of shoreline surrounding deep canyons and rocky outcrops. A fisherman's dream, the clear, cold waters offer a variety of fish, even trophy-size trout, near Lees Ferry. A reservoir for Colorado River waters, it's a haven for swimming, waterskiing, wakeboarding, stand-up paddleboarding, and kayaking. Houseboating also attracts crowds, with Wahweap and Antelope Point marinas as launch points for day- or week-long cruising.
Salt River 
The largest river in the Phoenix area with an average water temperature of 68 degrees, the Salt is a magnet for tubers. Depending on the launch point (there are four) and the water flow, it takes about two to six hours to float down this generally slow-moving waterway, despite a few fast-moving patches near the rapids. Tubing is family friendly from May through September, with daytrippers usually renting rubber inner tubes. Don't look for a solitary experience here. Just go with the flow and enjoy passing views of majestic mountains and the occasional wild horse or blue heron.
Lake Mead
Once the largest manmade lake in the United States, Lake Mead was formed by Hoover Dam, a majestic feat of engineering that divides Arizona and Nevada. Many visitors rent houseboats, relax on sandbars, and watch the stars come out while rhapsodizing about the sheer cliffs, deep canyons, and distant mountain ranges. Other folks get physical with water skiing and swimming.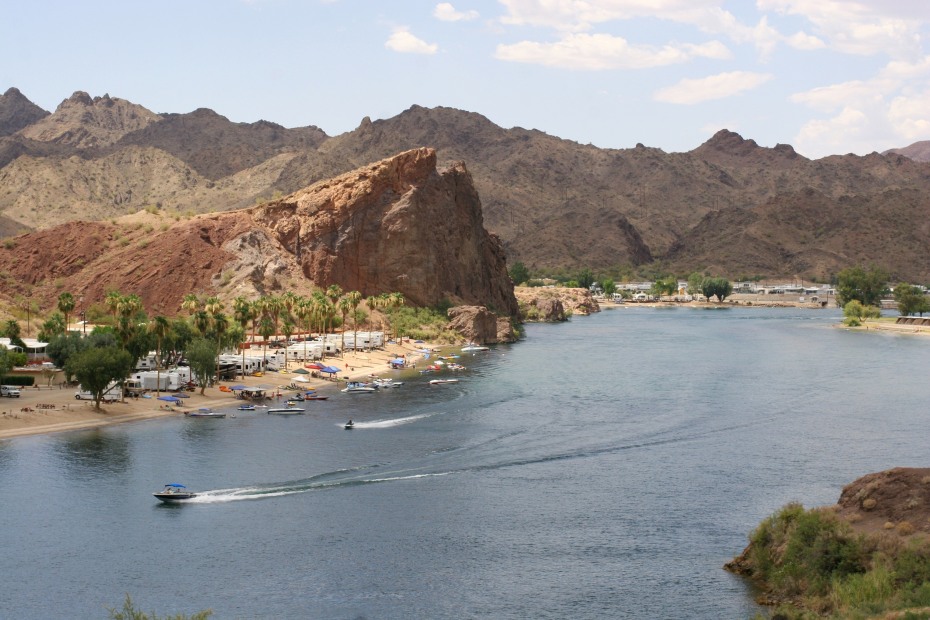 Lake Havasu
This deep, 45-mile long lake in the western reaches of the state is where Central Arizona Project begins to pull its Colorado River allotment. Anglers can explore coves and inlets to find perfect spots to drop their fishing lines and await the tug of striped bass, bluegill, catfish, and trout. But do allow some time to gawk at the famous London Bridge, which connects to an island in the lake. Scuba diving also beckons visitors due to year-round warm water temperatures, the absence of dangerous fish and riptides, and good visibility. Thirty dive sites feature attractions such as fish habitats, shipwrecks, and an underwater town from the 19th century.
Colorado River
Rafting down the river— whether you prefer smooth water or wicked white rapids — is a memorable experience that gives a unique bottom-to-top perspective on the massive Grand Canyon. Be smart and reserve space on a river trip, which range from one day to two weeks or longer. Rafters start out at Lees Ferry, Glen Canyon Dam, or Diamond Creek. Those on non-commercial trips gain access to native Hualapai Tribal land and cultural sites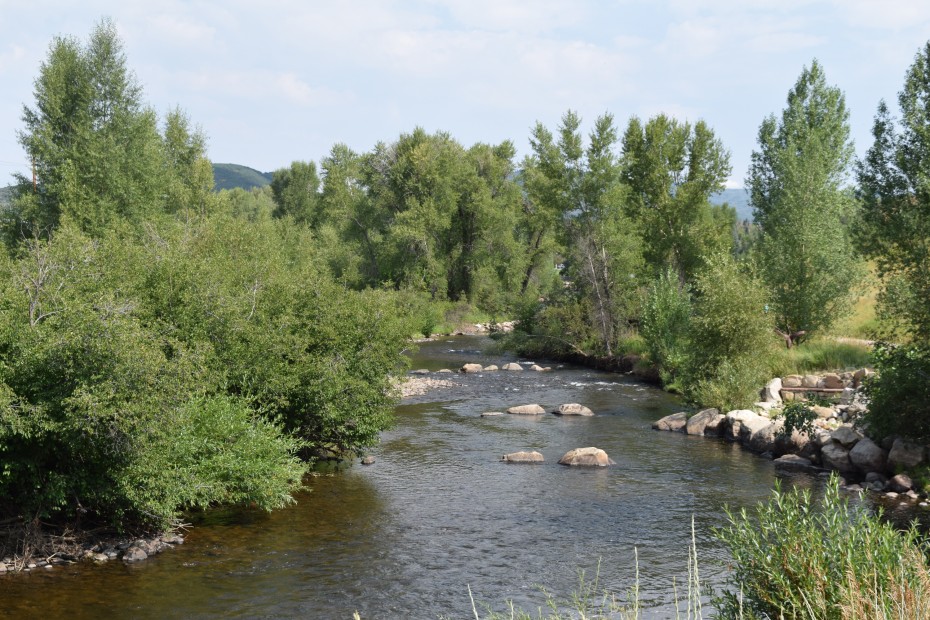 Water Venues in Colorado
Stagecoach State Park Reservoir
The crown jewel of a sagebrush-fragrant state park in the Yampa Valley south of Steamboat Springs, this 820-acre reservoir is renowned for fishing (especially for rainbow trout and northern pike) and is divided into wakeless (low speed) and non-wakeless (faster speed) areas. Jet and water skiers and those navigating pontoons and sailboats always are welcome.
Yampa River
The 270-mile Yampa—the last major free-flowing river in the Colorado River basin—flows from the Rockies through downtown Steamboat Springs and provides two great swim or surf spots: the C-hole (near the library) and the D-hole (farther downstream). Stand-up paddleboarding is big here given the four continuous miles of whitewater. Tubing is more leisurely—a one- to three-hour ride over small rapids, waves, and rocks. Besides kayaking, the area boasts two hot springs for splashing and stargazing. In May, the annual Yampa River Festival celebrates with water races.
Water Venues in New Mexico
Elephant Butte Reservoir
North of Truth or Consequences, this venue is known as the state's premier water sports destination – 40 miles long with 200 miles of shoreline. All types of watercraft are permitted on Elephant Butte, and there is a nearby sports clinic. The reservoir's unique name comes from an ancient, elephant-shaped volcano that is now an island in the reservoir. Considered by Frommers to be one of the top 10 bass-fishing locales in the country, the Butte's most popular urban legend tells of a catfish the size of a VW living in its depths – although state records describe the largest catch as 78 pounds and under 4 feet. 
Water Venues in Utah
Bear Lake
Called the "Caribbean of the Rockies" due to its turquoise clarity, this natural 160-square-mile lake near Garden City, Utah, extends to Idaho, offering warm sandy beaches that entice swimmers, as well as calm mornings that are perfect for waterskiers and wakeboarders. Light winds pick up in the afternoon to lure windsurfers and sailboaters.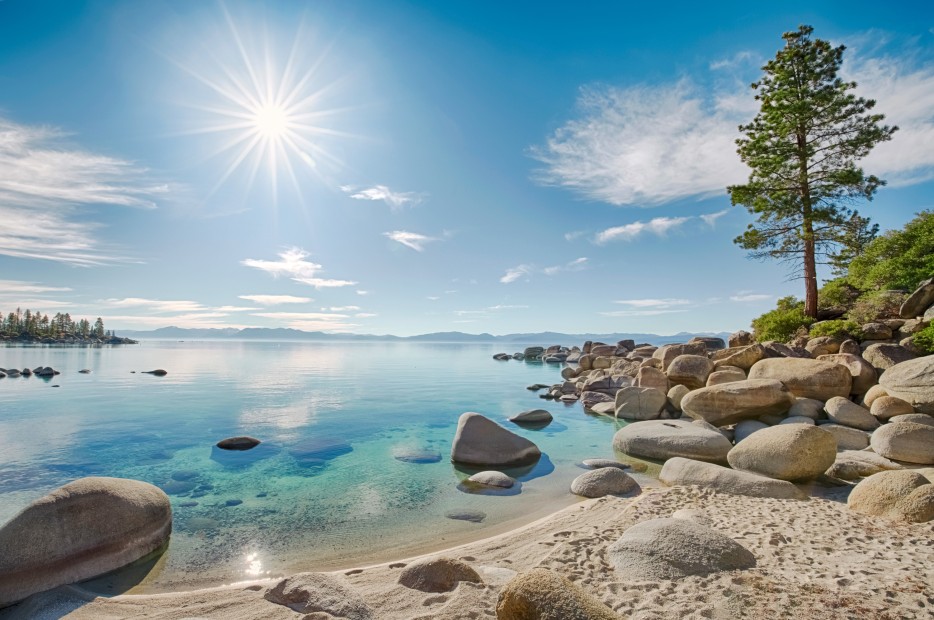 Water Venues in Nevada
Lake Tahoe
The mega water draw of the Sierra Nevadas and the second deepest lake in the United States, Tahoe is nothing to pass up. Known for its crystal-clear water, many visitors opt for stand-up paddleboarding, surfing from one beach to the other. But look out for Tahoe Tessie—the dragon-dinosaur-beast that legend says lurks beneath Tahoe's calm waters.
Pyramid Lake
In stark contrast to Tahoe are the brown desert-like environs of the 195-square-mile, blue-green Pyramid Lake, the largest water hole situated entirely in Nevada. It was named one of the top public fisheries in the world by Flyfishing & Tying Journal due to its record-size Lahontan cutthroat trout that celebrities, foreign royalty, and even a U.S.  president have pursued. It also is home to the endangered cui-ui suckerfish, which is found nowhere else in the world (and is off limits to anglers). Boaters, jet skiers, kayakers, and wakeboarders also love the lake for its secluded, undeveloped setting.
Water Venues in California
Scotts Flat Lake
Near Nevada City (the West's whitewater hub), this forested mountain lake permits most types of boating (except jet and waterskiing) and is ideal for paddleboarding. Powerboats occasionally disrupt the tranquility of beaches, coves, and evergreens, but the fish are plentiful, especially rainbow and brown trout, which are stocked in spring and summer. One caveat: campers beware of gregarious, food-hungry bears.
Rollins Lake
Located between Grass Valley and Colfax, this 900-acre lake with 26 miles of shoreline is perfect for waterskiing, with many coves and long open stretches of water. Fishing is accessible from boat or shore. Although drought can plunge water levels to new lows, there still is plenty of the wet stuff for water activities.
Englebright Lake
Twenty miles west of Nevada City, Englebright was formed along the Yuba River by Englebright Dam. It's recognized for its boating and fishing, and also is lauded for its unique "boat-in-camping only" provision—boaters tie up for the night and camp using only their packed-in equipment.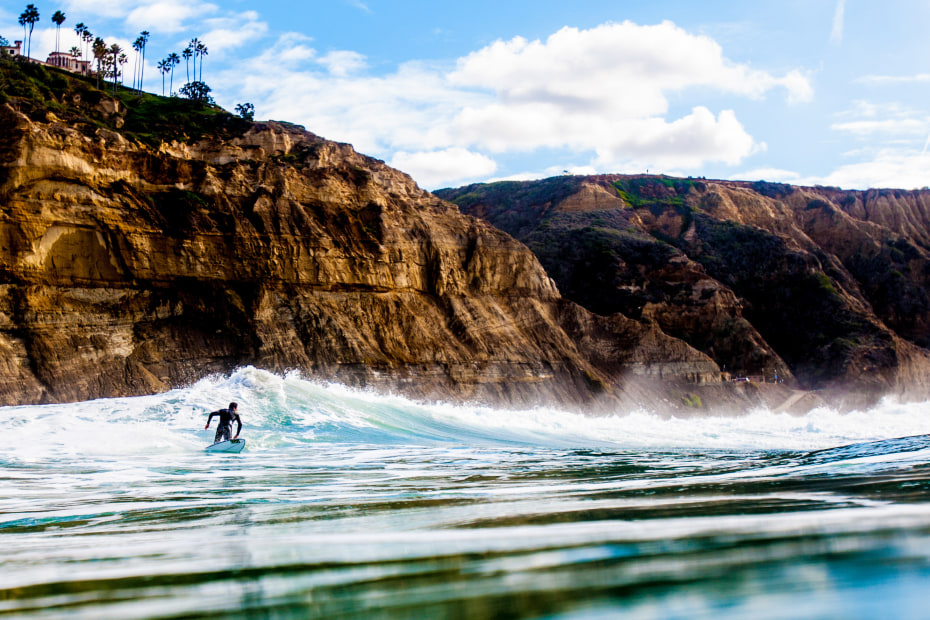 Bullards Bar Reservoir
Located in the Sierra foothills and rated one of the best recreational lakes in the country by Waterski Magazine, the reservoir (4,700-acre water surface, 56-mile shoreline) appeals especially to the diversified water enthusiast. Rent sports equipment for kayaking and other activities at Emerald Cove Marina. Since onshore opportunities for swimming are unapproachable on foot due to steep slopes, many visitors swim off boats. Anglers can count on a well-stocked lake with Kokanee salmon. 
Lakes McClure and Don Pedro
Forty-five minutes from Yosemite, these two lakes are within 3 miles of each other and have a combined 20,000 acres of water surface and 200 miles of shoreline. Both offer a variety of sports, such as sailing, swimming, waterskiing, fishing, and jet skiing. There are plenty of quiet coves on the lakes, perfect spots to drop anchor for a houseboat or to dock and camp at one of the on-shore campsites.
Pacific Coast
Listen up surfers: Meccas for this sport are San Diego, La Jolla, Santa Monica, Santa Barbara, and Malibu. Kayakers, scuba divers, speed boaters, and jet skiers also are welcome. Even James Bond might take a stab at jet packing, which can propel adventurers up to 30 feet into the air at 30 mph before they dive below the surface. More placid sorts can stick to outrigger canoeing, swimming, and fishing.