Santa Barbara's food scene is sizzling with newfound creative juice. Recent years have brought big changes to the coastal city: The development of the Funk Zone and lower State Street—adjacent, once-dilapidated beachside neighborhoods transformed into a bustling collection of hotels, restaurants, tasting rooms, shops, and galleries—and the evolution of the neighboring Santa Ynez Valley wine country have conspired to invigorate the culinary landscape with fresh, expansive energy. Get a taste at these hot spots.
Convivo
While the carpaccio is mouth watering and the spit-roasted chicken with harissa and charmoula finger licking, this place is all about the view—and the pasta. Located across the street from East Beach, Convivo's patio oozes intoxicating vacation vibes. But chef Peter McNee, whose resume includes time in Italy, ups the ante with flawlessly fired pizzas and house-made pastas redolent with his passion and pedigree. Much of the menu shifts frequently, but if you spot the ricotta caramelle—pouches of ricotta and idiazabal cheese adorned with peas, atop a chicken liver sugo—snap it up.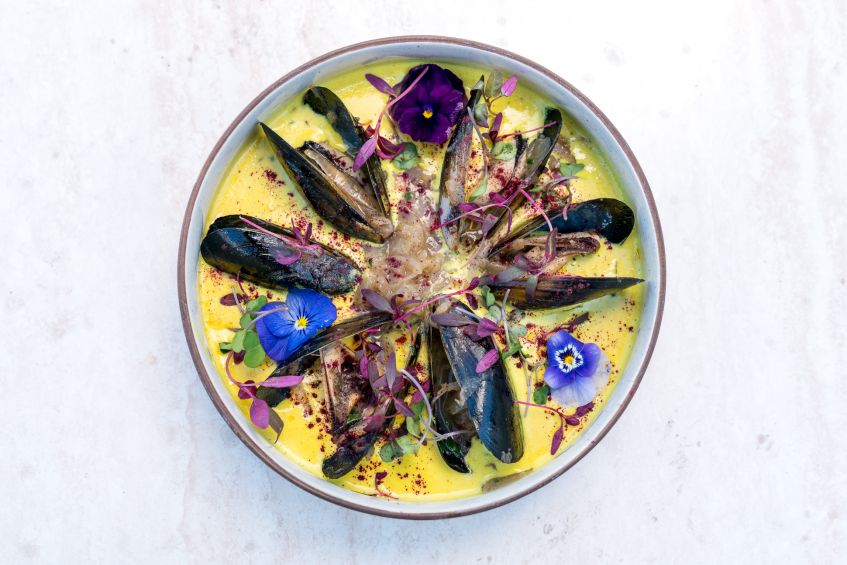 Bibi Ji
The buzziest restaurant opening this year was that of Bibi Ji, a modern Indian joint located in the belly of downtown State Street's retail corridor. Launched by internationally acclaimed chef Jessi Singh and rockstar sommelier/winemaker Rajat Parr, the space crackles with urban energy. Here, the warming scents of classic Indian fare offer a familiar welcome, but Singh marries tradition with a progressive sensibility that bends to the local bounty. From uni biryani to oysters in mint and coriander, Mr. Tso's cauliflower to no-butter butter chicken, Bibi Ji is simultaneously winking and reverent.
The Lark
The unofficial cornerstone of the Funk Zone, the Lark put the neighborhood on the map and stands as a siren, luring diners with its farm-driven American fare, inventive cocktails, and celebratory vibe. While the menu changes seasonally, the addictive Brussels sprouts are always available—although, crispy and tossed with dates, chiles, and lime, they disappear quickly. Chef Jason Paluska channels his Texan roots with spicy pimento cheese toast gussied up with frisée and pickled chiles, and smoked lamb belly with habanero cornbread and caramelized peach butter. Whether tucked into a booth (or next to the antique confessional), making friends at the communal table, or savoring the fresh air on the patio, an evening at the Lark feels like a party.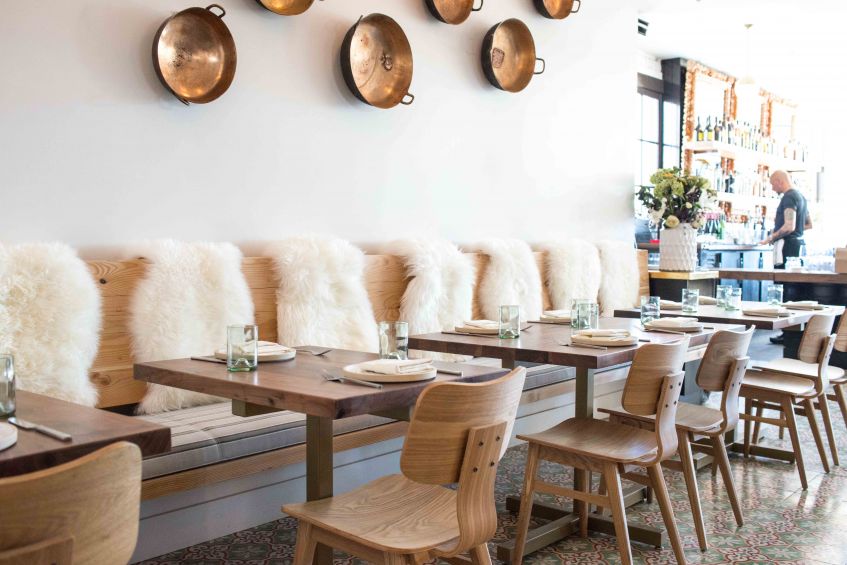 Loquita
The city's Spanish colonial past is hinted at in its architecture, street names, and celebrations, but at Loquita, perched on edge of the Funk Zone, that heritage bursts to delicious, 21st-century life. Chef Peter Lee's kitchen spins authentic Spanish flavors into contemporary fare that's bold and evocative. He teases with tapas like pan con tomate, chicken croquetas, and acorn-fed pork before letting loose with signature paellas. The bar takes the theme and runs with a Spain-heavy wine list, a gin and tonic series, and an intriguing lineup of sherries, vermouths, and sangrias. Inside, whitewashed brick and tile work are electrified by the open kitchen and chef's bar; outside, the fire-warmed patio encourages lingering, particularly of the should-we-have-another variety. (Answer: yes.)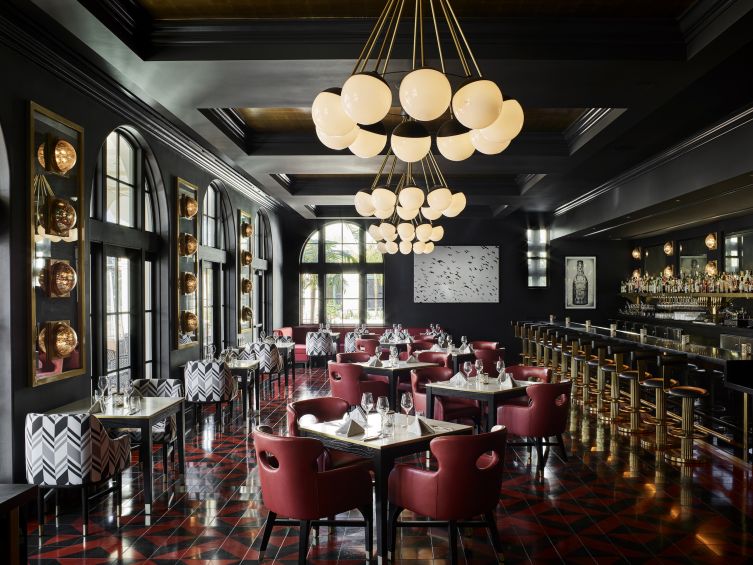 Blackbird
The reboot of lower State Street wouldn't be complete without a mecca for exquisite, Instagram-worthy eats. The proverbial eagle has landed with Blackbird, situated in the chic new Hotel Californian. Sophisticated, playful dishes like green gazpacho with soft shell crab or octopus with kale and apricot are as eye-popping as they are palate-invigorating. The bar is similarly impressive with knockouts such as the Moreton's Giving Tree (Manhattan-esque, with local bourbon and fig) and an inspired, dynamic wine list. While the interior is sleek, the service impeccable, and the food refined and often revelatory (with hay semifreddo and nettle ice cream, the Strawberry Field dessert is head-spinning and delicious), the vibe is lively and resolutely un-stuffy.
Wildwood Kitchen
In 2016, chef Justin West shuttered his beloved white-tablecloth joint, Julienne, in favor of a stable of Southern Pride smokers, and today he's serving some of the best barbecue this side of Hill Country at Wildwood Kitchen. Housed off the beaten path in a collective called the Mill, West serves perfectly executed versions of the usual suspects: pulled pork, brisket, sausage, fried chicken, braised greens, beans, towering salads, house-made barbecue sauces, and the gloriously naughty Frito pie, featuring chili, cheese, and sour cream all served, as it should be, in the corn chips bag.