Stay cool this summer by getting on, in, or near the water at one of these stellar recreation spots across the West.
Lake Powell, Utah
In sheer grandeur, Lake Powell defies comparison. The man-made lake, one of North America's largest, winds through the vast ruddy landscape of southern Utah and northern Arizona like a sinuous blue dragon. This beast of a waterway took 17 years to fill after Glen Canyon Dam on the Colorado River was completed in 1963. Today the lake's crinkly shoreline adds up to 1,960 miles—more than the California, Oregon, and Washington coasts combined—in the Glen Canyon National Recreation Area.
Heat lovers descend on Lake Powell during the summer months, when the mercury typically rises above 90 degrees, to spend time on or in the water. Antelope Point, Bullfrog, and Wahweap marinas rent all types of vessels: You can navigate the lake's countless inlets by speedboat, or park a houseboat near a sandy strand such as Lone Rock Beach, jump in, and splash around. When water levels are high enough, tour operators ferry visitors to geologic gems, including Rainbow Bridge National Monument, where people stand gobsmacked in the presence of a sandstone arch so high and wide that the U.S. Capitol dome could almost fit underneath it. Perhaps the only sight more breathtaking comes near dusk, when the sun sinks low and transforms the whole scene—sky, water, cliffs, buttes, and mesas—into a radiant tableau of reds, oranges, and purples.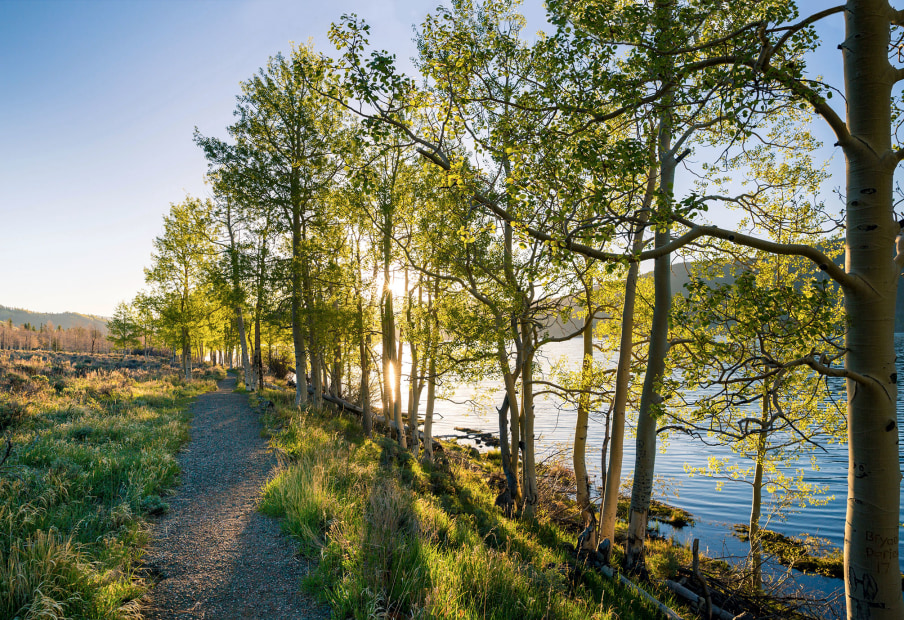 Fish Lake, Utah
Situated at 8,843 feet, Utah's largest natural mountain lake provides a delectable taste of alpine summer complete with a vintage spruce-log cabin, Fish Lake Lodge. On a typical July day, kids frolic at the edge of the lake's bracing waters while anglers troll for monster-size trout farther out. Aspen leaves rustle in the breeze as hikers follow shady trails around the six-mile-long lake and its environs. If you visit in the cooler season between mid-September and late October, you'll be treated to the spectacle of the world's heaviest living organism, the 106-acre colony of quaking aspens known as Pando, shimmering gold in the autumn light.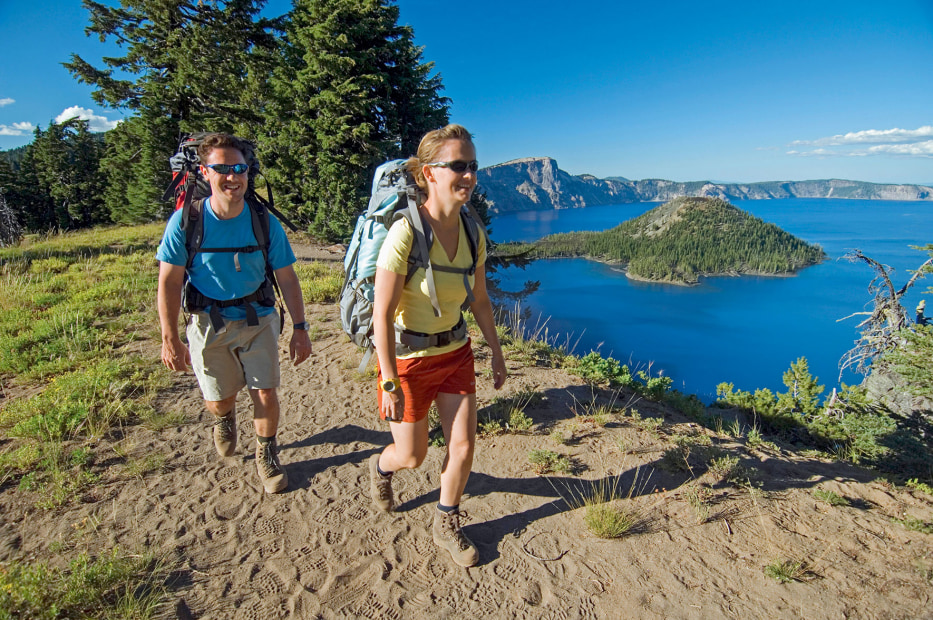 Crater Lake, Oregon
Unearthly blue tones routinely mesmerize visitors to the country's deepest lake, the centerpiece of Oregon's sole national park. The cerulean waters occupy a nearly six-mile-wide caldera left by a volcanic explosion some 7,700 years ago. If you're up for the steep descent to Cleetwood Cove Boat Dock, you can hop aboard a ranger-led cruise around the lake or take a shuttle to Wizard Island, a cinder cone poking 764 feet above the water, for a summit climb.
More than 90 miles of hiking trails lace the park, which tends to be snowy in all but the summer months. In June and July, the half-mile Castle Crest Wildflower Trail proffers a riot of penstemons and other seasonal blooms. After your walk, recover with a drink or a meal at Crater Lake Lodge, a grande dame of stone and timber. You won't see many swimmers—the water temperature is 60 degrees or colder—but you might spot the Old Man of the Lake, a hemlock log that has been floating upright around the crater at least since its first recorded spotting in 1896.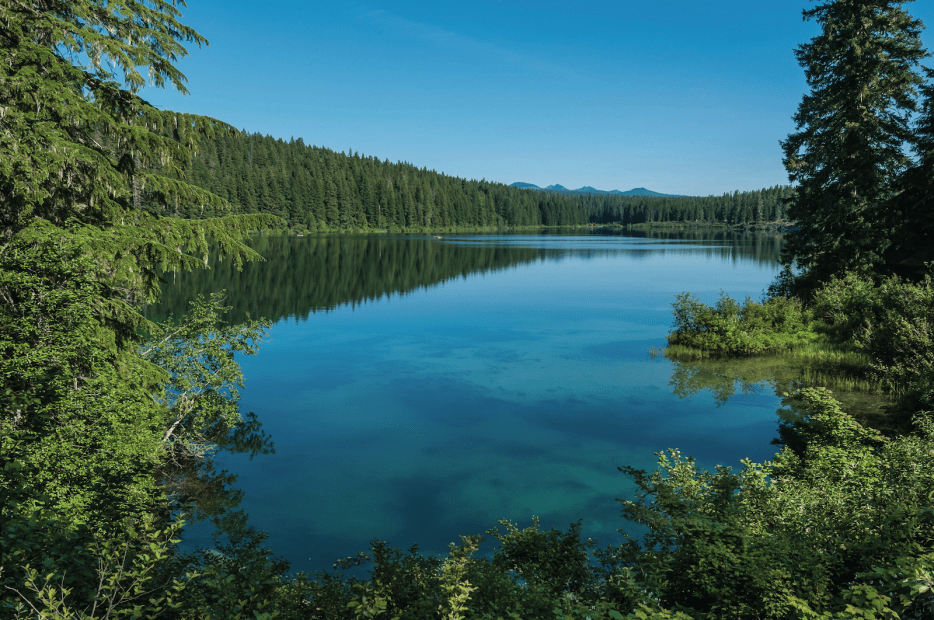 Clear Lake, Oregon
Almost shockingly clear, Clear Lake draws avid cold-water scuba divers to the submerged, preserved remains of an ancient forest. Other visitors fish for trout from kayaks and rowboats; motorized craft aren't allowed. There's plenty to do on dry land as well at this mountain lake set deep in the Willamette National Forest, about 75 miles northeast of Eugene, Oregon. Hike the easy, 4.5-mile Clear Lake Loop Trail through old-growth Douglas firs and a 1,100-year-old lava flow. Enjoy nightfall from a rustic cabin at the Clear Lake Resort, where a sweet end to any meal is a colossal slice of berry pie à la mode.
Smart Tip: Many lakes are accessible through local, state, or national parks. Before you go, check a site's current hours, services, and safety advisories, including road, ramp, and trail closures. Licenses may be required for boating and fishing.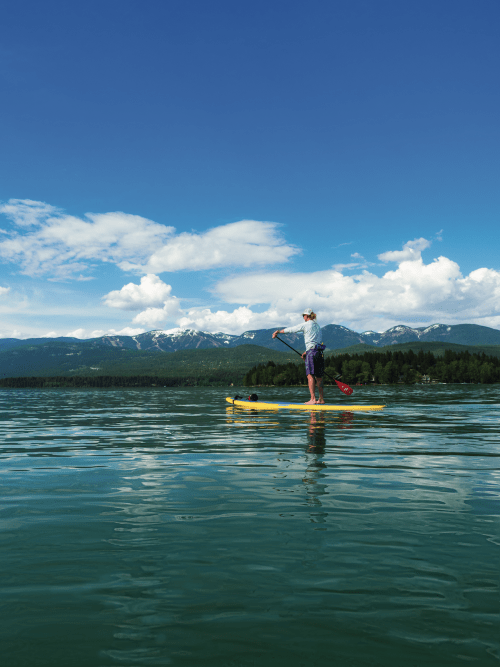 Whitefish Lake, Montana
At Whitefish Lake, rainbows aren't just overhead, they're also at your feet. Untold thousands of pebbles in red, green, blue, and other hues line the shore of Montana's Les Mason State Park, eliciting oohs and aahs and Instagram posts from visitors. The lake, a roughly six-mile-long jewel of crystalline water, sits at an elevation of 2,998 feet amid an endless panorama of Rocky Mountain peaks and forests. Adding to the appeal are its proximity to Glacier National Park and its location in Whitefish, a cozy resort town with an artsy vibe and tasty eats. At LouLa's Café, the huckleberry pie, which stars the tart regional fruit and a sugar-topped lattice crust, is the stuff that legends are made of.
The lake's shoreline is sprinkled with public parks, and boating and swimming are big during the summer, when water temperatures peak around 70 degrees. Without doubt, the most popular spot is City Beach, a swath of sand—prime for building castles—where you can rent day-use gear from stand-up paddleboards to folding chairs. Visiting the first week of July? Pull up a seat for Independence Day fireworks that light up the night sky with their own rainbow of colors.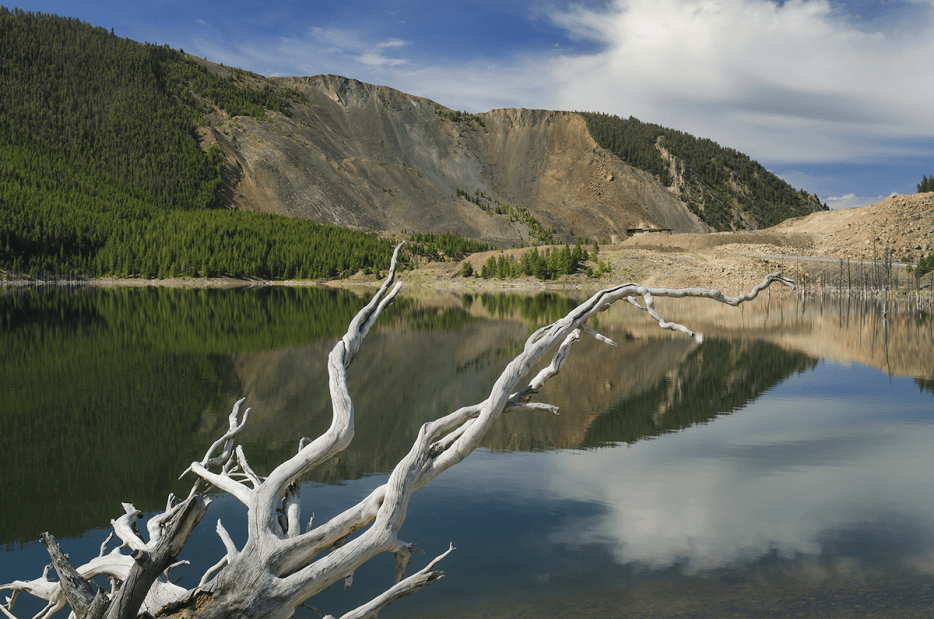 Quake Lake, Montana
The very name Quake Lake—officially Earthquake Lake—hints at startling origins. A 7.3-magnitude temblor on August 17, 1959, triggered a massive landslide that blocked the Madison River, took the lives of 28 people, and created the lake. Situated along U.S. Route 287, about 30 minutes from travelers' amenities in West Yellowstone, Montana, the site today provides a five-mile-long slice of mountain serenity. The lake's forested shore and cool water brimming with trout lure hikers, anglers, and boaters. A U.S. Forest Service visitor center features interpretive geologic and historic displays, including a seismograph, and offers a vista of the scar created when 80 million tons of rock and debris slid into the river.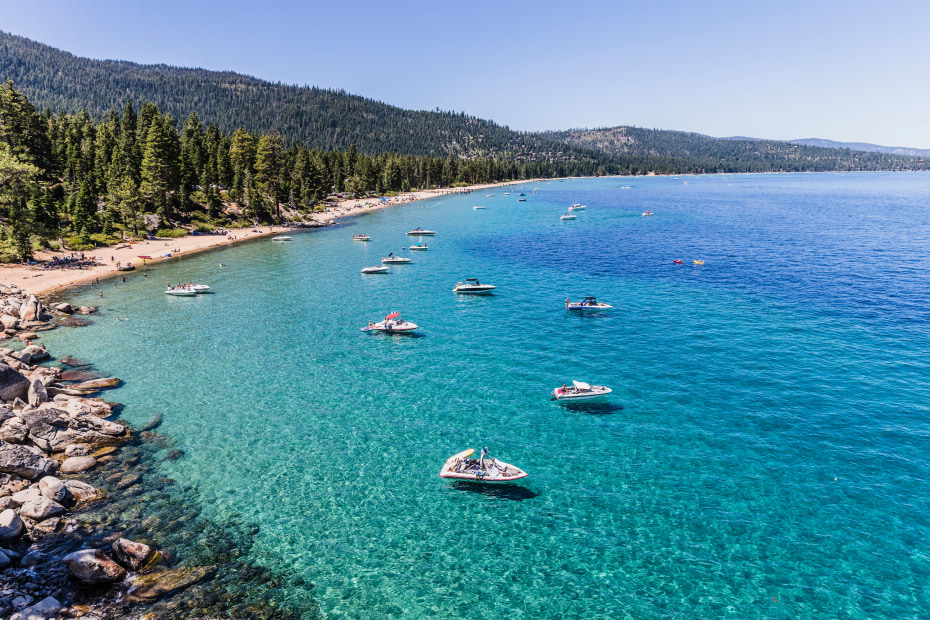 Lake Tahoe, California
North America's largest alpine lake overflows with summertime fun. Straddling the California-Nevada state line in the Sierra Nevada, Lake Tahoe draws some 15 million visitors every year. Off the north shore, rented boats and Jet Skis zip past sandy strands such as Kings Beach, where the aroma of broiling burgers from Jason's Beachside Grille wafts over sun worshipers and swimmers. On the southwestern shore, families frolic at Calawee Cove in D.L. Bliss State Park. Cyclists who ride the 3.4-mile paved, flat Pope-Baldwin Bike Trail can cool off with a cone from Camp Richardson's old-timey ice cream parlor.
Despite Tahoe's popularity, you can find solitude here. In the thick forests that surround the 1,645-foot-deep waters, hiking trails lead to peekaboo views, piney air, and silence broken only by a woodpecker's knock. Secluded beaches such as Moon Dunes in Tahoe Vista still dot the 75-mile shoreline. For a quiet moment on the lake, pick up a kayak first thing in the morning at Vikingsholm in Emerald Bay State Park and paddle to Fannette Island.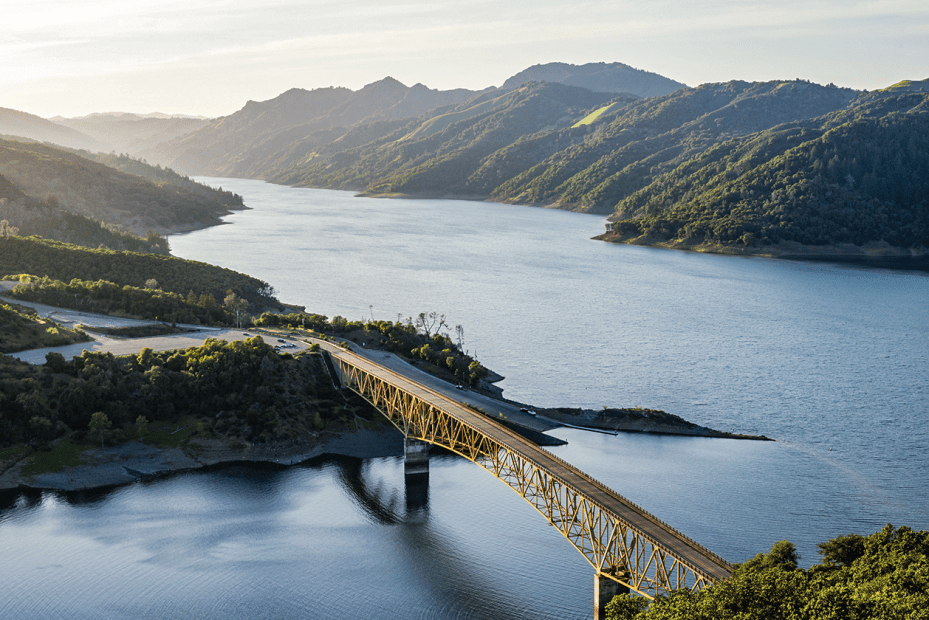 Lake Sonoma, California
A sprawling reservoir in the oak-studded hills west of Cloverdale, Lake Sonoma supports all sorts of outdoorsy pursuits—swimming, boating, fishing, camping, hiking, and hunting—as well as side trips to vineyards that produce world-class wines. You can swing by a tasting room in Dry Creek Valley to choose the perfect accompaniment for your catch of the day or for a picnic at one of the pocket-size beaches. Preston Farm and Winery, just seven miles away in Healdsburg, stocks provisions including grass-fed lamb cuts, seasonal organic fruit, cold-pressed olive oil, hearth-baked sourdough bread, and its own wines.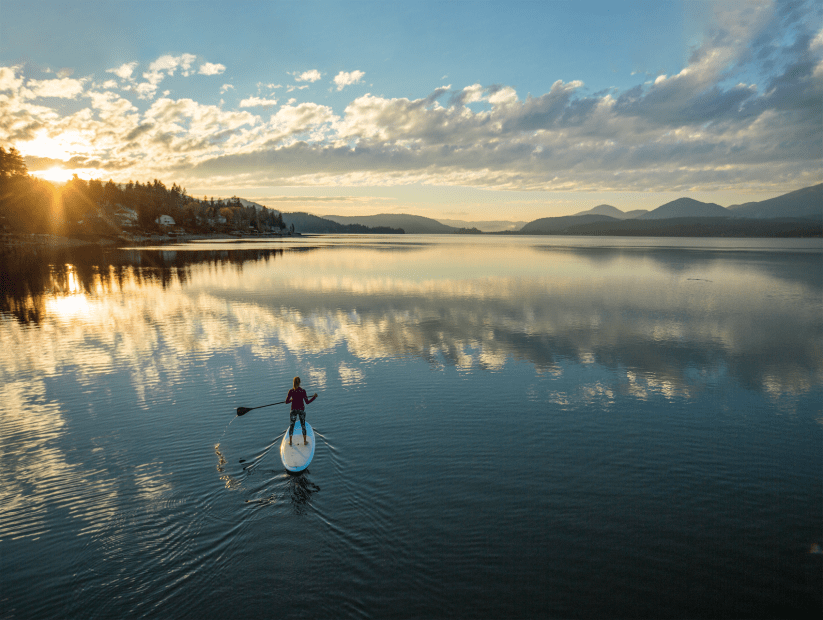 Lake Pend Oreille, Idaho
Three shimmering bodies of water in northern Idaho—Pend Oreille, Priest, and Coeur d'Alene—rank among the state's most beloved summer playgrounds. But only Lake Pend Oreille shines as the largest by volume in the Pacific Northwest. Filling a glacier-carved valley, the hook-shaped lake spreads across 148 square miles flanked by forests and 6,000-foot peaks. Activities abound: Anglers troll for rainbow trout and kokanee salmon. Kayakers set out from protected inlets such as Garfield Bay for serene paddles past plunging cliffs. Hikers hoof it along paths traversing the region. For wildflowers and panoramic views, you can't beat Mineral Point Trail, a four-mile round-trip route overlooking Green Bay.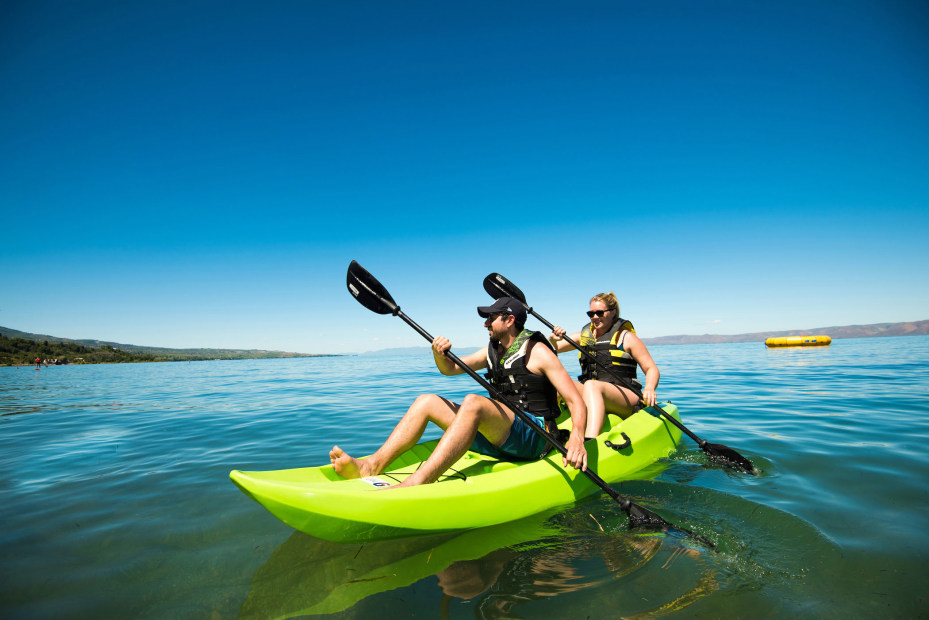 Bear Lake, Idaho
Aspen and spruce trees—not palms—surround the "Caribbean of the Rockies," but Bear Lake's aquamarine hue rivals anything in the tropics. Never mind that you're in the mountains, 115 miles southeast of Pocatello on the Idaho-Utah border. Sunlight refracted by limestone particles accounts for the water's astonishing color. The clear, massive lake—20 miles long and eight miles wide—hosts a raft of water sports, including kayaking and scuba diving. In July and August, look for another distinctive color: luscious red. Seasonal raspberries show up at roadside stands, in diner milk shakes, and at the annual Raspberry Days festival.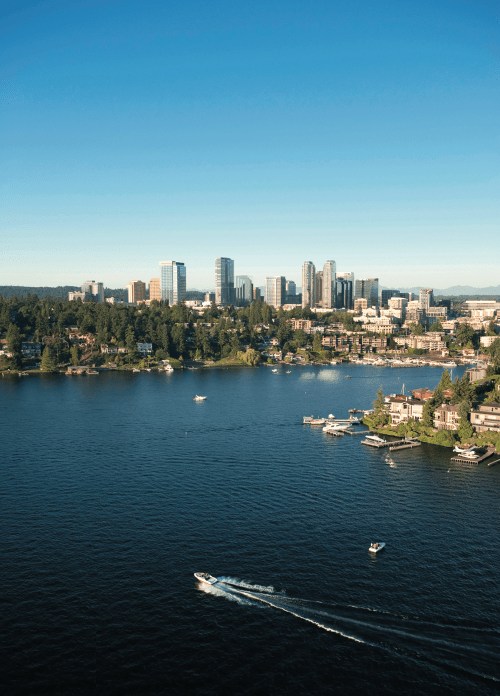 Lake Washington, Washington
Residents of King County point to Lake Washington as proof that an urban lake can be as great as a rural one. The 22-mile-long body of water fronts Seattle and suburbs, allowing for varied summer escapes without leaving the metropolitan area.
Want a swim, then a slice? At Seattle's Madison Park Beach, the Independent Pizzeria dishes up savory pies such as the Stevedore (provolone, salami, red onion, pickled pepper) near a sandy strip and cannonballing kids. A tranquil paddle? A loop of the lake's north end can include stops at Kirkland's O.O. Denny Park, where clear days offer stunning views of Mount Rainier, and Kenmore's Saint Edward State Park, its 3,000 feet of shoreline beckoning picnickers. A close encounter with nature? In Seattle's 300-acre Seward Park, you can watch a bald eagle take flight from a 250-year-old Douglas fir. The bustle of the city seems far away indeed.
Newman Lake, Washington
At roughly 100,000 years old, Newman Lake sure looks good. On a sunny day at this lake about 20 miles northeast of Spokane, ski boats skip across the water, families swim at beaches backed by evergreen trees, and the sweet smell of fresh-mowed hay drifts from nearby meadows. Newman is a legacy of Pleistocene epoch glaciers, which deposited debris that blocked streams and formed lakes. Another legacy: rich soil. Just over a mile away, at Carver Farms, you can pick your own strawberries in June and July.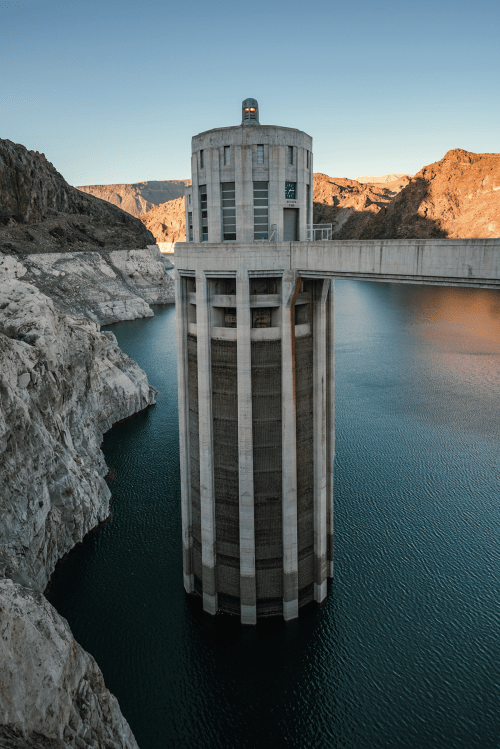 Lake Mead, Nevada
From afar—the outskirts of Las Vegas—Lake Mead seems the figment of an overheated imagination: a shimmer of blue in the piercing desert light, set amid a wild moonscape of mountains and canyons. Yet this is no mirage. The first and largest national recreation area in the United States boasts 550 miles of mostly undeveloped shoreline and countless coves and beaches along its four distinct basins at the Nevada-Arizona border. The lake, technically a voluminous reservoir, formed when Hoover Dam harnessed the Colorado River in 1936; today its generators, powered by water from intake towers, provide electricity for roughly 1.3 million people.
Mead is also a recreational powerhouse, attracting 7.6 million visitors a year. During the summer, when the air temperature regularly reaches the century mark, you can plunge into balmy water at Boulder Beach, or soak up the sun on the lake from a boat, kayak, Jet Ski, or stand-up paddleboard (available for rent at Las Vegas Boat Harbor and other marinas). The air-conditioned Desert Princess, a three-level paddleboat, offers a leisurely way to see the lake and Hoover Dam. For an easy morning hike, fuel up early with a prodigious omelet at the Coffee Cup Cafe in Boulder City, a community once populated by dam workers, then hit the Historic Railroad Trail. The 7.5-mile route passes through five tunnels, delivers panoramic views, and provides opportunities to spot wildlife. Think that's a desert tortoise or a peregrine falcon up ahead? It's probably not your imagination.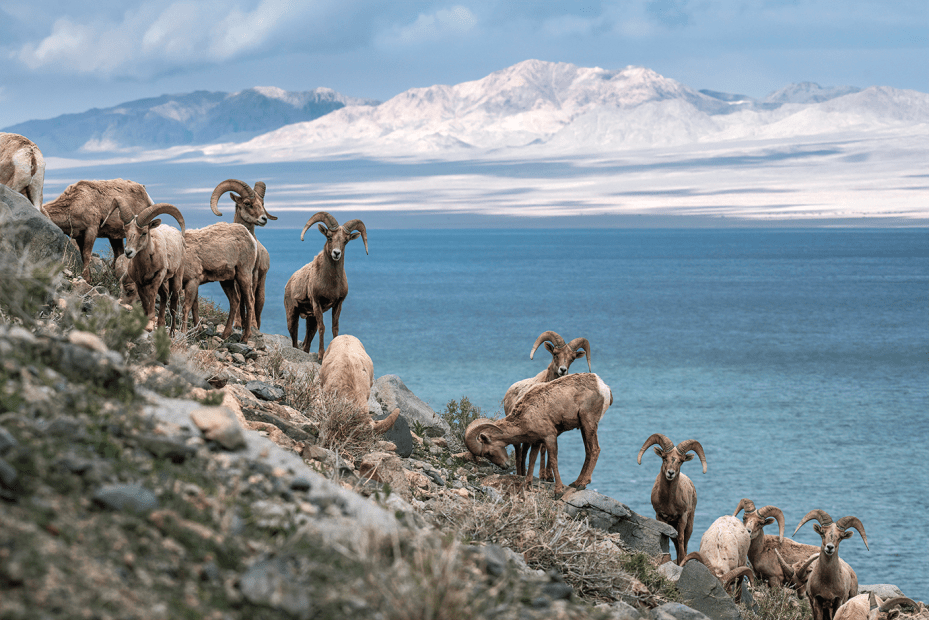 Walker Lake, Nevada
The mere existence of 12-mile-long Walker Lake, a jolt of blue in a stark desert about two hours southeast of Reno, is nothing short of a miracle. A rare perennial lake in the Great Basin, it shrank for more than 80 years as the Sierra Nevada snowmelt that would have fed it was diverted for cattle and agriculture. Sandhill cranes, wild horses, and bighorn sheep live here, and humans visit to bird-watch, water-ski, swim, camp, or simply revel in the beauty of this improbable lake.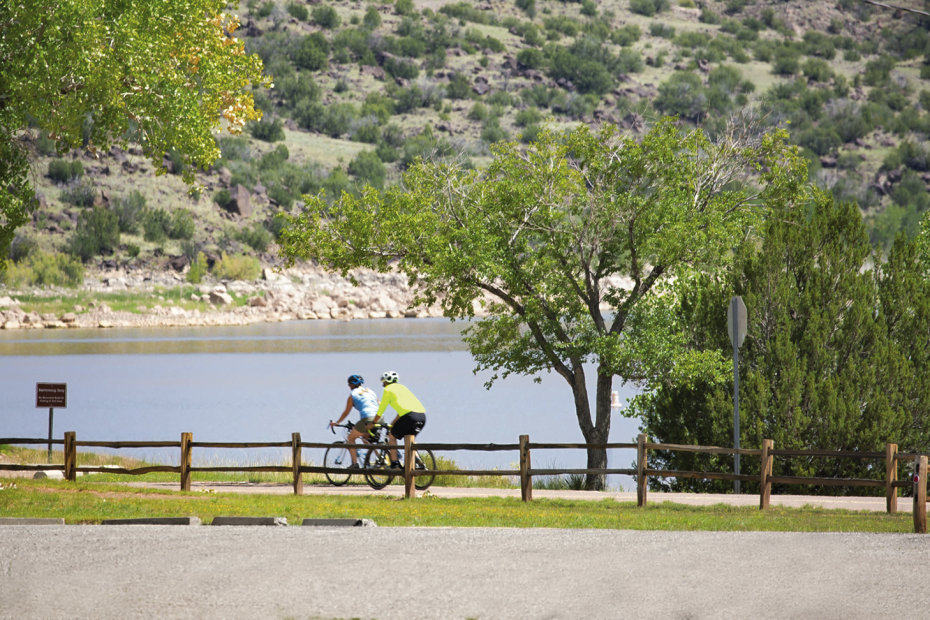 Lyman Lake, Arizona
An astonishing record of civilization lies a short hike or bike ride from Lyman Lake, a 1,500-acre reservoir and state park on the Little Colorado River in northeastern Arizona. A moderate, quarter-mile climb away from the water rewards hikers with a trove of images chiseled into rock by ancient peoples: abstract zigzags, Hopi water serpents, a woman giving birth. Most of the petroglyphs date between A.D. 700 and 1400, though some may be older. Beyond these artifacts, you can also admire the stunning backdrop of 11,000-foot peaks and high desert. The lake's 6,000-foot elevation keeps summer temperatures in the 80s for anglers, swimmers, and water-skiers.
Canyon Lake, Arizona
During the scorching Arizona summer, when swimming pools feel more like bathtubs, folks looking to cool down often opt for the business end of a water-ski rope instead. Many head northeast of Phoenix to Canyon Lake in the Tonto National Forest. The 960-acre lake, formed after the 1925 completion of Mormon Flat Dam, is the smallest of four reservoirs created by the Salt River Project to deliver water and power to the region.
Located in the harsh Superstition Wilderness, the lake has only one hub of action: Canyon Lake Marina. There, you can rent kayaks or motorboats, camp, or set out to catch bass, trout, or walleye. It's also where the Dolly Steamboat runs climate-controlled cruises. The six-mile nature excursion glides past sheer cliffs and rugged, saguaro-studded landscapes; passengers often report spying bald eagles, bighorn sheep, and javelinas. A few developed recreational sites dot the 28-mile shoreline. Acacia is the sweetest, with a gentle, sandy beach that's perfect for swimming. Its trees, lawn, grills, and ramada-shaded tables make it a fine picnic spot too. Cap a day at the lake with a visit to nearby Tortilla Flat, a onetime stagecoach stop where the saloon dishes up a killer bowl of beef chili. Don't leave without a scoop of prickly pear gelato, a cool treat for the drive back to the city. —Christopher Hall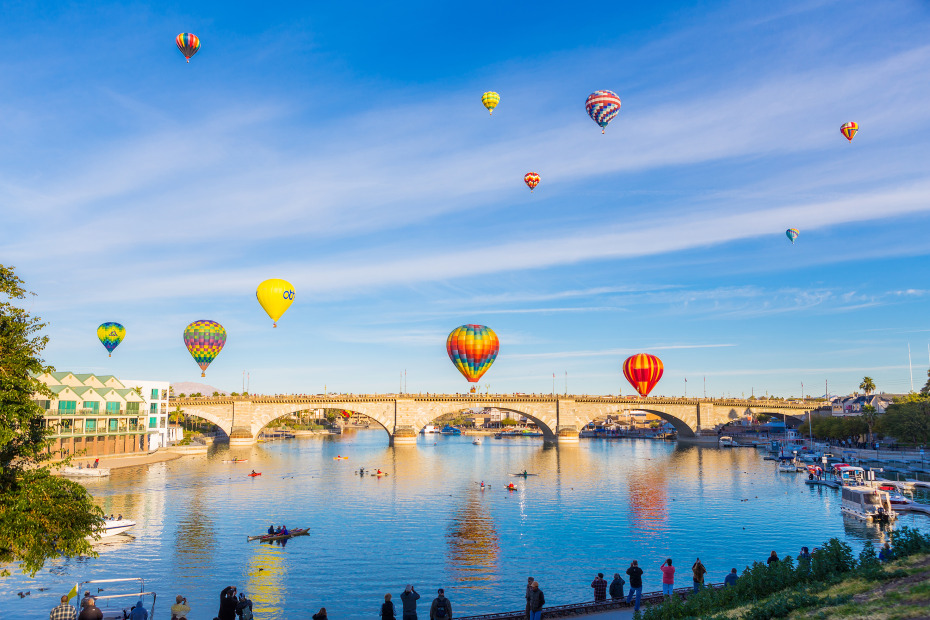 Lake Havasu, Arizona
Straddling the Arizona-California border, Lake Havasu attracts water sport lovers from both states to enjoy 60 miles of waterways on everything from Jet Skis to giant inflatable swans. Lake Havasu State Park has kayak and canoe rentals, launch ramps, and a large, white-sand beach. Load up the cooler and settle in on a large grass lawn with picnic tables, grills, and shade covers. Make it a weekend at the park's 47-site campground or aboard a houseboat from nearby Nautical Watersports. —Garrick Ramirez
Lake Berryessa, California
Situated within oak-covered hills 45 minutes from Napa Valley wineries, Berryessa stretches 23 miles with pleasantly warm waters and quiet coves to swim or kayak. Yet, most are here to play on the open water. During summer, the lake is abuzz with Jet Skis, wakeboards, and water skis that can be rented from nearby Lake Berryessa Boat & Jet Ski Rentals. Visitors can take advantage of a public boat launch at Capell Cove, one of four day-use areas with picnic areas, restrooms, and easy shore access. —Garrick Ramirez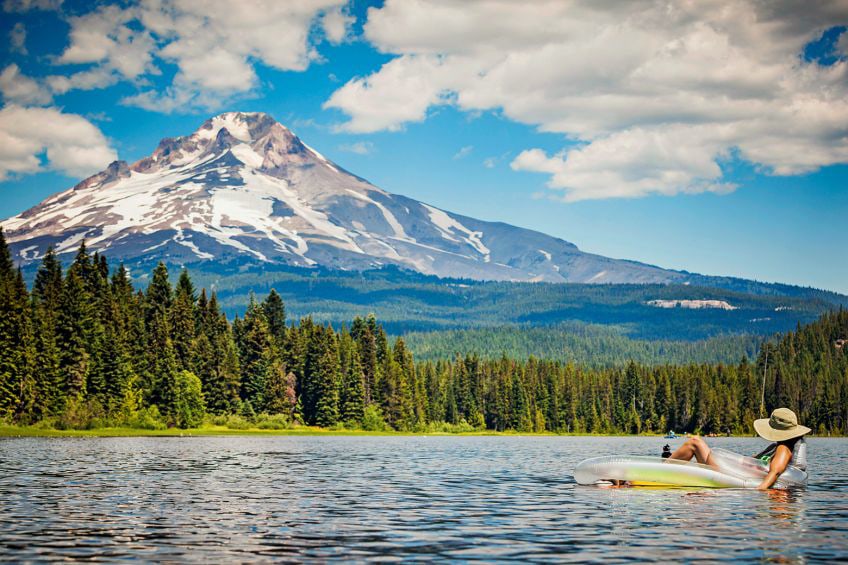 Trillium Lake, Oregon
Set within an incredibly scenic forest, Trillium Lake is no stranger to Portland day trippers. An easy trail loops the lush reservoir, but come summer, most visitors head straight for the shore to canoe, kayak, or paddleboard peaceful waters—motors are a no-go—against a stunning backdrop of snow-capped Mount Hood. For overnights, the lake offers 64 campsites that book up quickly. The quaint, nearby town of Government Camp—or "Govy" as locals call it—is a must stop for rental gear from Mt. Hood Adventure and homemade pies and milkshakes at Huckleberry Inn. —Garrick Ramirez