While land-locked Arizona may not be able to compete with California in the surf and sand department, the state harbors a few gems along its own "West Coast." The Lower Colorado River creates a natural border between Arizona and California that fills dry desert lands with sparkling waters and diverse wildlife refuges. Here, the history of the Old West mingles with modern cities to offer fun and intrigue for folks of all ages. Visit October through May for cooler temperatures—the summer months typically push the thermometer over 100°F.
Lake Mead National Recreation Area
As America's first national recreation area, this water-lover's paradise draws thousands each year for boating, fishing, swimming, hiking, cycling, and camping. The 1.5 million acre retreat stretches across spectacular mountains, canyons, and valleys. 
Lake Mead and Lake Mohave, in particular, invite visitors with year-round adventure. The two man-made lakes offer 290-square-miles of water for water sports and abundant fishing. Lake Mead has 7 launch ramps and three full-service marinas. At the Callville Bay Marina, near the Lake Mead Blvd. Entrance Station, you'll find boat and kayak rentals as well as hiking trails, picnic areas, and lakeside dining at the Callville Bay's lounge. Rent a houseboat and camp in one of the lake's hidden coves, or bring your RV or tent to the full-service campground that features 52 sites with fire pits, grills, restrooms, and running water. At the south end of Lake Mohave, Katherine Landing and nearby Katherine Beach have all the makings for a great day on the water: a boat launch, a sandy beach, hiking trails, camping spots, a fishing pier, numerous coves, boat and equipment rentals, and a picnic area.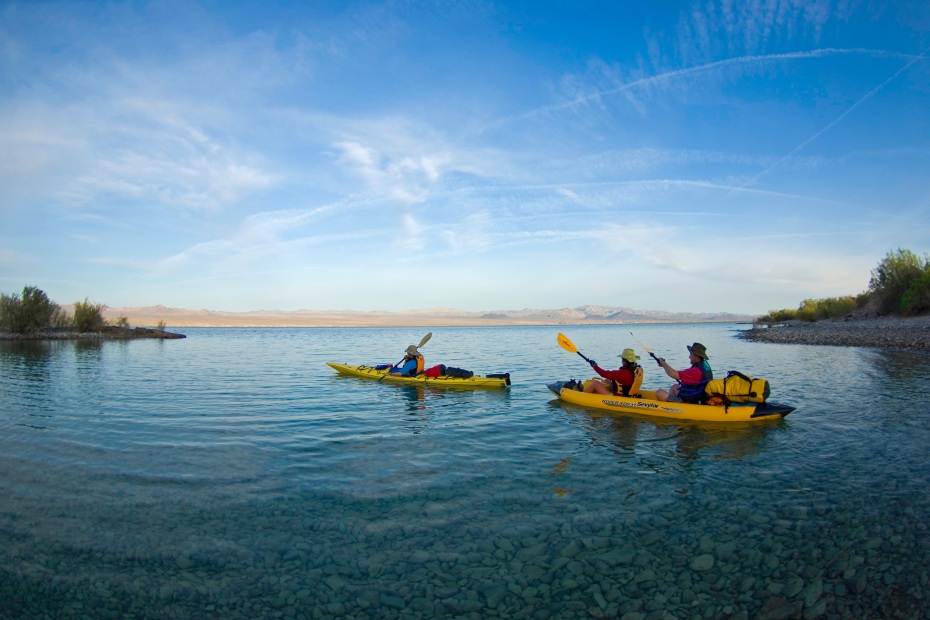 Alamo Lake State Park
If you want to get away from it all, this is the place to go. Cradled in the Bill Williams River Valley, Alamo Lake entices with crystal water, mountain and desert landscapes, and nighttime stargazing. Come for the bass and crappie angling or for the peaceful solitude—the nearest town is 40 miles away. 
While you're visiting, keep an eye out for the locals: golden eagles and peregrine falcons soar overhead while mule deer, coyotes, javelina, fox, raccoons, and other mammals wander the lake's shoreline and surrounding mountains. Follow in their footsteps along the hiking trails that circle the lake and branch off into the desert backcountry. Campsites and camping cabins can be reserved, should you wish to extend to your stay.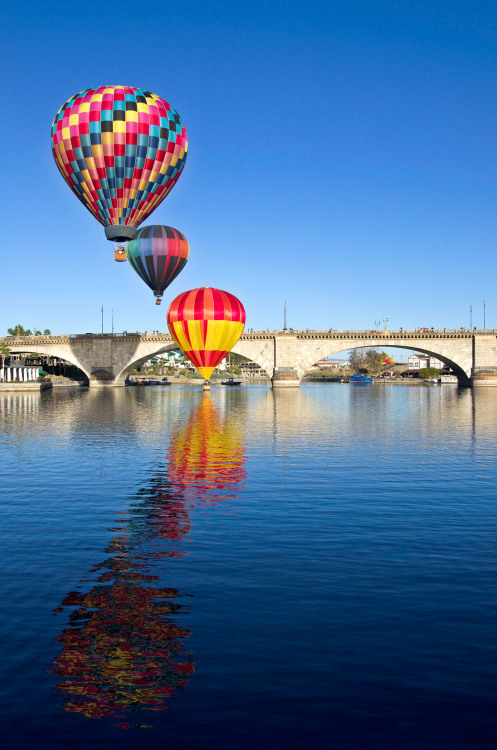 Lake Havasu City
There's no doubt that the big draw is the 60 miles of continuous lake and river that the town is named after, but one of the most visited attractions is the authentic London Bridge that was shipped over from England and reconstructed stone by stone. The bridge's nearly 200-year history includes strafing scars from the WWII London Blitz.
For the best views, book a cruise of the region's crowning jewel: the gorgeous Topock Gorge. The 50-mile round-trip pontoon boat excursion travels through Havasu National Wildlife Refuge, where surrounding mountain landscapes are home to bighorn sheep, bobcats, beavers, and burros, as well as hundreds of species of migrating birds that stop here during their journey along the north-south Pacific Flyway.  
When you're done playing in and on the water, head into town for golf, disc golf, and the state's largest skate park. Trails across the region also offer scenic spots to hike, mountain bike, and off-road.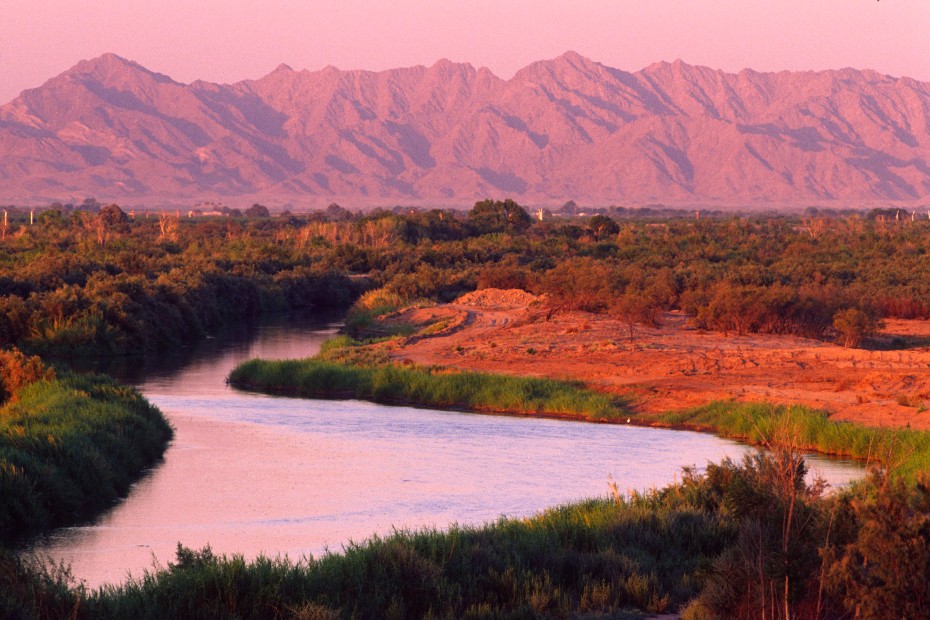 Yuma
Phoenicians mainly know this city as a pitstop on the way to San Diego, but in recent years its reputation has grown as a place to explore the state's history.
Yuma Territorial Prison State Historical Park and Colorado River State Historic Park tell of a time when the region served as a river crossing to the California Gold Rush, a U.S. Army Quartermaster Depot, and a home to an infamous prison that housed Old West outlaws.
Today's visitors find a more serene city with views of the Ocean-to-Ocean Bridge along Yuma's Riverfront. The historic downtown is best known for shopping and dining (the Jailbait Blonde at Prison Hill Brewing doesn't disappoint). If that's too tame, check out the nearby Imperial Sand Dunes National Recreation Area for some rollicking dune-buggy fun.