In the 1960s, London Bridge really was falling down. Or, more precisely, sinking, at a rate of some three inches every eight years. With a replacement in the works, London officials entertained an audacious proposal. Why not auction off the iconic 1831 span?
Meanwhile, American chain saw magnate Robert P. McCulloch owned thousands of acres along Lake Havasu in western Arizona, and he was looking for ways to promote the area. On hearing of the sale, McCulloch outbid competitors, buying the bridge for $2.46 million in April 1968.
Workers then dismantled it, numbered each piece, and shipped the 10,276 granite blocks to Lake Havasu. By fall, crews had begun to put it all together again, on the edge of a desert town of perhaps 5,000 people, seemingly building a bridge to nowhere.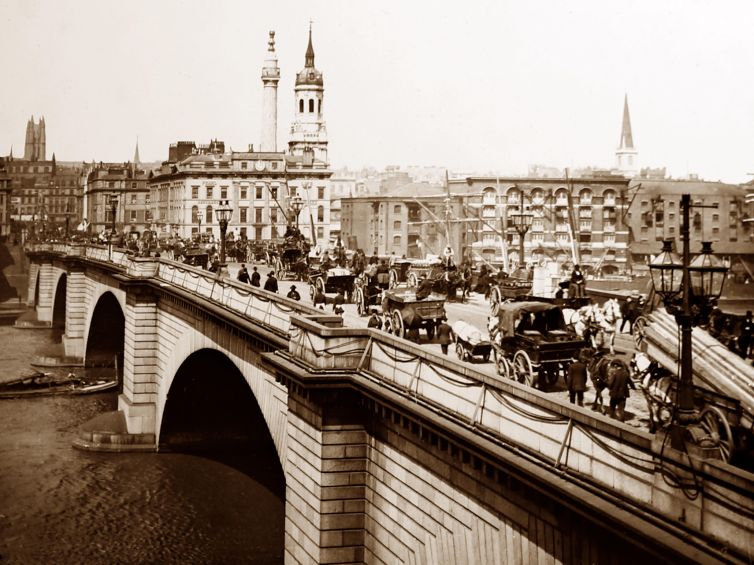 Come to today's Lake Havasu City, population 54,000, and it's clear the gamble paid off. You can dismiss the bridge as a desperate bid for tourism. But decades before faux pharaohs and indoor Venetian canals arrived in Las Vegas, little Lake Havasu brought the actual London Bridge to the American Nile—the Colorado River.
Jan Kassies, Lake Havasu City's director of visitor services, leads bridge tours and clearly loves the span. "We have the Eiffel Tower for Paris, and the Leaning Tower for Pisa," Kassies says. "But Lake Havasu? It has the London Bridge."