Got the summertime blues? Need to escape the stress of everyday living? Try vacationing on a houseboat—a floating hotel where waterfront views are guaranteed.
If you don't equate landlocked Arizona with an aquatic getaway, think again. Located just three hours west of Phoenix, constant-level Lake Havasu could provide the perfect setting for a fun houseboat vacation.
From your hotel room on the water, you can splash into refreshing water from the on-deck slide, dive off the swim platform, or toss your fishing line with hopes of catching dinner. Lake Havasu is a great place to watch the morning sun rise over the shore, look for wildlife, nap on the canopy-covered sun deck, and spot shooting stars at night. Although many houseboats have flat-screen televisions, you probably won't want to stare at a screen when there's so much natural beauty outside.
Once at the helm, chart your course around the 45-mile long lake and 450 miles of shoreline. Formed by Parker Dam on the Colorado River, Lake Havasu has many secluded coves where you can drop anchor to go swimming, fishing, kayaking, or just lounge on the sun deck. The lake also has more than 30 dive sites—a haven for scuba divers interested in checking out sunken boats, planes, vehicles, and fish habitats.
Rent a houseboat.
A houseboat is ideal for family reunions or get-togethers for several couples. Spacious floor plans and modern conveniences for entertaining, dining, and sleeping bring creature comforts to the water—perfect if you're planning to stay for a weekend or longer.
On Lake Havasu, houseboat rentals range from 60 to 85 feet with rates ranging from around $3,700 to $6,000 for a three-day, two-night rental, depending on the size of the boat and when you rent. Most sleep 10 people comfortably and are well-equipped with all the amenities you might expect and more: air conditioning, full baths, beautiful wood bars, more storage than a typical cruise ship cabin, fully equipped kitchen, bedding and linens, hot tubs, and plentiful outdoor furniture for enjoying the view. And don't forget the great fishing opportunities and gas grills to cook your catch.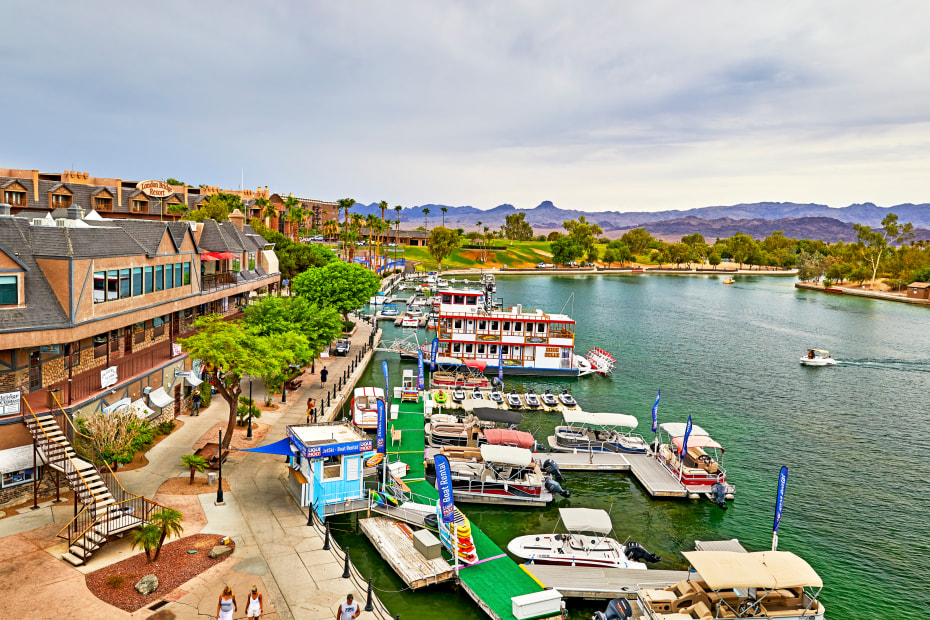 Go ashore.
Known as Arizona's West Coast, Lake Havasu also offers a supreme beach experience. Sparkling clear water is comfortably warm and calm for swimming, and there's ample access to beautiful natural areas along the river. Rotary Beach at Thompson Bay is easily accessible by boat or vehicle. For a little less civilization and panoramic views of the lake and mountains, head to Lake Havasu State Park's white sand beaches. Day mooring is available along Bridgewater Channel for boats arriving at London Bridge Beach, a fine place to spend the day enjoying playgrounds, picnic areas, and sand volleyball courts.
If you do venture into Bridgewater Channel, that's a perfect opportunity to go ashore and walk across the famed London Bridge. Known as the world's largest antique ever sold, London Bridge was originally built in 1831 over the River Thames in London, England. When it was dismantled, each stone was numbered for re-assembly. The pieces were shipped overseas to California and then transported to Lake Havasu City in 1968, where it is now a famous attraction.
After returning your houseboat, consider spending another night in Lake Havasu City to reminisce about your floating vacation while enjoying the beachfront resort town.
If You Go
Renting: Houseboat rentals are available through Lake Havasu Houseboats.
Busy in the spring: If you're looking for a family friendly or relaxed atmosphere, be aware the lake is a popular destination for college students vigorously celebrating during spring break season. 
Fun fact: The vintage lamps on the London Bridge are made from the melted-down cannons of Napoleon Bonaparte's army.