Imagine being lulled to sleep by lapping waves, waking to the sounds of seagulls, and then spending a few relaxing days on the sea. Boat B&Bs offer great ocean escapes without having to take to open waters. Ready to experience marina life? Find some of our favorite dockside experiences—and a bit of salty air, too—at these seven stays.
Dockside Boat & Bed, Long Beach, CA
Choose from Dockside Boat & Bed's five family-friendly yachts, all moored in Long Beach's downtown Rainbow Harbor—and a quick walk to attractions and activities such as the Aquarium of the Pacific, whale-watching excursions, and beachfront Segway tours. Each of the boats comes equipped with a microwave, coffee maker, and refrigerator, making for an ideal home-away-from-home getaway (albeit one that happens to be on the sea!). Yachts range from the Merry Berry, a classic 50' Grand Banks motor yacht with a central banquet and multiple staterooms, to the oh-so-romantic Serenity, a sharp 37' Sea Ray perfect for taking in views of the nearby Queen Mary.
The Wharfside Bed and Breakfast, San Juan Islands, WA
Savor the beauty of Washington's San Juan Islands from aboard a 60-foot, two-masted ketch originally built to sail around the world. Now permanently docked at San Juan Island's Port of Friday Harbor, the Wharfside Bed and Breakfast features two spacious staterooms for guests to enjoy. Families (kids over 12 are welcome) prefer the boat's French boudoir–style Forward Stateroom, with its suite of rooms and sky-lit main salon, while the more nautical Aft Stateroom is a charming, low-beamed captain's cabin with its own private entrance and use of pay showers on the marina's main dock. The innkeepers provide breakfast onboard each morning, then it's an easy stroll to the island's Friday Harbor where kayaking excursions, art galleries, and boutique shops abound.
Boat Bed and Breakfast, San Diego, CA
Eight individual yachts serve as the guest rooms for Boat Bed and Breakfast located at America's Cup Harbor on Shelter Island, one of San Diego's nautical havens. Each of the vessels offers incredible waterfront views of downtown or the Port Loma peninsula, as well as its own unique style, from the open floor plan of the spacious Effen Dreamer to the luxurious Magic, with an aft cockpit that's ideal for outdoor dining. Entertain friends, relax in the rays of San Diego's endless sun, and chat with local boat owners as you while away afternoons on board. A handful of the vessels are even available for charter cruises.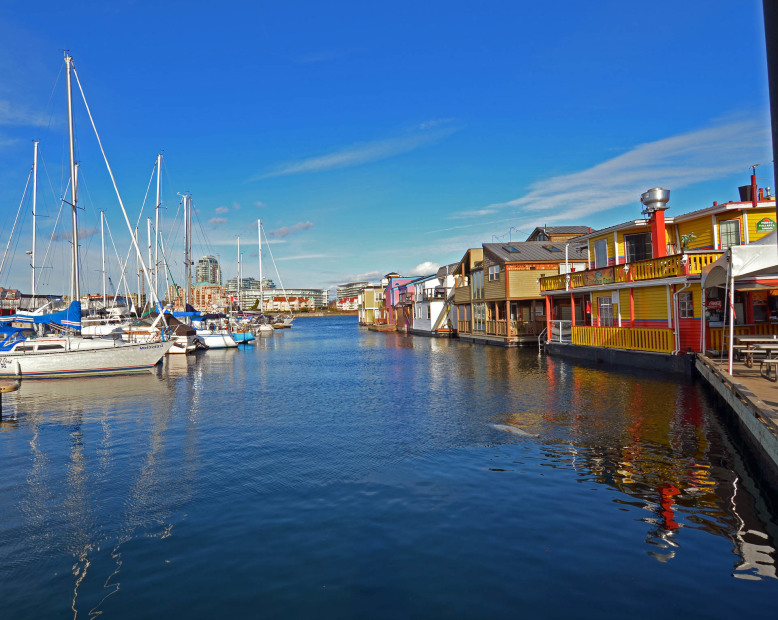 Fisherman's Wharf Floating B&B, Victoria, B.C.
Rock to sleep on the ocean's waves with a stay aboard Victoria's colorful Fisherman's Wharf Floating B&B, a unique hosted property located on the city's idyllic wharf among a bevy of similarly floating homes. The dock-tied inn features two spacious guestrooms, each of which sleeps up to four and includes a mini-fridge and Keurig coffee maker. Breakfast comes in the form of vouchers for use at the nearby Imagine Studio Cafe, an organic coffee bar known for its freshly baked bread and muffins.
Bed & Boat, San Francisco, CA  
Enjoy views of one of the world's most notorious penitentiaries—Alcatraz—while moored in San Francisco Bay. All of Bed & Boat's privately owned overnight yachts are located at the city's Pier 39—a hub of eateries, bars, and attractions—and vary in number according to the time of year and availability. Currently, guests can book a completely refurbished 1974 Grand Banks 42 with two separate cabins. Each cabin boasts an en-suite, though you'll have to head to the Pier 39 Marina facilities to shower.
Newport Belle Riverboat Inn, Newport, OR
Soak in views of Yaquina Bay and its iconic arched bridge with a stay on the only sternwheel riverboat bed and breakfast in the country. Built specifically as a B&B, the three-story Newport Belle Riverboat Inn is permanently moored along the Oregon Coast in Newport, and features five wood-paneled, en-suite guestrooms, three scenic decks, and a casual solarium ideal for watching the sunset. Along with a daily breakfast buffet, there's a complimentary wine hour each evening and a wood pellet stove in the communal salon to gather around on cooler night. Note: The inn shuts down completely during Oregon's coldest months. Reservations typically run March through September.