Water enthusiasts are well aware that Arizona is home to three iconic, boatable reservoirs: Lake Havasu, Lake Powell, and Lake Mead. But sprinkled throughout the Sonoran desert are many more lakes to quench both visitors' and locals' thirst for recreation and provide a respite from the heat. From a birding paradise to an alpine jewel, get to know these seven lesser-known lakes across the state for boating, swimming, paddling, hiking, fishing, and more outdoor fun.
Lake Mohave
Stretching almost 70 miles along the border of Nevada, Lake Mohave is a widening of the Colorado River created by the Davis Dam. This aquamarine pool near Laughlin, Nevada, glows like a gem against the rocky and rugged hills of the Mojave Desert. The northern part of this lake lies in a steep canyon, where you can see 3,000-year-old petroglyphs carved on the walls by the area's Indigenous people. Rent a ski, pontoon, or fishing boat from Cottonwood Cove Resort & Marina (north) or Katherine Landing Marina (south) to explore the lake by motor. Or opt for a human-powered mode of transportation, such as paddle boards or kayaks. Extend your stay by snagging a camping spot in Cottonwood Cove, accessible by dirt road.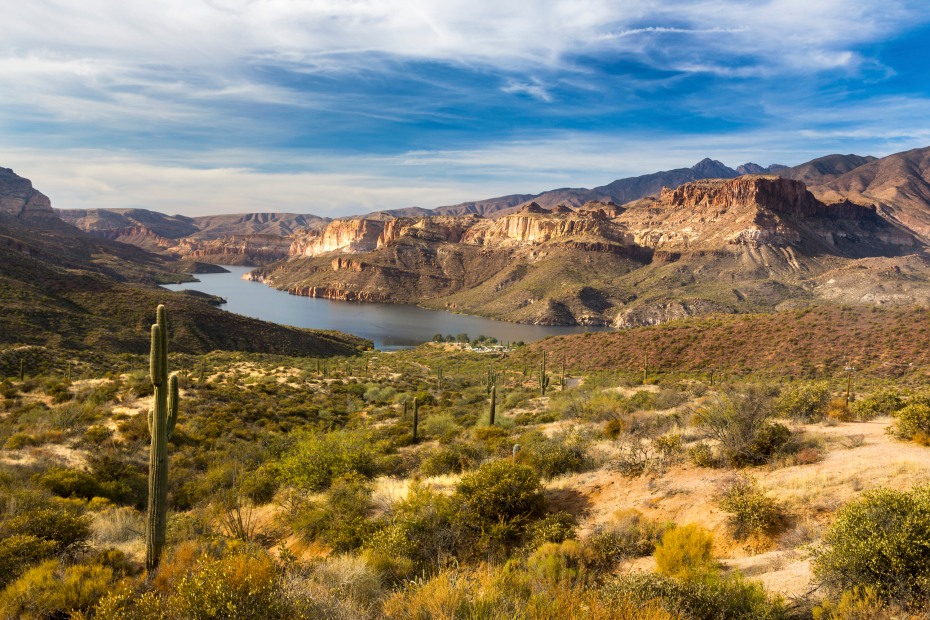 Apache Lake
Nestled in the Superstition Wilderness Area, Apache Lake is a quiet oasis just over 2.5 hours from bustling Phoenix. It's one of four reservoirs built along the Salt River, but its the resort offering rooms just steps from the beach that sets it apart. As one of the more remote lakes on this list, it's not uncommon to be the only boater or angler in one of the lake's many coves. Wet winters lead to wildflower-covered hillsides, and warm waters attract trout and largemouth bass. Steep and rocky cliffs make the surroundings of the lake hard to traverse by foot, but across Highway 88, you can hike part of the 10-mile Reavis Ranch Trail for even more solitude, with panoramic views of the wilderness and Tortilla Flat.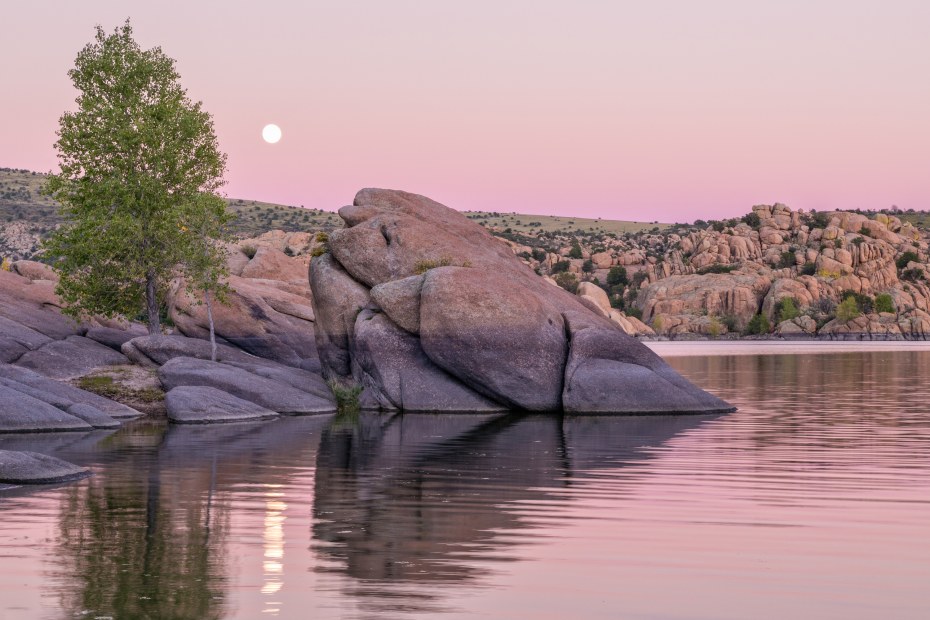 Watson Lake
With hulking boulders of the Granite Dells dotting the water's edge, there's nowhere else quite like Watson Lake. Just over four miles from downtown Prescott, this reservoir is a prime destination for kayaking, mountain biking, hiking, fishing, photography, camping, and even rock climbing. The 12-mile Peavine Trail, a wide gravel path, travels parallel to the lake's eastern shore, giving cyclists and hikers a full tour of the lake. Or enjoy a peaceful day on the water by renting kayaks, canoes, or paddle boards from Prescott Outdoors. Camp in the summer months to catch a cotton-candy sunset, when the lake's surface turns a sapphire blue.
Bartlett Lake
If you're looking to reel in some lunkers, try casting a line in Bartlett Lake, roughly 60 miles north of Phoenix. Several state-record fish have been caught here, including a 37-pound, 5-ounce flathead catfish. Fed by the waters of the Verde River, the lake's surface area of 2,815 acres gives boaters enough room to spread out. Saguaros and other native plants dot the surrounding foothills, where you can travel on the 4.5-mile Bartlett Reservoir Trail for close ups. Dispersed camping right on the shoreline is on a first-come, first-served basis, so visit during the off-season for the best luck getting a spot.
Patagonia Lake
The beauty is in the subtleties at Patagonia Lake State Park, located in the foothills about 15 miles north of the Arizona-Mexico border. While it's not the most striking body of water at first glance, look up to see little delights such as canyon towhees, Inca doves, vermilion flycatchers, black vultures, and hummingbirds spreading their wings. With a wide-open skyline, night is also spectacular for long-exposure photography of the stars. Patagonia is also popular for boating, fishing, and camping. Stay at one of 12 boat-in campsites, 105 lakeside campsites, or 7 rentable cabins. Only a half hour away in Sonoita, you can spend an afternoon tasting wine from the area's numerous vineyards.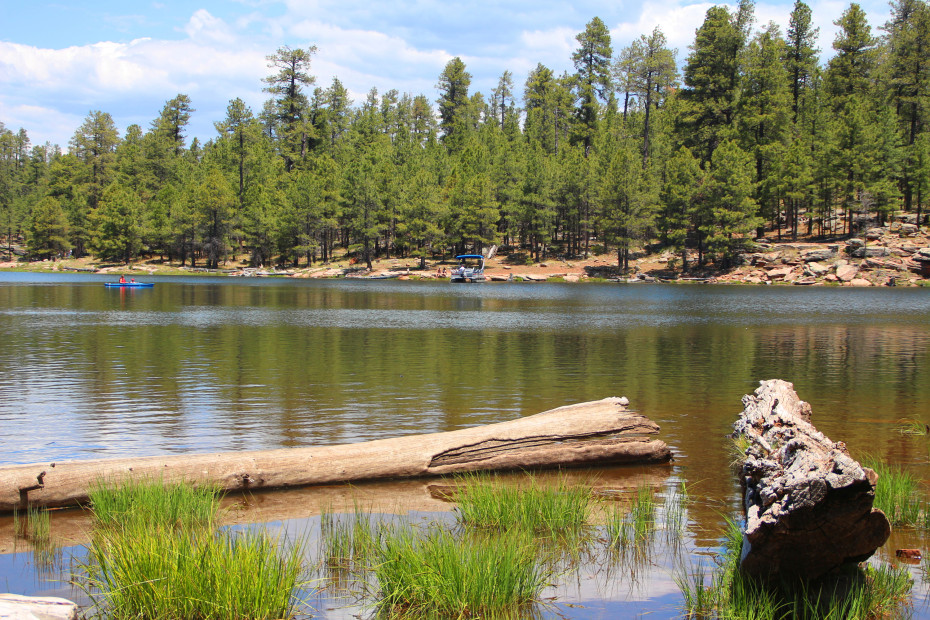 Woods Canyon Lake
With an elevation of 7,510 feet on the Mogollan Rim, Woods Canyon Lake is considered an alpine jewel. Situated in a canyon, this 55-acre, 40-foot deep lake is surrounded by a thick pine and spruce forest full of trails and campgrounds. The 7.2-mile Rim Top Trail travels along the rim past Military Sinkhole Vista, and the 6.5-mile Two-Sixty Trail provides cool shade in the summer. Keep your eyes on the ground to spot a grimacing greater short-horned lizard. Back on the lake, because gas-powered personal water crafts aren't permitted, the best way to get in the middle is by renting a paddle board, canoe, or electric motor boat from the lake store and marina. Nearby Willow Springs Lake doesn't offer rentals, but allows personal boats.
Ashurst Lake
Just 20 miles southeast of Flagstaff, Ashurst Lake is one of a few natural lakes in the state. It's known to hold water even during drought years, unlike some of its neighbors. Unload your single motor gas or electric boat for a peaceful day of fishing or resting on the water with uninhibited views of the San Francisco Peaks. Strong downslope winds from the mountains, especially in the spring, make this body of water ideal for windsurfing. Two campgrounds—Ashurst Lake and Forked Pine—each have 25 campsites, available May through mid-October. Roads close in the winter due to snow.