When desert temps top 100 degrees, crisp mountain air, alpine lakes, and frosty beverages are suddenly irresistible. Luckily, Arizona offers several refreshing escapes where you can paddle on forest-fringed water, bicycle or practice yoga among the pines, hike at high altitude, and sip wine in the shade of cottonwoods.
Woods Canyon Lake
Nestled into a pine forest at a cool 7,500 feet, Woods Canyon Lake is a popular summertime retreat with ample opportunities for angling, hiking, and water play. If you drive up on a Saturday, you can cobble together a picnic at the Payson Farmers Market. Cruise 35 miles east on Highway 260 and Forest Road 300, which winds over the Mogollon Rim—a dramatic 2,000-foot-high escarpment stretching 200 miles across the state.
At the Woods Canyon Lake Store & Marina, you can rent kayaks, stand-up paddleboards, or canoes (and yes, feel free to bring Fido). Alternatively, circumnavigate the lake by foot on the shady, roughly five-mile namesake trail, where butterflies flutter among wildflowers the colors of papaya, lavender, and lemon. You can lunch lakeside, or head back to one of the viewpoints on FR 300 to picnic perched above the rippling, pine-blanketed mountains.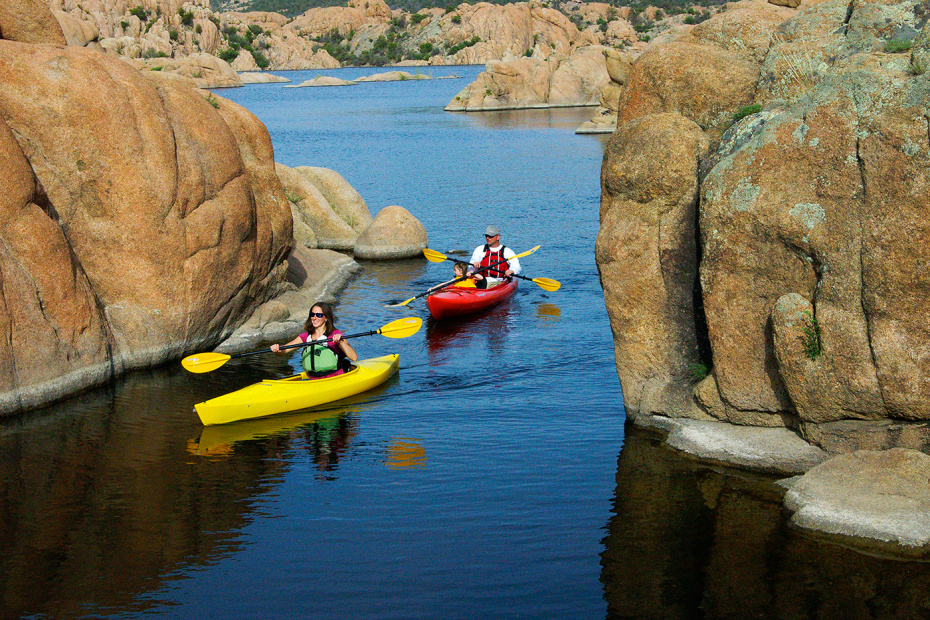 Prescott's Lakes
The other mile-high city is surrounded by a handful of oases, each with its own character and ideal mode of travel. In town, grab a grilled zucchini caprese sandwich or strawberry pumpkin seed salad from The County Seat and feast while sitting on the lawn at historic Courthouse Square, or take a picnic to one of the lakes. 
At Watson Lake, rent a kayak from Prescott Outdoors and paddle between golden, loaf-shaped granite boulders where great blue herons both soar above and stilt walk along the shore. Next, stroll around leafy Lynx Lake, stopping to smell the wildflowers and the butterscotch-scented bark of ponderosa pines. If you're looking for a faster pace, rent a mountain bike from Soul Ride and take a spin on conifer-shaded single track to Goldwater Lake.
Flagstaff
An outdoorsy mecca where Olympic athletes train at altitude (7,000 feet, for the curious) and summer festivals abound, Flag is the quintessential alpine escape. Runners and walkers stampede to Buffalo Park for views of the San Francisco Peaks, while hikers saunter along paths like the 10-mile, out and back, Kachina Trail, lush with ferns, flowers, and silvery aspens. 
The Arboretum at Flagstaff is a hub for alfresco classes among aromatic woodland. On most summer Saturdays, you can do downward dog and tree pose al fresco. Also sprinkled throughout the season at "the Arb" are outdoor watercolor classes, wildflower walks, and birdwatching strolls. Consider pairing your trip with one of Flag's outdoor summer shindigs, like the bluegrass-themed Pickin' in the Pines festival.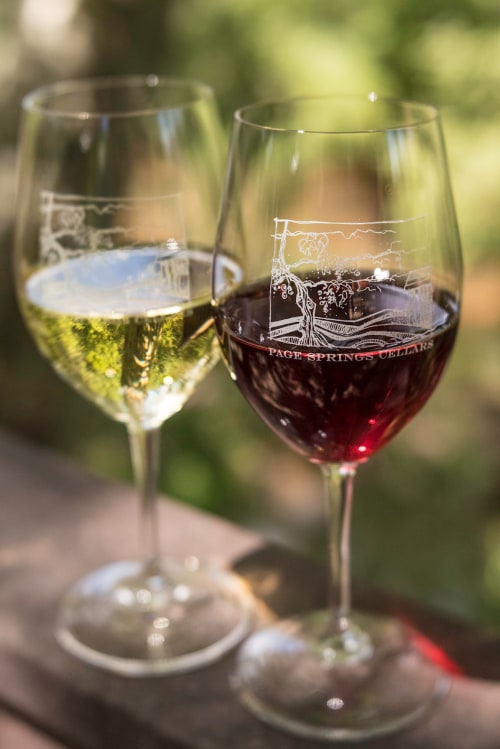 Cornville Wine Country
When the mercury rises, nothing hits the spot like sipping chilled rose or viognier in the shade—and it's even more sublime when you're overlooking the vineyard where it was grown. In Verde Valley's Cornville, picnic on one of the vineyard-side patios at Page Springs Cellars with a tapas platter and a bottle of light-bodied red. Then take a yoga class on the banks of cottonwood-canopied Oak Creek, or try a hoop dancing class among the grapevines. If you're feeling mellow, opt for a massage while soothed by the sounds of the burbling water.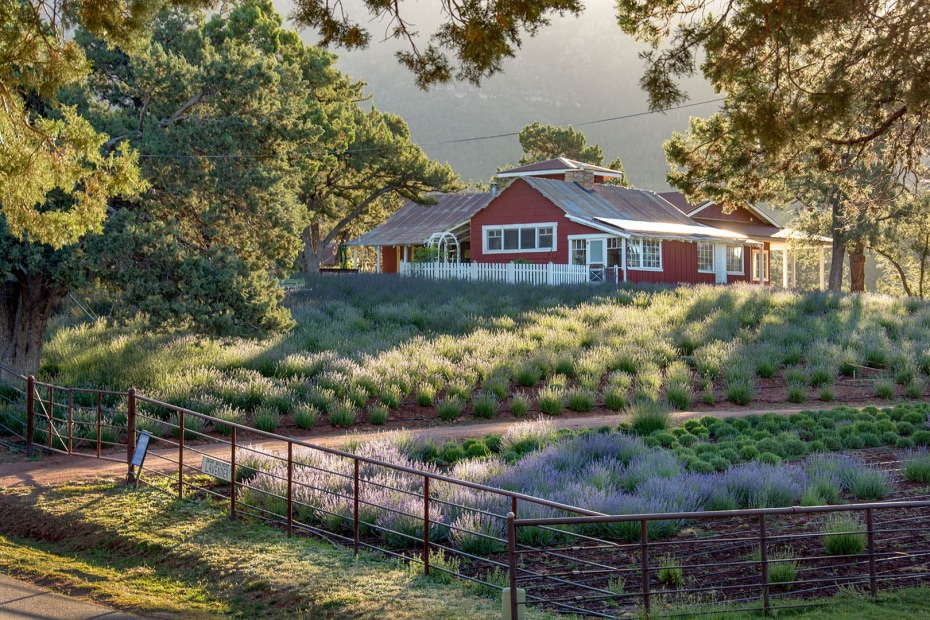 Pine-Strawberry
Originally settled by four mountain-loving Mormon families, these Mogollon Rim hamlets maintain their quaint atmospheres. Rent an electric road bike from The Rusty Pine Cone and tool around Pine's historic sites, like the Pine-Strawberry Museum and the pioneer cemetery. Alternatively, rent an electric mountain bike and get pedal assistance up Hardscrabble Mesa trail to bask in vistas of the world's largest ponderosa pine forest.
Follow your nose to the cool, cologne-like scent of the Pine Creek Canyon Lavender Farm and pick up lavender honey and sore-muscle massage rub, should your quads need it after your ride. Finally, cap off the day by kicking back on the patio of THAT Brewery and sipping a Knotty Nut Brown Ale, infused with local pinecones, or a THAT Strawberry Blonde.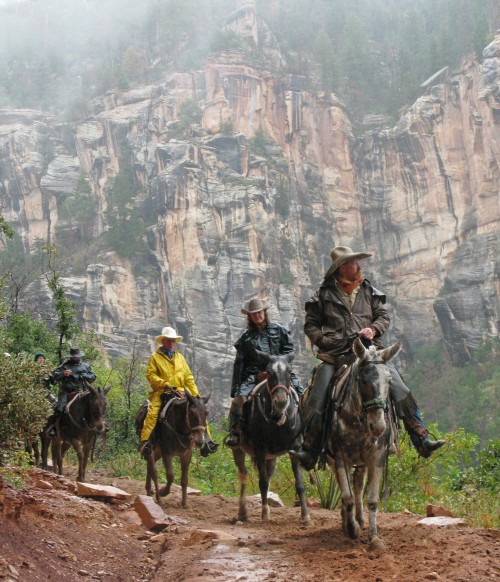 Grand Canyon's North Rim
Towering at nearly 8,300 feet, the North Rim of the Grand Canyon is a serene, refreshing scene amongst spruce, fir, and aspen trees. In contrast to the bustling South Rim, this remote wonderland invites visitors to match their pace to the slow rhythms of nature. Meander along the steep, half-mile Bright Angel Point Trail for gorgeous vistas of multicolored rock strata stubbled with greenery. Or ramble the Widforss Trail (4.3 to 9.6 miles), a quiet path offering ever-shifting woodland and canyon views.
Canyon Trail Rides offers a trio of mule trips, including a one-hour jaunt along the rim and a three-hour descent into the canyon to Supai Tunnel—a passageway offering peekaboo photo ops of salmon-colored cliffs. Drive the winding, 23-mile road to Point Imperial and Cape Royal, pausing at viewpoints to see the Vermilion Cliffs, the confluence of the Colorado and Little Colorado rivers, the Angels Window natural arch, and striking rock formations like Vishnu Temple and Wotans Throne.