Though Flagstaff has cemented its reputation as Arizona's winter sports city, summer is the season the Ponderosa-pine-peppered mountain town truly earns the term "escape." As soon as Northern Arizona University's dorms empty, air-conditioning-confined desert dwellers race north in search of greenery and open-air patios. But it doesn't take visitors long to realize the 20-degree drop in temperature isn't Flagstaff's only strength as a summer retreat.
Gateway to National Monuments
By virtue of its proximity to the state's most celebrated landmark, Flagstaff and nearby Williams share the nickname "Gateway to the Grand Canyon." While Arizona's largest canyon, just 81 miles north of Flagstaff, often steals the limelight, the National Park Service has much to offer even closer to city limits. National monuments just a short distance from downtown Flagstaff include Wupatki (33 miles north), Sunset Crater Volcano* (12 miles north), Walnut Canyon (10 miles east), and Navajo National Monument (9 miles north). *Editor's Note: As of July 2022, Sunset Crater Volcano National Monument is closed indefinitely in the aftermath of the Tunnel Fire.
Historic Hangouts
For a taste of territorial history and insight into the lifestyle of the family who shaped Flagstaff's culture, wander the grounds of Riordan Mansion State Historic Park. Built in 1904, and designed by the creator of the Grand Canyon's iconic El Tovar Hotel, the sprawling 40-room property is a beautiful example of American Arts and Crafts-style architecture.
To get a complete picture of the mountain town's history, visitors should look skyward. Established in 1894, Flagstaff's Lowell Observatory has hosted astronomical breakthroughs such as the first evidence of the expanding universe and, most famously, the discovery of Pluto. Whatever your position on Pluto's planetary status, Flagstaff's gloriously dark skies make Lowell's famous telescopes worth a stop.
Those who'd prefer to sleep through the history tour can check in to downtown Flagstaff's historic hotels. The Weatherford Hotel, opened in 1900, has hosted celebrities like author Zane Grey and publisher William Randolph Hearst. Hotel Monte Vista, built in 1926, touts ghostly inhabitants such as the phantom bellboy. Both boast quaint rooms, but keep in mind that the nightly music from their lively bars and ballrooms might deaden the historic charm a bit if you're hoping to rise early for a hike.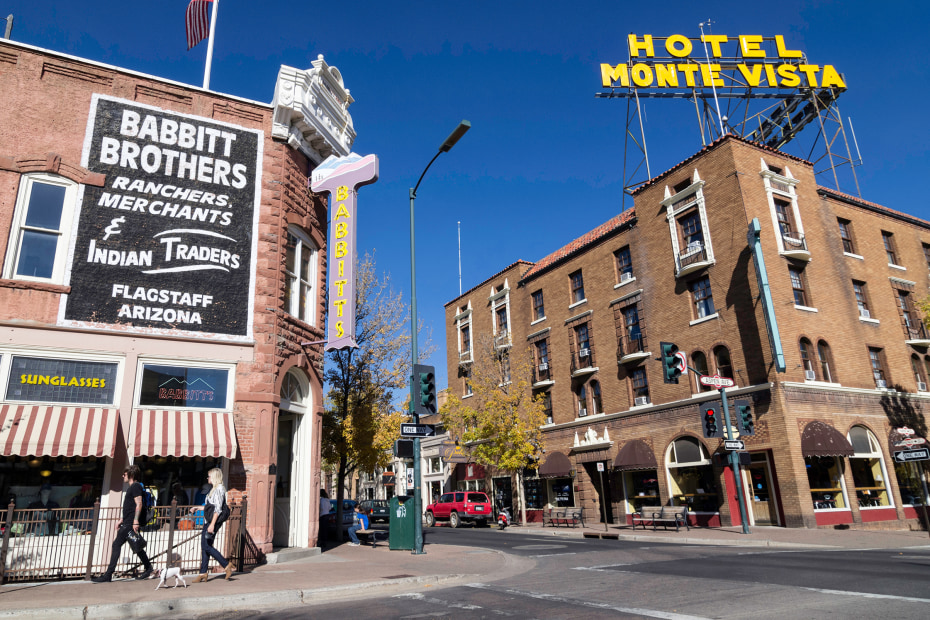 Downtown Flagstaff Dining
Inventive and homey venues characterize Flagstaff's downtown dining scene. MartAnne's Burrito Palace is an enduring standout. With vibrant walls adorned in colorful Dia de los Muertos-inspired pinup art, it treats guests to an atmosphere as quirky as its name and as spicy as its posole. Shift feels as unassuming as a friend's kitchen, but features imaginative seasonal dishes like watermelon chaat and crispy pork belly with pineapple mole.
Like any self-respecting mountain town, breweries abound. Dark Sky Brewing Company has a dog-friendly patio and an industrial vibe. Perennial favorite Mother Road Brewing Co. is located on a historic section of Route 66 and hosts guest brews on tap alongside their limited releases and year-round offerings.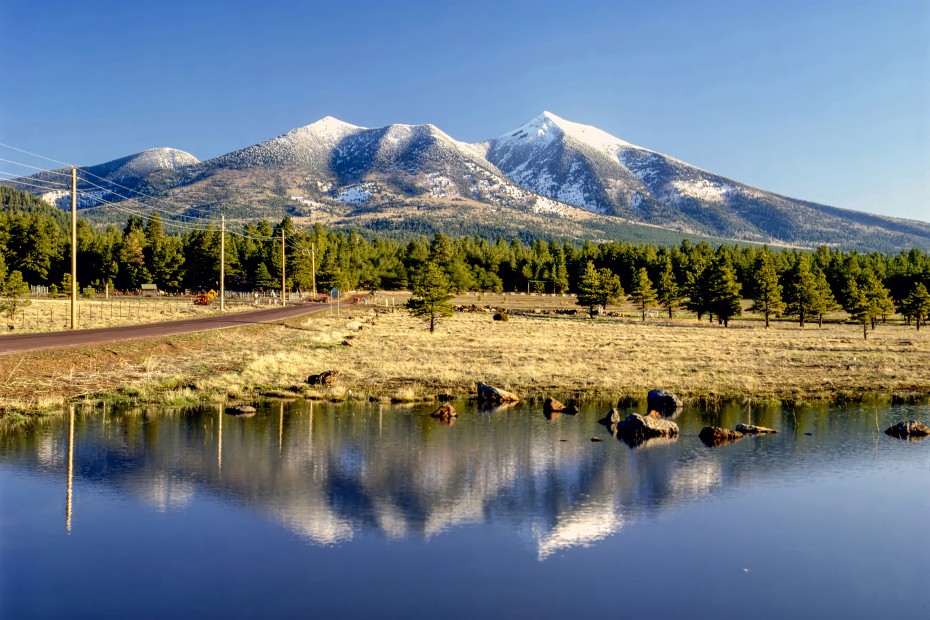 Alpine Adventure
The action at Arizona Snowbowl doesn't vanish with the powder. Daily gondola rides up the western side of the San Francisco Peaks run through October, carrying sightseers up 11,500 feet for soaring views that extend as far as the Grand Canyon.
Adrenaline seekers can hop into a harness at Flagstaff Extreme Adventure Course, an obstacle course park that features rope swings, climbing walls, and zip lines suspended in the trees at Fort Tuthill County Park.
To experience Flagstaff's lush, alpine views a bit closer to the ground, take to its trails. For an easy hike with a touch of education, take the Nature Conservancy's 90-minute guided nature walk through Hart Prairie Preserve, home to the world's largest Bebb willow community and listed on the National Register of Historic Places.