Whether you're looking for a snow-covered landscape or a warm refuge, Arizona has hidden gems that shine brightest in winter. Visit these historical landmarks, geological wonders, and national parks in the off-season to avoid the crowds and experience them like a local.
Petrified Forest National Park
The Painted Desert is likely one of the last places you would expect to see an ancient forest, but it's home to Petrified Forest National Park—one of the world's largest deposits of petrified wood and 13,000 years worth of human history. Where some of the earliest dinosaurs once roamed you can now see fossilized remnants of trees that are more than 225 million years old, dating back to the Triassic Period. Amble along the 0.75-mile Crystal Forest loop to see the rainbow-hued petrified wood deposits and wonder at the process that transformed the trees into massive trunks of clear and smoky quartz, yellow citrine, and purple amethyst.
For a glimpse into human history, take the mile-long trail from the Rainbow Forest Museum parking lot to the Agate House, an eight-room pueblo structure built of petrified wood that was crafted sometime between 1050 and 1300. Finally, head to the Painted Desert Inn, built in the 1920s by Herbert Lore and fully rehabilitated in the 1930s, to see restored murals by Hopi artist Fred Kabotie and learn about the park's section of Route 66 that was decommissioned in 1985 and replaced by a more direct highway interstate system. 
Remember: Always follow Leave No Trace principles and leave everything where you found it. Do not take any pieces of petrified wood with you. The park also asks that visitors report any removal of petrified wood or other materials to park staff.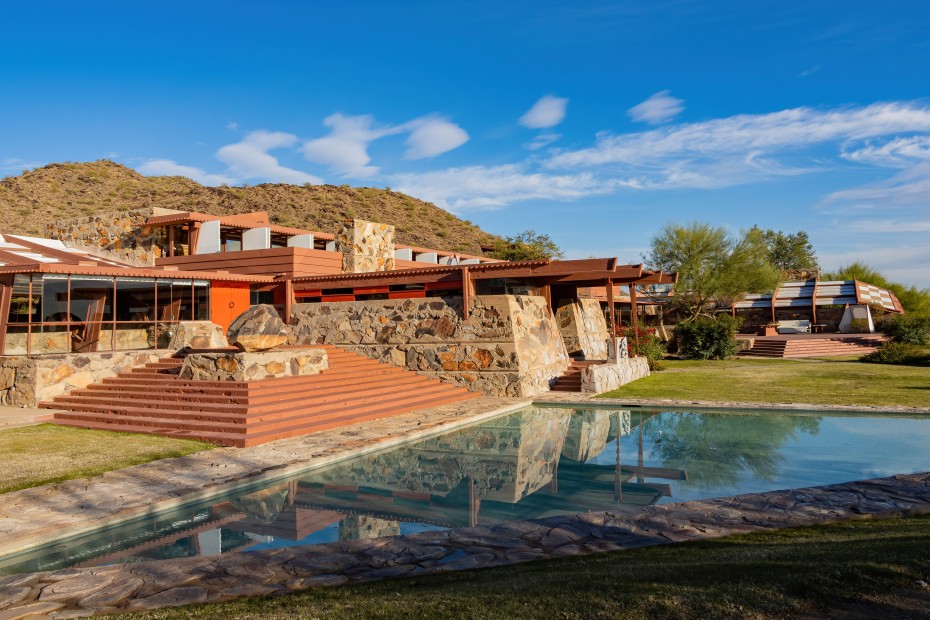 Taliesin West, Scottsdale
Even if you aren't an architecture buff, you will want to visit famed architect Frank Lloyd Wright's home, Taliesin West, for the unobstructed views of the desert and the nearly 500-acre property. Now a UNESCO Heritage site and a National Historical Landmark, Wright built Taliesin West in 1937 as his winter home at the foothills of the McDowell Mountains in Scottsdale, Arizona. Visitors can experience a guided tour of his home that includes a drafting studio, dining area, two home theaters, and a workshop. Each building as well as the rooms are experimental with different geometric shapes, and every element of the home was created with a purpose. 
Visiting Taliesin West isn't just an indoor experience. The buildings are connected by beautiful gardens, pools, terraces, and walkways, many with sweeping views of the desert landscape. On the second and fourth Thursday of each month, visitors can enjoy the evening sky while sipping a drink on the Sunsets and Sips tour.
Sedona
The area's vibrant red rocks are certainly no secret, but winter is one of the best times to get out and explore them if you're looking for solitude. Roughly 20 minutes outside of town, the Red Rock Ranger Station offers a panoramic view of the mountains, a native rain garden that draws hummingbirds, and helpful information about trails and roads in the area. If you're looking to get out among the formations, try the Soldier Pass Trail. Here you can take in views of Coffee Pot Rock and peer into Devil's Kitchen, the area's largest sinkhole. Need some rest and relaxation after all of your exploring? Head to one of the many spas around town for a massage or a soak.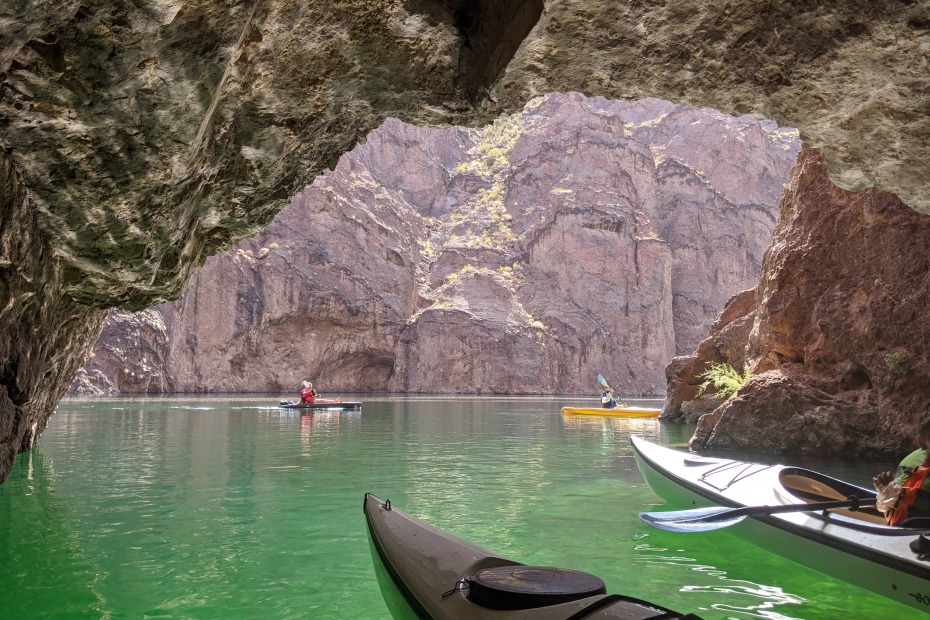 Emerald Cove, Willow Beach
There's a glittering secret hiding just two miles upstream of Willow Beach on the Colorado River. Found on the border of Arizona and Nevada, Emerald Cove is home to a cave with 5,000 to 7,000-feet-high walls. When the sunlight hits just right, the reflection off the cave walls make the river appear vibrant green.
Because of the remote location, kayaks and canoes are the only way to explore this hidden phenomenon. But those who venture out have a chance to spot a waterfall, ducks, bighorn sheep, and birds along the way. Park at Willow Beach (about an hour from Kingman, Arizona) for the quickest journey to the cove. From here, it takes approximately two hours to paddle to Emerald Cove. Ideally you want to visit midday when the sun is the brightest to see the water's bright green color. While the reflection is strongest in spring and summer, winter offers the opportunity to explore the small cave in peace—the space can only accommodate a few kayaks at a time—and comfortable paddling temperatures that typically range from 64 to 74 degrees. While you can do a self-guided tour, a tour company will take care of the transportation and directions for you.
Saguaro National Park
Split in two by Tucson, Saguaro National Park rewards visitors with up-close access to towering Saguaro cacti. While both sides are worthy of a visit (it takes roughly an hour to get between the two), the eastern side features scenic overlooks, including the Javelina Overlook, which showcases the Tucson Basin. If you're short on time, drive the 8-mile Cactus Forest Drive loop through the eastern side to access trailheads, take in scenic vistas, and crane your neck at the Saguaro that can tower more than 40 feet high.
Stretch your legs and wander among the giants that only grow in this region on the 1-mile Freeman Homestead Trail or the 3.8-mile Loma Verde Loop. It can still be hot in the winter, so come prepared with sunscreen, plenty of water, and a hat. Keep an eye out for native fauna, including hummingbirds, roadrunners, and javelinas—be careful, these animals are territorial and may attack if you get too close. End the day with a stunning sunset picnic at the Javelina Rocks pull out or the Javelina Picnic Area, but bring warm clothes as evening temperatures can quickly drop into the 40s.