President Woodrow Wilson signed a bill creating the National Park Service on Aug. 25, 1916. More than 100 years later, Arizonans should be particularly interested because the state contains four national parks and 22 national monuments, memorials, recreation areas, and historic sites. These natural treasures are must-visit destinations for locals and out-of-towners alike.
Grand Canyon National Park
The Grand Canyon in northern Arizona gets the most attention because the statistics are staggering. It is among the world's oldest, longest, deepest, widest, and most attractive natural wonders. Nobody knows its exact age, but scientists have tracked the canyon's origins back as far as 1.8 billion years. The Grand Canyon is 277 miles long, 1 mile deep, and at times can span a width of 18 miles. And, it plays host to more than 5 million visitors a year. 
Theodore Roosevelt was among the first to proclaim its glory. After touring the magnificent gorge in 1903, he declared, "Let this great wonder of nature remain as it now is. Do nothing to mar its grandeur, sublimity, and loveliness. You cannot improve on it. But what you can do is keep it for your children, your children's children, and all who come after you, as the one great sight which every American should see."
However, Roosevelt wasn't the first politician to recognize the canyon's beauty. While still a senator, Benjamin Harrison introduced three bills to make it a national park. All were defeated. After assuming the presidency, Roosevelt declared the Grand Canyon a national monument in 1908, but two of his bills to make it a national park also were turned down. The issue was finally settled Feb. 26, 1919, when President Woodrow Wilson signed a document making it so.
Although a series of dams have altered the flow of the Colorado River as it courses through the canyon's lower extremities, the splendor remains. Spectacular whitewater rapids churn and fume when they interrupt lengthy stretches of calm waters. Multicolored walls shaped by erosion, earthquakes, and volcanic eruptions rise to neck-craning heights when viewed from the river, or fall to unbelievable depths when looking down from the rim of the surrounding Tonto Platform. 
Over the years, countless photographers and artists have attempted to capture a true sense of the panorama. A few of their efforts come close, but most are lessons in frustration. The Grand Canyon is beyond words, the camera's lens, and the artist's brush.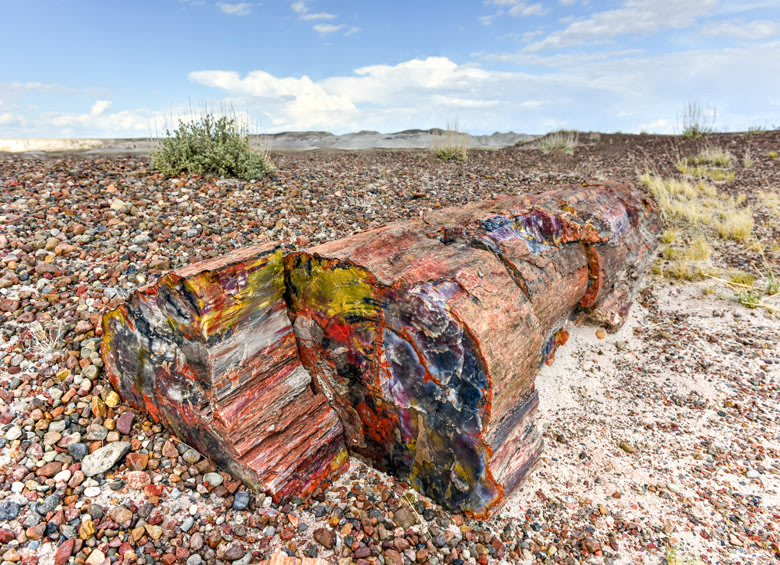 Petrified Forest National Park
Petrified Forest is not only a scenic attraction, it is a storehouse of knowledge, loved by scientists and tourists alike. Scientists use words like "petrification" in their descriptions as they study fossils, relics, and artifacts. Tourists rely on expressions like "wow!" 
East of Holbrook, the original park covers 146 square miles (additional land parcels have been placed under the park's administration since 2005, now totaling 346 square miles). 
Petrified Forest traces its origins back to the late Triassic Period when the area was covered with water. The petrified logs for which the park is best known began emerging around 60 million years ago when tectonic forces thrust the Colorado Plateau upward and exposed the area to erosion. The logs, along with fossilized dinosaur remnants, have been popping up ever since.
Humans tried to exist in the arid semidesert but left around 1400 A.D. Today, the people are back. About 600,000 of them stop to examine the park every year. Despite the threat of stiff fines and extensive warnings about taking souvenirs, petrified wood theft is a major problem. Some return the pilferage with notes of apology like this: "I am returning the rock and the bad luck that followed it."
The park was designated a national monument in 1906 and a national park in 1962. And you get two attractions for the price of one because it also encompasses the Painted Desert, a magnificent array of decayed plant and animal life and volcanic ash that time has converted into a spectacular display of nature's ability to paint by numbers. Visit after a rain, which enhances the colors' brilliance.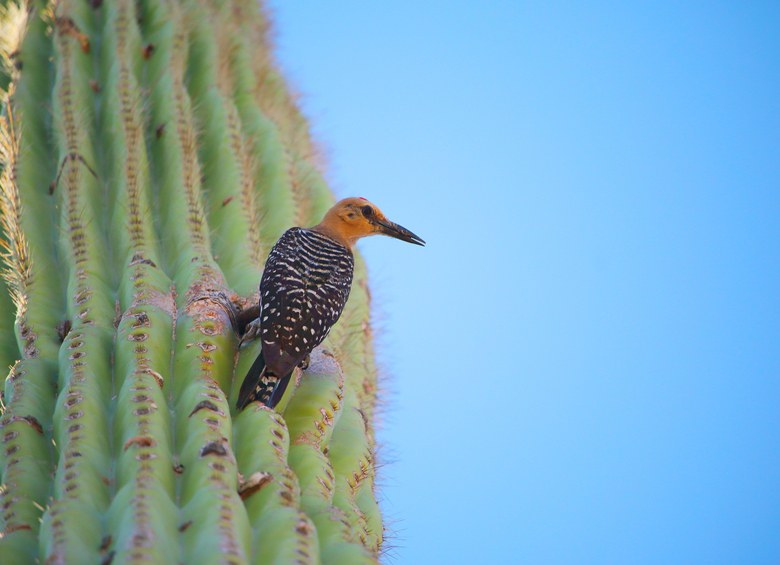 Saguaro National Park
Saguaro National Park is made up of two separate landmasses. The Rincon Mountain District lies east of Tucson; the Tucson Mountain District is to the west. Portions of both were included in a national monument created in 1933. The 71,400-acre Saguaro Wilderness Area was added in 1975, and the combined area of 91,327 acres was given national park status in 1994. 
An estimated 1.6 million saguaros (pronounced sah-wah-roh) grow inside park boundaries and the scientific name (carnegiea gigantia) honors Andrew Carnegie, the philanthropist, who established a desert lab in Tucson for native plant research. The saguaro is the largest cactus species in the world. They typically grow to about 45 feet and weigh as much as a ton when fully developed. And they can live for up to 200 years with a root system measuring less than 5 feet deep.
Establishing Saguaro National Park was a natural move because the plant is heavily protected. Harming a saguaro in any manner is illegal and special permits are required to move or destroy one. The saguaro historically has served as a vital resource for humans. The bulbs that grow after spring flowering have been used for centuries by Native Americans to make food and beverages; the skeletons have been used for roofing and furniture; and the "boots," created when birds peck out nests, have been converted into canteens and art objects.
The park also is home to a variety of other cacti and wildlife, as well as petroglyphs. Many are visible along the 128 miles of trails that wander through the landscape.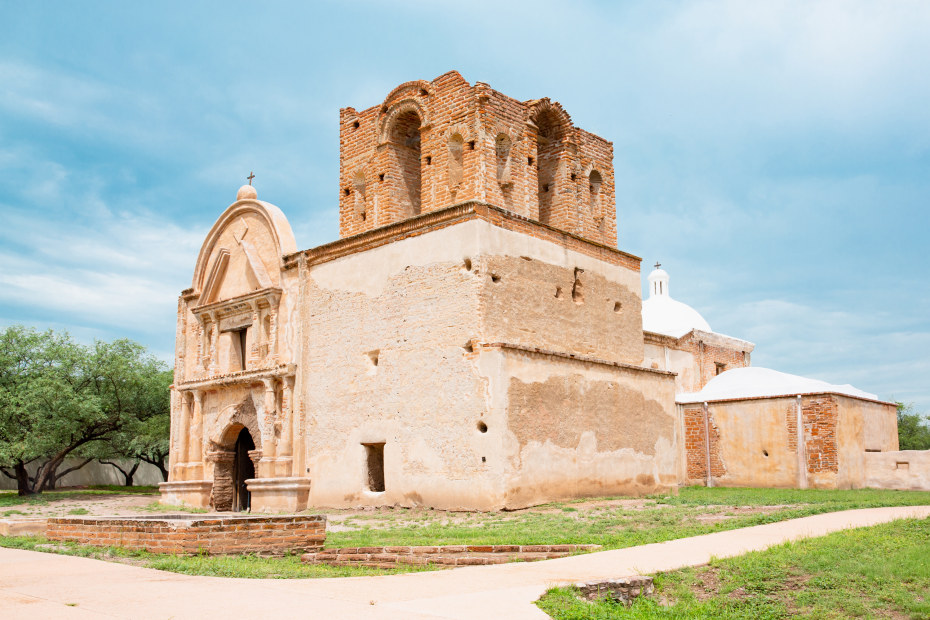 Tumacácori National Historical Park
Unlike its three Arizona counterparts, Tumacácori National Historical Park traces its lineage in centuries, not eons. It goes back to 1691, when Father Eusebio Kino established the Mission San Jose de Tumacácori in a native village. Two others — Mission Los Santos Angeles de Guevari and Mission San Cayetano de Calabazas — soon followed. The first church was erected there in 1750. And after a Pima rebellion, the mission was moved to its present site, about 19 miles north of the Mexican border on Interstate 19. Construction of the current church began in 1820 and continued until the late 1820s, when a lack of funds ended the project before it was completed. 
The Mission Revival-style building was abandoned in 1848, then became part of the United States under the terms of the Gadsden Purchase. The building was left to the elements, looters, scavengers, and squatters until 1908, when restoration and stabilization efforts prompted President Theodore Roosevelt to name it a national monument. The site was elevated to national historical park status in 1990.
The park contains the remains of the three original missions, but only the Tumacácori church is open to the public. There are only ruins at the Calabazas and Guevari sites, but ranger-led tours can be arranged. 
The Tumacácori Museum, built in 1937, houses interpretive displays and artwork, and is the central location for a variety of festivals and artistic events held on the grounds every year.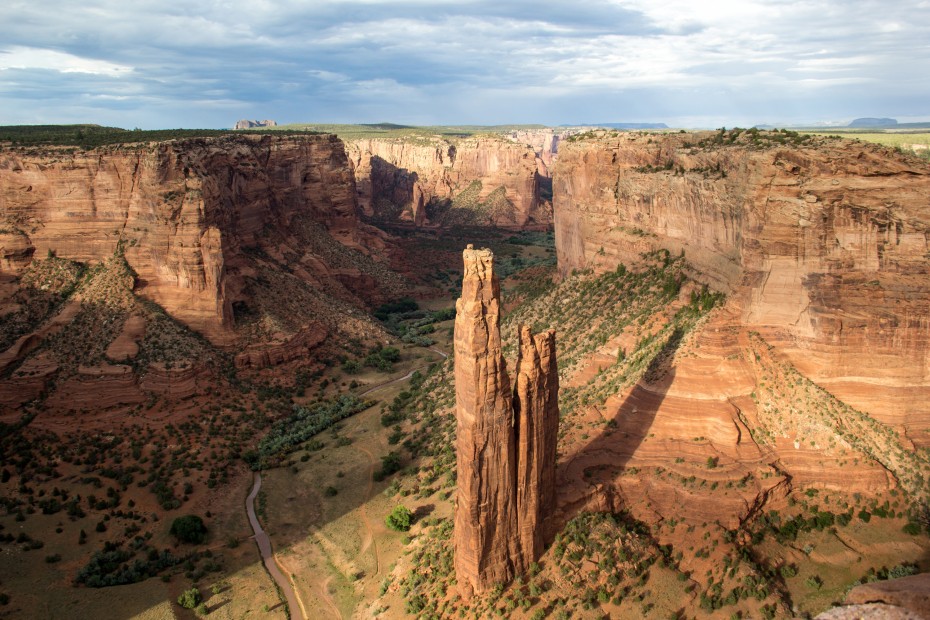 Arizona's Other National Park Service Sites
In addition to Arizona's four national parks, the state has a wealth of designated monuments, memorials, historic sites, recreation areas, and trails under the National Park Service. Here are 22 more of Arizona's treasures and what you'll find when you get there.
Canyon de Chelly National Monument – Ancient ruins and towering sandstone monoliths
Casa Grande National Monument – Mysterious adobe structure is thought to be 650 years old
Chiricahua National Monument – 11,985-acre wonderland of rock formations
Coronado National Memorial – Honors epic journeys through deserts and mountains
Fort Bowie National Historic Site – Monument to the bravery of U.S. soldiers on the frontier
Glen Canyon National Recreation Area – 1.2 million acres of water-based and outdoor fun
Hohokam National Memorial – Not open to the general public due to sensitivity of the area
Hubbell Trading Post National Historic Site – Oldest operating trading post in the Navajo Nation
Juan Bautista de Anza National Historic Trail – Connected Nogales, Arizona, with San Francisco
Lake Mead National Recreation Area – Year-round outdoor and water-related activities
Montezuma Castle National Memorial – Ancient 20-room high-rise cliff dwelling
Navajo National Monument – Prehistoric village within sandstone alcoves
Old Spanish National Historic Trail – Follows route of pack trains across the Southwest
Organ Pipe Cactus National Monument – Thriving community of desert plant and animal life
Grand Canyon-Parashant National Monument – Located on the northern edge of the Grand Canyon, it provides solitude in natural splendor
Pipe Spring National Monument – Learn about pioneer and Kaibab Paiute life
Sunset Crater National Monument – Formed 700 years ago by volcanic eruption
Tonto National Monument – Showcases two Salado-style cliff dwellings
Tuzigoot National Monument – Ancient village built by Sinagua people
Walnut Canyon National Monument – Walk in the footsteps of ancient pueblo dwellers
Wupatki National Monument – Ancient pueblos dot red rock outcroppings
Yuma Crossing National Heritage Area – Reconnecting a city to its historic past