I don't see it. I'm up close and squinting at a truck-sized slab of rock jutting up from the scrubby terrain along the Colorado-Utah border, trying to decipher a prehistoric relic exposed by erosion after a 140-million-year subterranean slumber.
"Step back and it's obvious," suggests Jeff, my road trip companion who, like me, has a thing for the past. I back up 10 yards for a wide-angle view and suddenly the chain of rust-colored chunks protruding from the surrounding beige stone becomes the fossilized backbone of a 60-foot-long, plant-eating dinosaur called Camarasaurus.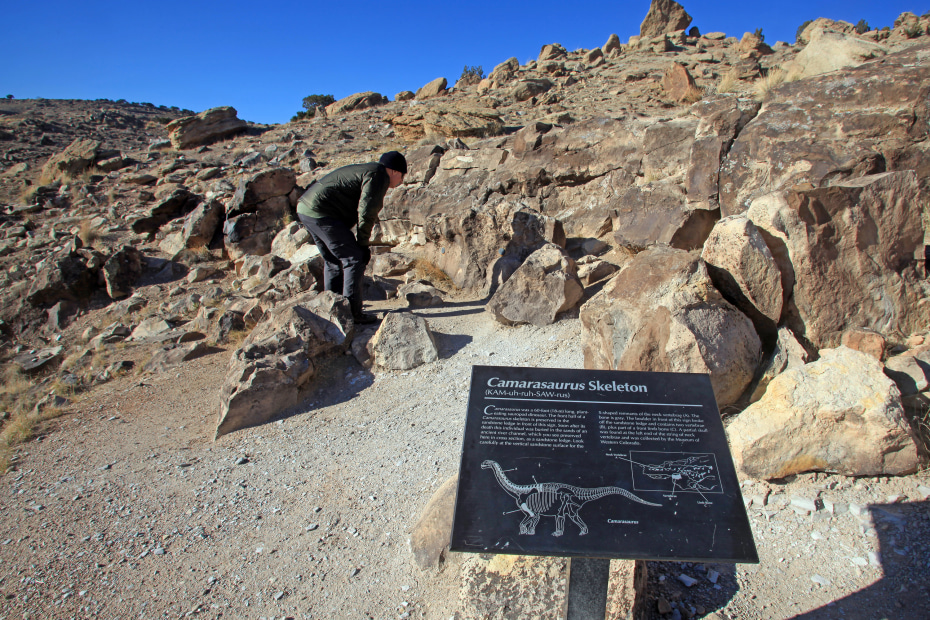 We're hiking the 1.5-mile Trail Through Time that includes the renowned Mygott-Moore Quarry, an ancient watering hole where thousands of dinosaurs from the Jurassic and Cretaceous periods met their demise over thousands of years. As one of some 20-odd prehistoric attractions comprising the Dinosaur Diamond Prehistoric Highway, a National Scenic Byway, it's a fitting finale to a journey we began four days ago.
The 480-mile Dinosaur Diamond loop, a National Scenic Byway, is among the nation's 150 federally designated scenic routes, lacing together the towns of Fruita and Rangely in Colorado with the Utah towns of Vernal, Price, and Moab. The route itself is a jaw-dropper, traversing through the Colorado Plateau; eroded redrock canyons; forested sky islands; and intermittent riverways. The landscapes have a way of bringing the ancient world to life. Mesas, arches, pinnacles, lava flows, and deserts all testify to the region's tumultuous past. But despite the region's austerity, towns are never more than two hours apart, and the small, friendly communities have a Norman Rockwell goes Wild West feel. But the scenic byway's namesake attractions—the famous dinosaur quarries, acclaimed paleontological museums, and Dinosaur National Monument—are the real gems.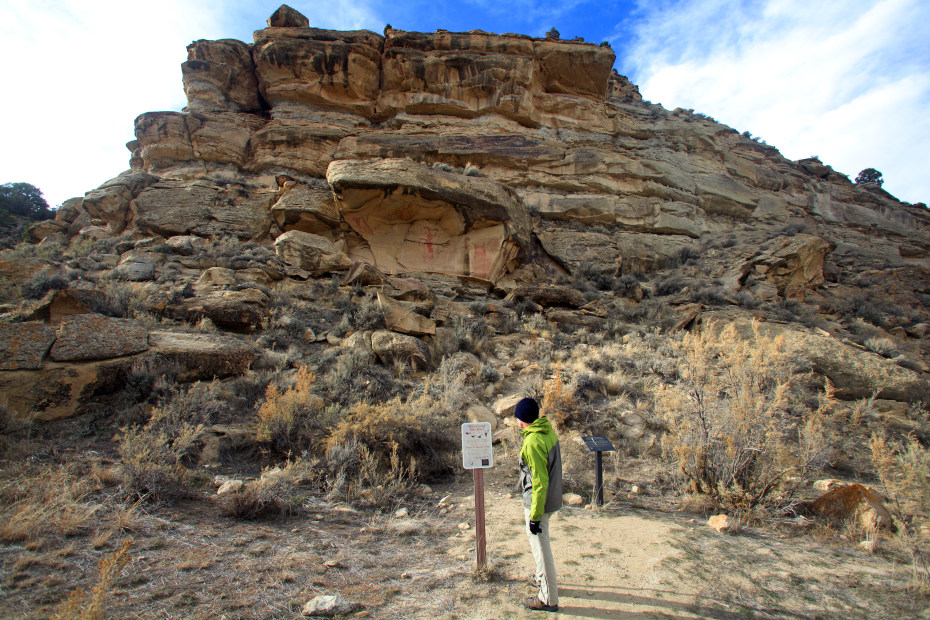 Fruita to Dinosaur National Monument
We begin in Fruita, exploring the dino-rich digs of the Riggs Hill Trail and getting in the mood by perusing the Dinosaur Journey Museum's life-sized animatronic specimens and fossils. Heading north along Hwy. 139, the landscape takes on an otherworldly quality as it enters Canyon Pintado Historic District, home to hundreds of Native American archaeological sites. Here, eerie-looking petroglyphs stare at us from their stone ramparts. Our progress is slow; it seems there is always another pullout or trail to explore. By the time we reach our destination, the sun is low.
For pure prehistoric pleasure, Dinosaur National Monument, about 100 miles north of Fruita, is the highlight of the Byway. The sprawling 210,000-acre monument straddling the Colorado-Utah border is where the treasure trove of dinosaur fossils that gave the region its reputation was discovered in 1909.
Carnegie Museum of Natural History paleontologist Earl Douglass sensed the magnitude of the cache, and rather than extract the fossils, he chose to preserve them in their original form, a move considered to be scientific heresy in the day. Thanks to him, the area's ancient denizens are frozen in time; a bone yard of 1,500 protruding skulls, femurs, and other fossilized remnants are now housed inside a protective quarry building where limited hands-on encounters are encouraged. The visceral sensation of touching a 149-million-year-old Allosaurus—an earlier T-rex lookalike—sends Jeff and me into boyish rhapsodies.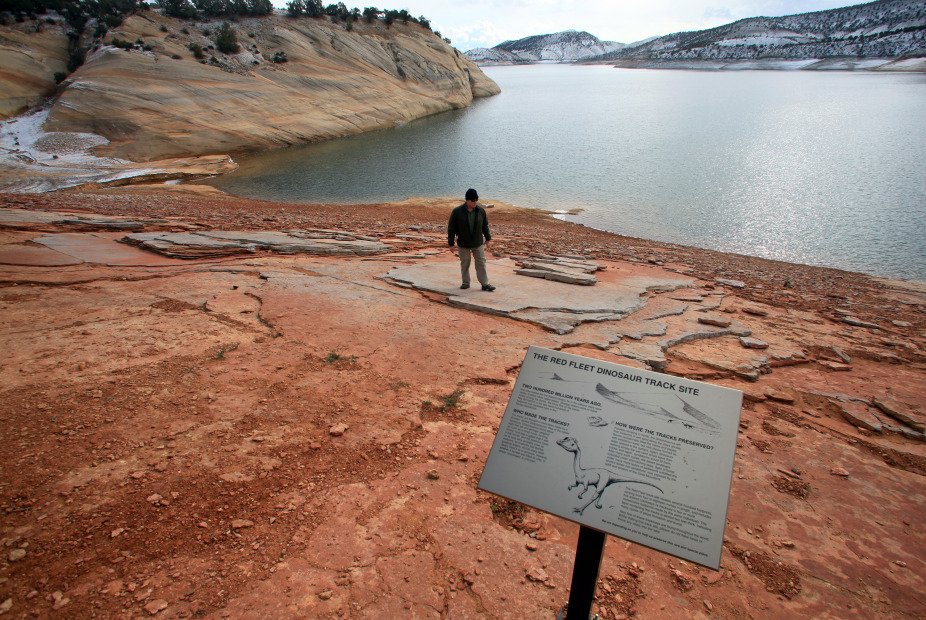 Vernal to Arches and Mill Canyon Dinosaur Trail
Near Vernal, we spend a half-day on the trail to visit the eroding, 200-million-year old, three-toed sauropod tracks at Red Fleet State Park. Further south, at Price, we ogle fossils at the Utah State University Eastern Prehistoric Museum, the place where Steven Spielberg did research for Jurassic Park.
As our route begins drifting back toward Colorado, we visit the surreal landscape of Arches National Park north of Moab, where weather-sculpted red Navajo sandstone looks like animal forms emerging from the earth. If Dinosaur National Monument is the best place to see fossils, Arches is the best place to stoke the imaginations of dino lovers. Not that fossils themselves are in short supply. Adjacent to the park's western border, we hike the Copper Ridge Dinosaur Trackway and inspect scores of huge footprints made by hulking Apatosaurus and Diplodocus.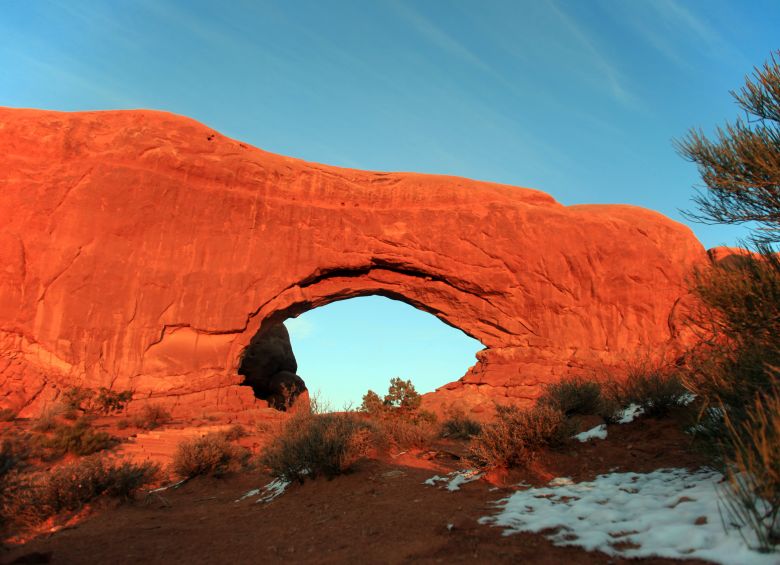 But perhaps the best site of all is the nearby fossil-rich Mill Canyon Dinosaur Trail on remote BLM public land. The self-guided .4-mile Mill Canyon trail is like a giant, outdoor natural history museum. It stokes our dino-nerd enthusiasm like nothing else.
Here, a mishmash of vertebras, tibias, and a pelvis portion from one very large saurapod—the most massive land animal to have ever walked the earth—emerge from the rock.  If you run your fingers over their unusual symmetry, it's impossible not to conjure a time when dinosaurs thundered across this primeval landscape.
Nearly 500 miles in two states, and we've only scratched the surface in our prehistoric quest. More sites are excavated all the time, more chapters of Earth's ancient history unfold. But for two road-weary travelers fixated on dinosaurs since we were kids, our four days on the Dinosaur Diamond Prehistoric Highway is the greatest story ever told.