Nature has imitated Michelangelo in Arches National Park, artfully sculpting sandstone into spires, domes, and more than 2,000 arches. Iron oxide paints the rocks vermilion, and the rising and setting sun makes them glow carnelian and gold.
Located in eastern Utah, 5 miles north of Moab, the park is home to the highest concentration of natural stone arches in the world. Children and adults alike marvel at these delicate formations—warped and whittled by millions of years of geologic forces and water erosion.
Compared to some national parks, this 119-square-mile landscape is easy to explore. It has only one entrance and one main 18-mile road that branches off twice into short, must-see side-trips. The most popular arches are visible from viewpoints or reached on short to moderate hikes. While the geology is the headliner, keep your eyes peeled for a supporting cast of mule deer, bighorn sheep, and 273 species of birds.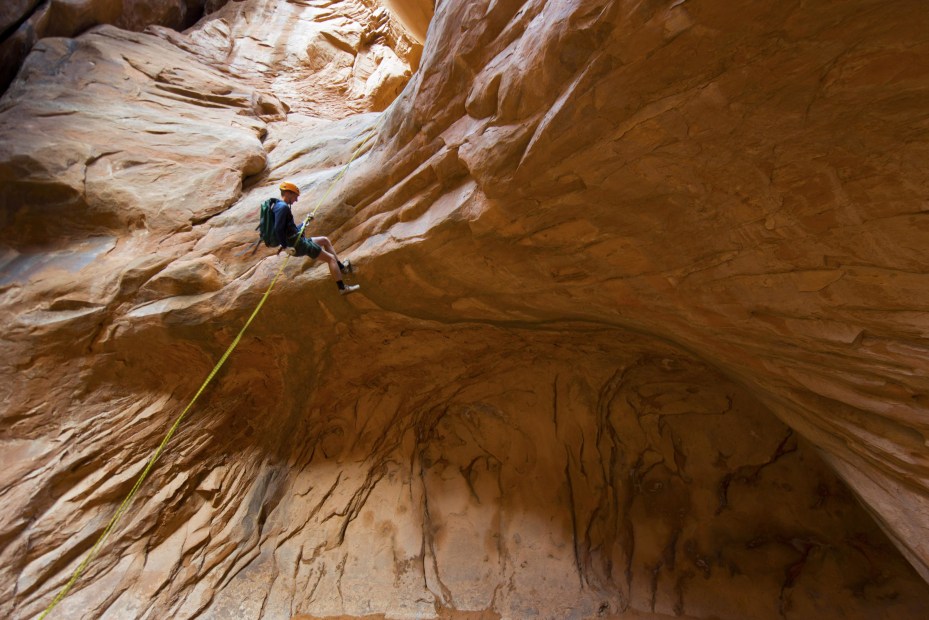 What to Do in Arches National Park
Rangers recommend that if you have an hour and a half, visit either the Windows Section or Delicate Arch, and if you have three hours, explore both. If the entire day is your oyster, consider a guided hike in Fiery Furnace or an excursion to Landscape Arch. Driving and hiking are the most popular activities, but bicycling, horseback riding, and rock climbing are also allowed; check the park website regarding permits and regulations.
Windows Section
Driving north on the main route, you'll pass classic viewpoints like Balanced Rock, where park ranger-turned-author Edward Abbey spent two seasons, inspiring his beloved book Desert Solitaire. The first fork in the road leads to the Windows Section, a handful of arches a short stroll from the parking area. Amble the 1-mile primitive loop to North Window and South Window, nicknamed The Spectacles for their resemblance to a pair of glasses over sky-blue eyes and a sandstone schnoz. You can clamber up the russet rocks right underneath North Window and nearby Turret Arch. North of the parking lot, a 0.8-mile trail takes you to dramatic Double Arch—a pair of arches radiating from a single base like two sides of a triangle.
Delicate Arch
Resembling the bottom half of a bowlegged cowboy, Delicate Arch is the star of Utah's license plate, a U.S. postage stamp, and countless Instagram posts. To get up-close and personal with this icon, hike the 3-mile round-trip trail from Wolfe Ranch, a rickety cabin built in 1906. Or drive to the viewpoint, where you can photograph the arch from about a mile away. It's spectacular at sunset, so you may want to save this section for the finale.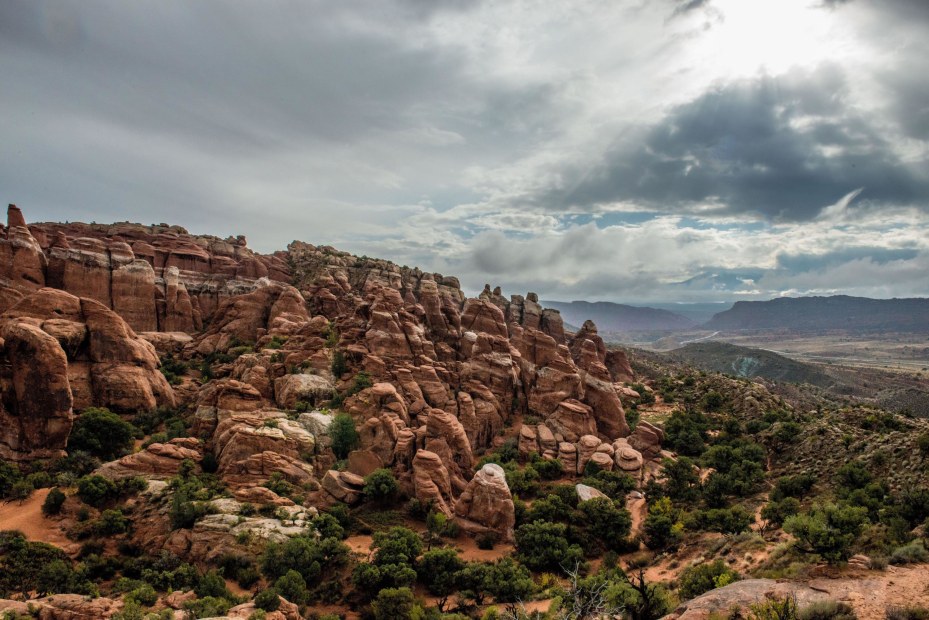 Hiking Fiery Furnace
A hike through this labyrinth of rust-colored cliffs, spires, and arches is a full-body experience. You'll squeeze through passageways, saunter across slickrock above steep drop-offs, and scramble up slopes which you'll slide down on your rear end. Good hiking shoes and water are required for the 2-mile, three-hour trek. You must also obtain a permit or go on a ranger-guided tour, offered daily from March to October. Ranger-guided hikes can be reserved in advance, but sometimes sell out months beforehand; permits for hiking solo must be purchased at the Arches Visitor Center.
Devils Garden
In this northernmost section, you'll find the park's longest arch—Landscape Arch, a skinny span of sandstone 306 feet long. You can reach it on a relatively easy 1.6-mile round-trip hike that starts at the Devils Garden trailhead. Alternatively, add mileage by venturing down various spur trails and loops to Private Arch, Navajo Arch, Partition Arch, and the more challenging Double O Arch.
Camping and Accommodation Near Arches National Park
Arches has no lodges, but if you're looking for cushy digs, Moab boasts a range of B&Bs, ranches, hotels, and even glamping. At Devils Garden Campground in the northern section of the park, you can pitch your tent amid bulbous boulders and scrub brush. Potable water and toilets are available, as well as an amphitheater where rangers host occasional evening programs. March through October, campsites are usually reserved months in advance.
When to Visit Arches National Park
More than 1.5 million people visit Arches National Park each year, and most come between spring and fall. If you want to visit between April 1 and October 31, you must secure a timed entry reservation and park pass. Otherwise, rangers recommend arriving before 8 a.m. or after noon to avoid the longest waits. Spring and fall bring the most pleasant weather, while summer temperatures can top 100 degrees. Winter visitors contend with fewer crowds but may encounter snow and some road closures.
The park is at its most photogenic around sunrise or sunset. For shutterbugs, the national park website provides excellent guidance on which formations are flattered by early morning light and which shine in the late afternoon.