It's springtime in Scottsdale, and that means my out-of-town friends and family will flock here for Cactus League spring training. They'll keep busy watching their favorite boys of summer lose their winter doldrums at stadiums around town. But one does not live by baseball alone—especially not in my hometown. Given the chance, I like to steer my nearest and dearest to some favorite things to do in Scottsdale.
Things to Do
Scottsdale's crown jewel is the McDowell Sonoran Preserve, 30,000 acres of pristine desert and mountains at the city's northeastern edge. Multiple trailheads access more than 200 miles hiking and mountain-biking trails, which range from short nature walks to all-day loops up and down steep switchbacks. For a group with varying stamina, I recommend the Marcus Landslide trail, a 3.7-mile out-and-back trek with killer views, interpretive signage about area geology, and enough of a gentle incline to feel like you're getting a workout. Bonus: If the winter rain gods smile, spring wildflowers abound.
To balance out the baseball, I look to Scottsdale's troika of cultural pillars, starting with Taliesin West. Frank Lloyd Wright established his winter home and architectural community here in 1937, creating a campus of angular, desert-integrated buildings at the base of the McDowell Mountains. A variety of tours are offered, but I like to combine a basic tour with one that winds through the desert to visit shelters built by students who study at Taliesin's School of Architecture.
Scottsdale Museum of Contemporary Art is a modern downtown building with four galleries and a lounge that showcase often-edgy art, architecture, and design with ever-changing exhibitions. After a tour of the museum, head to the courtyard to sit a spell in artist James Turrell's "Knight Rise" installation, a room-like setting with ceiling opening that offers a meditative look at the heavens.
Not far away, Western Spirit: Scottsdale's Museum of the West is filled to the brim with everything from cowboy artifacts and Hopi pottery to art by Western masters such as Maynard Dixon, Thomas Moran, and Edward S. Curtis. And, yes, I gladly exit through the gift shop for cool Western-inspired fashions, jewelry, home accessories, and books.
Where to Shop
Because it's considered a swanky destination, Scottsdale is loaded with the usual suspects when it comes to fashionable brands. But I lean toward local retailers, so I often herd friends to places like downtown's the Poisoned Pen, an indie bookstore that opened in 1989 featuring mysteries. Today, the shop has broadened its appeal with bestsellers; books about Scottsdale, Phoenix, and the Southwest; and a full calendar of author events. 
Just south of downtown, Sphinx Date Co. has been promoting and selling Arizona-grown dates since 1951. Offerings have expanded considerably in recent years, and it's become my go-to spot for Arizona foods like locally grown and milled flour, prickly pear nectar (great for margaritas), salsas, and wine (yup, there are three growing regions statewide, and the wine is good).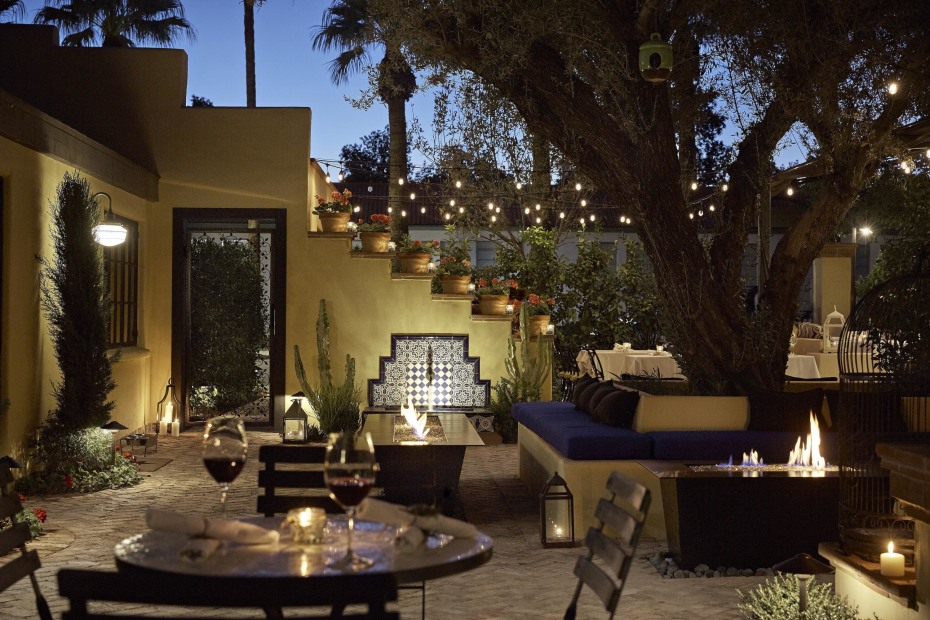 Where to Eat
Spring training weather is balmy, so patio dining options are at the top of my list. Downtown, AZ 88 is stylish, über-modern, and a see-and-be-seen kind of place, whether you sit inside or on the terrace overlooking the grassy Scottsdale Mall. Cocktails are great, as are the burgers, salads, and shareable appetizers such as smoked salmon and sour cream–topped potato chips.
Close by, Virtù Honest Craft is a cozy, Mediterranean-influenced restaurant, which I love for its olive tree–shaded patio illuminated with European-style string lights. The cocktails are crafted with as much care as the food. I like the vodka-based Ice Queen, made with a rhubarb shrub and topped with black pepper, which makes me forget vegan vows as I ponder the grilled octopus served with a fennel-arugula salad, crispy pig ears, or the smoked duck with brown butter from the ever-evolving menu.
Rehab Burger Therapy also has a small patio, but it draws me for its funky surfboards-and-bicycles decor, dozen-plus burger offerings (there's a veggie patty!), sweet potato fries, and the fact that nearly everyone is in shorts and flip-flops. My baseball pals like that the restaurant is within walking distance to Scottsdale Stadium, spring training home of the San Francisco Giants.
Around the corner, Sugar Bowl is sans patio, but what's not to like about a pink-hued ice cream parlor that's been around since 1958? I skip the retro tuna sandwiches and cottage cheese salads and go for the hard stuff, like a tin roof sundae, banana split, or mint-and-fudge parfait.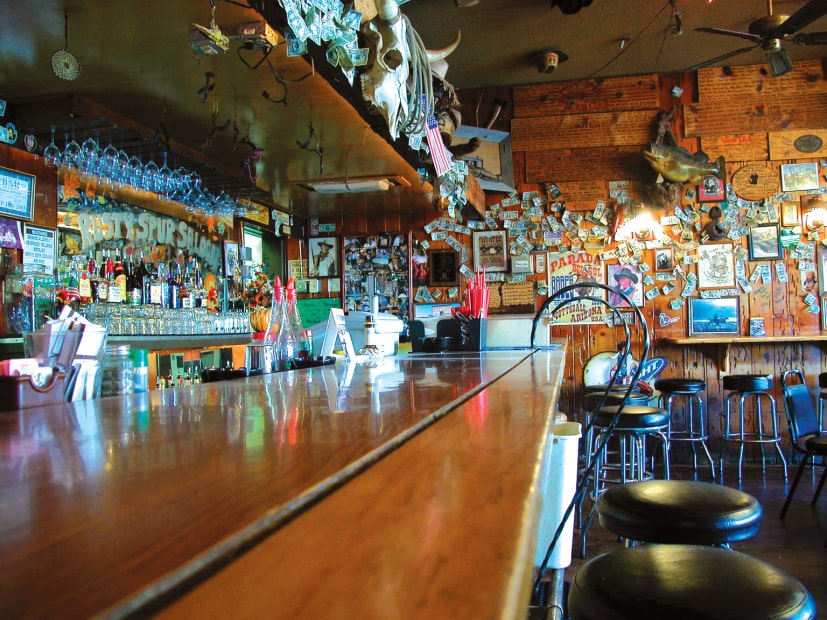 Nightlife
Downtown Scottsdale is known for its nightclubs—velvet ropes, bottle service, and well-clad attendees—but if we manage to stay up that late, I take friends to two old-school watering holes for a nightcap.   
An institution since 1959, the Coach House was nearly demolished a few years back due to a road-widening project. An outcry ensued, and now this beloved dive bar is more popular than ever. There's live music on weekends, and for nearly half the year, the small building is bedazzled with holiday lights.
Rusty Spur Saloon—also walking distance to Scottsdale Stadium—has swinging saloon doors, loud country bands, a postage stamp–sized dance floor, and dollar bills thumbtacked to the walls. Opened as a bank in 1921, then converted to a saloon in 1958, Rusty Spur has long been a place to toast spring training with a shot and a brew.