If you're craving an outdoorsy escape, a spiritual reboot, and indulgence (and who isn't these days?), Sedona checks all the boxes. You can refresh your creativity with alfresco art classes and festivals, rejuvenate your psyche with mountaintop yoga and metaphysical Jeep tours, and enliven your senses with live music and flavor-packed food.
Things to Do
Sedona is known as a spiritual Shangri-La, buzzing with natural high-energy vortexes and swirling electromagnetic fields supposedly infusing visitors with inspiration and healing. During a beginner-friendly Rise and Shine outdoor yoga session with Aumbase Sedona, you'll amble to Airport Mesa Vortex, a high plateau famed for its panoramic views and power to create serenity. As the sun rises, you'll perform flowing poses, harmonize your chakras, and connect with the sienna-toned earth.
At Red Rock State Park, go on a geology hike to discover how Arizona's Mogollon Rim rusted and receded into Sedona's burnt orange bluffs. An archaeology walk will acquaint you with the Sinagua, the pre-Columbian people who etched petroglyphs and built dwellings in the sheer cliffs. Or you can stroll along herb-scented Oak Creek to spot great blue herons, otters, and mule deer.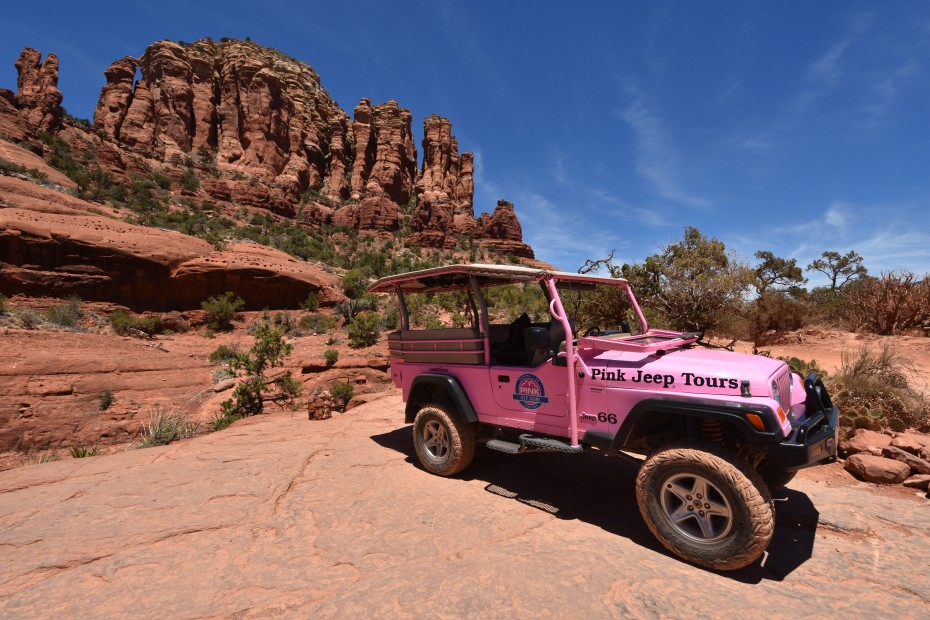 A quintessential Sedona experience is a Jeep tour, and numerous companies guide rollicking rides across this geologic playground. For more than 60 years, Pink Adventure Tours' flamingo-colored fleet has been treating travelers to its exclusive, adrenaline-pumping Broken Arrow Tour, which offers epic views of vermilion mountains. Earth Wisdom Jeep Tours takes spiritually minded offroaders to vortexes and a medicine wheel for an exploration of myth and meditation on its Sacred Earth and Wheel Tour. Meanwhile, A Day in the West directs history and movie buffs to Sedona's Seven Canyons and the Van Deren cabin—a film site for Westerns including Riders of the Purple Sage.
The area's stunning scenery has inspired a thriving creative scene, and hopping around the town's 80-plus galleries is a local pastime. The focal point is the Sedona Arts Center, which spotlights the work of more than 100 Southwestern painters, sculptors, jewelry makers, and other artists. This fall, the center will continue to offer online classes, plus host several in-person workshops, including iPhone photography and plein air painting.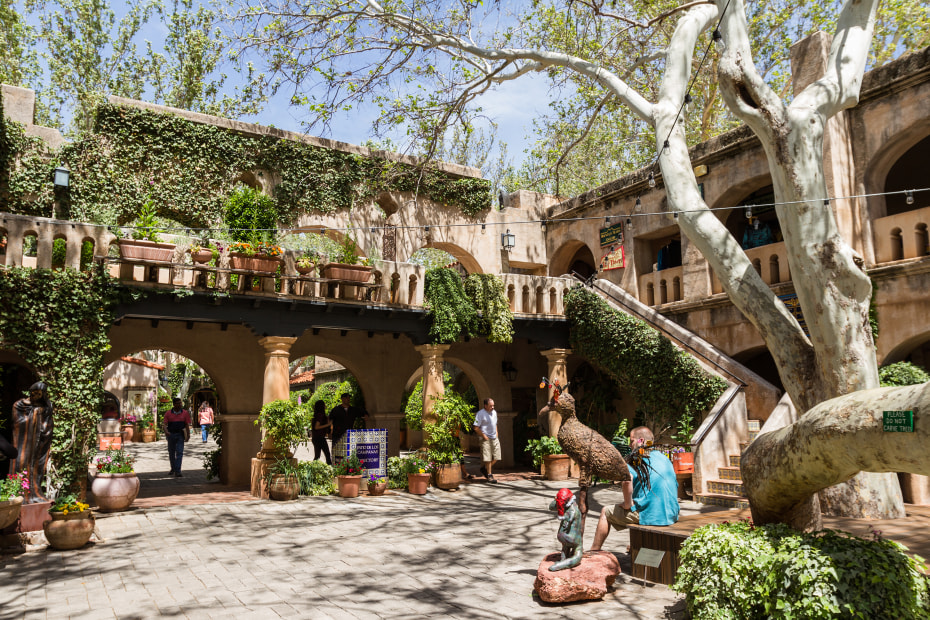 Modeled after a traditional Mexican village and shaded by sycamores, Tlaquepaque is a delightful outdoor shopping center where visitors can stroll cobblestoned walkways to around 50 specialty stores and art galleries. You can cultivate an artsy-casual Sedona wardrobe at Sedona Shoe Company, Adorn Collection, and Caravana Jewelry. Linger in the courtyard listening to live flamenco music on Sunday through Tuesday evenings until October 12. And pick up tamales, artisan chocolates, and more at the creekside farmers' market on Friday mornings through October 8.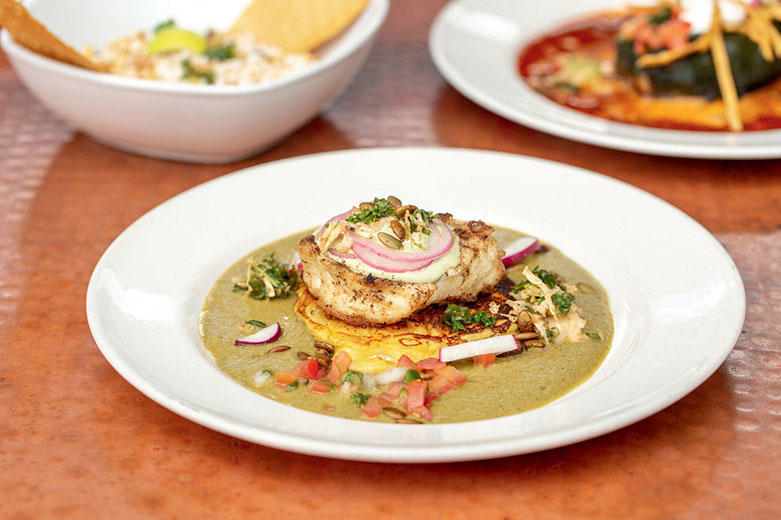 Places to Eat
Sedona's culinary arts scene is equally exciting, thanks in part to two award-winning chefs. At Butterfly Burger, you'll be cocooned in dusky, seductive surroundings as you savor Lisa Dahl's swoonworthy fare. Pair a truffle-tinged Funghi Sublime burger or nutty vegan Hipster burger with a boozy milk shake such as the limoncello-spiked Lisa's Lush Lemon. For dinner, head downtown to Elote Cafe, where you can bask in sunset views and sip a mescal margarita. Locals line up to taste James Beard Award finalist Jeff Smedstad's sophisticated seasonal Southwestern and Mexican creations, including spicy-sweet lamb adobo and smoked chicken enchiladas.
Festivals and Events
Late summer and autumn usher in a flurry of festivals, beginning with the Red Rocks Music Festival—an ode to chamber music and solo singers, held on Sept. 3-5 and Oct. 3. Sedona Winefest (Sept. 25-26) corrals more than 25 wineries from across Arizona for tastings, art demos, and music. Oct. 9-10, the Sedona Arts Festival will showcase the works of 125 painters, ceramicists, photographers, fiber artists, metalworkers, and more. And at the Sedona Plein Air Festival (Oct. 23-30), visitors can get inspired watching more than two dozen artists capture the spectacular surroundings on canvas.