The love child of American Ninja Warrior and Swiss Family Robinson, aerial adventure parks are popping up everywhere, offering exhilarating courses with zip lines and elevated climbing structures that boast great views of wilderness areas. But don't fear: Though they seem challenging, the parks accommodate many ages and skill levels. Secure harnesses and trained guides ensure safe fun while you're balancing on swaying logs, crossing rope bridges, or plunging off platforms high in the trees.
Test your limits at Flagstaff Extreme Adventure Course in Arizona's cool Coconino National Forest. Work your way up five levels of difficulty, swinging from monkey bars and hanging from Tarzan ropes. The zip line runs challenge riders with a series of ladders and bridges.
Sheltered in the California's Santa Cruz Mountains, three sky trails up to 80 feet high in a redwood forest at Mount Hermon Adventures feature a leap off a platform to the ground and wobbly bridges made of zigzagging boards.
Log walks, stump traverses, and Tarzan swings are just some of the 50 activies sprinkled into the High Ropes Course and Aerial Adventure at Glacier Highline in Coram, Montana. An adventure pass ticket includes unlimited access to a climbing wall the high ropes course with a 200-foot zip line, inflatable water slide, and the inflatable obstacle course.
Utah Adventure Center takes adventurers deep into a canyon outside of Ogden, where you'll use a special climbing system of anchored steel ladder rungs and safety cables—developed in the Alps of Italy and Austria—to scale 400 feet up a mountain. Manager Chris Peterson says this allows beginners the adrenaline rush of experienced climbers. After the climb, head for zip lines that soar across a 350-foot waterfall.
Dodge huge punching bags and zoom on a plank "skateboard" across a steel cable with views of the Grand Tetons at Treetop Adventure at Snow King Mountain Resort in Jackson Hole, Wyoming. Kids have their own course, six-to-ten feet in the air, with climbing walls, nets, and swinging bridges.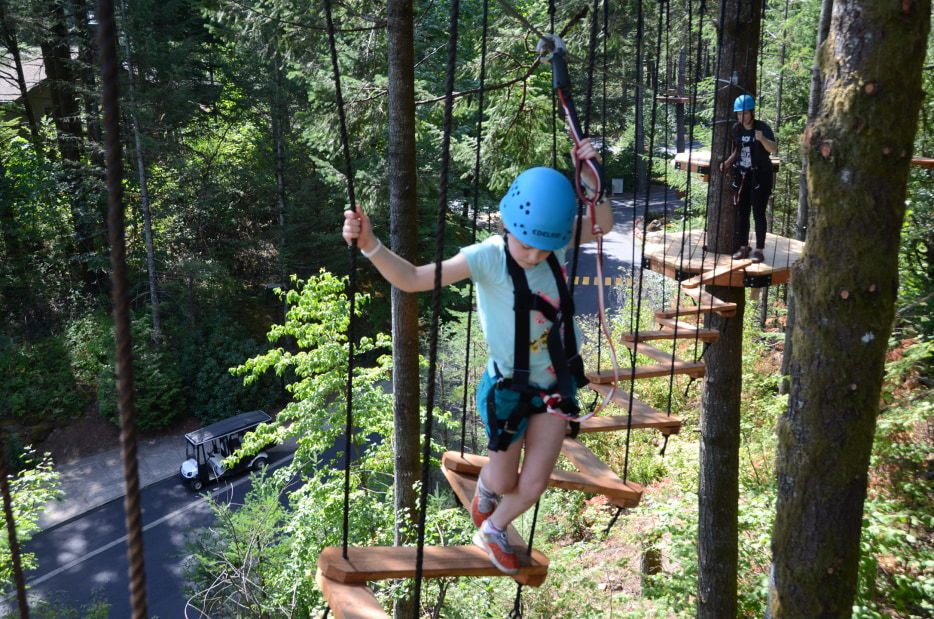 Make it a treetop weekend at Skamania Lodge Adventures in Stevenson, Washington, where aerial adventurers travel across the sky in a high-wire canoe on the 23-element aerial course. A 920-foot zip line parallels the Columbia River, affording breathtaking Gorge views. Bed down in the lodge's tree house cabins for the full Swiss Family Robinson experience.
On the site of a historic gold mine near Central Point, Oregon, Rogue Valley ZipLine Adventure offers five zip lines—one more than 1,300 feet long—with spectacular views of Crater Lake rim, nearly 100 miles northeast. For the most fun, reserve a "Zip, Dip, and Sip" combo for a day of zip lining, whitewater rafting, and wine tasting.