Last year, when California's first shelter-in-place order arrived, my family and I did the only thing we were allowed to do: We went on a walk. Walking has always been our arrival ritual for a new destination. That March afternoon, as we descended the Beachgate Trail near our house and came to Seacliff State Beach, one of the most wildlife-rich locations on Monterey Bay, I wondered why we hadn't explored our community more.
At the beach, a pod of dolphins arced past the century-old ruins of the cement ship SS Palo Alto at the end of the pier. My husband, Eddie, suggested, "Let's break our walking record." He was referring to a day we'd clocked 8.5 miles exploring Lisbon the previous year. Our two boys, 8 and 12, high-fived him, always down for healthy competition, even if it was against ourselves. "We might walk the whole county by the time we're done," Eddie proclaimed. "Maybe we'll finally do the Skyline-to-Sea Trail." This 29.5-mile hike stretches from the northern shoreline of Santa Cruz County to Santa Clara County's Big Basin State Park.
"I hope this pandemic doesn't last that long," said our youngest, Nikko.
In the six months my family spent walking Santa Cruz County training for this hike, we realized much more than the value of our walking stamina. Exploring our community with traveler's eyes and the simple practice of being present in our environment enabled us to finally appreciate this terrain we called home.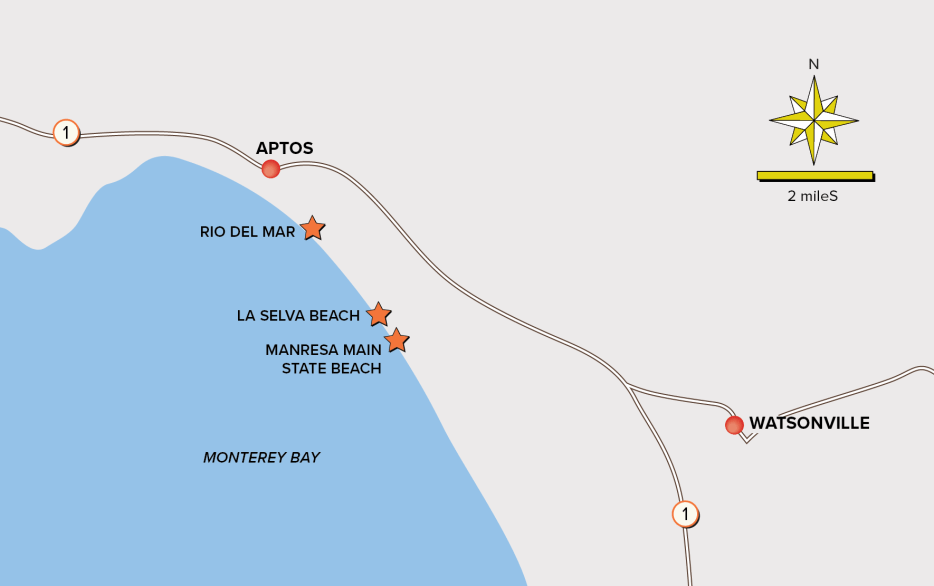 Aptos to Watsonville: 8.7 Miles Round-trip
For six years we've lived in Aptos, an unincorporated village near Santa Cruz often dubbed the "beach-burbs," yet we'd never hoofed it all the way to Watsonville, the next Monterey Bay town. Watsonville's historic farming community is now a haven for artists and winemakers, scooping up the remains of the Central Coast's affordable housing, as well as free-spirited wave riders keen on less crowded swells.
Walking southeast on the sand from our Aptos house, my kids kicked a soccer ball. A sea lion played hide-and-seek in the waves with our dog at Rio Del Mar State Beach. Our older son, Kai, pointed out the dancing shorebirds at Platforms Beach, a favored surfing and birthday party spot for local kids; Nikko spotted the leaping dolphins near Seascape (a posh beachfront resort). By foot we could access private La Selva Beach, a sweet bodyboarding spot. And then we arrived at Watsonville's Manresa Beach. Few surfers braved the waves that morning. We spread our picnic on the sand, watching a paddleboarder move into the sun-sparkled sea. So much abundance on such a simple beach walk.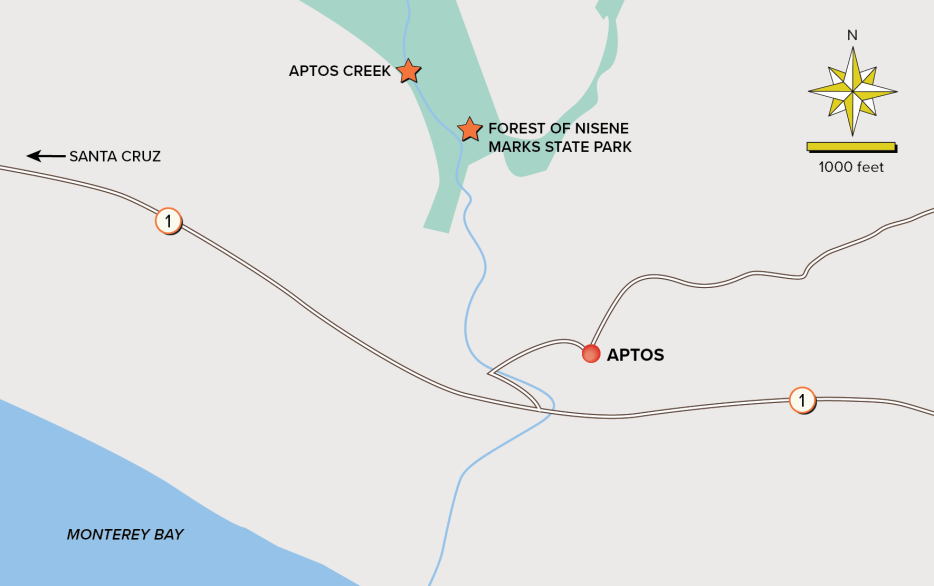 Nisene Marks State Park: 10.5 Miles Round-trip
On our next trek, we departed from our home in the Seacliff neighborhood and journeyed deep into the Jurassic-looking fern walls, ancient redwoods, and clear shallow creeks of Nisene Marks State Park. The boys hopscotched over river rocks along the Aptos Creek Trail. Already budding blackberry thickets led us to a fallen redwood sawed in half to let hikers pass.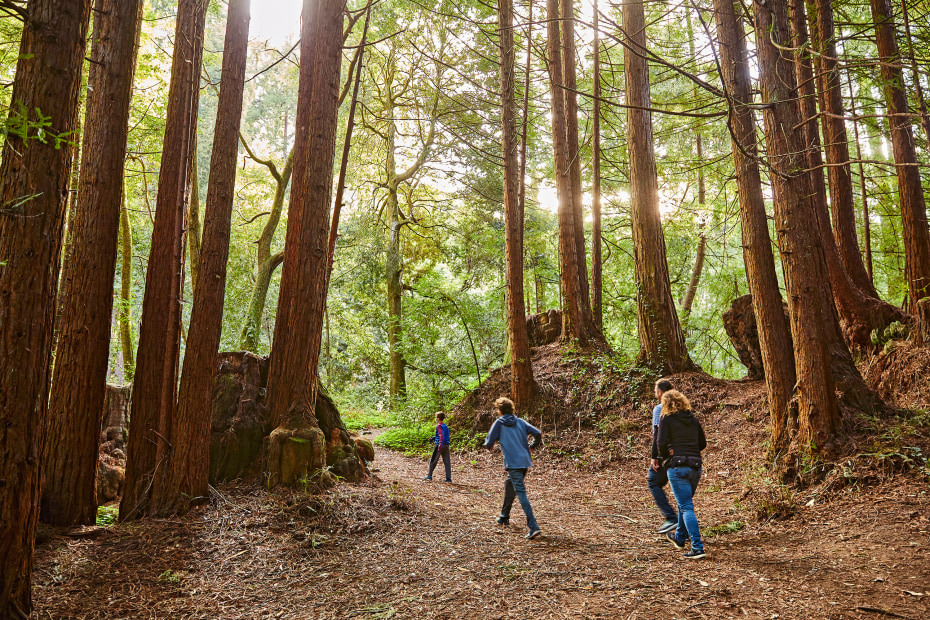 We inspected the rings, running our hands along the soft bark. Kai counted inward, searching for the line representing the year of the Loma Prieta earthquake (whose epicenter was in these woods). Nikko followed, hunting for his birth year. Deeper into the forest, we sat by the creek and watched a banana slug inch across the dirt. Kai gazed up into the canopy and whispered, "The forest always makes me feel better."
Capitola to Live Oak: 9.5 Miles Round-trip
Departing, once again from our Aptos home, we arrived in Capitola village—a seafront community with cafés spilling into the sidewalk—where life seemed almost normal. Masked window-shoppers perused galleries, families ate slices of pizza from Pizza My Heart on beachside benches, a ukulele player strummed tunes by the sea…. How skilled humans are at mustering moments of pleasure. 
For my family, joy came from movement. We marched onward, winding up the side streets to Live Oak, toward Pleasure Point's storied surf break. Weaving through neighborhoods, we noticed a fairy house built into the base of a blooming magnolia, little free libraries stocked with nonperishables, a mom helping her daughter learn to ride a bike, surfboard art. From our car, we'd never had the chance to appreciate these simple delights of our community. 
After tamales at El Rosal Bakery, we wandered the Rail Trail back home. The county has long been debating a car-free trail along the old logging tracks. Up by Davenport, the trail is completed, but locals in the southern end of the county often traverse these wilder vacant tracks between towns, too. From Live Oak to Watsonville, the tracks sliced through the blackberry bushes and eucalyptus. Some residents had planted gardens along the tracks. There was a hand-painted sign reminding all to be kind. We encountered few people, but those who passed us on bikes or on foot, offered warm greetings. Slowing down delivered pleasures we hadn't imagined.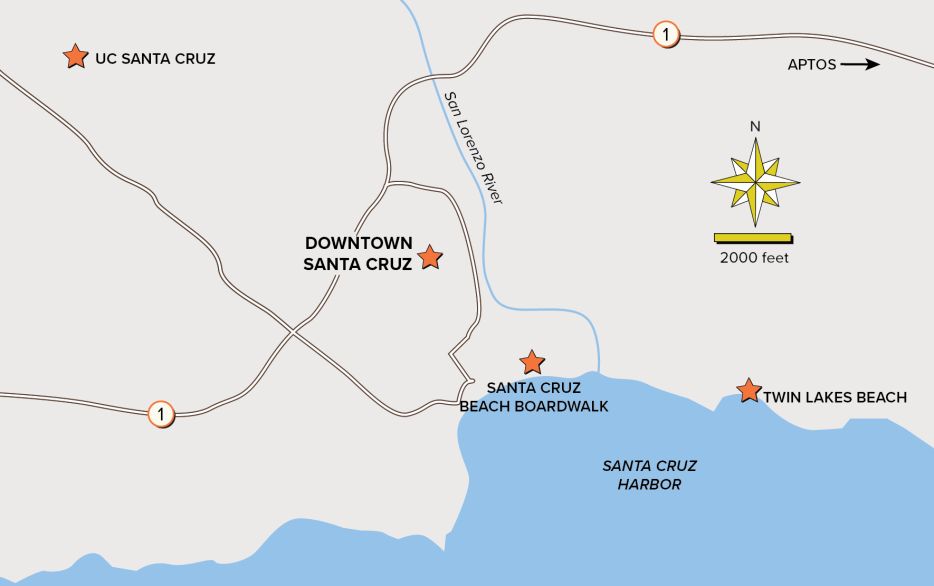 Live Oak to UCSC: 11.4 Miles Round-trip
Eddie decided we would beat our new walking record the next week and charted our course. This time, we started at Live Oak's Twin Lakes State Beach, a prime spot for bonfires, and hiked down along the sand, then meandered up onto the sidewalk hugging Santa Cruz Harbor, where egrets nesting in the eucalyptus shrieked at us. We passed diners outside harborside restaurants and a sea lion chasing a paddleboarder, then ascended a paved path to the lighthouse jetty on the northwest edge of the harbor. Here, tetrapods (or jacks, as locals call them) supported the jetty. These massive slabs of concrete, shaped like giant versions of a child's jacks, are piled around the ocean-facing edge to protect the harbor from rising tides. As you might expect, they proved epically appealing for my kids to climb.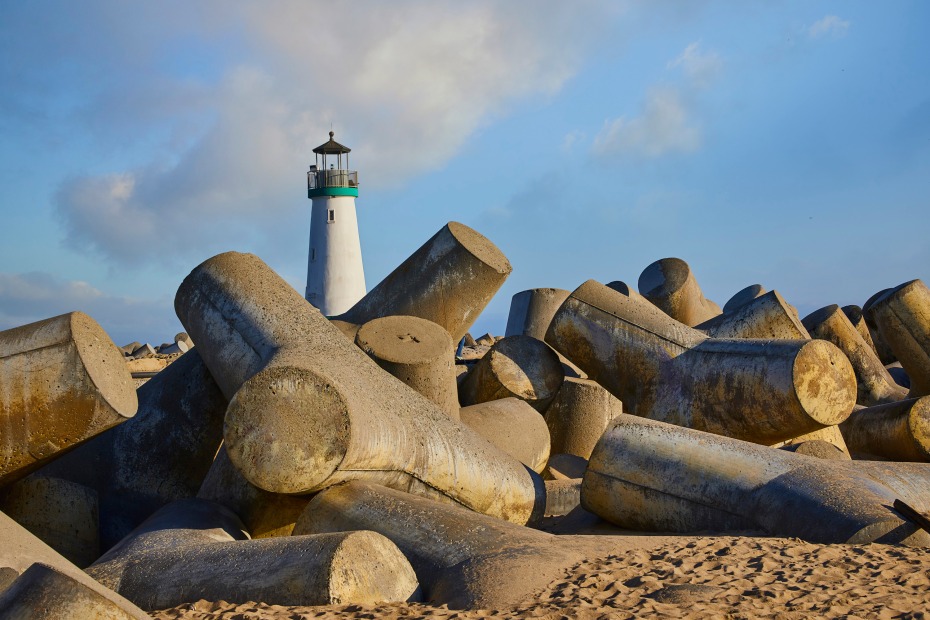 Eddie moved us onward by inspiring us to notice other human-made engineering feats as we walked through Santa Cruz. There was the Lost Boys trestle, a walking bridge featured in the iconic Santa Cruz '90s horror film, stretching over the San Lorenzo River near the Santa Cruz Beach Boardwalk. In downtown, we noted the historic architecture of Bookshop Santa Cruz's storefront on Pacific Avenue, the newly minted Riverwalk mosaic at the Tannery Arts Center, and a trail, complete with a fishpond, carved into the fold of Bay Street, a major thoroughfare leading up to UC Santa Cruz. Up on campus, the boys scaled the Squiggle, the giant red sculpture in the Porter Meadow overlooking the ocean. Humans had left their mark on this wild land and engineered great joys for our community, and us.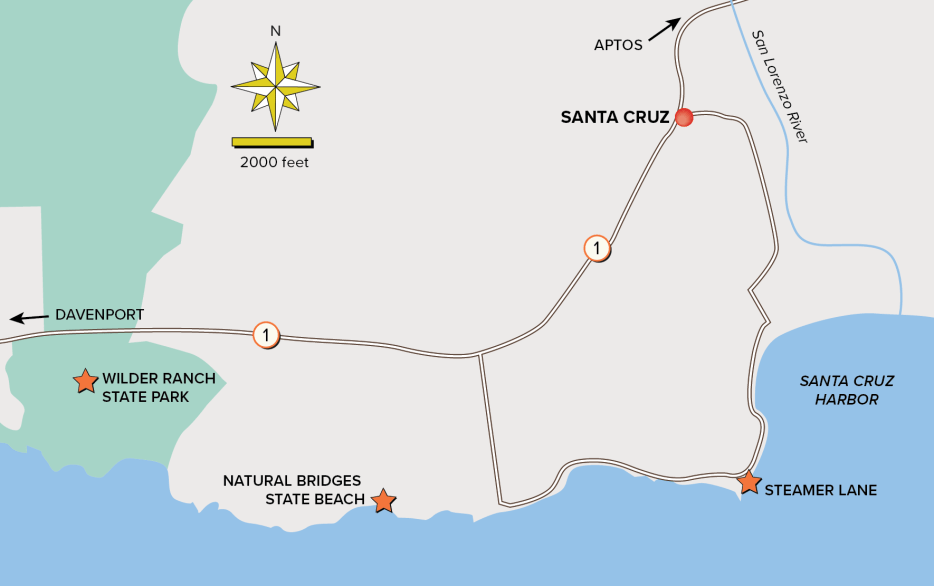 Santa Cruz to Davenport: 10.8 Miles Round-trip
Near the southeastern end of the West Cliff Drive walking path, where we started our next meander, ice plants spilled down the cliffs to an impossibly blue sea. Sea otters spun in the kelp. A jazz trio was playing alfresco near the famous Steamer Lane surf break. Couples picnicked on the lighthouse lawn; families hopped in the waves at Natural Bridges State Beach. 
Wandering north along Highway 1 toward Davenport, Kai spotted a hawk perched on an electric line. We paused to admire the predator's intricate wing design. There was nothing life changing about the act of noticing. Yet, on these walks we had all started paying attention to our world.
Resting under an oak tree at Wilder Ranch State Park, a preserved historic farmstead perched on the windswept cliffs over the Pacific, I said, "Think we're ready for the Skyline-to-Sea?" This hike takes three days. I explained that we could complete sections over multiple days, or do the whole trek in one go, camping along the way. "Let's break it up," Eddie said, always the voice of reason. "We've got lots of time."
Above us, a monarch took flight.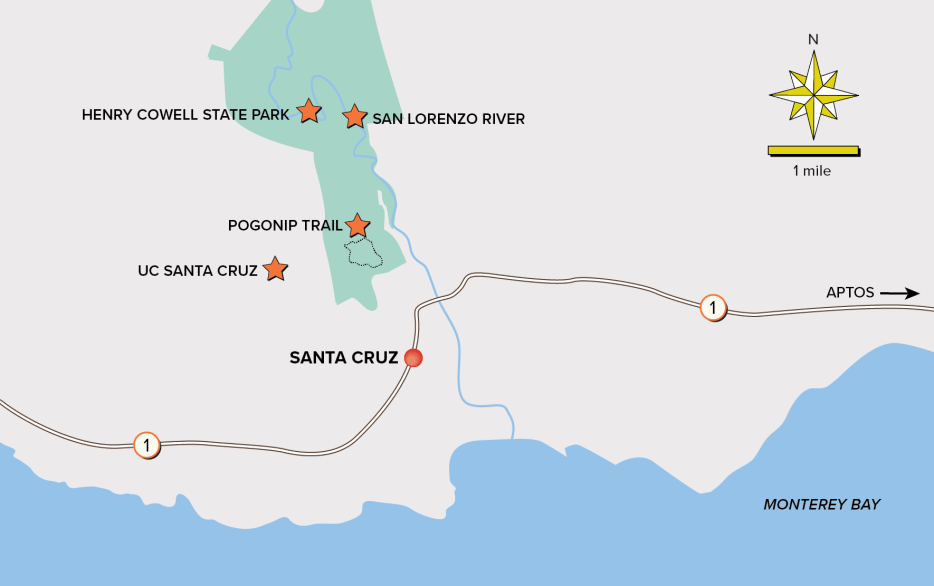 UCSC to Henry Cowell State Park: 10 Miles Round-trip
To prepare for this penultimate trek, we spent the summer of 2020 exploring the Santa Cruz mountains. Over a series of Saturdays, we started on the Pogonip Trail (near UCSC) and hiked into Henry Cowell State Park, spotting coyotes, jays, and the occasional lupine. We found caves, a koi pond, redwood sprouts hugging ancient tree trunks. One day, we hiked to the San Lorenzo River and floated back on innertubes.
Days before we were to begin the first leg of our three-day Skyline-to-Sea trek, however, lightning struck. Smoke rose from the treetops. For weeks, fires tore through this forest, destroying more than a thousand homes, charring the forest, and closing the Skyline-to-Sea Trail. Faced with another tragedy, our Santa Cruz community stepped up, offering shelter, clothing, and food to those in need. It took a pandemic to isolate us, but a fire brought us back together.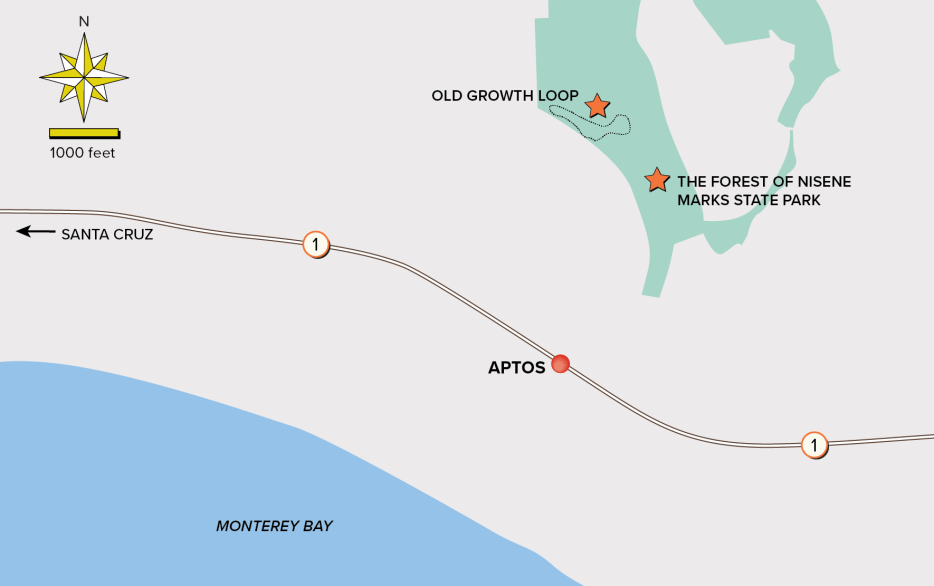 Old Growth Loop, Nisene Marks State Park: 9 Miles Round-trip
Disappointed that we couldn't complete our penultimate hike (at press time, almost a year after the fires, the Skyline-to-Sea Trail is still mostly closed), we walked into the forest near our home. The air had cleared. But burn scars remained from the spot fires throughout the county.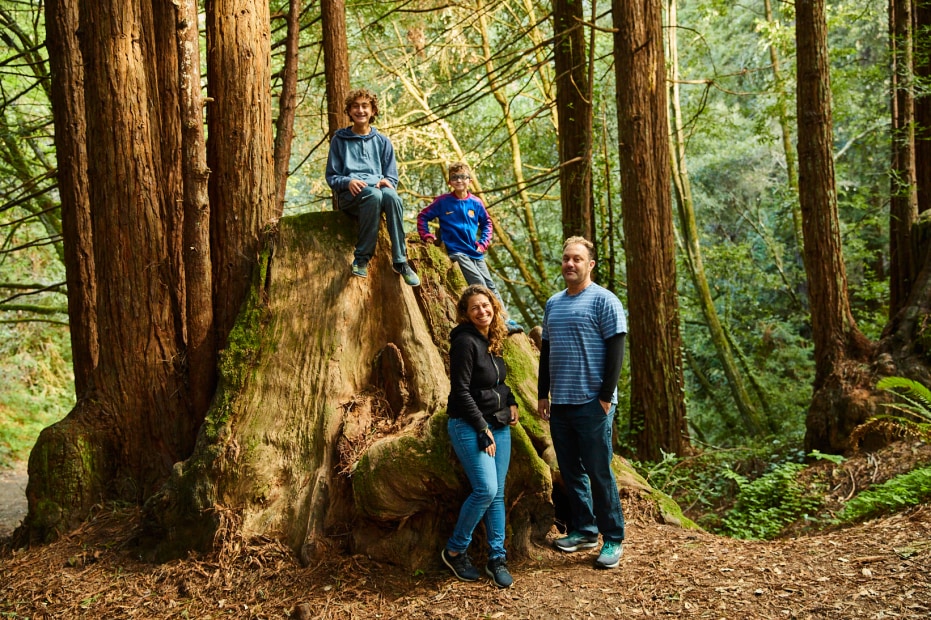 In the park's oldest redwood grove, Nikko noted how a circle of baby redwoods had sprouted around a hollowed and blackened tree. Kai explained that redwoods are meant to withstand fire. He pressed his hand against the soft bark and watched it bounce back. Eddie noted a little yellow flower bursting from the blackened dirt.
As we wove higher into the canopy, getting a birds-eye view of these ancient giants, birds flitted between the trees, a deer appeared on the ridge. Like us, nature marched onward, offering great lessons about resilience for those of us paying attention.