Surrounded by coast redwoods and the marine sanctuary of Monterey Bay, Santa Cruz encompasses its fair share of natural wonders—yet some are better known than others. While summer crowds head to the city's popular beaches and boardwalk rides, it's also fun to stray off the beaten path to discover the following hidden gems.
Fern Grotto at Wilder Ranch State Park
Despite its compact size, Santa Cruz County is home to 14 state parks and beaches, outnumbering most counties in California. One of the most rewarding is Wilder Ranch State Park, a historic coastal dairy farm with livestock, Victorian-era ranch structures brought to life during regular Living History days, and 35 miles of multi-use trails. The Old Cove Landing Trail skirts a sheer marine terrace—comprised of an ancient sea floor—that offers auspicious vantage points for spotting otters, dolphins, and migrating whales. At the 1.25 mile mark, a spur trail descends to Fern Grotto Beach, a golden-sand cove named for a spectacular sea cave adorned with spring-fed ferns.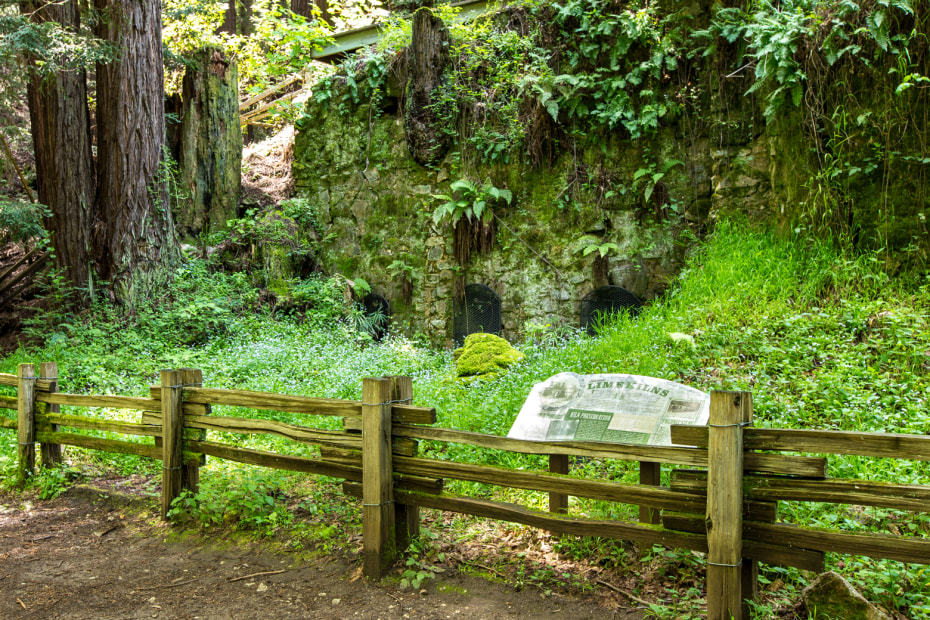 Limekilns and a Forest Koi Pond at Pogonip
Pogonip is noted for the diverse landscapes embodied within its 640 acres—from grassy meadows to redwood forests—but it's the park's more unusual features that should inspire exploration. A short stroll from the UC Santa Cruz campus, the Rincon Trail quickly leads to massive overgrown stone kilns that resemble something Indiana Jones might discover. The moss-covered relics were used throughout the 1800s to process lime, a vital ingredient of the plaster that helped build San Francisco. Immediately west of the kilns is a wondrous rock garden where hundreds of balanced rock piles fill a quarry. Double back to the Spring Box Trail and follow a trickling stream to an unexpected koi pond at the base of a redwood tree. What looks like mud lining the pond is actually tufa rock formed by calcium carbonate from the limestone-rich rocks upstream.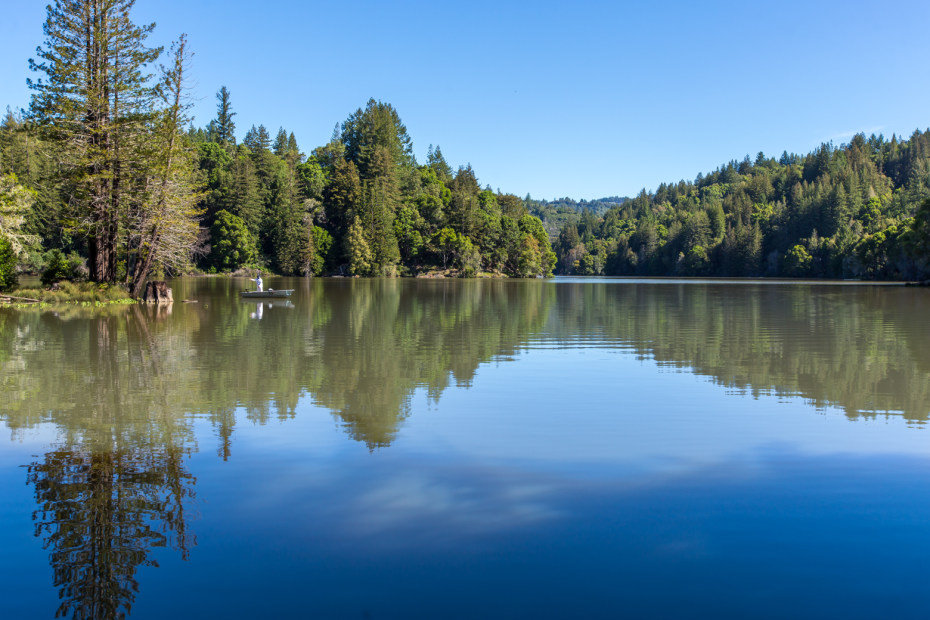 Loch Lomond: Hidden Mountain Lake
The mountain reservoir of Loch Lomond, which has kept Santa Cruz residents hydrated since its construction in 1960, feels like a slice of the Sierra just 13 miles from the beach. Swimming isn't allowed, but visitors can explore miles of secluded coves via rental boats from a waterfront park store (electric boats are nabbed first by fisherman hoping to reel in the lake's bass and trout). Landlubbers won't be disappointed with the Loch Trail, which follows the eastern shore, dipping in and out of Douglas fir and redwood groves. Numerous picnic areas dot the path, but the most prized tables are on diminutive Clar Innis Island, which sits in the middle of the lake, accessible only by boat. Note: Loch Lomond is open March through mid-October.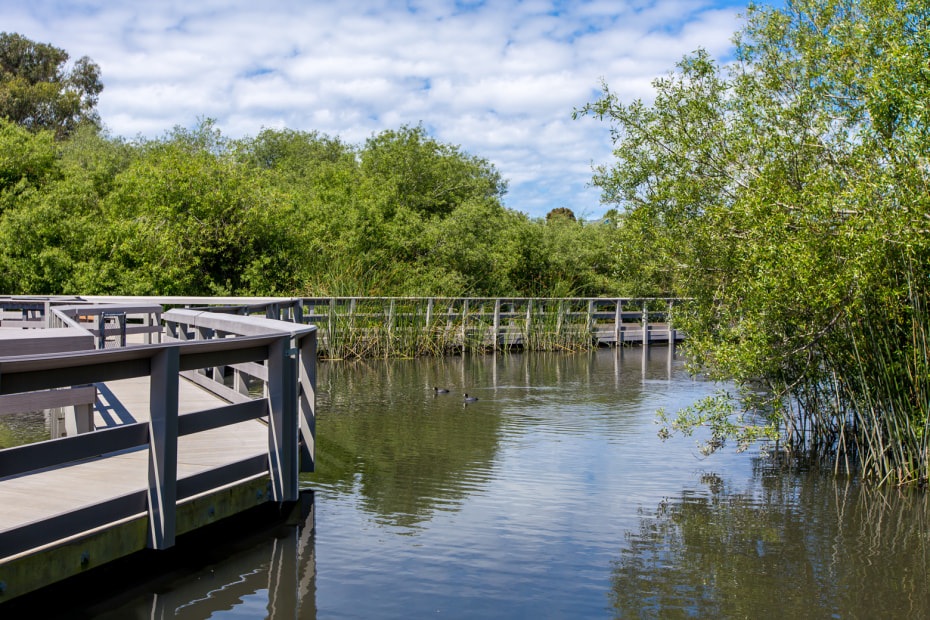 Urban Wildlife Refuge at Neary Lagoon
Ten minutes from the twirling rides of Santa Cruz Beach Boardwalk sits the peaceful wildlife sanctuary of Neary Lagoon. A perimeter trail flanks its willow thicket–lined shores, but the real fun is strolling a floating boardwalk that zig zags over the water, immersing visitors in a flourishing freshwater marsh habitat. Boisterous chirps and calls fill the air, signaling the lagoon's animated bird population that includes wood ducks, herons, kinglets, and warblers. A series of interpretive signs lists other residents to watch for such as the western pond turtle and Pacific tree frog.
The Garden of Eden at Henry Cowell Redwoods State Park
As the San Lorenzo River wends its way from the Santa Cruz Mountains to Monterey Bay, it occasionally forms pools such as the Garden of Eden, an idyllic swimming hole bounded by steep canyon walls and a sandy riverbank in Henry Cowell Redwoods State Park. Directional signage is sparse, but the route is simple and scenic. From Highway 9, follow the Ox Trail through a fern-lined redwood forest to railroad tracks and veer right, paralleling the tracks and rushing San Lorenzo River below. After roughly half a mile, cautionary signs—no dogs or diving—will mark a short trail down to the river. There are no facilities at this paradise, so remember to pack any trash.