Anyone who has driven along Highway 1 as it wraps around the California coast knows there is magic around every corner. Historic lighthouses atop expansive bluffs, baby elephant seals lounging on beaches, and coastal u-pick farms await curious roadtrippers traveling between San Francisco and its laid-back cousin to the south, Santa Cruz. And yes, the destination is just as great as the journey—finish off your drive with a just-picked meal, hand-brewed beer, and a jewel-toned sunset over Santa Cruz's picturesque bluffs.
Trip Overview
Total distance: 70 Miles
Estimated drive time: 1.5 to 2 hours if you drive straight through; a half day if you linger and stop along the way.
When to go: To avoid thick fog or winter rain, the best time of year for the drive is early spring or late summer into fall. September brings some of the warmest days—ideal for lounging on a beach. In July and August, dense fog often envelops the coast and whites out the ocean just feet away. Late fall and early winter promise some of the clearest days and best views but require more layers for beach visits. Passengers can look out for whales in December and January as they too head south for the winter.
Drive tip: During the warm season, plan to leave early in the day or go on a weekday to avoid bumper-to-bumper traffic—visitors flock to the coast when the inland heats up, and the drive can take you twice as long.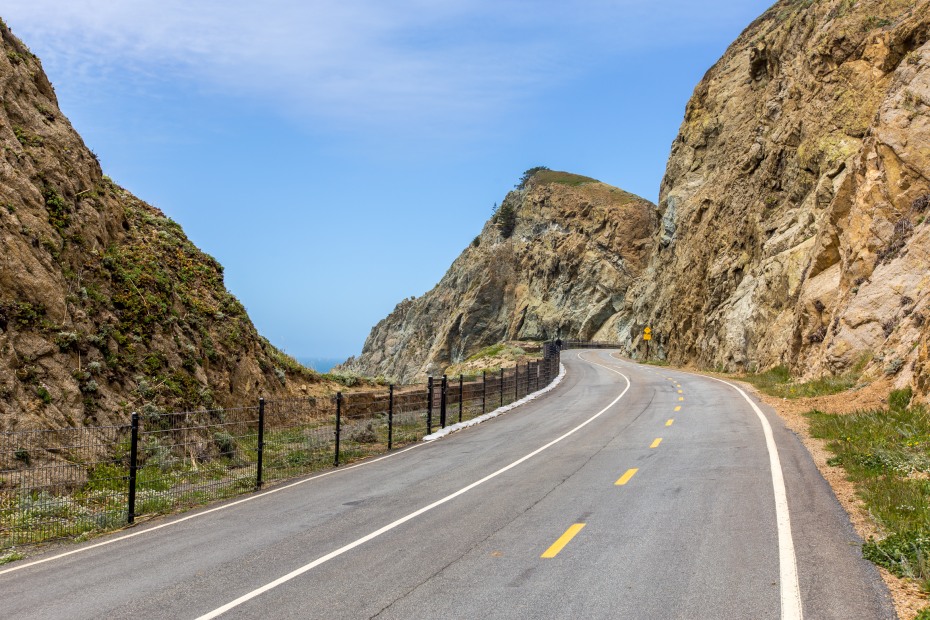 Things to do Along Highway 1 Between San Francisco and Santa Cruz
Pacifica
Pacifica State Beach (known to locals as Linda Mar Beach) is the city's most popular beach and the perfect place to stretch your legs and get into the mood for the journey ahead. At Soul Grind Coffee Roasters, grab a snack (or full breakfast if you're really hungry) and a Soul's Cocoa made with local TCHO chocolate or a hot Cliffside—a latte spiced up with house-made vanilla and caramel mix. Warm up in front of the fireplace inside, or walk to the end of the parking lot and onto the beach to stroll while you sip. (Note: In wetter months, take the path along the frontage road, San Pedro Ave., to safely cross the creek before putting your toes in the sand.)
One of the most treacherous stretches of Highway 1—just south of Pacifica—was bypassed by the Tom Lantos Tunnels and transformed into a relaxing walking trail with striking cliff views. As soon as you exit the southbound tunnel toward Montara, pull into the parking lot on your right to access the Devil's Slide Trail. The paved, multi-use pathway is one of the best ways to take in the beauty of the day's coastal drive.
Half Moon Bay
Locally owned boutiques and specialty shops line Main Street in this charming town. Turn off Hwy. 1 onto Kelly Ave. to window shop, or stop in at Half Moon Bay Wine and Cheese Company to pick up California wines and perfectly paired cheese to savor at your final destination. Need something to pass the time in the car or on the beach? Fengari Fiber Arts has materials for your next knitting or fiber project, and Coastside Books is stacked with vacation-worthy reads.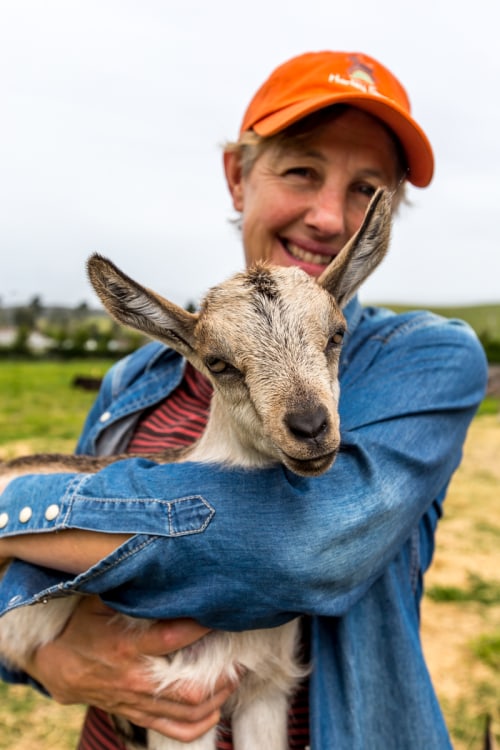 Pescadero
Set the kids free and tour Harley Farms's goat dairy to see how the cheese is made and to pet the goats, Rosie the donkey, and the friendly farm dogs. On warmer days, the tide pools at Pigeon Point Light Station are also a great stop to get the wiggles out. In spring and summer, Swanton Berry Farm has strawberries and olallieberries available for u-pick, and kiwis—of all things—are available at their Davenport farm stand in November or December.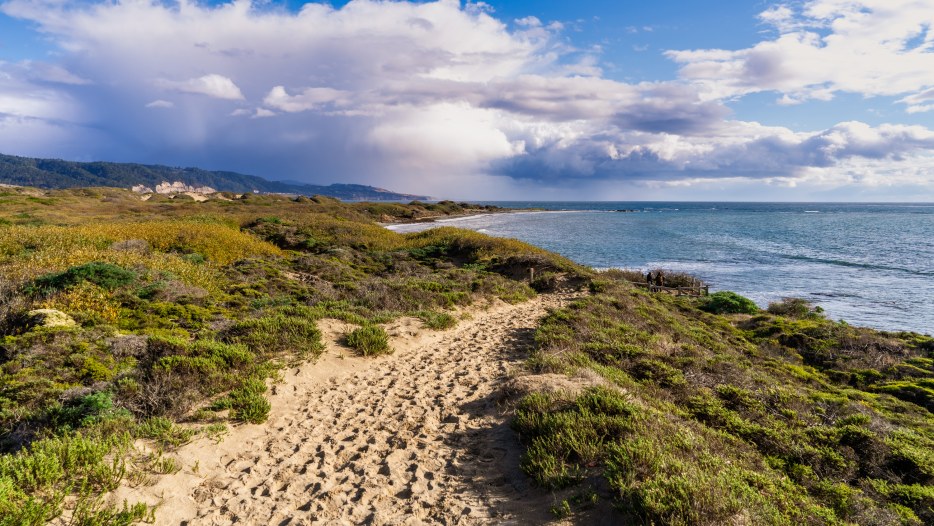 Año Nuevo State Park
Get a good look at the locals at Año Nuevo—the park is home to one of the largest mainland colonies of northern elephant seals. December 15 through March, sign up for a guided walk to watch the male elephant seals battle on the beaches for mates and see pups birthed on the dunes. The rest of the year, take a self-guided tour that includes a 3–4 mile moderate hike to see the weaned pups play and loaf on the beach. (Note: seal viewing is closed to visitors December 1–14.)
Santa Cruz
You can spend days in Santa Cruz without running out of things to do. Beyond the obvious beach adventures along the Boardwalk, the coastal city boasts many hidden nature spots where crowds are sparse and the area's history and ecology are on display, such as Wilder Ranch State Park and Neary Lagoon, a peaceful watershed area just minutes from the bustling Main Beach.
Smart Tip: If you are short on time, skip the Boardwalk and head to Lighthouse Field State Beach, dog-friendly Mitchell's Cove Beach, or Natural Bridges State Beach instead. You'll get a better feel for Santa Cruz and skip the crowding that's common on Main Beach.
When you're ready to take a break from playing outside, head inland to eat, drink, and shop. The main drag is Pacific Avenue in downtown where Pacific Trading Co. and Stripe hold down the local shopping scene with trendy, casual wears and stylish, midcentury modern home accents.
While downtown bustles, the West Side encourages relaxation alongside locals. Warm up or cool down with Verve Coffee, have a conversation over a beer and bites at the West End Tap and Kitchen, and hunt for California-surfer-cool in Cameron Marks on Ingalls Street.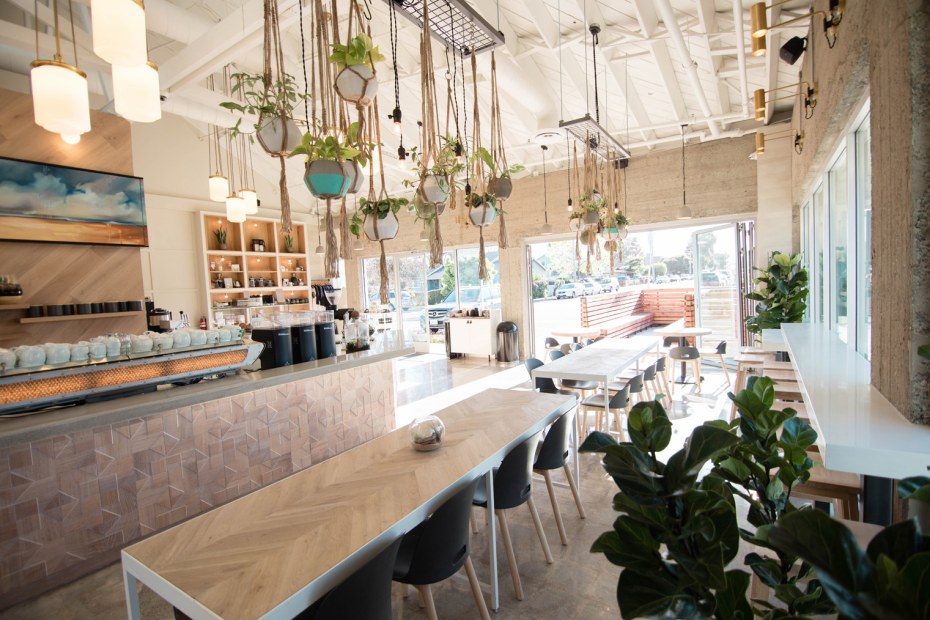 Where to Eat Along Highway 1 Between San Francisco and Santa Cruz
Gorilla Barbecue, Pacifica
In the early 1900s, the ill-fated Ocean Shore Railroad began building a harrowing coastal track to carry tourists from San Francisco to Santa Cruz. Today, the only reminders of the short-lived railroad are nearly washed out pieces of track jutting from cliffs and railcars scattered down the coast. One of the most visited of the bunch is Gorilla Barbeque, which sits in a bright rust-colored boxcar on Highway 1 in Pacifica next to one of the old railroad stations (now Vallemar Station Grill). Since its debut on Diners, Drive-Ins, and Dives, patrons should expect a line most days that forms before opening and runs into the afternoon. The take-out-only shop serves up smoked meats such as pulled pork, brisket, and chicken alongside helpings of mac and cheese, coleslaw, and flavor-packed grilled veggies. Gorilla is best as a lunch stop as it frequently sells out and closes shop before dinner on busy weekends.
Dad's Luncheonette, Half Moon Bay
Housed in a red caboose, Dad's Luncheonette delights with a wonderfully simple menu filled with local ingredients. Choose from a grass-fed hamburger sandwich topped with a soft egg, melted cheese, red onion, pickles, Dad's sauce (a secret housemade mayo-based condiment), and red oak lettuce on grilled Rosalind Bakery white bread; or a mushroom sandwich with hen of the woods (Maitake) mushrooms and the works. And while it's possible to choose just one of the sides, we can't see why you'd want to. Load up with homemade potato chips, mac and cheese topped with puffed rice and chives, a cup of seasonal soup, or, to lighten things up, Mom's herb salad with a meyer lemon vinaigrette. Dad's is only open Thursday through Sunday, and can sell out before closing time on weekends.
Cascade Bar and Grill at Costanoa Lodge, Pescadero
From breakfast to dinner, Cascade offers local and organic bites that change with the seasons. Nearby farms, including an organic one onsite, feature strongly on the menu. Indulge in the sourdough French toast with spiced vanilla custard and whipped butter for brunch, if you make it in time. If not, delicious alternatives include the fresh seafood—think fish tacos, Dungeness crab cakes, and fresh oysters; homemade pappardelle with rainbow chard, chèvre, and walnuts; and salt-brined French fries with rosemary, garlic, calabrese chiles, and grana padano. Reservations are recommended for dinner.
Abbott Square Market, Santa Cruz
Satisfy groups with options from the diverse vendors inside downtown's Abbott Square Market. From poke and Neapolitan pizza to vegan, West African-inspired dishes and handcrafted popsicles, there's something for everyone.
Penny Ice Creamery, two locations in Santa Cruz
This is the kind of ice cream shop that makes a scoop or three seem like an excellent idea even if it's 50 degrees outside and raining. Penny Ice Creamery serves inventive and playful seasonal flavors that are based on what's fresh from favorite nearby farms. Expect cones of spiced pumpkin and orange cranberry ginger in winter; peachy peach, whiskey custard, and strawberry sorbet in summer; and classic cookies n' cream, Tahitian vanilla bean, and chocolate sorbet year round.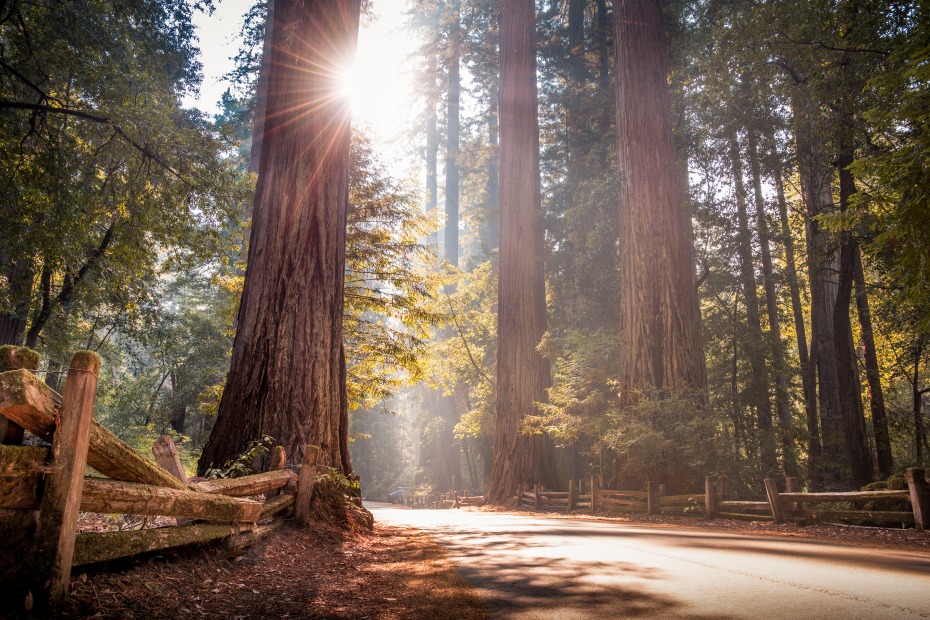 Worth a Detour: Big Basin Redwoods State Park
Head inland at Davenport and explore the coast's famous redwood groves in Big Basin Redwoods State Park. The towering trees are a nice break from the ocean views, and they offer blissful cool on summer days. Big Basin also provides a great place to camp for the night before continuing on down the coast, just be sure to book a campsite months in advance as they fill up quickly.