Need an altitude adjustment? These aerial gondolas and trams offer a new perspective on seven spots in the West.
1. The Oakland Zoo's 20-minute-long Sky Ride not only boasts sweeping views of the San Francisco Bay Area, but it also zips above the park's resident bison and elk—which can only be seen from the ride—as well as lions, tigers, camels, and giraffes.
2. Moving at a speed of 800 feet per minute, the Mt. Rainier Gondola at Crystal Mountain in Washington glides over evergreen forests and alpine meadows. It seems like a long way up to the summit (elevation 6,872 feet)—until, that is, you reach the top and see all 14,411 feet of Mt. Rainier towering in the distance.
3. Traveling above a craggy desert landscape fit for a spaghetti western, the Palm Springs Aerial Tramway climbs 5,873 feet up a cliff in the rugged Chino Valley. The trip ends at the Mountain Station—the gateway to the Mount San Jacinto State Park and Wilderness Area.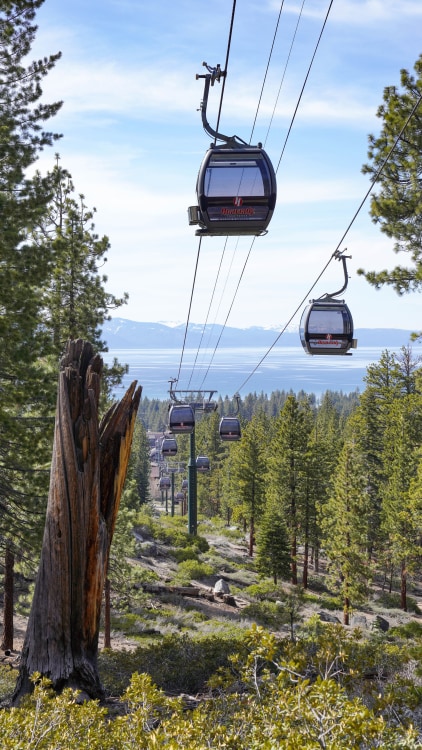 4. On the Heavenly Mountain Gondola, visitors zoom 2.4 miles up a rocky, tree-covered incline, while catching stunning views of Desolation Wilderness, the Carson Valley, and a glittering Lake Tahoe. At the top, a network of hiking trails from beginner to advance awaits.
5. SkyTrail at Trees of Mystery in Klamath, California, travels a third of a mile through coastal redwoods, Sitka spruce, and Douglas fir, ending at Ted's Ridge, where an observation deck offers views of the Pacific Ocean and surrounding forest.
6. The Scenic Gondola Ride at Mammoth Mountain ascends 11,053 feet to the summit, which presents 360-degree views that stretch as far as 400 miles away. The summit is also home to the Eleven53 Interpretive Center, where visitors can learn about the region's natural history.
7. At its highest point above the Silverado Canyon, Palisades Tahoe's Aerial Tram lifts passengers some 550 feet above ground—about the height of the Washington Monument. High Camp, the tram's endpoint, offers activities such as roller skating, hiking, and swimming (the pool is closed for summer 2022).