In the sun-kissed Coachella Valley of Southern California, Palm Springs and its neighboring communities embrace tradition alongside innovation like few places on earth. Take, for example, the region's distinctive desert modernist structures, built from the late 1930s to the 1970s. "Palm Springs is known internationally for its diversity and concentration of midcentury architecture adapted to the desert," says valley native and architect Lance O'Donnell. And while some of those buildings are meticulously preserved, others are being thoughtfully transformed into 21st-century spaces—restaurants, museums, and more. A few harken back to Hollywood's golden age, when Palm Springs first became a hideaway for the stars. The wealth of vintage cool juxtaposed with the new-and-now makes for an exciting trip back to the future. If you go, don't miss these desert icons and current hot spots.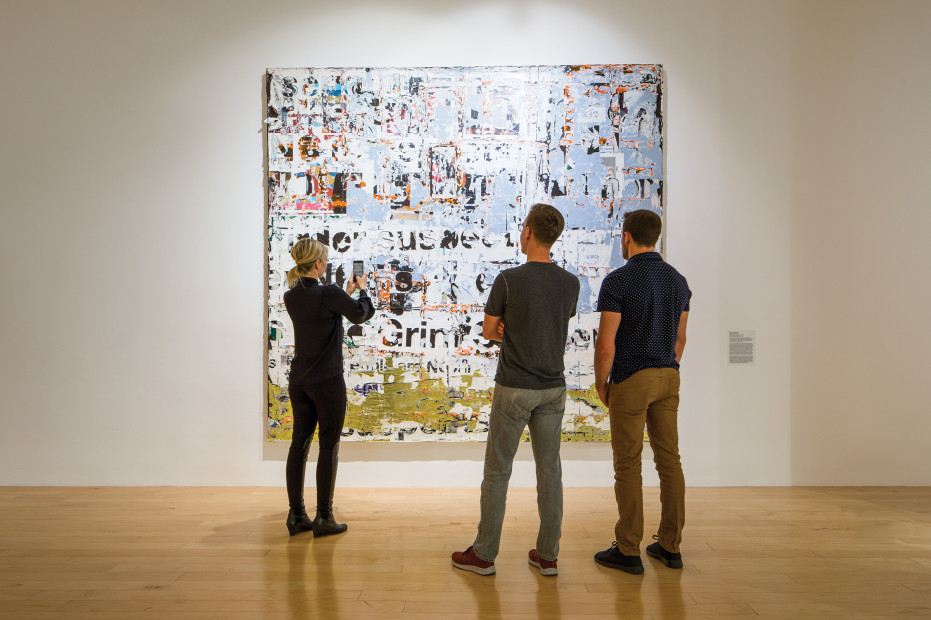 Art
Founded in 1938 to present natural science, Palm Springs Art Museum today showcases world-class modern and contemporary art at three locations: a main space downtown, a stand-alone architecture and design center nearby, and a satellite gallery in Palm Desert. The museum rotates works from its permanent collection of 11,000-plus sculptures, paintings, and objects by 20th-century greats Alexander Calder, Henry Moore, Robert Motherwell, and others. It also mounts lively temporary exhibits, such as the first major solo show (Jan. 18–May 31) by artist and cattle rancher Gerald Clarke, a tribal leader of the Cahuilla Band of Indians whose work often strives to debunk stereotypes about indigenous peoples.
Desert Void, the flamboyant 2019 mural by Chaz Bear—aka singer, songwriter, and producer Toro y Moi—brought vivid abstract shapes to an outdoor wall of the Ace Hotel & Swim Club in Palm Springs. Like the everchanging landscape from which it drew inspiration, his masterpiece is fleeting: Every April, the hotel unveils a new largescale work on the side of its Commune building to coincide with Coachella Valley Music and Arts Festival events. No word yet as to what's on deck for the next installation (the ninth to date), but you can bet it won't be any wallflower.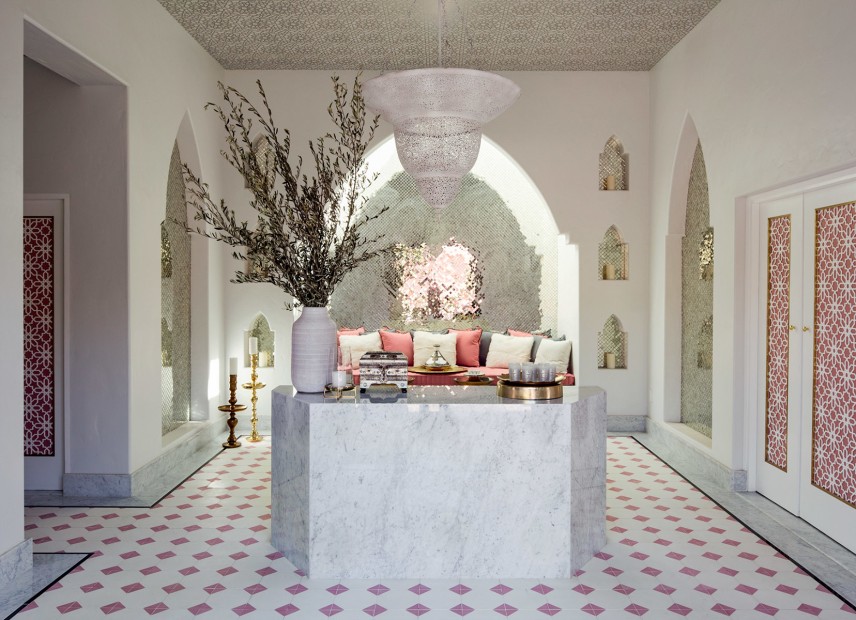 Architecture and Design
In designing his 1963 Palm Springs abode, prominent Swiss architect Albert Frey created a bold hillside pavilion of steel, glass, and corrugated metal physically wedded to the land, with a boulder dividing the living and sleeping spaces. You can visit the still-startling landmark, now known as the Frey House II, as an optional add-on to the Modern Tour, the official tour of the Palm Springs Art Museum's Architecture and Design Center. The three-hour guided excursion by SUV features two to four stops for viewing the interiors of private homes in neighborhoods packed with gems of midcentury modern architecture.
Current Hot Spot: Sands Hotel & Spa
Morocco meets modernism with a big splash of whimsy at the new Sands Hotel & Spa in Indian Wells. What was originally a late 1950s hotel has been reimagined by Los Angeles interior designer Martyn Lawrence Bullard, a star of Bravo's hit TV series Million Dollar Decorators. You don't have to stay overnight to sip a refreshing Ginger Kicker in the Pink Cabana restaurant (where the decor offers a groovy mint-green-and-pink riff on a midcentury Palm Springs tennis club) or schedule a hammam-style treatment (with a body mask of jasmine-infused rhassoul clay sourced from the Atlas Mountains) in the spa.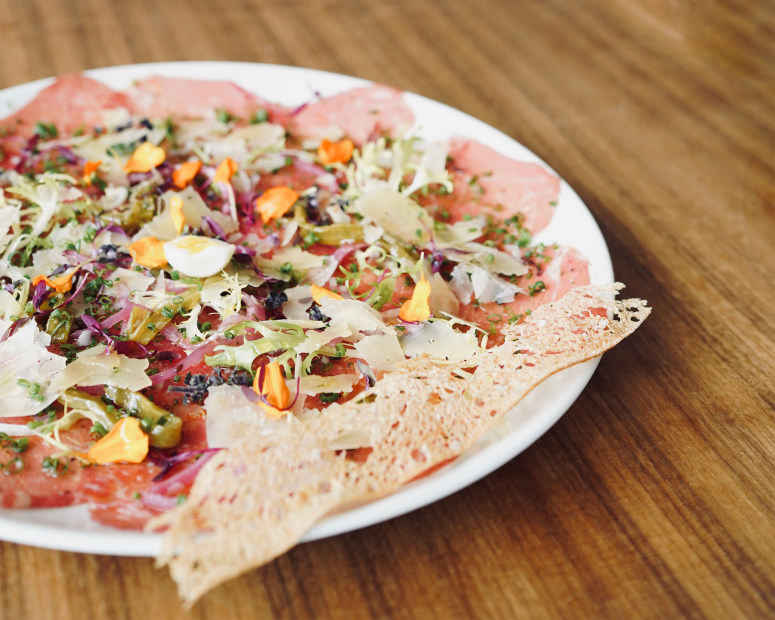 Fine Dining
Celebrity sightings and nostalgic fare have been staples at Melvyn's since its 1975 debut. A recent makeover kept the Palm Springs restaurant's dressy, retro-glam aura but updated most of the menu. You might hear "Fly Me to the Moon" from the adjacent piano lounge while tucking into the joint's signature cognac-and-mushroom-sauced steak Diane, still flambéed tableside by a tuxedoed waiter, just as it was for Frank Sinatra in his regular corner booth (No. 53).
Current Hot Spot: 4 Saints
Perched on the seventh story of Kimpton the Rowan Palm Springs hotel—the city's tallest building, opened in late 2017—4 Saints' rooftop restaurant and bar draw a buzzy crowd in search of innovative cocktails, globally inspired food, and sweeping desert and mountain views. Seasonal plates often feature locally grown or foraged ingredients. Look for beef carpaccio with pickled onions and shaved Parmesan or a vanilla-cream crepe in a golden pool of passion fruit puree.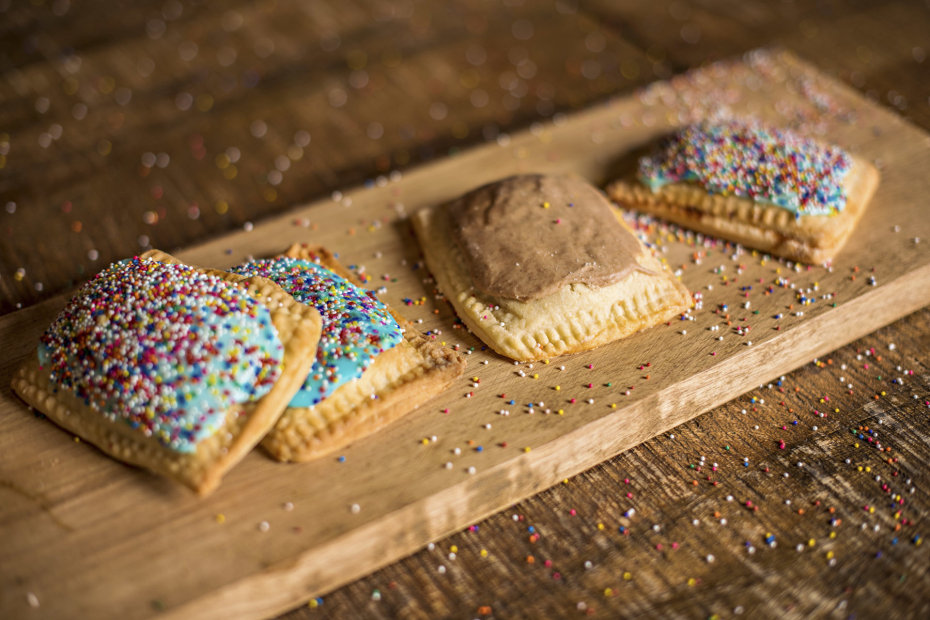 Casual Eats
If the decor at Keedy's screams "1957," that's because it hasn't changed much since this beloved Palm Desert breakfast-lunch spot opened that year. The extensive menu packs Mexican favorites such as huevos rancheros or machaca (dried and rehydrated spiced beef) with eggs alongside American diner classics such as buttermilk pancakes, hot or cold meat loaf sandwiches, and hand-dipped chocolate malts. Patrons order while seated at dinette tables of Formica and chrome or atop swivel stools upholstered in aqua vinyl at the long, curving counter.
Wilma & Frieda's Cafe promises "comfort food with a twist," and the latest outpost of this popular Palm Desert café—which opened in downtown Palm Springs in fall 2018—delivers. Start breakfast or brunch on a sweet note with a house-made triple-berry "pop tart" before devouring the surf-and-turf eggs Benedict starring lobster and filet mignon. For lunch or dinner, it's hard to beat the primo burger, a chopped-chuck-and-short-rib patty topped with your choice of nine cheeses and accoutrements such as bacon and jalapeños on a brioche bun. Start with duck-fat fries after 5:30 p.m.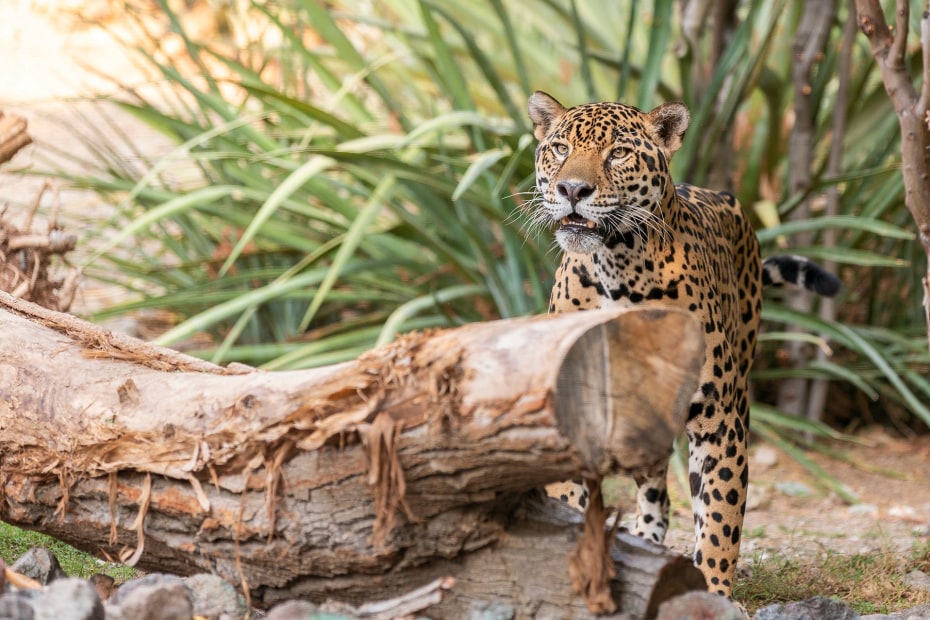 Attractions
Cabot Yerxa, an early-20th-century Desert Hot Springs homesteader and self-described "desert rat," built this Hopi-inspired edifice of adobe bricks and salvaged wood as his home. He opened it to the public as a museum in 1950, while he still lived there. Its rooms are chockablock with Yerxa's collection of American Indian art, as well as his own Western paintings and personal effects. Outside, don't miss Waokiye, a monumental face carved from a 45-ton sequoia log, one of over 70 "whispering giants" that artist Peter Toth has created across the United States and Canada.
The visitor experience at this top-rated zoo changes routinely—and, thanks to an ongoing $30 million expansion, its facilities also continue to evolve. Features added in fall 2018 include a grand entry plaza with a state-of-the-art video wall for planning your visit and a garden shaded by the spreading canopies of 50-foot-tall fever trees, a species native to Africa. The site specializes in preserving the diverse flora and fauna of the world's deserts, such as giant saguaro, jaguars, and bat-eared foxes. Coming in 2020: an Australian Adventures exhibit that allows close encounters with wallabies.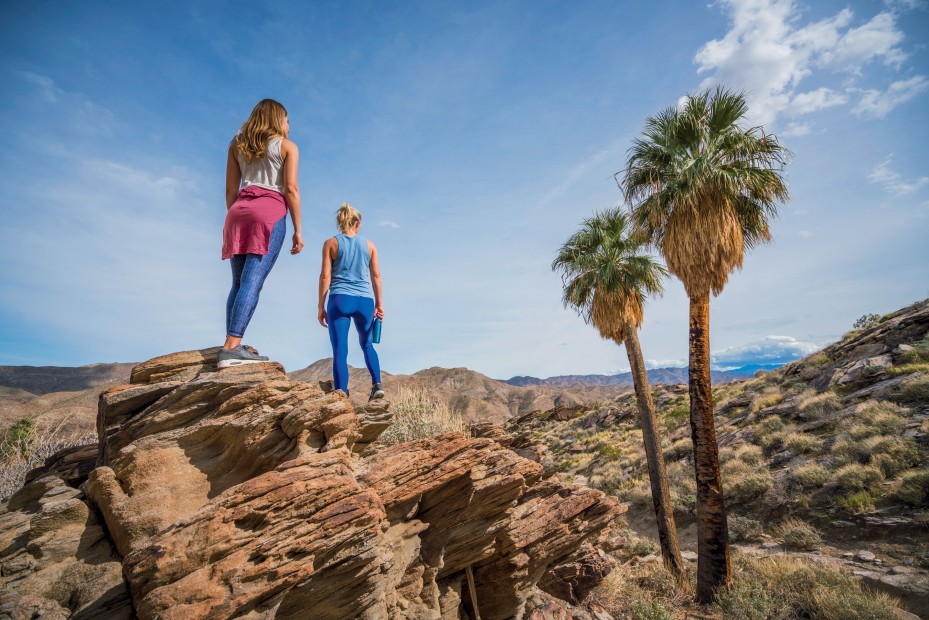 Outdoors
Even before Palm Springs incorporated as a city in 1938, the Indian Canyons—situated on the Agua Caliente Indian Reservation—were popular with hikers. Today, over 60 miles of trails lace the area, enabling treks of varying difficulty that lead to the canyons' streams and unexpectedly lush vegetation. The relatively flat, one-mile Andreas Canyon Loop wends past spectacular jutting rock formations, beneath the shade of willows and sycamores, and through one of the world's largest oases of California fan palms.
Dedicated in 2018, the Kim Nicol Trail winds through sandy, open desert, where you're likely to see spring wildflowers including poppies, milk vetch, and dune evening primrose. The moderately challenging loop, beginning in Desert Edge, ascends high enough to provide panoramas of the surrounding landscape and distant mountains. Bonus for sharp-eyed hikers: This is prime habitat for the Coachella Valley fringe-toed lizard, an endangered species that hides out underground when it's cold and can grow up to nine inches long.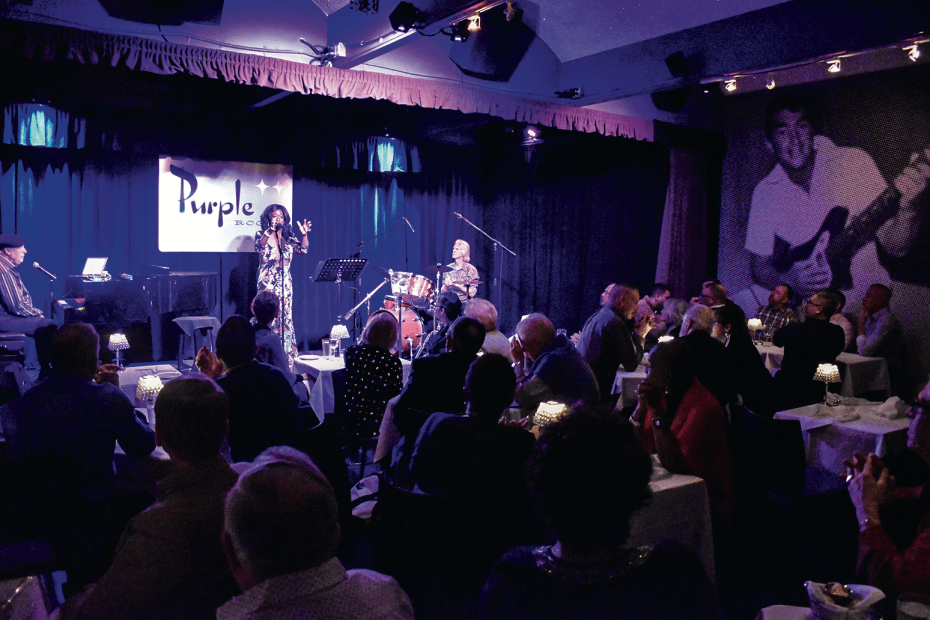 Nightlife
Sammy, Dino, and the rest of the Rat Pack began playing onstage and off at the Purple Room shortly after it debuted in 1960. A recent face-lift kept the vintage nightclub vibe, and the intimate venue still presents big names for its ticketed Friday and Saturday dinner shows. Weeknight, no-cover performances feature talented house acts such as sultry jazz chanteuse Rose Mallett. The hilarious parody of a 1963 Judy Garland Show episode (by an impersonator in drag) that unfolds on Sundays is fast becoming a Palm Springs institution.
Current Hot Spot: The Alibi
The Alibi, which slipped into the Palm Springs music scene in 2019, feels like a chill house party. Inside, you'll find a dance floor, a 1961 jukebox stocked with 45s, and on some nights a band or DJ playing jazz, funk, disco, salsa, garage rock—you name it. On the patio, patrons can grab a beer or a cock- tail from the bar and a bite from the Heyday Burger Pop-Up before settling into booths with swinging glider seats.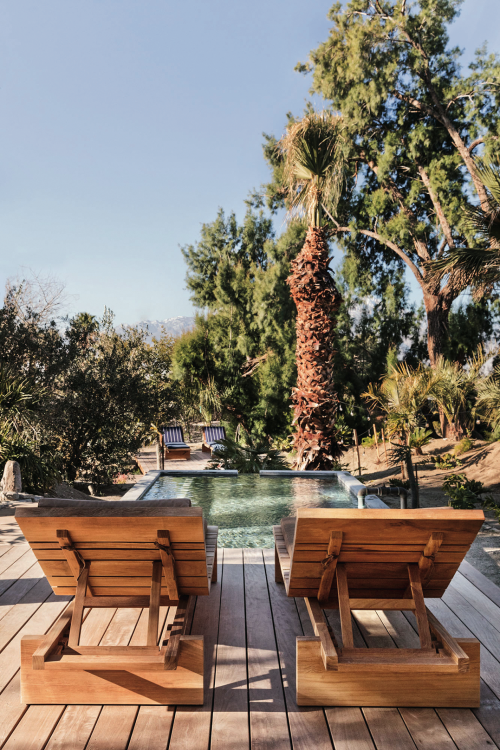 Mineral Spas
Desert Icon: Two Bunch Palms
The rustle of fronds from Two Bunch Palms' namesake groves is often the loudest sound you'll hear while relaxing in the 75-degree cool pool, the 104-degree thermal mineral pool, or one of the soaking tubs. Hippies, Hollywood honchos, and everyone in between have taken the soothing waters here since the adults-only hotel resort opened nearly 80 years ago in Desert Hot Springs. If you aren't staying overnight, a spa treatment or a day pass gives you access to the facilities.
Current Hot Spot: Monarch Springs
Only one couple per two-hour session has the privilege of soaking smack in the middle of the desert at Monarch Hot Springs, which opened in 2017. Reached by a 200-yard dirt path, the hand-built rock pool col- lects water from a geothermal source and maintains it at a toasty 101 degrees. It sits on a private, secluded parcel with views of the peaks ringing the Coachella Valley—some snow-capped in winter—and sunsets straight out of a 1930s Technicolor movie. Bookable through Airbnb Experiences.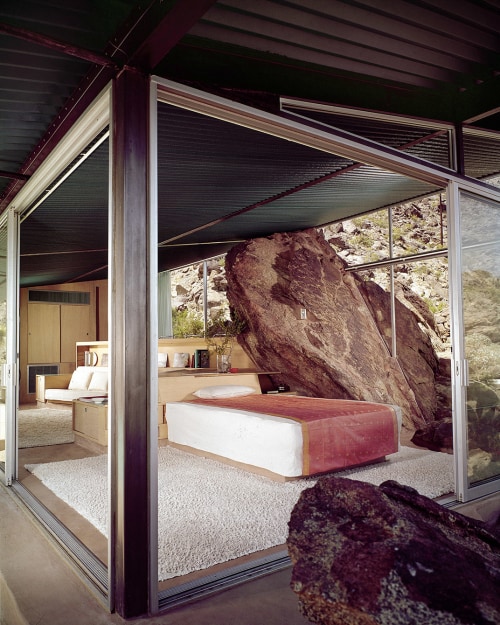 Modernism Week
Modernism Week (held Feb. 13–23 this year) draws visitors to Palm Springs with an annual cavalcade of exhibitions, talks, and tours of midcentury modern homes.