Coachella Valley, California
Roughly 100 miles southeast of Los Angeles, the 45-mile-long Coachella Valley offers easy access to the Mojave Desert's natural attractions. In the Big Morongo Canyon Preserve, trails lead from ridges overlooking 8,319-foot San Jacinto Peak to one of the state's 10 largest stream habitats shaded by cottonwoods and willows. In the Coachella Valley Preserve's Thousand Palms Oasis, you can wander a verdant grove of California fan palms fed by water seeping from the San Andreas Fault.
For a full day trip, head just outside the valley to Joshua Tree National Park. A drive along Park Boulevard, between the park's north and west entrances, features sweeping desert vistas, stands of Joshua trees, and spectacular boulder formations. Be sure to stop for desert walks on the many interpretive trails just off the boulevard.
As for tourist amenities, the valley is home to a string of communities diverse enough to suit any kind of visitor. Looking for shopping, culture, and nightlife? Palm Springs is the ticket. Many of the chic inns of otherwise funky Desert Hot Springs have their own hot mineral water pools, while Indio—which produces 95 percent of the dates grown in the United States—hosts the Riverside County Fair & National Date Festival February 14–23, 2020.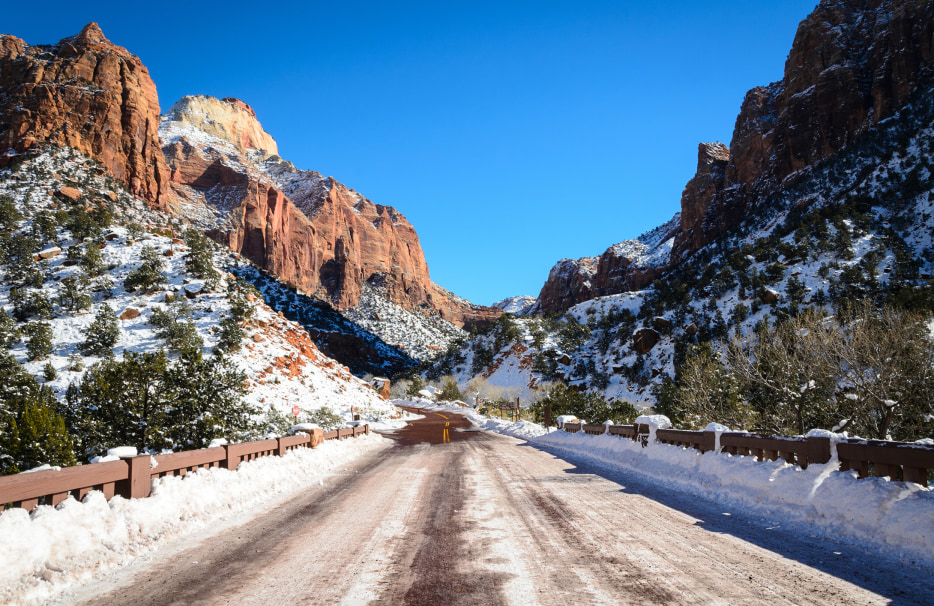 St. George, Utah
The small town charm of St. George would alone make it a fine winter destination of golf courses, historic buildings, and dozens of restaurants set against a backdrop of burnt orange cliffs. But this town in far southern Utah is also a fine launching pad for desert forays. In Snow Canyon State Park, nine miles north of town, check out red and white Navajo sandstone cliffs, old lava flows, and petrified sand dunes 2,500 feet thick on 38-plus miles of hiking trails or on a three-mile paved walking-and-biking path. Guided horseback rides are also available.
Zion National Park lies about an hour away from St. George. While the famous 6.5-mile scenic drive through the park's main canyon is open only to public shuttle buses during the height of the tourist season, private cars can make the trip from November to March, stopping along the way for hikes. Keep in mind that some of Zion's higher elevation trails may be closed due to ice, but plenty of lower trails are open. Try the easy to moderate, three-mile round trip Watchman Trail, which leads to a viewpoint 300 feet above the main canyon.
Death Valley National Park, California and Nevada
A landscape of sublime isolation and austere beauty, and the largest national park in the lower 48 states, Death Valley is a world unto itself. Straddling the California-Nevada state line, it consists of snow-capped peaks surrounding a graben (a sunken portion of Earth's crust), where the geological wonders include painted canyons, spring-fed oases, volcanic craters, towering sand dunes, and a 200-square-mile salt pan. Lodgings within the park range from basic to deluxe, making it easy to immerse yourself in Death Valley for a few days.
Seeing sights takes time here because most are remote and many are reached only after a slow trip on a four-wheel drive road. For an easy excursion, take a spin on paved Artists Drive, which meanders for nine miles up and through an alluvial fan where exposed minerals have turned the earth shades of pink, green, red, yellow, and purple. November through March is prime hiking season. Try the easy 45-minute, out and back hike to Natural Bridge, a big, rock arch carved by water over the eons, or make the easy to moderate, two-mile round trip trek to the summit of the Mesquite Flat Sand Dunes, the park's most famous and accessible dunes.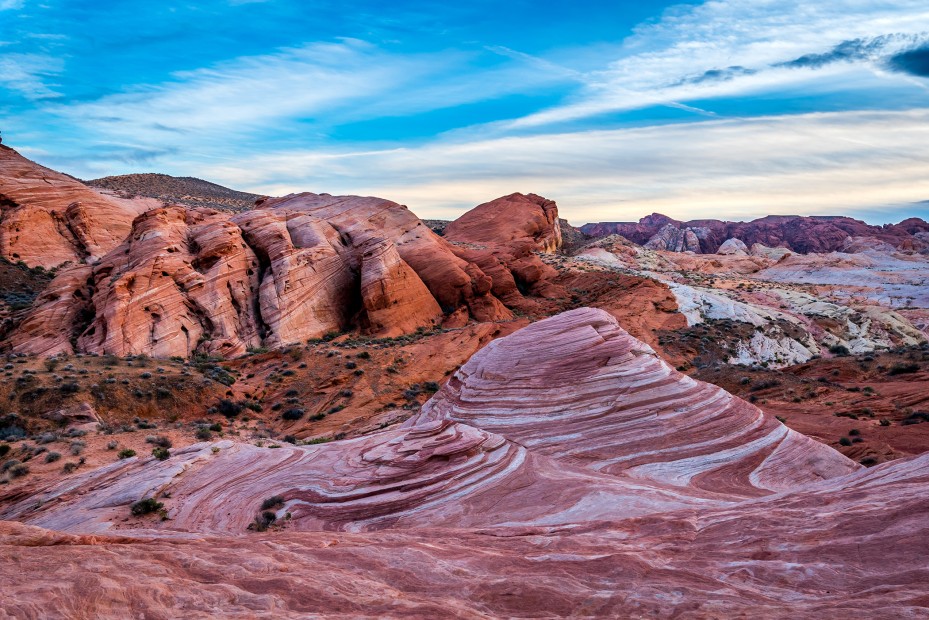 Southern Nevada
Located less than 15 miles west of the Vegas Strip, Red Rock Canyon National Conservation Area's dramatic, namesake formations are made of Aztec sandstone impregnated with iron that has rusted. You can see them from your car on a 13-mile scenic drive or get closer during easy walks and hikes like the 0.2-mile Petroglyph Wall Trail, which also features images thought to have been pecked into the rock at least 800 years ago.
You'll find spectacular petroglyphs at the little known Sloan Canyon National Conservation Area outside nearby Henderson. The moderate hike to see them requires a bit of boulder scrambling to reach a slot canyon containing 300 panels of rock art with 1,700 individual images. Further afield, about an hour's drive from the Strip, Valley of Fire State Park offers 40,000 astonishing acres of bright red sandstone formations dotted with hiking trails, petroglyphs, and ancient petrified trees.