There's always a grand opening to behold in the City of Angels, whether it's a ribbon cutting at a freshly built arts venue, bouncers setting up the velvet ropes at the latest watering hole, or patrons flooding in to experience a chef du jour's new kitchen.
The theme parks around here aren't content to rest on their laurels either. Disneyland—especially—but also Universal Studios and Knott's Berry Farm are constantly ratcheting up the caliber of their new lands, rides, and spectacles.
The constant openings can be hard to keep up with, so we scoured the Southland for its most noteworthy recent debuts: L.A.'s top new things to see and do in 2019.
New Restaurants in Los Angeles
In downtown, Bavel is a new Middle Eastern restaurant by Israeli chef-owner Ori Menashe and his pastry chef wife, Genevieve Gergis. Bestia, their Italian restaurant a mile away, remains a local darling since opening in 2012. Menashe's stellar slow-cooked specialties stand out in Bavel's brick-walled, open-feeling space that's draped with plants. The menu brings forth bright Mediterranean and North African flavors in the form of hummus, flatbreads, shawarma, tagines, and distinctive spice-infused desserts.
On famous Fairfax Avenue—home of immutable eateries like Canter's Deli and Jon & Vinny's—the Mahendro brothers, along with their dad, opened their second location of Badmaash. The modern Indian eatery's first location, downtown, opened five years ago to wide acclaim, and their sophomore debut lives up to the hype. The menu procures well-spiced small plates, tandooris, currys, naans, and other crowd-pleasers in a modern space with a bit of an attitude ("badmaash" means "naughty").
New Places to Drink in L.A.
In Chinatown, anticipation is growing for Angeleno Wine Company Tasting Room, opening in spring 2019 to become L.A.'s first urban winery since Prohibition. A 1925 building, built with bricks from L.A's first City Hall, will be its inviting home. Expect unique varietals such as graciano, godello, and loureiro.
Also downtown—inside Union Station—is L.A.'s newest brewery, Imperial Western. Resonating elaborately with its mother building's transit-inspired art deco architecture, this hideaway's historic details—all scrolling curves, geometrics, and touches of whimsy—remain true to when it was a popular last stop for soldiers shipping out to World War II. In addition to a satisfying selection of cold brews, Imperial Western offers oysters, chowders, salads, and plump sandwiches to patrons tucked into cozy booths or gathered over backgammon tabletops.
New Arts and Culture Openings
Los Angeles is an artistic and cultural powerhouse, and always has been. There's never not something new going on in L.A.'s art world. Here are just two openings of note to get you started:
Japan House is Hollywood's newest permanent cultural destination, presented by the Japanese Ministry of Foreign Affairs. It offers an immersive experience that acts as a multisensory showcase for Japanese art and technology. Expect to see rotating exhibits, frequent special events, a stand-alone gallery, shops, and a library. And don't miss Inn Ann, a notable kaiseki restaurant serving delicate umami courses from a series of accomplished chefs.
As part of the Art District's revival, Two Bit Circus—developed by the creative agency of the same name—is a high-tech indoor amusement center like you've never seen. It's got a virtual-reality arcade and arena (think body-sized video games), tech-enhanced carnival games (as the website says, "You kinda have to see it."), plot-led escape rooms, karaoke-room-style VR cabanas, and an interactive stage show. Step right up, too, to the dining area and order upscale foodie takes on carny fare.
Los Angeles's Newest Stadium
Of late, L.A.'s sports scene has become markedly more exciting. Only adding to this is the 2018 opening of the Banc of California Stadium, a $350-million soccer mecca at Exposition Park. It's America's priciest MLS venue to date, and L.A.'s first open-air pro-sports arena built since Dodger Stadium. Its 22,000 seats hold fans of the Los Angeles Football Club and, occasionally, music-fest attendees. Its massive, curved shades give it a modern appearance and provide shelter from the city's ever-shining sun.
Adjacent to the stadium—and yes, open on game days—is Fields L.A., a new 200-seat chow hall housing seven walk-up counters from notable chefs, including Top Chef's Shirley Chung and French Laundry alum Tim Hollingsworth.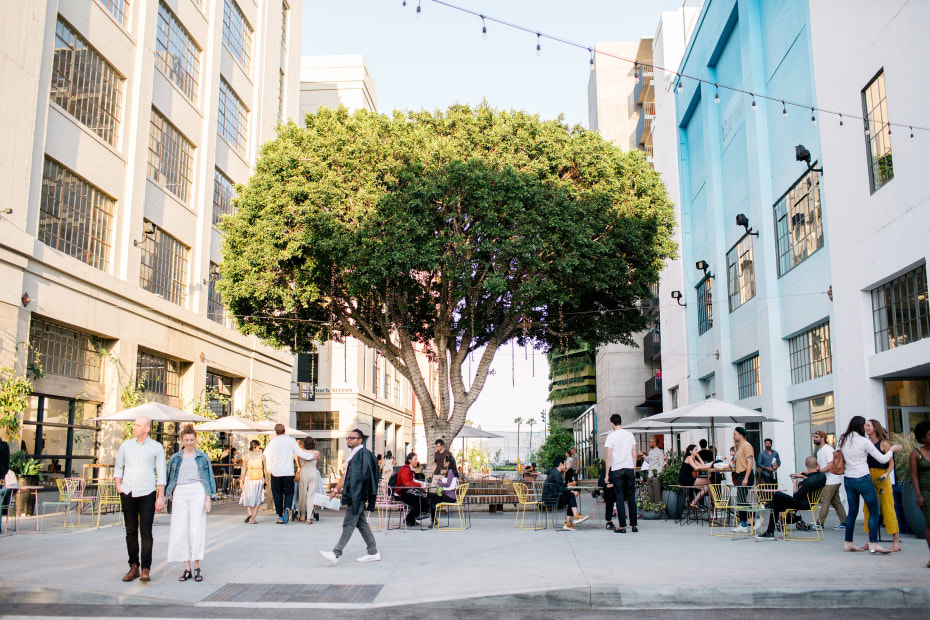 New Shopping Experiences
Yes, the Westside's Beverly Center has existed for decades. It's thought of as an old, faithful L.A. staple, mentioned in the same breath as places like the Hollywood Bowl and Rodeo Drive. But those who haven't visited the Bev for a while are in for a happy surprise: Its eight floors have been treated to a $500-million facelift, the most noticeable aspect of which is a flood of natural light and the installation of open-air spaces. Plus, there are almost a dozen new restaurants, including two from the prodigious Michael Mina.
Also not technically new is ROW DTLA, in the Arts District. These six buildings were built between 1917 and 1923 and thereafter known as the L.A. Terminal Market. That is until they underwent historically sensitive renovations to repurpose them into what will ultimately be a tightly curated collection of retailers and restaurants, including Oak NYC, Flask & Field, and San Francisco's beloved Tartine. Not all the tenants are moved in yet, but soon this shopping center will have just-under-the-radar apparel brands, an outdoor produce market, modern home ware galleries, a trendy gym, purveyors of enviable athleisure wear, a chocolatier, a perfumerie, a ceramic studio, and several Japanese-influenced outlets. Not to mention frequent pop-ups and special events.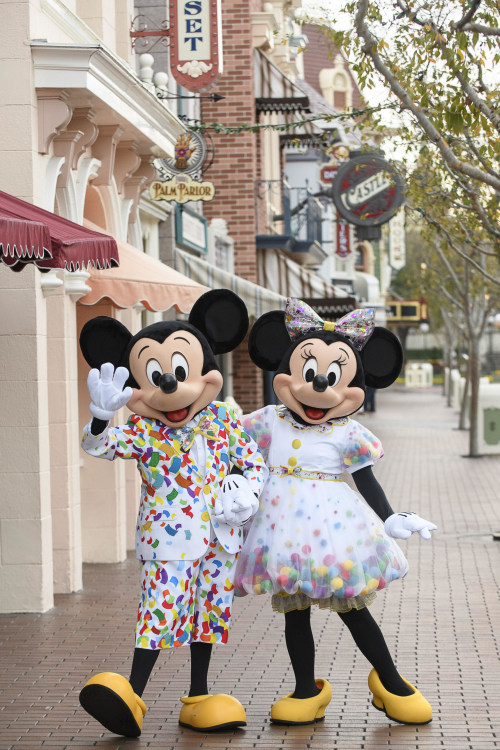 What's New at Disneyland in 2019
To say that the Magic Kingdom's first new land since 1993's Toontown is going to be a big, big deal is like saying that Alaska is kind of a large state or that China has a decent amount of people—a major understatement. It's hard to describe the fervor that transposing George Lucas's intergalactic scenery into Walt's original Happiest Place at Star Wars: Galaxy's Edge will stir up. At press time, an official opening date hadn't been announced, though there was confirmation that it will be in summer 2019, and that it'll have two main attractions. Millennium Falcon: Smugglers Run will let riders pilot the Millennium Falcon on a customized secret mission, while Star Wars: Rise of the Resistance pits them in a battle that includes a tense Kylo Ren encounter. As you make your way through the 14-acre land (Disneyland's largest ever single-themed expansion), you'll encounter interactive, choose-your-own-adventure-style elements, while meeting characters like Chewbacca, BB8, and plenty of stormtroopers. Oga's Cantina will offer libations (!) while an exalting new musical score by John Williams will trumpet throughout the land.
Before the Star Wars land debut, however, the spotlight will shine on a couple of familiar mice: Mickey and Minnie are both turning 90, and they've never looked better. That's cause for Get Your Ears On—A Mickey and Minnie Celebration, Disneyland's early 2019 initiative to introduce new mouse-themed entertainment, decorations, merchandise, and food. Mickey's Mix Magic nightly light-and-laser (and sometimes fireworks) show kicks off a park-wide dance party led by DJ Mickey, who spins upbeat new Disney music. On top of that, January brings back Mickey's Soundsational Parade with a new opening float starring the birthday mouse himself.
Over at California Adventure, Pixar Pier is set to debut two additional reimagined rides: Inside Out Emotional Whirlwind and Jessie's Critter Carousel, both great for families with little ones. While strolling the waterfront pier, enjoy thoroughly Pixar-themed food, and keep an eye out for photo ops with Woody or Edna Mode.
The every-other-year D23 Expo—the equivalent of Comic-Con for those who prefer Disney and Pixar to DC and Marvel—will celebrate its tenth anniversary August 23, 24, and 25. Held at the massive Anaheim Convention Center, D23 bills itself as the "ultimate Disney fan event"—and it is. The huge gathering features celebrity presentations and performances, highly anticipated announcements from Disney executives, nostalgic exhibits, and a heavily cosplayed crowd.
Meanwhile, an astounding number of new lodging properties have recently broken ground nearby. Coming to Anaheim over the next year or two are a new Westin resort, Orange County's first JW Marriott, a Hampton Inn & Suites, a Cambria Hotel & Suites, a Radisson Blu, a Kimpton, and a Le Meridien. In the meantime, the beautiful Hilton Anaheim, known for its warm hospitality, is planning a major update in the near future, and the Anaheim Marriott will debut newly renovated rooms in early 2019.
New Ride and Attraction at Universal Studios
Over at Universal Studios Hollywood, the Jurassic Park ride closed in 2018 after a 22-year run, but its fans need not worry: It's relaunching in 2019 as Jurassic World, based on the hit movie series. The shriek-inducing drop and gargantuan, rage-filled T. rex will likely remain, but the high-tech reboot intends to make the water-raft thrill ride feel new again, with new animatronic dinos and an enhanced plotline.
Also new at Universal Studios: The former Panasonic Theater is being transformed into DreamWorks Theatre, a multisensory storytelling venue that presents immersive DreamWorks character-driven storylines, starting with Kung Fu Panda. A panoply of tricks bring his water-themed adventure to life, including projection mapping, LED light effects, motion simulators, 360-degree surround sound, and actual water and wind. Rumored follow-ups include Trolls, Madagascar, and Shrek.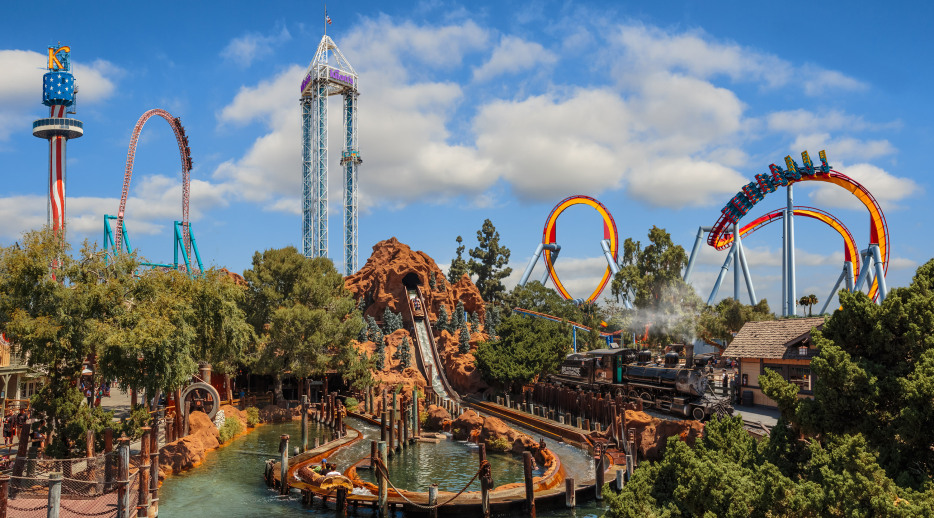 What's New at Knott's Berry Farm
Large swaths of Buena Park's Knott's Berry Farm remain endearingly nostalgic, unchanged for decades. Other parts of it, however, are thrillingly new—like HangTime, the West Coast's first dive coaster, which started its runs in spring 2018. Made from aqua-colored steel, the 150-foot-tall surfing-themed coaster, situated where the Boomerang ride used to be, is named for the terrifyingly long, track-blind seven seconds when riders dangle over the coaster's 96-degree drop. After you finally plunge, there are five intense (but smooth) inversions to make you scream.
In 2018, Knott's put on the inaugural Peanuts Celebration, inviting Charles M. Schulz's beloved comic-strip characters to take over the park; new shows featured Snoopy, Charlie Brown, and the gang, who also appeared in new character experiences and photo ops, on limited-time merchandise, and even in themed food. In 2019, the celebration returns for its second year, weekends January 26 through March 10.
And finally, in summer 2019, Bigfoot Rapids will reopen as Calico River Rapids. Its basic whitewater-rafting premise will remain the same, but with new water effects, animatronic scenes, and theming that better matches Ghost Town, its Western-outfitted land.