When most people think "world-class museums," they think Paris, New York, London, and Rome. But—believe it or not—Los Angeles merits a spot right up there. Once you visit the city's highly curated galleries and exhibits, lovingly lined with the entire world's past and present, you'll know why. Here are nine not to miss.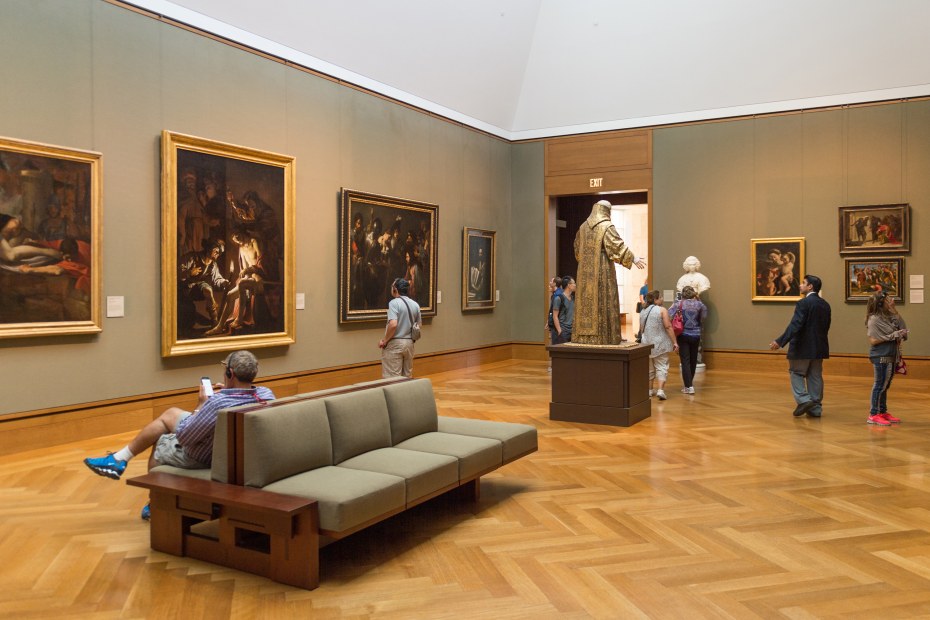 J. Paul Getty Museum and Villa
Presiding over all of L.A.'s other art centers is the 1.2-million-square-foot J. Paul Getty Museum, perched high above Interstate 405. Though its view (best taken in from the balcony gardens) over West Los Angeles is unmatched, that's not even the main thing to ogle here. The Getty, built in 1997 around the namesake oil magnate's robust art collection, is the permanent home of important works by Van Gogh, Monet, Gauguin, and a slew of medieval masters.
The collection is immense and tough to fully digest in a single day, but admission is free, so you can always come back for more. Special events take place almost daily—hands-on activities for kids, garden concerts, artist demonstrations—so check the online calendar to make sure you don't miss out. An excellent gift shop and worthwhile eateries are also onsite.
Over in Malibu, the lesser-known Getty Villa is affiliated, but makes for a completely different experience: You'll feel as though you've stepped into Greece or Rome. The indoor and outdoor spaces are extremely well-tended, so that whichever of the Villa's more than 40,000 priceless antiquities are currently on display get their rightful due.
Los Angeles County Museum of Art
These days, the Los Angeles County Museum of Art (often referred to as LACMA) is most recognizable for Urban Light, Chris Burden's eminently Instagrammable outdoor installation of clustered street lamps. Step inside this Miracle Mile sensation, though, and marvel at LACMA's rotating exhibits of immersive contemporary art. Not to mention its remarkable permanent collection, featuring notable pieces by Picasso, Matisse, Cezanne, Diego Rivera, and Roy Lichtenstein. Admission is $25 per adult (free for ages 17 and younger), though check the museum's website for discounts. To get the most out of your visit, download the LACMA app before you go.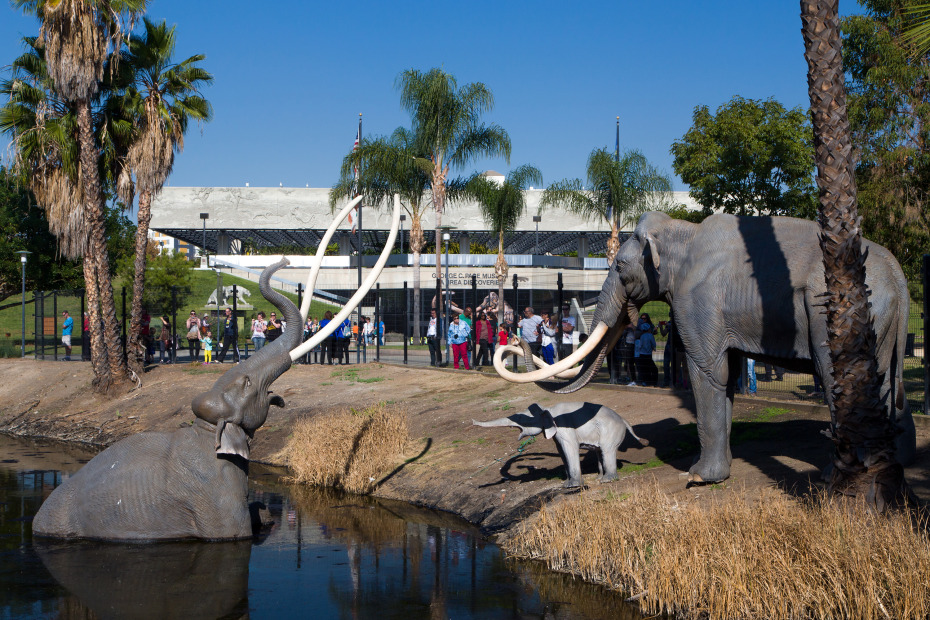 La Brea Tar Pits and Museum
If anyone in your life is dinosaur-obsessed—or even if no one in your life is—the La Brea Tar Pits should absolutely be on your Los Angeles itinerary. It's an only-in-L.A. attraction where real-life paleontologists work to uncover the mysteries of the Pleistocene era from active onsite tar pits. The unusual science museum, also on Miracle Mile, encompasses a working fossil lab (children watch in awe), massive mammoth and mastodon skeletons made from real bone, and Ice Age-themed exhibits and gardens. Fascinating and larger than life, this Wilshire Boulevard museum in Hancock Park and its active excavation sites aren't soon forgotten. Check its website for a calendar of events that lists live performances, showings of a new 3D movie called Titans of the Ice Age, excavator-led tours, and more. Museum admission starts at $15 for adults, though admission is free the first Tuesday of most months.
Griffith Observatory
Thanks to its starring role in La La Land, Griffith Park's crowning jewel is now making an appearance on many more travelers' itineraries—and rightfully so. Its charming astronomy museum features excellent space-themed exhibits, an hourly 20-minute film about the observatory's lively history, and enticing views of bits of our universe through the 9,000-pound Zeiss telescope. Outside, since the observatory sits 1,135 feet high on Mount Hollywood's north slope, there's a great view of Los Angeles—on clear days, you can see all the way to Catalina Island. Don't miss the world-class astronomy shows in the observatory's popular Samuel Oschin Planetarium. Tickets are a steal at $7, but they're only sold onsite, so come on a weekday for your best chances of getting in, or be in line by 10 a.m. on weekends. Admission to the rest of the observatory is always free.
The Broad
One of L.A.'s newer museums, the Broad (pronounced "brode") opened in 2015 as a bastion of contemporary and postwar art. It's based around philanthropist Eli Broad's accomplished collection, which includes pieces by Lichtenstein, Warhol, Rauschenberg, Ruscha, and Koons. The works are colorful, wild, perplexing, and contemplative, and they're encased in unmissable modern architecture that has redefined Grand Avenue, in the heart of downtown. Perhaps its most visual experience is Yayoi Kusama's magical Infinity Mirrored Room, which is so popular that if you want to see it (45 seconds per person, please), you must reserve a time slot as soon as you walk into the museum. The Broad offers free admission for all, but make your reservations well in advance. The docent-led tours are also free; if you prefer a self-guided tour, download the app, which also lets you zoom in on any piece of Eli's art, and hear artists discuss what's on display. While you're there, walk through the quirky museum shop and stop by chef Timothy Hollingsworth's affiliated Otium restaurant next door.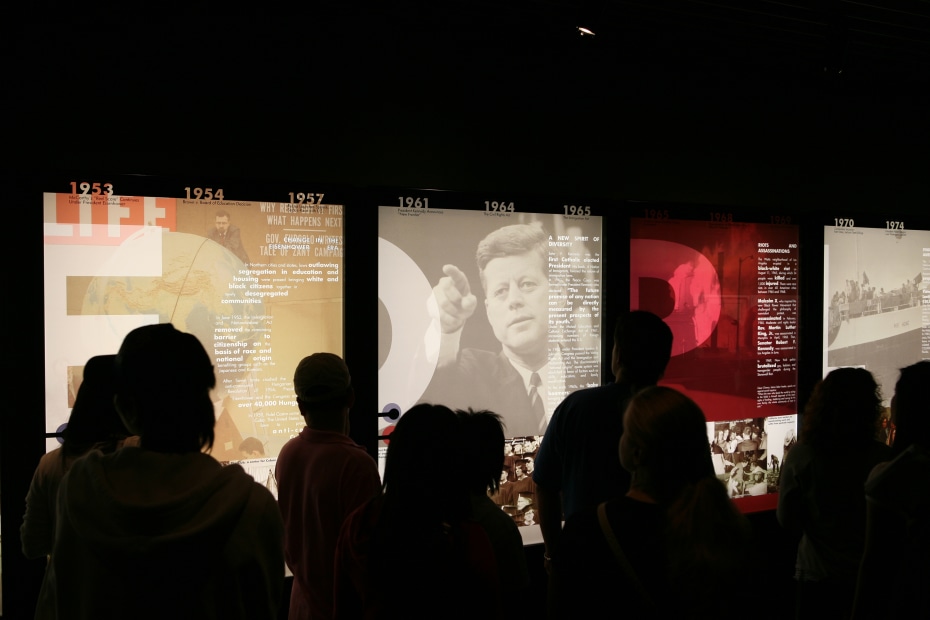 Museum of Tolerance
A field trip staple for Los Angeles County's young people, the Museum of Tolerance stands as a testament to the survivors of society's worst evils—racism, human rights violations, and genocide. The MoT focuses especially on the Holocaust, and every visitor is assigned a name and photo of a Jewish child who lived in 1940s Europe. Throughout your trip through the multimedia museum, you sporadically learn about what happened to your person, how he or she was affected by the Nazis' rise, and, ultimately, whether the child survived or was murdered. There's an extensive Anne Frank exhibit, as well as living Holocaust survivors telling their stories daily. The exhibits are grim, somber, powerful, and ultimately hopeful in their goal: Genocide and hate have no place in a civilized society. Admission for adults costs $15.50, though members of the military get in free. Note that the museum is closed on Saturdays, its last tickets are sold at 3:30 p.m. daily, and admission is free for everyone on the third Tuesday of every month.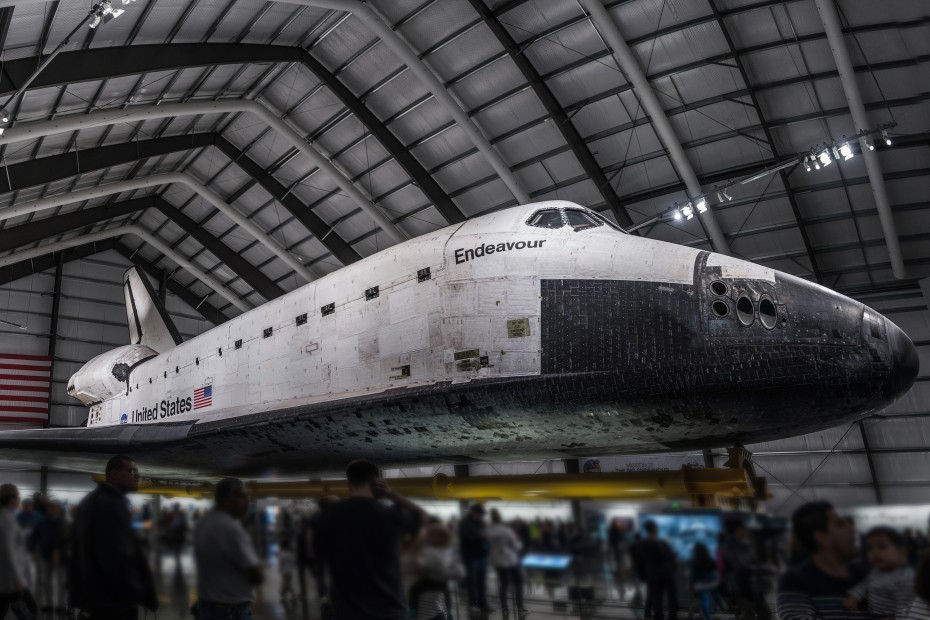 California Science Center
The California Science Center is a top-to-bottom delight. Its hands-on educational exhibits touch on everything from cellular biology, physics, and planetary ecosystems to technological innovations, geological processes and… anything a budding (or full-grown) scientist could want to investigate. There's also a seven-story IMAX theater and a fantastic store that's sure to keep the childlike wonder going. But the real highlight here is the Endeavor space shuttle, hoisted up in its own auditorium as museum-goers gawk below. Space-savvy docents share illuminating facts about the shuttle and its mission. Set in Exposition Park, close to University of Southern California, the Science Center offers free admission (except into its IMAX theater—where tickets range from $5.75 to $8.95—and special exhibits) and walking-distance access to Expo Park's other attractions, including the California African American Museum, the Lucas Museum of Narrative Art, and the relaxing Rose Garden.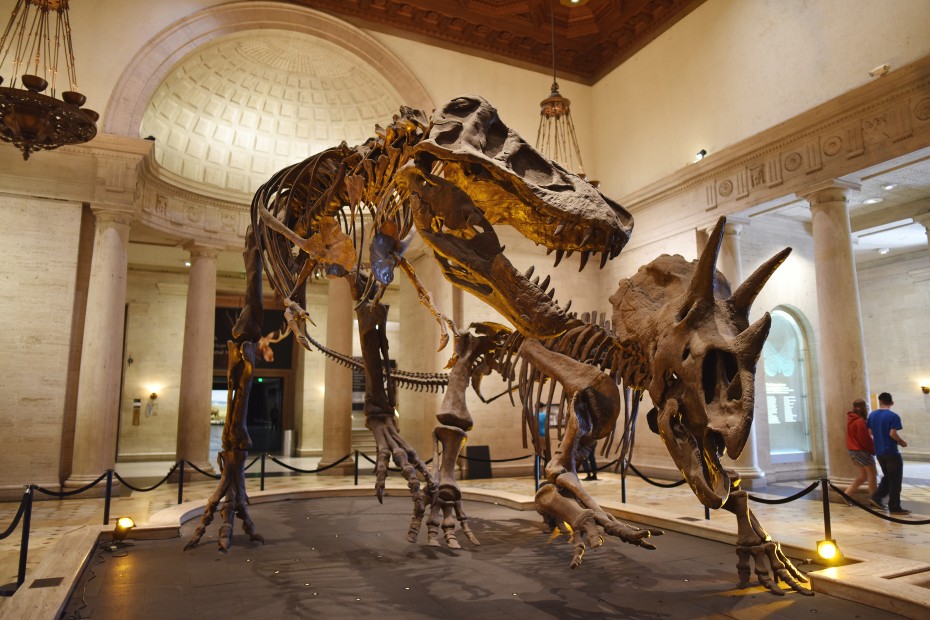 Natural History Museum
Also in Exposition Park is the dramatic Natural History Museum, with its soaring dinosaur skeletons, halls of taxidermied animals from all over the globe, and an overarching tribute to the wide range of life on Earth. Permanent exhibits include an impressive dinosaur hall, an area dedicated to the world's vast array of birds, as well as pristine specimens of African mammals, gems and minerals, insects, shells, and much more. An onsite movie theater shows Oceans 3D, narrated by Kate Winslet, while docents point out gallery highlights and lead garden tours and nature walks. Children delight at meeting live animals and watching an educational show that features life-sized dinosaur "puppets." Adult admission costs $15, though you get a discount if you buy online. The first Tuesday of every month (except July and August) and every Tuesday in September are free—reserve your tickets in advance to skip the line. If you're visiting L.A. in March, don't miss the Natural History Museum's annual two-day Nature Fest—an outdoor celebration of local flora and fauna with scientists and naturalists to answer questions and introduce visitors to local inhabitants, live animal presentations, and kid-friendly activities and performances.
Autry Museum of the American West
Any fan of Western movies, cowboys, or lore will thoroughly enjoy the Autry Museum, where the tales of the western United States come to life via lovingly preserved artifacts, historic photography, and exquisite paintings, including works by Georgia O'Keeffe and Thomas Moran. In Griffith Park, across from the zoo, this engaging museum was founded in 1988 by actor Gene Autry, who loved anything to do with the American West. There's an extensive cowboy gallery here, as well as antique stagecoaches, intricate Colt pistols, many horse sculptures, recognizable movie memorabilia, and a large collection of American Indian art and artifacts. Outside, landscaped gardens boast water features and more than 60 native California plant species. Stroll around on your own or take a guided tour. Family drop-in activities happen almost daily, and children can pan for gold on the weekends. Adult admission costs $14, though a range of people get in free: veterans, park rangers, peace officers, and children ages two and younger. AAA Members get 10 percent off admission and membership. Note that the Autry Museum is closed on Mondays.