If you haven't been to downtown Los Angeles recently, you've been missing out. A visit may come as a surprise if all you know of L.A. is its swimming pools and Hollywood Boulevard. In the city's center—a six-square-mile wedge framed by the Los Angeles River, Interstates 5 and 10, and Highway 110—you'll find art deco theaters and Beaux-Arts buildings, their marble interiors as magnificent as their gargoyle-encrusted facades.
Largely abandoned in the latter half of the 20th century, the area has lately become a magnet for theaters, galleries, and hundreds of restaurants and bars. Downtown looks like the antique it is, but at the same time feels newly alive.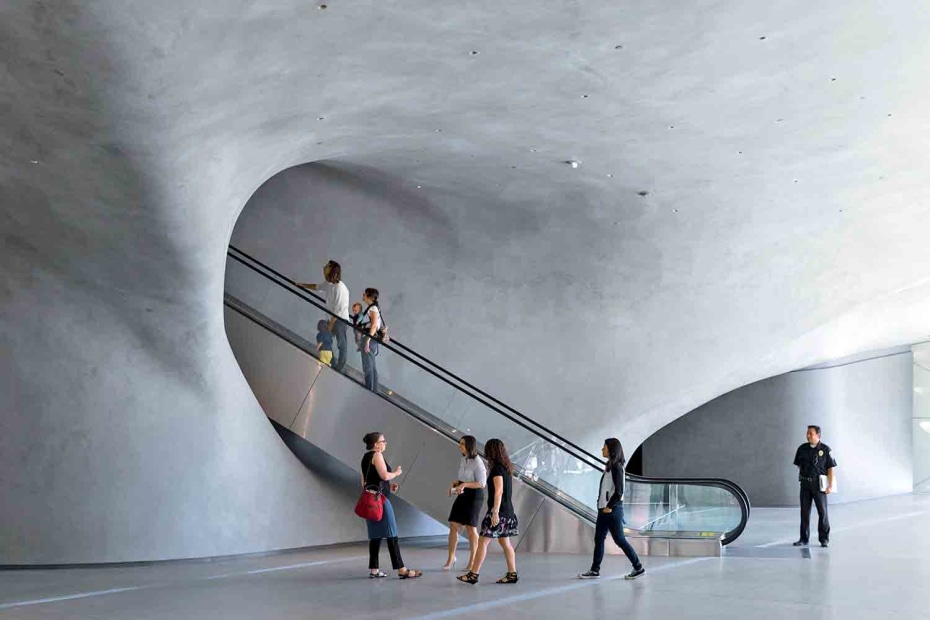 Major museums have also arrived. The 120,000-square-foot Broad, which opened its doors in 2015, provides a light-drenched, block-long showcase for the 2,000-piece contemporary art collection of philanthropist Eli Broad: oil paintings by John Currin, gleaming metallic sculptures by Jeff Koons, Andy Warhol soup cans, and powerful silhouettes by Kara Walker, to name a few. Across the street, MOCA houses another trove of contemporary art, including Jasper Johns's provocative gray Map and a series of self-portraits by filmmaker John Waters.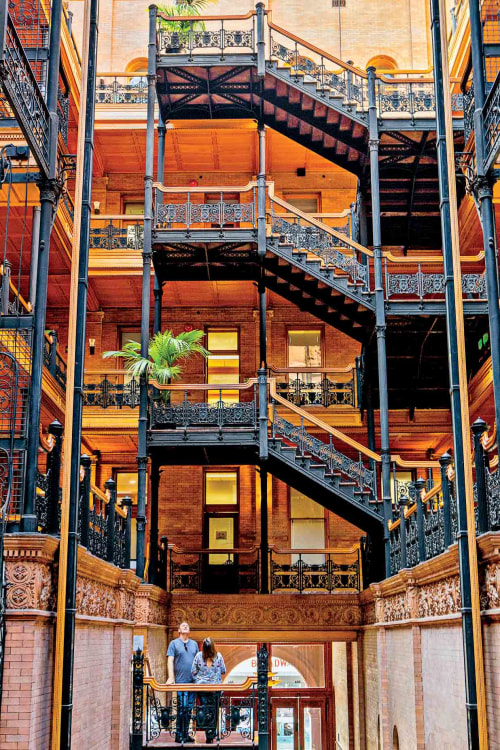 A good way to start exploring downtown is with a historical tour offered by the Los Angeles Conservancy. The two-hour crash course in the area's classy past includes the 1923 Biltmore Hotel. Its fortresslike brick exterior barely hints at the palace within—a fantasia of gold columns, painted ceilings, and marble everything. Three years after the Biltmore went up, the art deco Central Library opened a block away. The crown jewel of the library is the second-floor rotunda with a domed ceiling and wraparound mural depicting the history of California. But the tour's highlight is the 1893 Bradbury Building, a Romanesque revival beauty with a five-story central atrium. Stairs with intricate wrought iron banisters switchback upward toward a skylight. If you've seen Blade Runner, you've had a glimpse of its old-fashioned grandeur.
Grand in an entirely different way is L.A. Live, the massive sports and entertainment complex surrounding the Crypto.com Arena on the far western edge of downtown. Here you'll find the 7,100-seat Microsoft Theater and the Grammy Museum, a four-story treasury of memorabilia from top recording artists. Be sure to check out the assortment of instruments in the Latin Music Gallery and an interactive exhibit that walks you through the recording process.
For a gorgeous view of modern architecture, you can tour the Frank Gehry–designed Walt Disney Concert Hall, part of the Los Angeles Music Center. Famous for its acoustics, the hall boasts a ceiling and walls finished with Douglas fir and sloped rows of seats encircling the stage. Treat yourself to a performance of the Los Angeles Philharmonic or check out the Center Theatre Group. 
Preconcert or postconcert dining options are as varied as the cultural offerings. Angelenos have flocked to the lively Grand Central Market since 1917, and long-standing vendors remain, like the venerable China Cafe, which serves a $5 plate of chop suey.
For a more sophisticated experience, head to Otium where you can start dinner with a salad that includes ingredients grown in the restaurant's mezzanine garden, move on to a pasta dish (such as spinach cavatelli with egg, bacon, clams, and crème fraîche), and finish with a slab of dense, fudgy chocolate torte.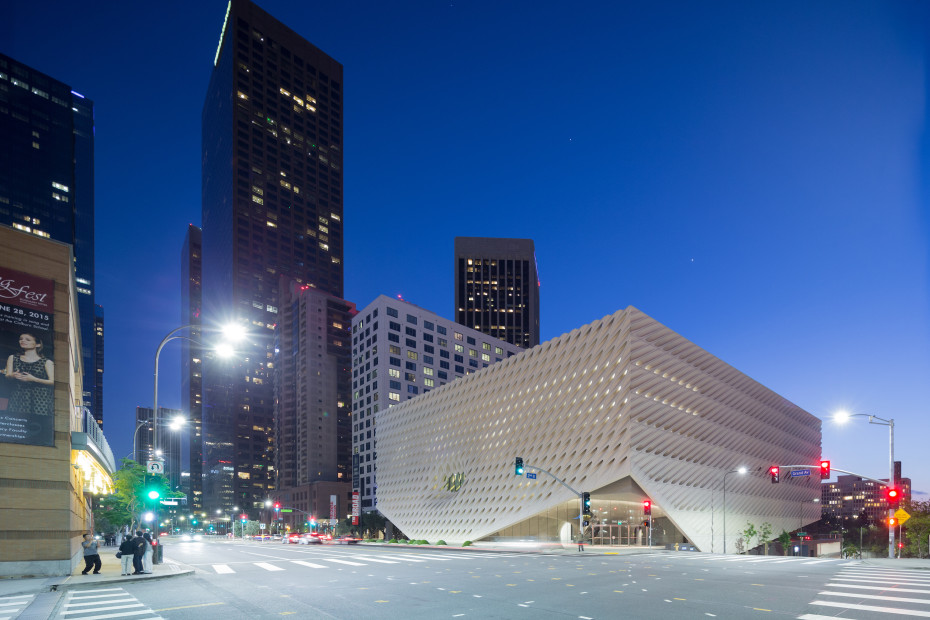 A quintessential downtown evening begins with a drink at the Varnish, a cozy, brick-walled bar that opened in 2009. The Varnish is hidden behind an unmarked door inside a 108-year-old restaurant named Cole's, which claims to have invented the French dip sandwich. After you've sipped your cocktail, you can slide into one of the booths at Cole's and fortify yourself with a French dip. Although the restaurant was refurbished in 2008, the penny tile floors, mahogany bar, and L.A. noir ambience remain. As with the best of downtown these days, modern class has added a flourish to old-fashioned charm.