Today, few sections of Route 66, which once connected Chicago to Santa Monica, still exist. But from 1926 until 1985 when it was decommissioned, the highway played a significant role in our nation's history. Farmers used it to flee the Dust Bowl, and workers took it to California factories during World War II. After the war, Route 66—celebrated its 95th anniversary in 2021—became the ultimate road trip, with quirky attractions, small-town diners, and flashy motels. Regardless of why they were on the road, for many, the journey had such an impact on their lives, they would return to it after death.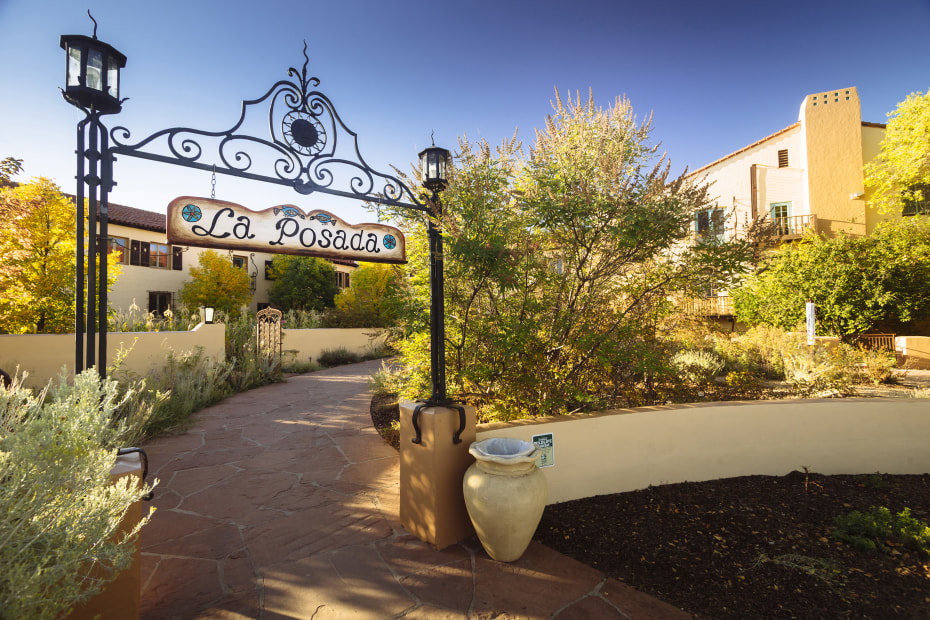 Winslow, Arizona
La Posada Hotel
One of the last hotels built for the Fred Harvey Company and designed by famed Southwest architect Mary Jane Colter, who loved to add mystery to the designs in her buildings, the historic La Posada Hotel downplays any paranormal activity. However, when Debe Branning, director of Arizona-based MVD Ghostchasers, stayed there with other ghost hunters, several in their group reported feeling like they were being watched or sensed "guests from the past" and heard footsteps outside. Some even captured Electronic Voice Phenomenon sounds (EVPs).
None of the spirits at La Posada, or anywhere along Route 66 in Arizona, appear to be malicious. Most have just returned to a high point in their life. "This was the most exciting trip they'd ever taken," Branning explains. "They just want to go back and relive it."
Flagstaff
Once the largest log cabin in Arizona, this iconic stop along Route 66 began as a trading post and museum showcasing taxidermist Dean Eldredge's collection of preserved animals. After his death, it became a nightclub, roadhouse, and finally a country music dance hall, thanks to steel guitarist Don Scott, who purchased the rowdy venue with his wife, Thorna, in 1963. For the next 10 years, the couple lived in the apartment above the Museum Club until Thorna fell down the stairs, lapsed into a coma, and never recovered. Distraught, Don committed suicide with a rifle in front of the club's fireplace.
Today, patrons report seeing a cowboy standing by the fireplace and a woman, who disappears when asked for a drink, near the bar. Others hear a female voice asking if they've finished their drink but see no one when they turn.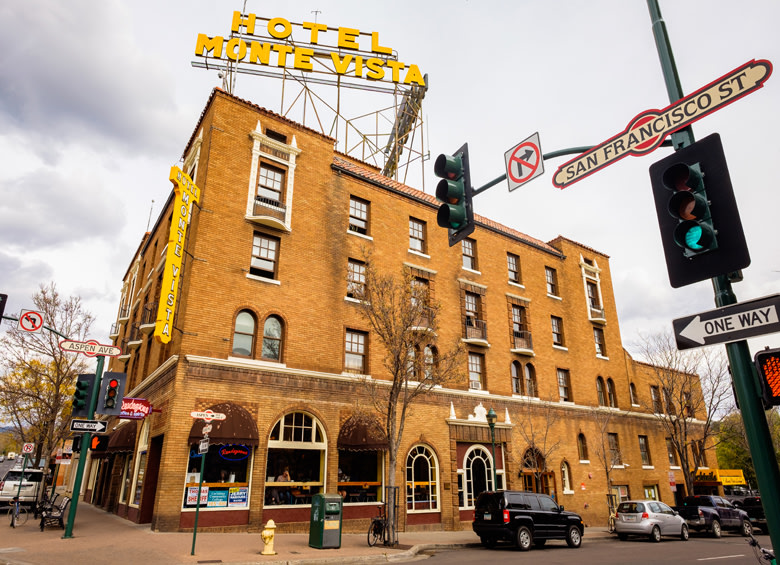 Hotel Monte Vista
Downtown Flagstaff has so many haunted buildings that you can pick up a brochure at the Visitor Center (itself supposedly haunted) for a ghostly self-guided tour. But of all the stops along the way, none can claim as many entities as the Hotel Monte Vista. Even John Wayne, who stayed there while filming in Monument Valley, believes he encountered the Phantom Bellboy, who knocks on doors and announces, "room service."
Other spirits include a bank robber who haunts the lounge where he bled to death, an elevator attendant who assists guests, and a woman who stares out the window in Room 305. Branning says one of her friends watched a ghostly Alan Ladd approach Room 309, which bears his name, and walk through the unopened door.
Williams, Arizona
Red Garter Inn
Since renovations turned this former saloon and bordello into a bed and breakfast in 1994, doors mysteriously slam, and guests have reported hearing footsteps when no one else was around. Eve, a young Hispanic woman, is believed to be responsible, although no one is sure why she haunts the Red Garter Inn. Other ghosts include a man who was knifed on the staircase leading to the brothel and an old man who committed suicide.
Peach Springs, Arizona
Grand Canyon Caverns
Walter Peck literally stumbled into one of the largest dry caverns in the United States on his way to a poker game in 1927. When Peck learned the sparkling flecks he thought were gold were really only iron oxide, he decided to offer tours to Route 66 travelers. On those tours, he would point out "cavemen" that later proved to be the skeletal remains of Hualapai tribesmen.
Visitors to the cave, especially those who stay overnight in the underground cavern suite, hear moaning, see shadowy figures, and have rocks aggressively thrown at them from the area where the skeletons were removed. The bunkhouse also is allegedly haunted.
Kingman, Arizona
Hotel Brunswick
Legend has it that the two businessmen who built the Hotel Brunswick in 1909 had a falling out over a woman and divided the hotel in half with a wall that no longer exists. The actual cause of the dispute is unclear, and no one knows the story behind the children who now can be heard running and laughing in the corridors. But, W.D. McWright did die in Room 212. He is believed to be responsible for the piles of vintage coins occasionally found in the hotel and bar after the doors have been locked for the evening.
El Trovatore
The Hollywood-themed rooms honor famous guests who stayed during the property's heyday, including Clark Gable, Marilyn Monroe, and James Dean. However, it's the children heard in the parking lot who have guests talking. "This has been an ongoing phenomenon for many years," Branning says. "These children are never seen, but often heard by staff members and visitors." She explains that the children seem to come from the gorge where Native Americans used to live behind the motel.
Oatman, Arizona
Oatman Hotel
Clark Gable and Carole Lombard may not have spent their wedding night at the Oatman Hotel, but when it still operated (these days, it is set up as a restaurant), staff and guests claimed to hear the lovers whispering and laughing from one of the rooms. They're not the only ghosts. Distinct outlines of sleeping bodies have been found on the beds in the Theater Room Museum, and an Irish miner nicknamed "Oatie" can be heard playing his bagpipe around the hotel.