Arizona State Route 86 Sonoran Desert Road Trip
Drive southern Arizona's backcountry to explore Tohono O'odham Nation and the area's mining history.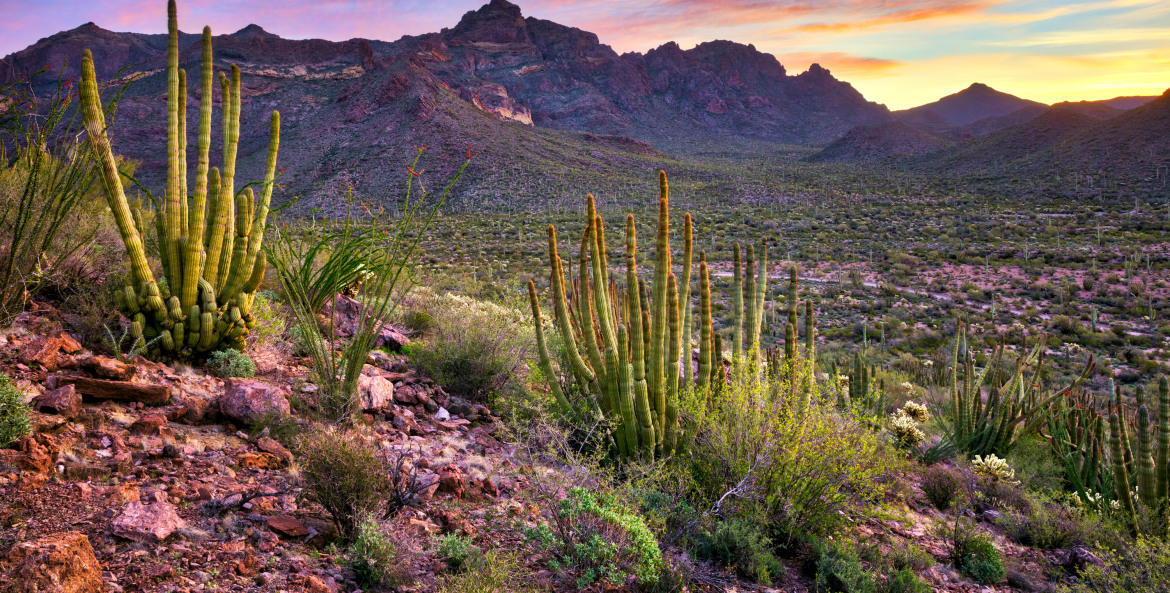 It's one heck of a show this time of year in the Sonoran Desert, with a grandstand seat to other-worldly desert grasslands and cragged mountains that frame its farthest edges. It's also a good time to head out along Arizona State Route 86, where, just southwest of Tucson, you'll find an entertaining day-long ramble or a weekend adventure that traverses 150 miles of the region's rugged wilderness.
Unique Views and Landscapes
About 40 miles into your SR 86 adventure is Junction 386, a turnoff for the internationally renowned Kitt Peak National Observatory. Not many go past this popular, top-of-the-world sky-watching showcase, but this time, keep going. About 20 miles beyond the Kitt Peak turnoff is Sells, capital of the Tohono O'odham Nation, the third-largest reservation in the United States, on 2.8-million desert acres that straddle the United States–Mexico border.
Pick up on Bureau of Indian Affairs (BIA) Route 19 in Sells to continue southward on a twisty, 8-mile drive to the town of Topawa, where you'll turn left onto Baboquiuari Mountain Road to reach the Tohono O'odham Nation's Cultural Center and Museum.
This remote, yet well-planned, museum offers the tribal perspective on the O'odham history, foods, and language. The museum, also known as Himdag Ki, or "way of life house," is built with impressive sustainability features and incorporates exhibition spaces, as well as artist studios, education areas, archives, a veterans' hall, and rooms for tribal members to meet in privacy. Tours are available, and courtyards enable visitors to enjoy solitude as well as majestic views of Baboquivari Peak, the most sacred mountain to the O'odham, central to their culture.
As you return to Sells, turn off BIA Route 19 to the tiny St. Catherine Mission Church, the main Franciscan residence for the San Solano Missions. This sturdy stone church, completed in 1925 by O'odham villagers, is now in some disrepair, but a respectful peek at the church interior uncovers interesting statuary, native paintings, and symbology.
Wilderness watchers may want to journey farther west approximately 60 more miles on SR 86 to enjoy untouched spectacles of nature and small O'odham towns along the way. When the road forks abruptly at the town of Why, a right turn takes you to Ajo—the headquarters for the next stage of this weekend adventure.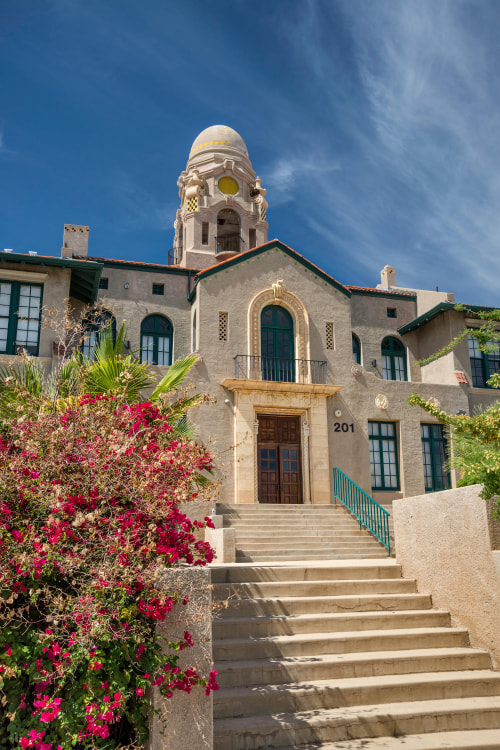 All About Ajo
Ajo is nearly a blink-and-miss spot that almost shut down when the copper mine closed in the mid-1980s. Then, in 2008, the nonprofit International Sonoran Desert Alliance (ISDA) purchased the town plaza and initiated a multiyear revitalization.
Today, the historic plaza is one of the most significant, still preserved Spanish colonial revival style town centers in the country. Curley School, which is on the National Register of Historic Places and has been converted to artist housing, anchors one end of the complex. A decommissioned train depot, built in 1915, anchors the other end of the plaza.
You'll enjoy a delightful night or two, with Ajo's renaissance as an artist outpost. In March, the Authentically Ajo Regional Food Festival brings regional food and crafts to the plaza, and Community Arts Gathering events bring artists from the across the United States, including the Tohono O'odham Nation, and Mexico together in discussion and demonstration.
Depending on the time of year, there are other recreational and cultural activities to stir the spirit. There's a 10-mile scenic loop drive above the town or a Historical Society Museum tour at the mine lookout. An Ajo culinary hideaway called 100 Estrella Restaurant has an amazing selection of craft beers and great grass-fed burgers. In the evenings, not much outshines the stars arching across the velvet black Ajo skies.
Chances are you're also here for Ajo's other side—the one that draws thousands to a rare Eden of camping, hiking, birding, and nature photography. Ajo is surrounded by the immense stands of the Organ Pipe Cactus National Monument and the Cabeza Prieta National Wildlife Refuge, the Barry M. Goldwater Air Force Range, and Crater Range, which comprises several miles of rock spires and volcanic upheavals—all perfect spots for capturing glimpses of scenic natural wonders and well-preserved Native American and mining history.
Organ Pipe Cactus National Monument is about 30 miles south of Ajo, reached from a State Highway 85 turnoff in Why (your last stop for refueling before the monument). Trails are plentiful and well-maintained, and a 21-mile graded, one-way dirt road allows cars to leisurely loop a paradise of rare cacti with enormous limbs that stretch skyward.
Return to Tucson via SR 86, appreciating the cultural and natural richness of a land that offers a little bit of everything for those who relish the journey.