Every road trip needs a soundtrack. And as my wife, Becky, and I get ready to motor west on Route 66 from New Mexico, bound for California, there's little mystery about the song that will start the roughly 400-mile drive across Arizona.
The only question is which version of "Get Your Kicks on Route 66" to play. There are hundreds of covers of the Bobby Troup song—which he penned with his wife, Cynthia, while on a cross-country drive from Pennsylvania to California—but we choose the one that started it all, Nat King Cole's 1946 rendition.
While every stretch of Route 66 has historic relevance, the northern Arizona run is the most dramatic of the entire 2,448-mile distance between Chicago and Santa Monica, California. Rising to nearly 7,000 feet in elevation—the highway's greatest altitude in any state—Arizona's Route 66 spans a spectacular swath of the Southwest. The 158 miles from Ash Fork to Needles connects the Painted Desert, high country ponderosa pine forests, and the Colorado River (the "American Nile"). So we roll down the windows, let the wind rush in, and get our kicks like it's still 1946 on Route 66.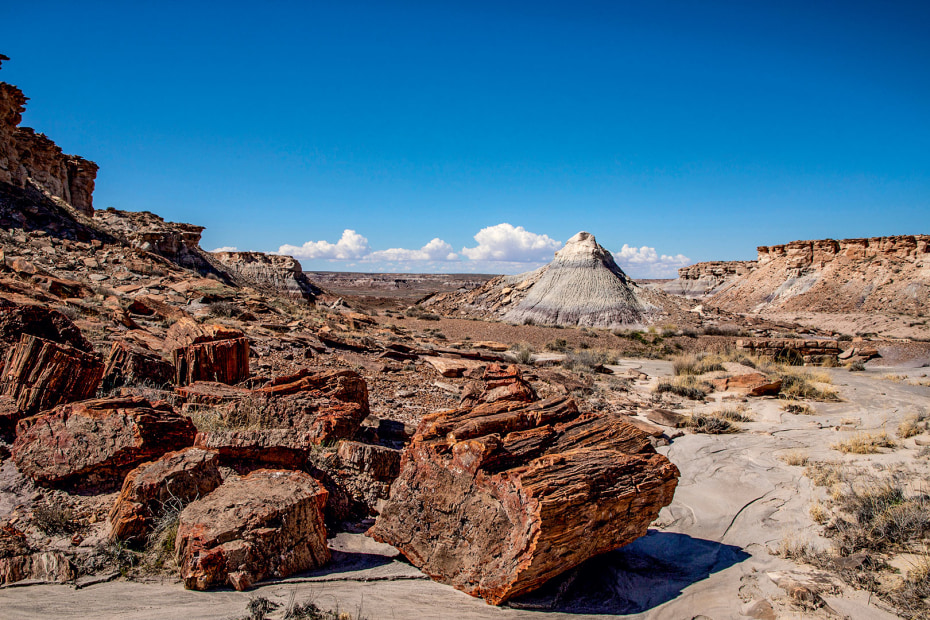 Gallup, New Mexico to Winslow, Arizona
The red cliffs at Lupton are like a ceremonial gateway to Arizona. Here in Navajo country we see remnants of the highway's glory days: abandoned motels, old gas stations, and crumbling diners in the ghost towns of the 20th century. But the highlight is the land itself, a rugged, ruddy terrain that spreads out forever and seems every bit as vast as the skies above.
R.B. Burnham & Company Trading Post
Using tepees and dinosaurs and even a giant jackrabbit as lures, trading posts beckon Route 66 travelers with a combination of kitsch and crafts. However, the R.B. Burnham & Company Trading Post in Sanders is the real deal. Fourth-generation trader Bruce Burnham opened the business with his wife, Virginia, who is Hopi and Navajo. We walk past sacks of flour in the post's general store to enter the chilly gallery. Hints of smoke from a wood-burning stove hang in the air as we marvel at the baskets, weavings, and turquoise jewelry. The prices are right—better than what we would pay in Santa Fe—and we leave with an elaborately carved Hopi katchina figure and a Navajo blanket in subtle hues, woven of wools dyed with natural pigments.
Petrified Forest National Park
Route 66's only stretch in a national park leads us to the pueblo-style Painted Desert Inn. Built of petrified wood and sandstone, the onetime hotel and restaurant looks out over the multihued landscape that inspired its name. The inn today functions as a museum that's notable for the evocative 1948 murals depicting Hopi ceremonies and traditions, painted by artist Fred Kabotie. South of the inn we explore Jasper Forest, where an easy footpath quickly leads from parking to a desert expanse devoid of trails, covered by fragments of petrified wood, and scattered with larger, loglike sections.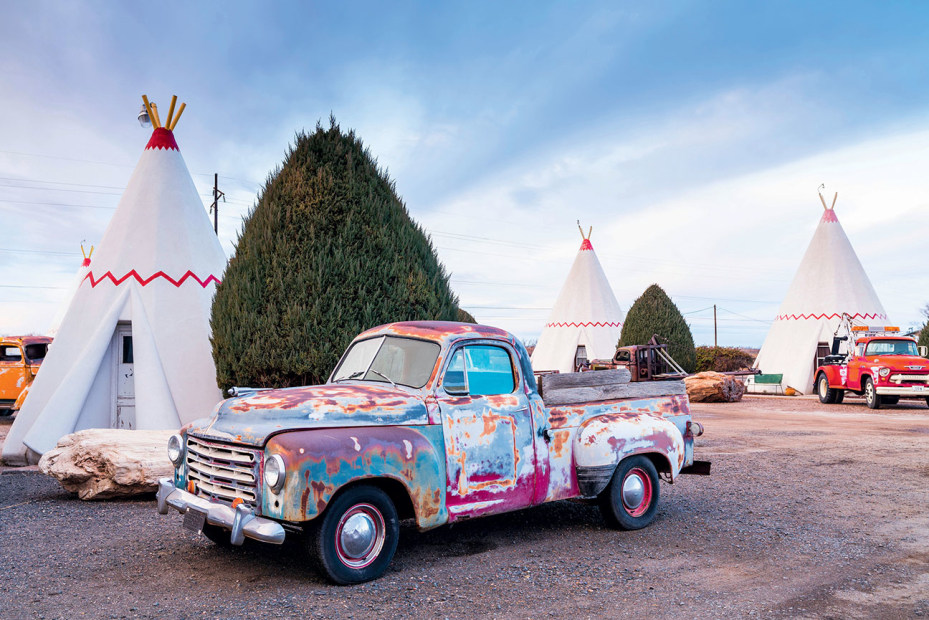 Holbrook
Known for its petrified wood shops and the much-Instagrammed tepee rooms at the 1950 Wigwam Motel, Holbrook is about the last place we expect to find award-winning sake. But since 2017, Atsuo Sakurai, a master brewer who married a local he met in Japan, has crafted his Arizona Sake here. Sakurai discovered to his surprise that Holbrook was ideal for making the traditional Japanese drink, thanks to the high-quality water available from Coconino Aquifer in the western part of Holbrook Basin. In 2018, Sakurai earned a gold medal for the best sake made overseas at Tokyo's prestigious Sake Competition.
Open by appointment, the brewing facility greets visitors with the fruity aroma of fermenting rice. It is far from lavish: Sakurai built the spartan, lablike building himself on a dirt lot between a chain hotel and a Dollar General store. We hear about his latest concoction, Navajo Tea Sake, and after a quick tasting, we buy a couple of bottles.
Winslow
Architect Mary Colter designed La Posada Hotel, the grandest landmark on Route 66, to resemble an 18th-century hacienda, not a structure built in 1929. She conceived it according to a legend she concocted: Generations of a wealthy family lived in and expanded the hacienda for more than 100 years before the building was sold and converted into a railroad hotel. When you explore the rambling structure, with its flagstone floors, ironwork, and exposed ponderosa pine ceiling beams, Colter's fantasy is entirely believable.
For all La Posada's history, real and imagined, the hotel also has a contemporary side. Tina Mion, an artist whose work hangs in the National Portrait Gallery, joined efforts to restore the building beginning in 1997. Today her whimsical, provocative paintings are displayed throughout the hotel and in a second-floor gallery.
Mion also crafted the glass murals depicting La Posada's patron saints in the Turquoise Room, the hotel's elegant restaurant. The Southwest cuisine served here includes fall-off-the-bone sweet-and-spicy braised bison short ribs. It's all so good that before checking out, we return for a Southwest-inspired breakfast: spicy Arizona green chile eggs, and the warm prickly pear cactus and spice bread pudding.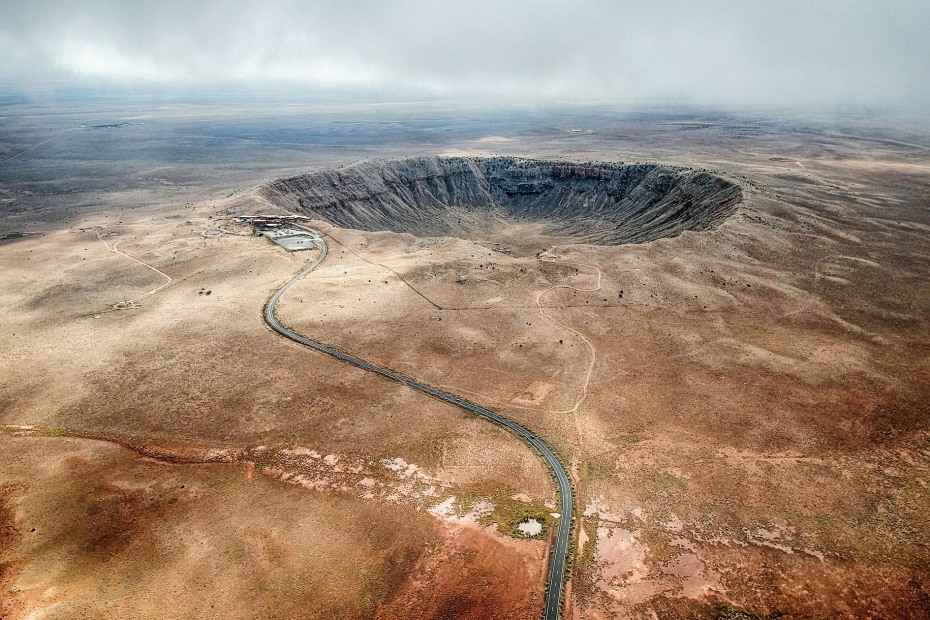 Winslow to Williams
As we drive west from Winslow, the San Francisco Peaks, one of four sacred mountains marking the traditional boundaries of the Navajo Nation, loom along the horizon. People don't usually think of Route 66 as a high-country highway. But from Winona, the road's pre-1947 route rolls through majestic ponderosa pine forests, and the peaks, snowcapped in winter and marbled with golden aspens in fall, rise behind Flagstaff. Then, beyond town, Route 66 climbs to 7,335 feet—the highest point on the entire drive from Chicago to Santa Monica, California.
Meteor Crater
Fifty thousand years ago it came from outer space—a 150-foot-wide asteroid traveling at 26,000 mph that crashed into Earth, gouging Meteor Crater, a divot in the desert almost a mile across and 550 feet deep. The visitor center movie helps us visualize the devastating impact before we take a guided tour onto the windswept, sunbaked rim for views of the vast crater's craggy, moonlike beauty.
Walnut Canyon National Monument
Paved but steep, the one-mile round-trip Island Trail leads us into Arizona's distant past at Walnut Canyon National Monument. Nearly 200 feet beneath the canyon rim, we walk along a series of limestone alcoves where, starting 900 years ago, the Sinagua people constructed dwellings and storage areas. We peer past the low stone walls into the surviving rooms, imagining what life was like here so long ago.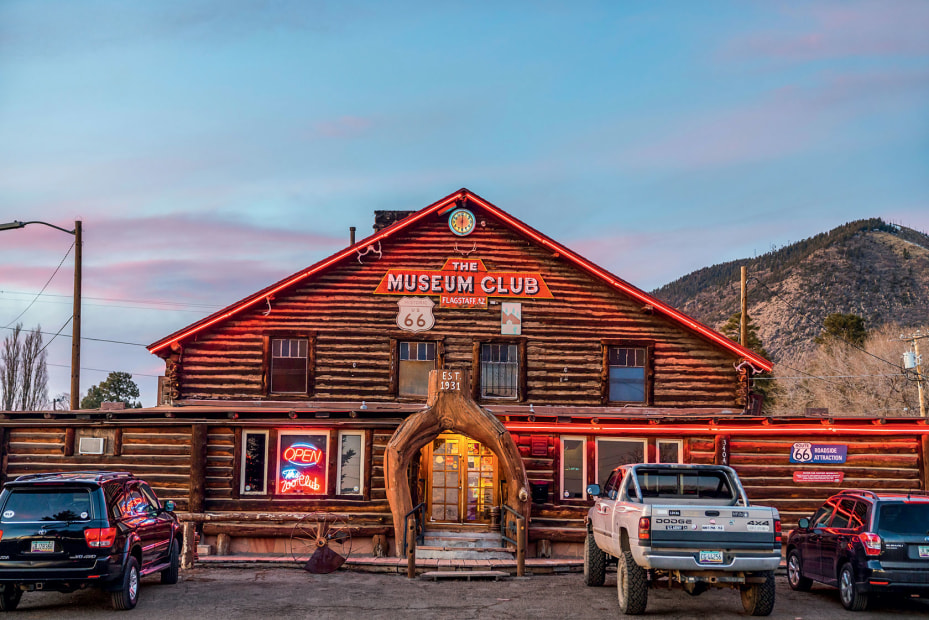 Flagstaff
Every classic road needs its classic roadhouse, so we stop to check out Flagstaff's Museum Club, a log cabin–style country music haunt with decor that runs to wagon-wheel chandeliers, varnished tree trunks for support beams, and a carved wooden back bar. Over the years, it has featured the likes of Willie Nelson and Asleep at the Wheel.
Then it's on to an even older location—downtown's 1886 Bank Hotel building, home to the McMillan Bar & Kitchen. Its exposed brick and stone create one of Flagstaff's most appealing restaurant interiors. The grilled tri-tip tacos with a house-made salsa go perfectly with a draft Tower Station IPA from Mother Road Brewing Co. Try more of Mother Road's craft beer at its cavernous taproom, located in a converted 1920s laundry building in the city's Southside neighborhood.
Keyhole Sink Trail
Desperate for post-lunch exercise, we head to Kaibab National Forest to hike the 1.3-mile round-trip trail to Keyhole Sink, which delivers plenty for a short outing. We emerge from the canopy of forest into an amphitheater of aspens and low basalt cliffs adorned with 1,000-year-old petroglyphs, including a hunting scene. We're not here at the right time of year to see it, but during spring snowmelt, a gorgeous waterfall forms and plunges into the pond at the base of the cliffs.
Williams
Next, we stop at Williams, a community set against densely forested slopes and Arizona's best-preserved Route 66 townscape. In a narrow 1907 building with a bright red ceiling and walls trimmed with wainscoting, the relaxed and sophisticated Red Raven Restaurant has become a Williams mainstay. Be sure to order the pork tenderloin sandwich, with tangy pineapple-cranberry salsa on a telera roll.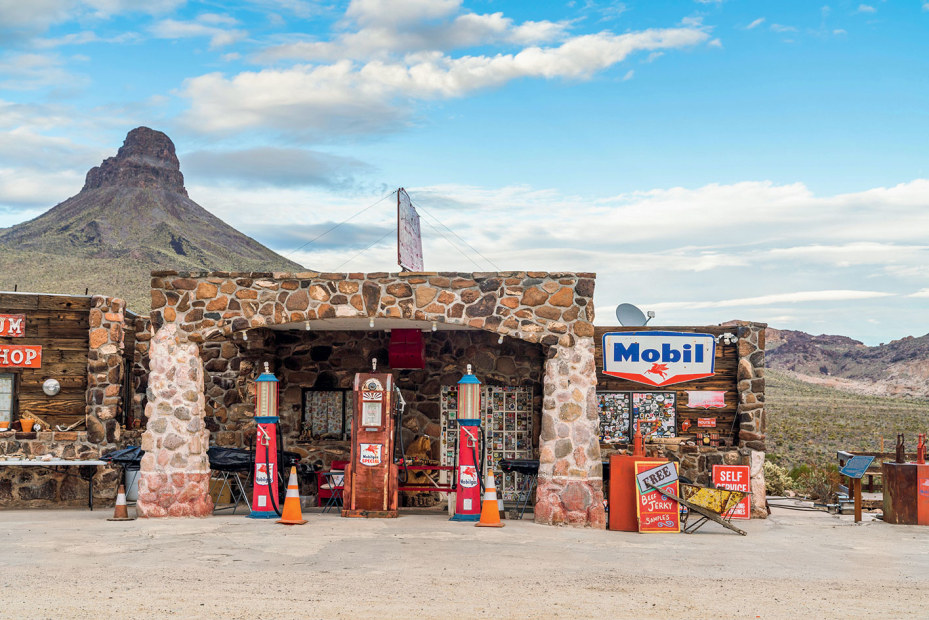 Williams to the Colorado River
For 158 miles, Route 66 is a two-lane highway, little changed for generations. The open road doesn't get more open than this. We've seen only two cars over a 25-mile stretch, though no shortage of freight trains snaking through high valleys and even a pronghorn herd galloping across the flats. Beyond Kingman, the highway climbs into the Black Mountains before twisting down toward the reed-lined Colorado River. We couldn't ask for a prettier culmination of the drive than the view of the graceful Old Trails Bridge, arching toward California over the shimmering Colorado.
Seligman
We get our kitsch on Route 66 in Seligman, a town that both weathered the highway's decline and helped spur its revival. After Interstate 40 bypassed Seligman, local barber Angel Delgadillo launched the Historic Route 66 Association of Arizona to generate new interest in the old road. With his wife, Vilma, he then opened Delgadillo's Original Route 66 Gift Shop at his former place of business, where we found an endless trove of souvenirs and posed in the old barber chair.
Down the street is Seligman's quirkiest landmark, Delgadillo's Snow Cap Drive-In, founded by Angel's late brother Juan and now managed by his children, which is open from February to late November. Colorful, cluttered, and with a prank-happy staff, it's as much fun house as drive-in—perfect for selfies and a quick bite, especially the chocolate-dipped soft-serve cones.
Grand Canyon Caverns
We ride an elevator 221 feet underground into Grand Canyon Caverns, a natural wonder and vintage roadside attraction. A rare dry cavern (there are no stalactites or stalagmites), it's hardly pristine, not with lunch by reservation in the Cavern Grotto dining area and even overnight stays available. There's also a cache of supplies left over from the cave's stint as a Cold War fallout shelter. But touring the massive limestone chambers, where we see a mummified bobcat purportedly from 1850 and claw marks left by a giant sloth that fell into this abyss eons ago, is an eccentric Route 66 highlight. And at a perpetual 56 degrees, the caverns make for a refreshing retreat on hot Arizona afternoons.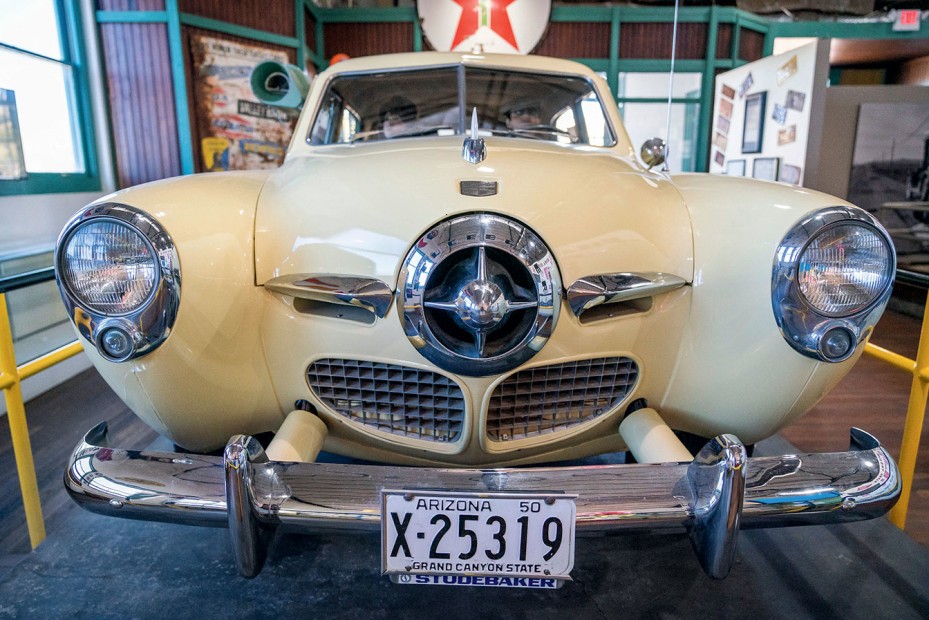 Kingman
While celebrating the highway's pop culture heyday, Kingman's Arizona Route 66 Museum also traces the route's ancient Native American origins and, in an exhibit dedicated to The Grapes of Wrath, its history as the "mother road" during the Dust Bowl era. The museum is a bit old-fashioned (no techy touch screens here), but with an old Studebaker on display and colorful murals, it's fun and informative.
Route 66—locally known as Andy Devine Boulevard after the cowboy actor and Kingman native son—is a busy thoroughfare here. Downtown's Beale Street, with its restored early 1900s buildings, is more walkable, and we stop for pour-over coffee and avocado toast at Liquid Coffee Shop and Bistro, a sleek contemporary café in a converted mid-century modern bank building.
Cool Springs Station and Sitgreaves Pass
After 20 miles of empty desert, Cool Springs Station suddenly appears like a mirage, a Pixar-perfect stone building that resembles something out of the 2006 cartoon Cars. The site's days as a Route 66 way station date to the 1920s. Along the eastern face of the Black Mountains, it offered services and refreshments before the test of radiators (and driver nerves) on the serpentine, guardrail-less ascent to 3,550-foot Sitgreaves Pass, Route 66's most challenging stretch. A 1966 fire destroyed the old station before a movie crew rebuilt the structure—and then blew it up—for the 1992 Jean-Claude Van Damme film Universal Soldier. Today's building, opened in 2004, incorporates some of the original's stonework.
Oatman
If Oatman's wild and woolly past is mostly behind it, the ghost town hasn't been completely tamed, not with the descendants of burros used in gold mining still wandering around. They're everywhere, sleeping in the middle of the road and hanging out in front of the Oatman Hotel, where Clark Gable and Carole Lombard spent part of their 1939 honeymoon in a second-floor room after getting hitched in Kingman. Rebuilt in 1924 after a fire destroyed the original building, the two-story adobe hotel is also home to a raucous restaurant and saloon known for its pulled pork sandwiches, buffalo burgers, and walls festooned with dollar bills signed by patrons.