Every city is unique, but Santa Fe earns its nickname, the City Different. Instead of red brick and Georgian columns, earth-colored adobe dominates downtown, where Hispanic, American Indian, and Anglo cultures blend. Santa Fe is also one of only two UNESCO Creative Cities recognized for its arts and crafts in the United States. Not to mention, it's filled with boutiques, top-notch dining, and one-of-a-kind attractions.
Things to Do in Santa Fe
Santa Fe's 400-year-old plaza is the heart of the city, and the perfect place to start exploring. Restaurants, museums, and shops surround the historic park and make it easy to spend an entire day by the plaza. While you're there, stop by the Palace of the Governors, the nation's oldest continually occupied public building, which borders the Santa Fe Plaza and was first built in the 17th century. After touring the palace and its displays on colonial and territorial history, you can purchase authentic arts and crafts from American Indian artists along its front.
The Georgia O'Keeffe Museum is another standout just off the plaza. Its nine galleries showcase paintings, drawings, pastels, and watercolors from each decade of the artist's life, as well as photos of her and some of her personal possessions.
Insider's Tip: Before you go, download the free smartphone app for a self-guided tour of the museum.
On Old Santa Fe Trail, two blocks from the plaza, drop by Loretto Chapel to see its self-described "miraculous" staircase that features two complete 360 degree turns without any visible means of support—baffling admirers to this day. Also a mystery is the identity of the carpenter who built the spiraling structure in the 1800s.
Whatever you do, make sure to stop at Meow Wolf. This immersive experience combines science fiction, art installations, and interactive displays to tell the story of the fictional Selig family, who mysteriously disappeared. Plan to spend several hours here reading their diaries, searching their computers, and slipping through wormholes to other dimensions to discover what happened.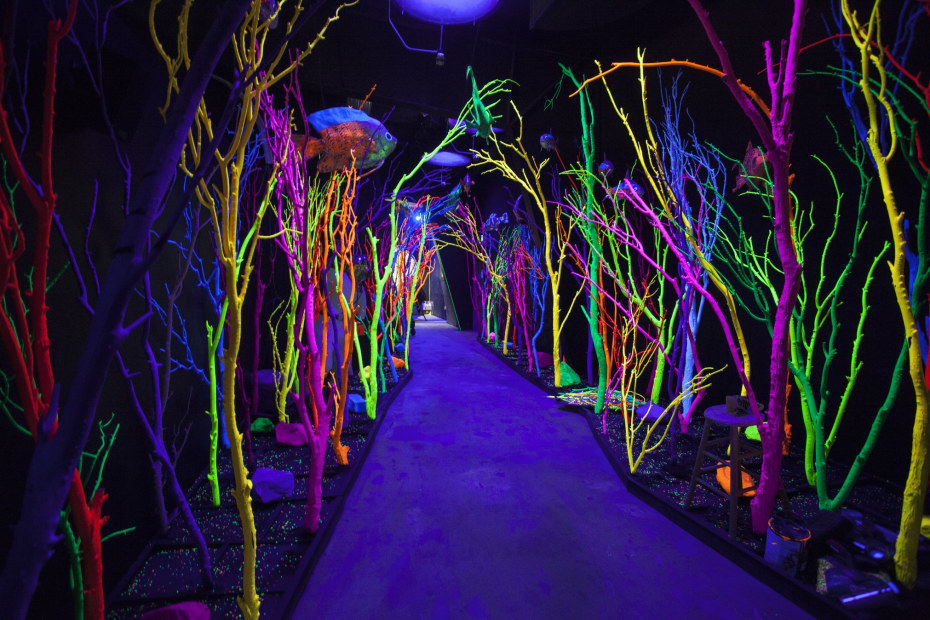 Shopping in Santa Fe
A major Spanish trading post on the Camino Real de Tierra Adentro (Royal Road of the Interior Land), Santa Fe has long attracted artist and makers from a variety of cultures looking to set up shop. While visiting, be sure to explore the shops and galleries here, beginning with the Chile Shop, the local go-to for red and green chile, spicy seasonings, and jarred salsas. On the plaza, Shiprock Santa Fe is one of the best places to peruse Navajo rugs, Southwest American Indian jewelry, Pueblo pottery, and other tribal arts.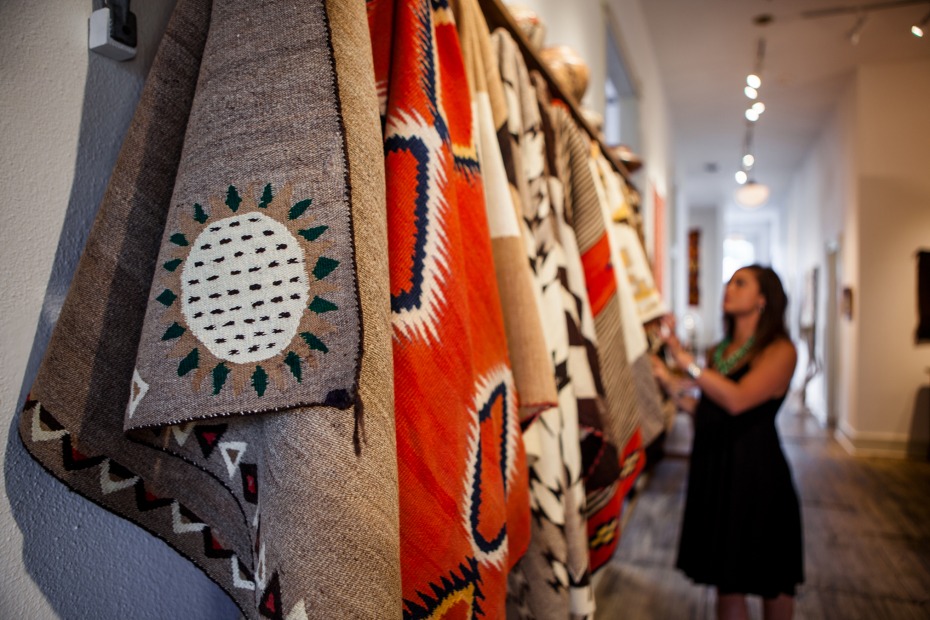 Canyon Road is also a must. Even if you're not an art collector, you can find affordable pieces and souvenirs in the more than 100 galleries and artist studios lining this one-mile stretch. Come on the first Friday of the month for the area's art walk when many of the galleries host special showings and stay open late.
On Aztec Street, you never know what treasures you'll find at Double Take, a family-owned consignment store known for its vintage western wear, designer clothing, and American Indian jewelry.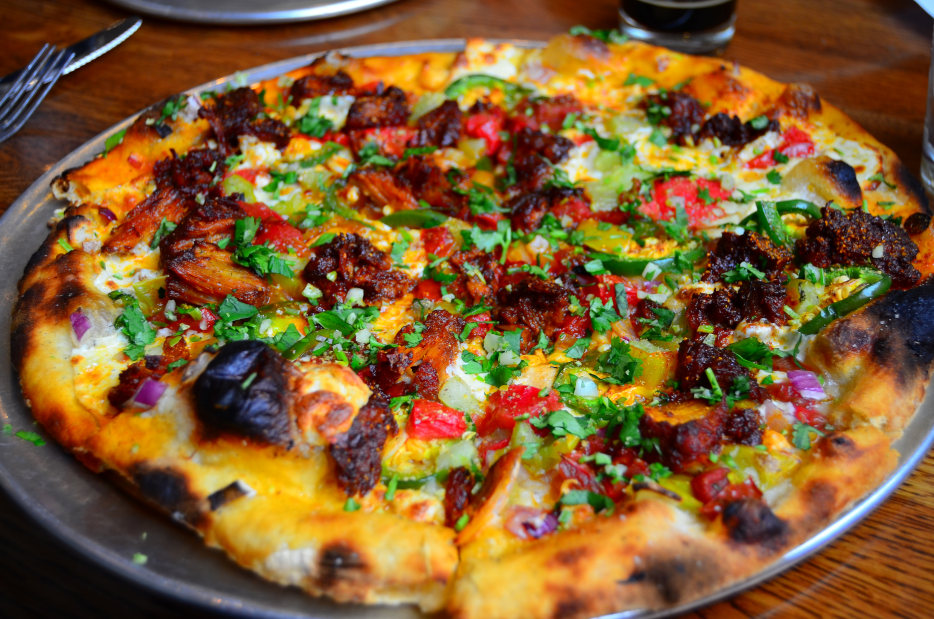 Where to Eat in Santa Fe
Chiles define the cuisine of New Mexico. To sample signature New Mexican-style dishes, make a reservation at The Shed. Located just east of the plaza, this family-owned restaurant serves classic dishes like carne adovada (pork chunks roasted in red chile), tacos made with blue corn tortillas, and enchiladas drenched in your choice of red or green chile sauce.
Insider's Tip: Do yourself a favor and order yours "Christmas style," half red and half green chile sauce.
Near the Santa Fe Railyard, Cowgirl BBQ smokes brisket, ribs, and chicken, but it's famous for the nachos and the "mother of all green chile cheese burgers": a patty made of beef, local buffalo, and applewood smoked bacon topped with melted brie, green chile, and a slice of heirloom tomato all served on a cheddar and green chile bun. It's so good that it's a past Green Chile Cheeseburger Smackdown champion. As you eat, keep an eye on the bar—author George R.R. Martin, of "Game of Thrones" fame, occasionally dines here.
Before or after visiting Meow Wolf, grab a bite at nearby Dr. Field Goods Kitchen. The menu runs the gamut from wood fired pizza and pho to carne adovada egg rolls. Everything is homemade—including the sodas—and local, down to the meat butchered next door at Dr. Field Goods Butcher Shop and Bakery.
Need some guidance navigating the city's culinary scene? Sign up for a food tour with the Santa Fe School of Cooking. The acclaimed institution offers three walking tour options, each with three or four stops at downtown establishments.
Nightlife in Santa Fe
Evenings in the City Different are a good time to sip your way along the 30-plus offerings on the Santa Fe Margarita Trail through downtown. Pick up your passport at any Tourism Santa Fe Visitor Center or participating restaurant or bar. The smoked sage margarita—crafted at Secreto Lounge, the award-winning, garden-to-glass craft cocktail bar inside Hotel St. Francis—is not to be missed due to its unique flavor imparted by burned sage.
For an Instagram-worthy experience, reserve a table at El Farol, one of Santa Fe's oldest restaurants. Every Wednesday, Friday, and Saturday night at 6:30 the restaurant puts on a flamenco dinner show, while other performances ranging from live blues and jazz to indie and rock are slotted in throughout the year.
During the summer, the place to be is the Santa Fe Opera. Bring your own picnic to elegantly tailgate in the parking lot before performances begin. On stage, the performers and rich sets captivate into the night.
Insider's Tip: The venue is outdoors, and temperatures can drop by as much as 15 degrees after the sun sets, so bring layers and dress appropriately.